There are a lot of ways you can introduce a person. You can talk about their appearance, traits, maybe even their likes or dislikes. Tasked with breaking the ice on Marlins reliever Richard Bleier, though, this is how I would start. From 2016 to '19, here's his yearly strikeout rate versus the league average:
Richard 'Low K' Bleier
| Year | Bleier's K% | League K% |
| --- | --- | --- |
| 2016 | 14.1% | 21.1% |
| 2017 | 9.8% | 21.6% |
| 2018 | 11.3% | 22.3% |
| 2019 | 12.8% | 23.0% |
Bleier had been famous for not generating strikeouts, zigging when other prolific relievers were zagging. It makes sense when you consider his repertoire, which consisted mostly of a sinker, a cutter, and the occasional changeup or slider. The sinker led the charge, inducing a copious amount of grounders, while the other offerings were mixed in to throw hitters off-guard. The strategy worked, too. Bleier boasted a 1.97 ERA and 3.59 FIP in 119 innings between 2016 and '18, and while his 2019 returned uncharacteristic results (a 5.32 ERA and 4.19 FIP), nothing suggested a fatal flaw. Sometimes, you have a bad year.
I've established Bleier as someone who thrives on weak contact. But you've read the title. One of the perks of being a baseball writer is getting to revisit the FanGraphs pages of players you're fond of, as work. It's like catching up with an old friend. I hadn't paid attention to Bleier in a while, so imagine my surprise when I stumbled upon this development: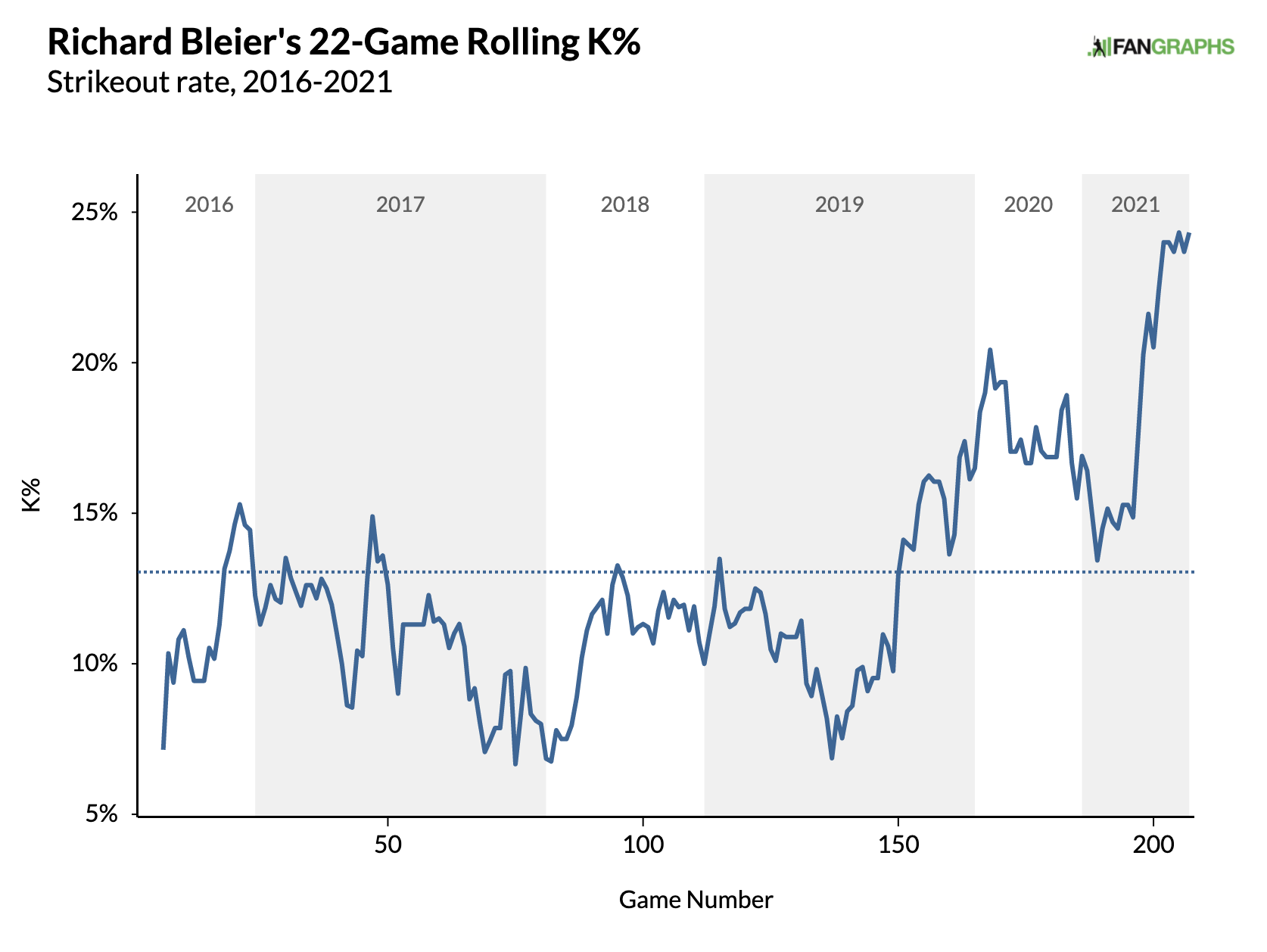 Weird, right? Most of the time, this type of breakout is the result of pitchers refining their already electric stuff, like Matt Barnes or Dustin May; their strikeout rates climb from average to great. But consider Bleier, whose dramatic increase has brought him just up to par, with a current strikeout rate of 24.3% that is a mere 0.1 points higher than the league average of 24.2%.
Let's break this down further. From the graph, we can see that the initial spike happened toward the end of 2019 and continued last season. Back then, Bleier's slider helped bolster his strikeout total. A seldom-thrown pitch but one that induced whiffs at a monstrous rate, he upped its usage from 6.3% in 2019 to 24.3% the following year. Its movement profile doesn't pop out immediately, but the pitch's spin axis mirrors that of his signature sinker, which helps with deception and the effectiveness of both. This also worked, and Bleier reaped the benefits with a great season. Transformation complete?
Nope! The twist: Despite an even higher strikeout rate, he's lowered his slider usage to 13.4% so far in 2021. Instead, by relying more on the cutter, Bleier has inaugurated yet another phase of his career. Here's a great example of one, which made quick work of Sheldon Neuse:
Before diving deeper into the pitch, I want to call attention to where the catcher, Chad Wallach, has set up: about as inside as one could imagine. Sure, batteries will often elect for far-off locations in two-strike counts to elicit a whiff, but our duo must have been confident that Neuse would bite. This isn't a one-off instance, either. The majority of Bleier's cutters have ended up in that general area: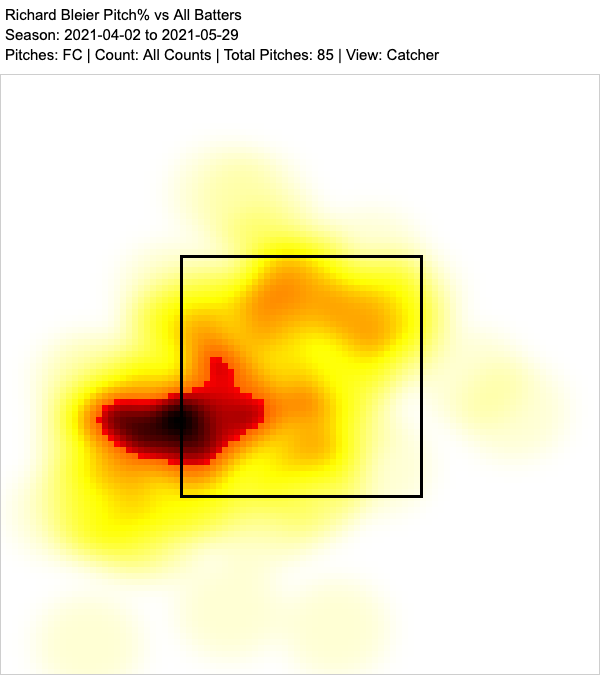 You might think hitters have adjusted by now and aren't swinging at those inside cutters. But they've put up a collective O-Swing rate of 45.5% against Bleier, the highest mark of any pitcher with at least ten innings pitched. It helps that the slider also gets batters to chase, but really, the cutter is the star of the show. Small sample from a reliever aside, it's incredible.
So what's his secret? When looking at the changes to Bleier's cutter from 2020 to '21, what stood out is the added deviation to the pitch's spin direction. Last year, we could say it was released at 11:00 and arrived at 11:45 — a sizable gap, but nothing to write home about. This year, however, the spin direction at arrival is up to 12:45, representing one of the largest deviations in the league: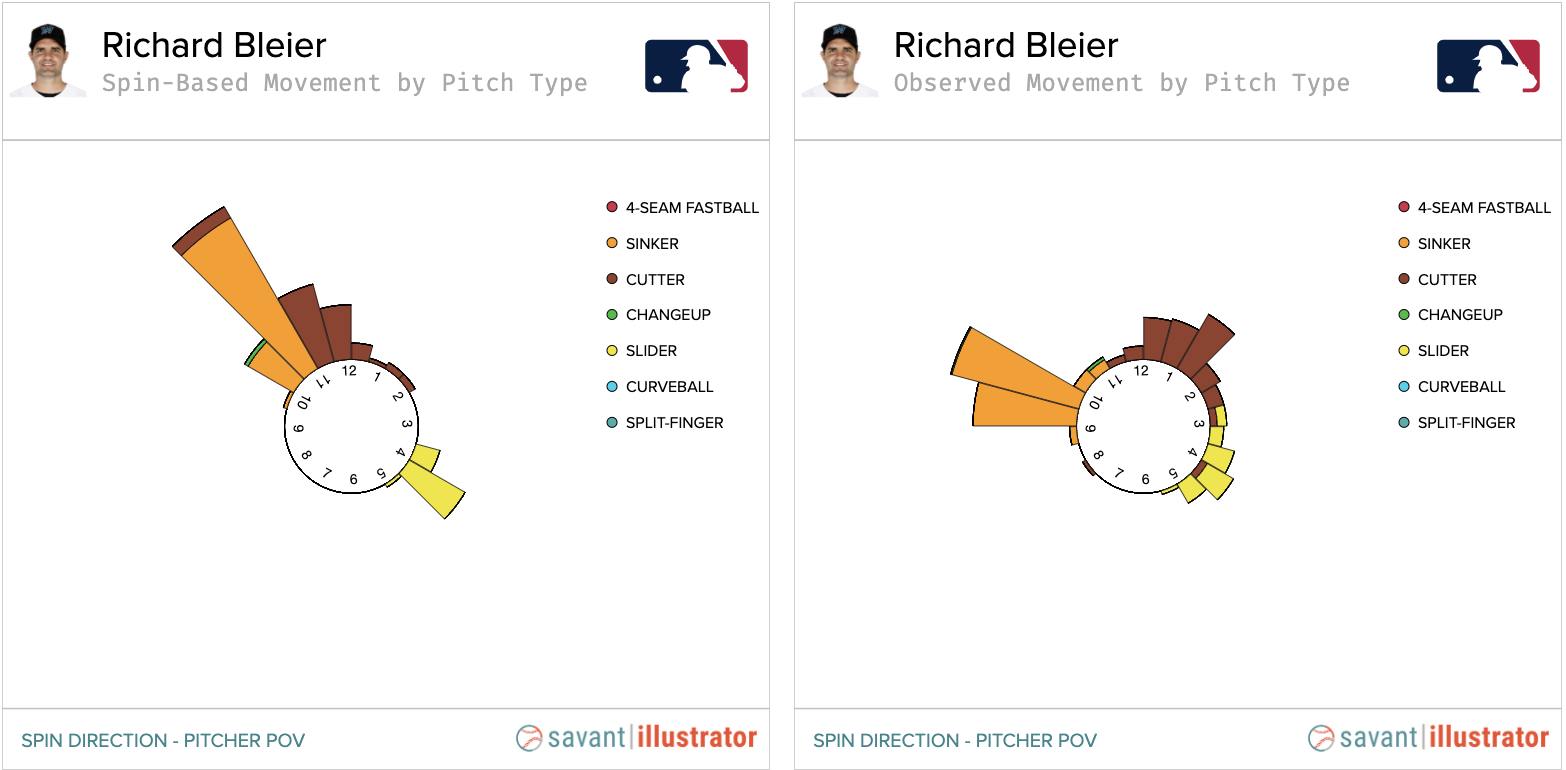 Here, seam-shifted wake becomes relevant, and though I've talked about it multiple times in the past, it's only because of its importance in understanding how pitchers' arsenals function. For example, our Nicklaus Gaut found that the cutters with the most SSW outperformed those with the least SSW, as measured by run value. The pure movement on Bleier's cutter isn't outstanding — it does drop more than average, but with little horizontal break — but its atypical deviation could explain why batters are clueless against it.
The seam-shifted wake effect is hindered by Magnus force, and that's what Bleier has attempted to reduce this season. From 2020, he's lowered the percent of active spin on his cutter by 19 points, but as usual, how he accomplished it isn't clear. Two clues can help us make an educated guess, though. One, the cutter's velocity is down by a few ticks, and two, so is spin rate. And voilà, we know velocity and spin rate are correlated. It's plausible Bleier has shaken off some of the active spin with a slower cutter, but then again, that doesn't explain how he isolated one type of spin. Perhaps there's a difference in how he's releasing the ball. There could be a lot of things!
What does seem clear is the change in Bleier's pitch usage, specifically when batters are behind, but first, some context. As a lefty, he's always performed worse against right-handed batters. The numbers bear this out: From 2016 to '20, they produced a .333 wOBA against Bleier; left-handed batters were limited to a .249 mark. And because he lacked a clear out pitch, righty batters whiffed and struck out less than their lefty counterparts.
Last season, Bleier attempted to address the issue by leaning on his changeup, which resulted in whiffs but also the highest wOBA of any of his pitches. One problem down, one more to go. Now, armed with a refined cutter, he has arrived at what's hopefully a long-term solution. To elaborate, here's how the distribution of his pitches against righties when they're behind (i.e. when Bleier is ahead) has changed each year, since 2018: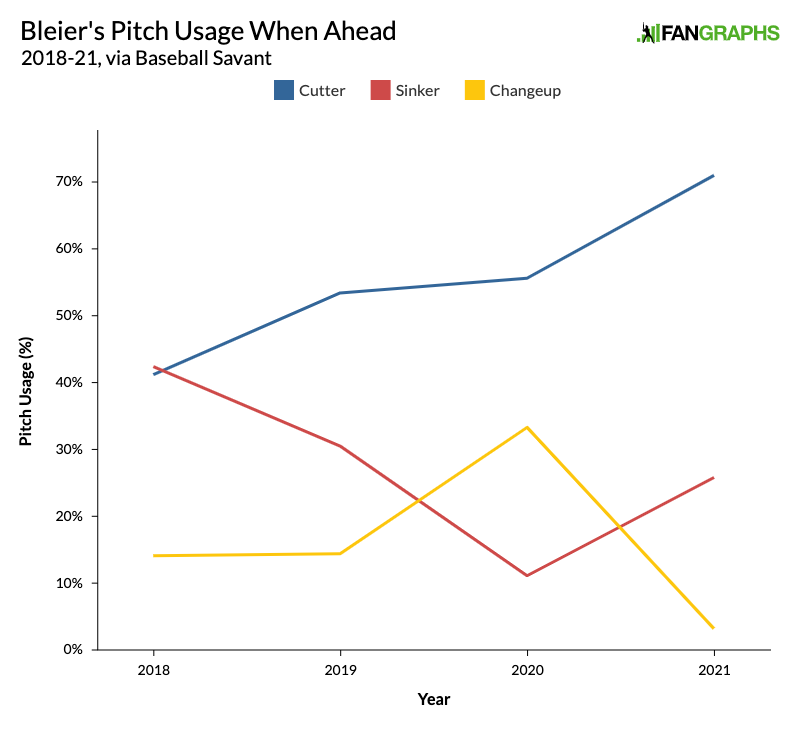 Gone are the changeups, replaced by even more cutters. The jump in cutter usage isn't too sharp, as it had been climbing for a few seasons, but the key difference is Bleier's improved putaway rate. It sits at a clean 33.3% as of writing, a result of desperate batters missing 42.9% of the time when they decide to swing. Want to take the pitch instead? You can follow in the footsteps of Luis Urías, who slammed his bat in protest as our protagonist exploited the outer edge:
Actual results-wise, Bleier has been passable; his 3.93 FIP translates to 0.0 WAR, so he's neither added nor subtracted value from the Marlins' total. But it's not like he's been consistently mediocre throughout the season, and that matters. There's been hard contact, but most of it was allowed during his first few outings: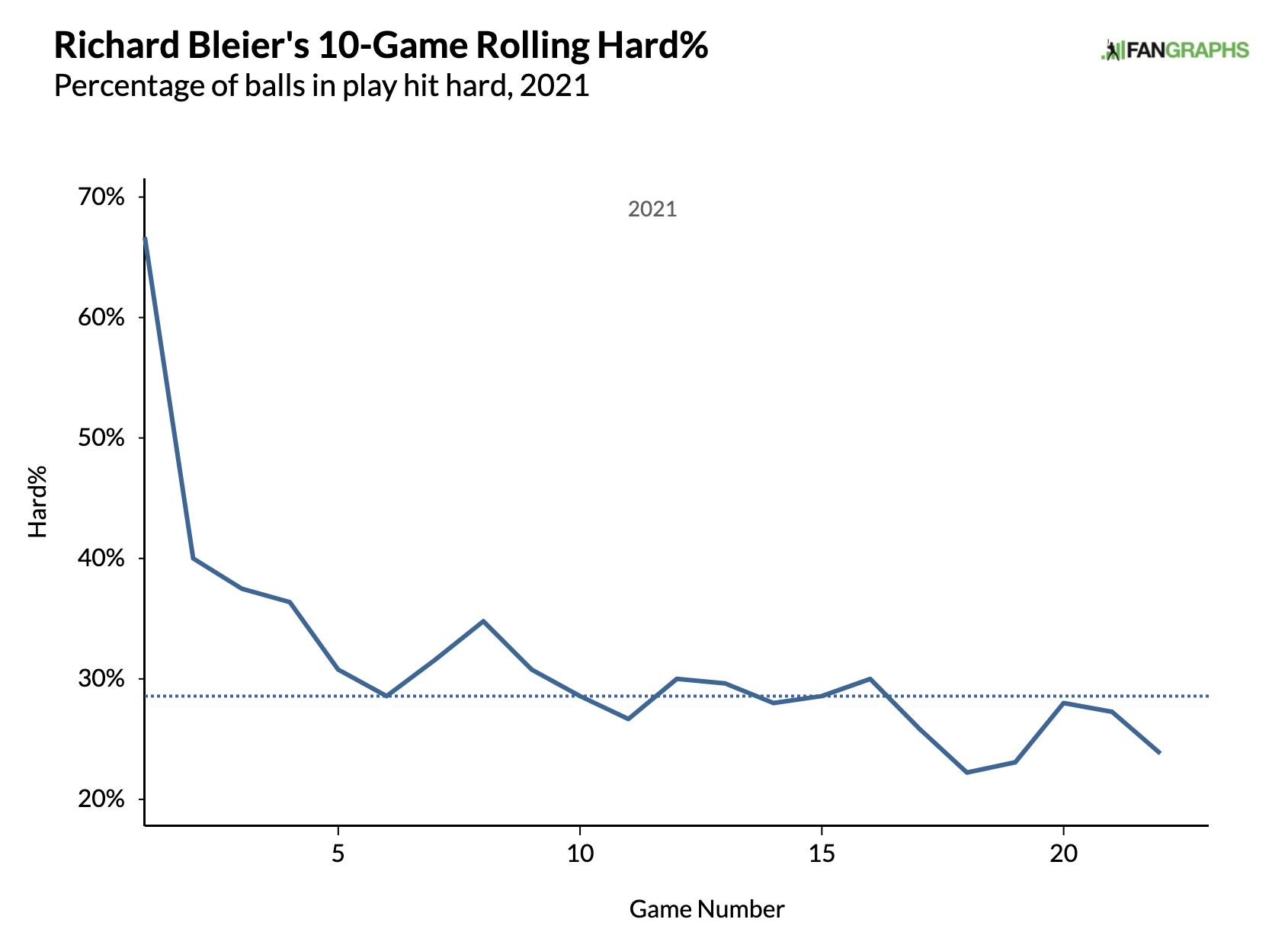 After a bumpy start, it's been smooth sailing for Bleier. His new approach is rock solid, and hitters can't do much about it. He gets ahead in the count against all batters with his sinker, then switches gears with either the cutter against righties or the slider against lefties. They all spin out of his hand on a similar axis, making it hard to pick up on one pitch. Also, as if he's not fascinating enough already, Bleier is the only qualified reliever who has yet to walk a batter, though there have been numerous close calls. The tightrope act won't last, but it's a testament to how acute his stuff and sequencing has been.
That being said, 19.2 innings of work isn't enough to tell whether a revamped Richard Bleier is destined for success. Maybe righties really do learn to lay off the cutter, and if that happens, the subsequent adjustments are what will matter. At the very least, the sinker-slider combination provides a reliable safety net.
Beyond that, though, I just find his evolution as a pitcher to be fascinating. This is someone whose strikeout rate was the second-lowest of all pitchers in 2017 with at least 50 innings pitched. Ahead of him was Paul Blackburn, and well, when's the last time you've heard of him? In contrast, Bleier has made the changes necessary for his survival. He'll still generate an abundance of grounders, and probably outpace his FIP, too, but also strike out a healthy number of batters. Years of devising and implementing later, Richard Bleier is where he wants to be.
Justin is a contributor at FanGraphs. His previous work can be found at Prospects365 and Dodgers Digest. His less serious work can be found on Twitter @justinochoi.
<!–
$.ajax({ url: "https://blogs.fangraphs.com/richard-bleier-is-striking-out-batters-now/?comments_popup=363885", cache: false, success: function(data) { comment_html = data.replace(//g, ""); $("#comments").html(comment_html); $("#commentsload").hide(); } })
–>