Times are tough in Denver. The biggest stories for the Rockies this year have been their trade of their best player (heavily and rightfully criticized), the resignation of Jeff Bridich, and the relocation of this season's All-Star Game to Coors Field. Okay, that last one is pretty cool, and the Bridich news was good news for Rockies fans. On the field though, it's been pretty ugly. The Rockies are fourth in the NL West and on pace to lose 99 games, and they've gone just 4–22 on the road with only 63 runs scored. But there's one player donning the purple and black who might finally be breaking out: Ryan McMahon.
Since coming onto the scene in 2017, McMahon has been the subject of more than a few breakout player articles, including Dan Symborski's piece on the top 2021 candidates to take a step forward. He's answered the call so far, serving as the lone bright spot for the Rockies in what has been an otherwise dismal season by slashing .259/.313/.507 with 13 homers and 1.3 WAR. These numbers aren't especially eye-popping for a player who calls Coors Field home, but offensive numbers have been down across the big leagues this season, and while McMahon has played plenty of corner infield in his career, his primary position has been at second, where the bar is a bit lower.
Before we attempt to answer whether or not the breakout is for real, it's worth looking at what makes McMahon such a tempting choice to develop into a better big league hitter. A big part of the reason is his raw power. Unless your name is Nick Madrigal, it's usually going to take some serious power potential to get preseason hype. Prior to the 2018 season, McMahon was ranked third in the Rockies' system, per Eric Longenhagen's prospect list, with his 60 raw power as his greatest asset. At the major league level, where his batted ball data is more visible than the minor leagues, McMahon has achieved a maximum exit velocity in the 68th percentile or better each season.
Ryan McMahon Exit Velocity
| Season | Maximum Exit Velocity | Percentile Rank |
| --- | --- | --- |
| 2018 | 110.1 | 74 |
| 2019 | 112.9 | 88 |
| 2020 | 109.7 | 68 |
| 2021 | 111.5 | 81 |
SOURCE: Baseball Savant
Power alone doesn't create big expectations. McMahon has lived on the extreme end of the spectrum for striking out and hitting groundballs. From 2018 through '20, he whiffed in 31% of his plate appearances, which is well above the league average and significantly above the 25% rate that he averaged over 2,654 plate appearances in the minor leagues. As for his batted ball tendencies, in 2019, he somehow managed to hit 26 home runs despite a 50.8% groundball rate, the 10th-highest among qualified hitters that year.
The thinking behind a McMahon breakout is that if he replaced a few strikeouts and groundballs with fly balls, he could show off his power and boost his overall hitting performance. But how many players fitting this mold actually adjust to big league pitching enough to get their strikeout rate down? The list is short, but it can be done. Cody Bellinger steadily lowered his K% from 26.6% in his rookie campaign in 2017 down to 16.4% in '19 and nearly doubling his WAR in the process. Yoán Moncada made a similar improvement in 2019 but to a lesser degree, improving his strikeout rate by nearly six percentage points en route to his own breakout season.
McMahon has followed that path, with a 2021 strikeout rate of 22.0%, well below last season's career-worst mark of 34.2% and his career average of 31.0%. Heading into the season, he credited adjusting his approach at the plate as a marker for improvement, swinging earlier in counts to avoid situations where he has to hit with two strikes. The results speak for themselves:
Ryan McMahon in Two-Strike Counts
| Season | % Pitches Seen in 2-strike Counts | wOBA |
| --- | --- | --- |
| 2018 | 31.8 | 0.161 |
| 2019 | 33.7 | 0.212 |
| 2020 | 34.8 | 0.199 |
| 2021 | 28.6 | 0.258 |
SOURCE: Baseball Savant
Last season, McMahon watched a called strike on 15.9% of pitches; this year, that's shrunk to 12.5%. Likewise, in 2020, he swung at the first pitch in only 28% of his plate appearances, but he's switched to a more aggressive style in 2021, with a 43% first-pitch swing rate that's more in line with his numbers in '18 and '19. By pulling the trigger and swinging earlier in the count, he's made huge gains in contact rate. A consequence of this is that his walk rate has dipped down a few points to 7.5% from his career average of 9.6%, but with his OPS at .830, I think McMahon is okay with that tradeoff.
He's also making better contact once he's behind in the count. Last season with two strikes, McMahon ended up striking out 51.6% of the time with a wOBA of .199. In 2021, he's striking out 43.4% of the time in two-strike counts and has upped his wOBA to .258, both of which are slightly better than league average. A big reason for this is a significant improvement in swinging-strike rate against breaking pitches, specifically the curveball. In prior seasons, he was prone to chasing them, averaging an O-Swing% in excess of 37%. But while he has been swinging at sliders at around the same clip in '21, he's chased only 20.5% of curveballs, which has helped bring down his SwStr%.
Ryan McMahon SwStr% by Pitch Type
| Season | FA | SL | CH | CU |
| --- | --- | --- | --- | --- |
| 2018 | 16.4% | 17.6% | 11.1% | 21.3% |
| 2019 | 13.2% | 21.2% | 15.3% | 21.7% |
| 2020 | 10.5% | 24.4% | 14.9% | 26.0% |
| 2021 | 10.7% | 21.6% | 15.5% | 9.3% |
These changes in approach are fine but only noteworthy if the added contact can translate more of McMahon's raw power into game power. So far, he's making better contact with the ball, with a career-high hard-hit rate of 48.1%, and although his Barrel% has dropped from 11.2 to 10.3, his barrel rate per plate appearance has improved from 6.2% to 7.1. Average exit velocity has questionable predictive power, but it's also at a career-high level of 92.6 mph. In short, the additional balls that McMahon is putting into play aren't coming off his bat any softer.
Maybe the biggest change of all, though, is a jump in fly-ball rate. During the '19 and '20 seasons, McMahon averaged a groundball rate of 50.7% with a GB/FB ratio of 1.71. Despite this, he trailed only Trevor Story in home runs on the Rockies last season with nine. This season, he's hitting line drives at a rate higher than in '20 but similar to previous seasons at 23.2%. The additional fly balls are instead replacing groundballs, which is exactly what he's needed to do to unlock that power potential.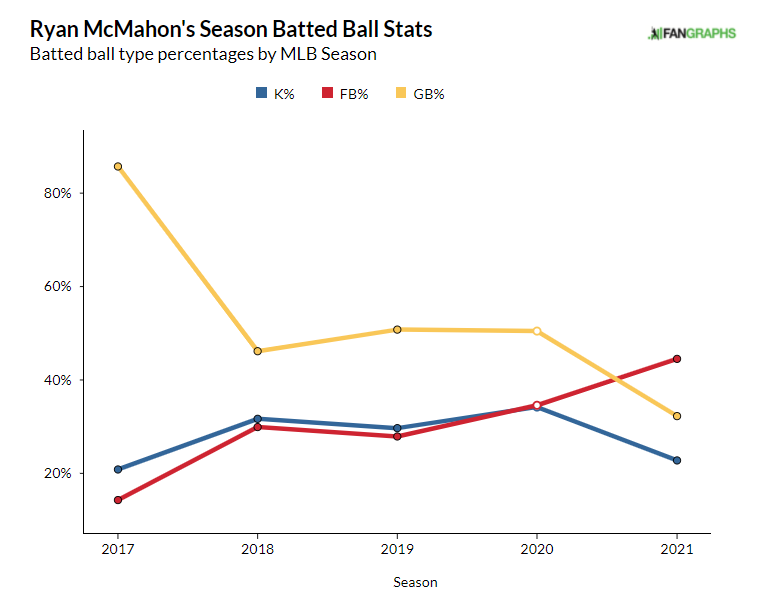 So should we buy McMahon's breakout? His BABIP and expected stats indicate that his performance so far is in line with his peripherals and that, if anything, he's underperformed relative to his batted ball data, with a wOBA of .350 versus an xWOBA of .366. Beyond that, he's clearly made a mechanical change for the better. Prior to the season, he told reporters that, "For whatever reason, my natural move is to close off a little bit, which makes the swing a little bit longer and a lot of different things get out of whack and my swing gets longer." He put in work over the offseason to shorten his swing and get to the ball quicker, and as long as he is able to stick to the approach and not allow his swing to lengthen again, he should be able to maintain the offensive numbers he's put up so far.
That said, the decrease in strikeouts coupled with the increase in fly balls can be sustainable, but it's probably not likely at the rates that we've seen through the first two months. McMahon is among a group of 15 other players who have also had an increase in fly ball rate of 8% or more compared to 2020, but it's fairly unusual to see a hitter increase it by more than 15% over two seasons (Austin Meadows had a FB% increase of 16.4% going from '18 to '20). McMahon's drop of 11.8% in strikeout rate is also near the extreme that hitters have accomplished in recent seasons; that figure is the third biggest drop from 2020, behind Matt Olson and Austin Nola.
The bottom line is that the swing adjustments and change in approach are having a very real impact for McMahon, but you should still expect some regression. In Dan's breakout article a few months ago, ZiPS pegged the 90th percentile performance level for McMahon as 27 home runs and a slash line of .258/.340/.509. Even with a return to earth, he could hit or exceed those numbers by season's end.
Chet is a contributor for FanGraphs. Prior to FanGraphs, he wrote for Purple Row. When not writing about baseball, he is a data scientist and outdoor sport enthusiast. He can be found on Twitter at @cgutwein.
<!–
$.ajax({ url: "https://blogs.fangraphs.com/is-ryan-mcmahon-finally-breaking-out/?comments_popup=364090", cache: false, success: function(data) { comment_html = data.replace(//g, ""); $("#comments").html(comment_html); $("#commentsload").hide(); } })
–>