On Monday night, the Dodgers and Cardinals began a three-game series in Chavez Ravine. Los Angeles had just been soundly defeated in a four-game set against the Giants over the weekend and had fallen to third in the NL West. Meanwhile, the Cardinals were barely hanging on to the division lead in the NL Central and were entering the tail end of a long, 10-game road trip.
In the top of the sixth inning, St. Louis scored three runs on two home runs off of Trevor Bauer to take a 3-2 lead. The Dodgers came right back in the bottom half of the inning, loading the bases and scoring the tying run off a bases loaded walk to Will Smith. Génesis Cabrera then struck out Gavin Lux for the second out, bringing up Chris Taylor. Taylor wound up battling Cabrera in a 14-pitch at-bat that ended with a bases-clearing double. The play was the second biggest swing in win probability in the game — Dylan Carlson's two-run home run in the top half of the inning was the biggest — and it gave the Dodgers a lead they wouldn't relinquish.
This epic at-bat was the turning point in the game but it also serves as a perfect example of how Taylor has adjusted his approach at the plate. Back in 2017, Taylor broke out after languishing in the Mariners farm system as a slap-hitting, glove-first middle infield prospect. After compiling a not-very-nice 69 wRC+ across three partial seasons and just over 300 plate appearances, he posted a 126 wRC+ that year with a huge spike in power output. A swing change to generate more contact in the air was the catalyst for that first breakout.
Taylor struggled to replicate that same level of success over the next two seasons; his wRC+ dropped to 111 over the next two years, though he continued to be an extremely valuable piece of the Dodgers roster due to his positional flexibility. Last year, he increased his walk rate by more than three points and had his most productive season at the plate, pushing his wRC+ up to 132. He's been even better this year; his 149 wRC+ is 18th among all 144 qualified batters.
This second breakout, which began last year, has been driven by a completely revamped approach at the plate. Let's breakdown this 14-pitch at-bat to see how Taylor has improved so much.
Pitch 1
The first pitch of the at-bat is an easy take for Taylor. He's always been a bit aggressive if he gets a pitch to hit right off the bat; his swing rate in the first pitch of an at-bat is well above league average and it's sitting right in line with his career rates this year. But this fastball is well off the plate and Taylor gets ahead in the count easily.
Pitch 2
The second pitch of the at-bat is a little closer to the zone, but Cabrera misses his target and Taylor takes the pitch for ball two. This is where we see the biggest change to his approach. Taylor has always had a pretty good idea of what he's doing at the plate. He swings at pitches in the zone at an above average clip and doesn't chase too often. But in 2019, his chase rate rose to a career high 26.2%, still below league average but just barely. A year after swinging at all those additional pitches out of the zone, he cut his chase rate by nearly nine points and it's even better this year.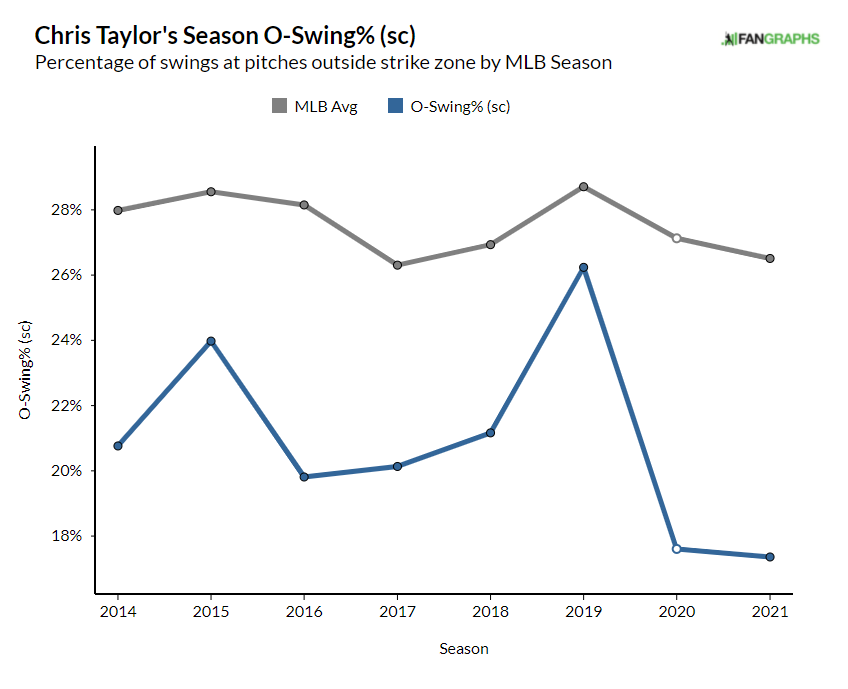 His chase rate is now eighth best in the majors among qualified batters. His swing rate on pitches in the zone hasn't budged, so this appears to be a concerted effort to lay off pitches thrown out of the zone while maintaining his same approach otherwise.
Pitch 3
After two consecutive fastballs to start the at-bat, Cabrera turns to his curveball (though it appears as though Cabrera and Yadier Molina might have had their signs crossed up). Despite fantastic location down and away, Taylor spoils the pitch foul. Perhaps because he isn't chasing as often, Taylor has been much more successful against breaking pitches this year. His wOBA against sliders and curveballs is a healthy .359, easily a career high and much improved over the .225 mark he posted last year.
Pitch 4
Cabrera goes back to the fastball again and Taylor swings right through an elevated heater for strike two. This isn't an uncommon event for Taylor. While his approach at the plate is sound, his contact rates have been below league average since 2018. He's aggressive on pitches thrown in the zone but he swings and misses at too many of them. That's led to a high swinging strike rate and a correspondingly high strikeout rate.
Those swing-and-miss issues haven't really resolved themselves with his recent improvement in chase rate. Last year, his strikeout rate was a touch lower than it had been in 2018 and '19 and it's fallen a bit lower still this year, but it hasn't really dropped appreciably below his career rate. But his newfound ability to draw a walk more often mitigates some of the issues the high strikeout rate causes.
Pitches 5-8
After evening the count with a high fastball, Cabrera dots four more fastballs around the edge of the plate; Taylor fouls off all of them. Here's another area of significant improvement for him. In the Statcast defined "shadow zone," the run values he's generated with his swings and takes are positive for the first time in his career.
Chris Taylor, Shadow Zone
| Year | Run Value | Shadow Z-Swing% | Shadow O-Swing% |
| --- | --- | --- | --- |
| 2017 | -15 | 55.8% | 37.0% |
| 2018 | -17 | 58.4% | 37.4% |
| 2019 | -24 | 59.1% | 41.5% |
| 2020 | -2 | 61.1% | 28.1% |
| 2021 | +1 | 60.5% | 32.3% |
SOURCE: Baseball Savant
Since the shadow zone straddles the rulebook strike zone, we can suss out how Taylor has performed on pitches in or out of the strike zone and in the shadow zone. His swing rate on pitches in the rulebook zone has stayed relatively stable throughout his career, but he's greatly improved his swing rate on borderline pitches thrown out of the zone.
Pitch 9
After a string of five heaters, Cabrera breaks out his curveball again and misses the zone again. If the pitch had been any closer to the zone, Taylor might have offered at it, but instead the count goes full.
Pitch 10
With the prospect of walking in another run looming, Cabrera needed to hit the strike zone. Naturally, he turns to a pitch he hasn't shown in the at-bat yet, spotting a changeup low in the zone that Taylor just barely makes contact with. Offspeed pitches have been Taylor's weakness over the last two years. His whiff rate against changeups has risen 10 points to over 50% and he's really struggled to make consistent contact against them even when they're located in the zone.
Pitches 11-13
After the lone changeup in the at-bat, Cabrera goes right back to the fastball, hitting 99 mph on a heater up and away. He then hangs a curveball in the middle of the plate that Taylor probably should have done better on. But after seeing so many elevated fastballs in the at-bat, his eye level was probably a little too high to do much with the pitch. Cabrera goes right back to the high heat afterwards. Throughout his career, Taylor has done well against fastballs thrown harder than 95 mph; he's posted a .398 wOBA against those pitches since 2017 and has reached a career-high .530 wOBA this year.
Pitch 14
On the 14th pitch of the at-bat, Cabrera spots another borderline pitch on the edge of the strike zone. Taylor finally catches up with the heat and laces a line drive to right-center field. Making better swing decisions on pitches located in the shadow zone has certainly helped Taylor succeed over the last two years. But this year, his success there has come with the added benefit of more solid contact, too. When he makes contact with pitches thrown on the edges of the strike zone, his wOBA is a career-high .429.
In addition to this clutch double, Taylor had a home run and another double in this game. Over the last two years, his barrel rate has increased by nearly five points over what it was in the previous three seasons, from 6.3% to 11%. His hard hit rate has also seen a similar increase, from 34.7% in 2017–19 to 42.3% in '20 and '21. His power output hasn't increased with all that extra hard contact and he's outperforming his Statcast expected batting stats this year after they were right in line with his actual results last year. But even though his batted ball data looks relatively stable versus the talent level he's established since 2017, his new plate approach has significantly raised his offensive ceiling.
With his positional flexibility already giving him considerable value to the Dodgers, Taylor has continued to add to his offensive potential by honing his approach at the plate. An improved chase rate that has its foundation in better swing decisions on borderline pitches has allowed him to increase his walk rate to a career high. Combined with his excellent batted ball quality, he's become a fixture in the middle of the Dodgers lineup, not just a super utility player. All of those positive adjustments were on display during that epic at-bat against the Cardinals on Monday night.
Jake Mailhot is a contributor to FanGraphs. A long-suffering Mariners fan, he also writes about them for Lookout Landing. Follow him on Twitter @jakemailhot.
<!–
$.ajax({ url: "https://blogs.fangraphs.com/how-a-14-pitch-at-bat-exemplifies-chris-taylors-second-breakout/?comments_popup=363869", cache: false, success: function(data) { comment_html = data.replace(//g, ""); $("#comments").html(comment_html); $("#commentsload").hide(); } })
–>