Adbert Alzolay has been one of the few pleasant surprises for the Cubs this season. Through his first two major league stints across 2019 and '20, he walked 15% of the batters he faced in 33.2 innings of work, most of which was in the starting rotation. Even when striking out 28.6% of opposing hitters, handing out free passes at such a high rate is not a sustainable way of working through a lineup and keeping runs off the scoreboard and without the aid of a .263 BABIP in those 33.2 innings, Alzolay's results would have been even more concerning. Meanwhile the Cubs, after years of contending and struggling to develop pitchers internally, were bereft of exciting arms on the right side of the aging curve. This past offseason, ownership refused to spend in any meaningful way and the club was forced to ship out Cy Young candidate Yu Darvish for Zach Davies and a few prospects in the low minors. They did sign Jake Arrieta to a $6.5 million deal coming off a disappointing stint with the Phillies, but that signing represented Chicago's most significant investment in pitching this offseason. These moves and circumstances meant that Alzolay would need to take a big step forward in 2021 if the Cubs wanted to remain competitive with the Cardinals and Brewers in what seemed to be a winnable AL Central.
But expecting Alzolay to make a substantial leap in terms of his control took some wishful thinking if you were scouting the statline. At his last stop in Triple-A in 2019, Alzolay walked 11% of batters in 65.1 innings. That figure is obviously better than the 15% he posted in his first innings in the majors, but it would still be a below average rate and that was while facing worse competition. For Alzolay to even have an average walk rate, he would have to cut his 2019 Triple-A rate by at least 20%, all while facing better competition. The odds were certainly not in his favor.
Miraculously, he has made the necessary adjustment. In 49.2 innings in 2021, Alzolay is now walking only 5.2% of batters in an environment where the league average is about 9%. Not only has he shaved his previous major-league rate by two thirds, but his 2021 mark now represents an elite figure, one that's in the 88th percentile of all pitchers per Baseball Savant. Better yet, he has barely sacrificed any strikeouts. As I said in the introduction, Alzolay had a career 28.6% strikeout rate coming into 2021. This season, that rate is still a well-above average at 26.3%, especially relative to other starting pitchers. He has also increased the rate at which he induces groundballs (38.3% prior to this season, 45.7% in 2021), which should offset some of the strikeouts he has lost as he tries to hone his command. All of this has culminated in a 3.81 ERA through nine starts despite a bloated 20% HR/FB rate, the latter figure driving the massive difference between his FIP (4.21) and xFIP (a sterling 3.41).
The shape of Alzolay's performance is so dramatically different that you probably assume he has made major tweaks to how he attacks the opposition, and you'd be correct. First, any good analyst would check if he has overhauled his pitch mix, as Mark Steubinger did in his own piece about Alzolay's improved performance this season. And, well, overhaul might not be a strong enough word to describe Alzolay's 2021 adjustments: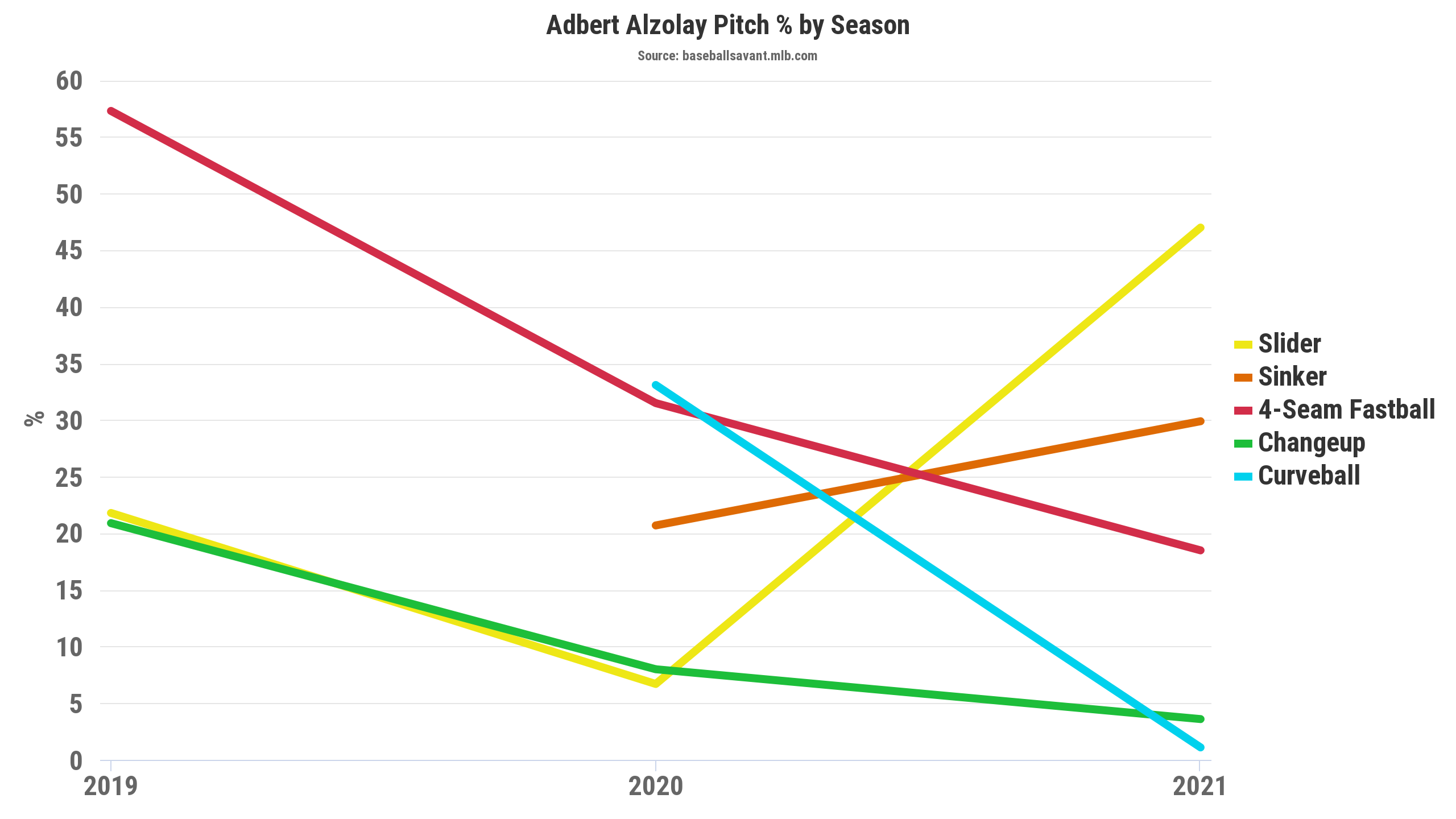 Alzolay has turfed his curveball in favor of a slider, which is now his most-used pitch; he throws it close to 50% of the time. His changeup is also all but gone from his repertoire, as is the emphasis on his four-seam fastball, which is now his third most used pitch. The sinker is his second most common offering at almost 30%, which flies in the face of how many teams look to develop their pitchers' fastballs.
He throws his slider to hitters of either handedness, with usage against righties of 48.8% and against lefties of 45.1%. The main differences between righties and lefties lie with the fastball usage. Alzolay throws his four-seamer 22.3% of the time when facing the platoon disadvantage and 14.8% of the time versus same-handed opposition. The sinker's usage, on the other hand, surges to 35.6% when he is facing right-handers and dips to 22.3% against left-handers. Alzolay's reliance on his slider and sinker made me think that he would suffer from some ugly platoon splits:
Alzolay Platoon Splits Versus Average RHP
| Player | Hitter Handedness | Percent of Hitters Faced | K% | BB% | wOBA |
| --- | --- | --- | --- | --- | --- |
| Alzolay | L | 47.2 | 24.2 | 5.5 | .316 |
| Alzolay | R | 52.8 | 28.4 | 4.9 | .256 |
| League | L | 45.3 | 23.6 | 9.5 | .320 |
| League | R | 54.7 | 24.8 | 8.0 | .311 |
SOURCE: Baseball Savant
As expected, Alzolay has displayed a large platoon split in 2021, almost six times the size in terms of points of wOBA and approximately four times the size with respect to points of strikeout rate. The slider and sinker traditionally are among the pitches most affected by which batter's box the opposition stands in and Alzolay is not afraid to throw either pitch to left-handed batters. Interestingly, he suffers a smaller walk rate penalty than the league average right-handed pitcher, which fits nicely into the theme of Alzolay's new-found control.
Now about that control. We know Alzolay has made major adjustments to his pitch mix this year, with his slider becoming his preferred offering while simultaneously scrapping the curveball. I will note that he threw the slider sparingly last season but there seemed to be a lack of distinction between the curveball and slider that mitigated the effectiveness of both pitches. Based on the data from Baseball Savant, the slider is thrown 85.9 mph on average, with 7.5 inches of glove-side break and 34 inches of drop. The curveball, based on 2020, was thrown 80.8 mph with 12 inches of glove-side movement and 43.1 inches of drop. If you look at these movement profiles on a chart, you can see that the slider has a muted version of the curveball's movement profile while thrown with more velocity.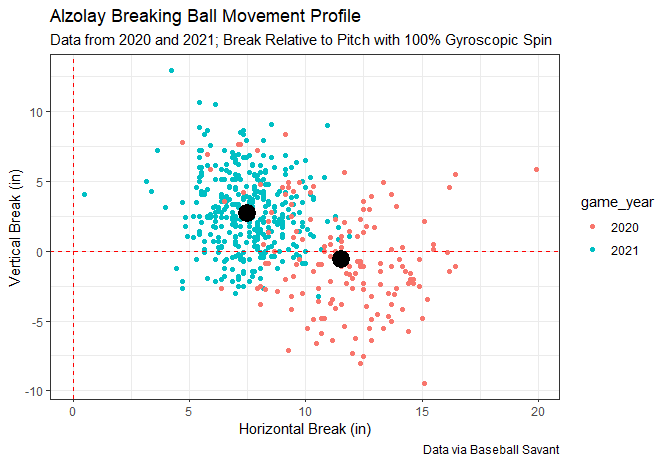 The black points represent seasonal averages. This chart includes all breaking balls from the 2020 season, so one can see a few stray sliders overlap with the bulk of the 2021 data. There is some distinction between the two pitches but the general relationship between the horizontal and vertical break is similar. In 2020, the curveball had 3.6 inches of drop per inch of horizontal movement. For the slider in 2021, that figure is 4.5 and the velocity gap between the pitches was not large enough to fool hitters. Worse yet, the breaking balls with slightly different movement and velocity profiles may have made it more difficult for Alzolay to pour the pitch into the zone, possibly on account of him lacking a consistent plan with how he wanted to shape the pitch:
Alzolay Pitch Type Rates
| Season | Pitch Type | Zone% | SwStr% | CSW% | GB% |
| --- | --- | --- | --- | --- | --- |
| 2019-20 | FF | 45.3 | 6.1 | 20.4 | 22.6 |
| 2019-20 | SI | 52.3 | 5.8 | 22.1 | 52.9 |
| 2019-20 | Breaking Ball | 47.3 | 15.8 | 39.0 | 33.3 |
| 2021 | FF | 54.3 | 10.9 | 31.2 | 25.0 |
| 2021 | SI | 50.2 | 5.8 | 23.7 | 62.8 |
| 2021 | SL | 55.6 | 17.4 | 34.2 | 40.0 |
SOURCE: Baseball Savant
He has been missing more bats and generating more groundballs with his slider this season compared to his conglomeration of a breaking ball last season after increasing the rate at which he places his slider in the zone by 8.3 percentage points (about 17%). Leaning into one breaking ball shape and focusing on the harder slider variant has allowed him to live in the zone with the pitch to great success. What's more, Alzolay is inducing groundballs with the sinker almost 20% more than last season without a decrease in swinging strike rate. And now that he throws his fastball in the zone more, he can utilize its above average ride to generate almost 80% more whiffs.
Overall, Alzolay has lived in the strike zone 53.7% of the time this season versus 46.1% of the time in his first two seasons in the majors. His better control has manifested itself in pitching in more advantageous counts and, correspondingly, avoiding hitter's counts:
Alzolay Count Rates
| Season | 0-0 | 0-1 | 0-2 | 1-0 | 1-1 | 1-2 | 2-0 | 2-1 | 2-2 | 3-0 | 3-1 | 3-2 |
| --- | --- | --- | --- | --- | --- | --- | --- | --- | --- | --- | --- | --- |
| 2019-20 | 24.0 | 11.4 | 6.7 | 10.5 | 11.1 | 10.9 | 3.4 | 4.9 | 8.7 | 1.3 | 2.1 | 4.9 |
| 2021 | 26.0 | 14.1 | 8.7 | 9.2 | 10.6 | 11.0 | 2.1 | 4.3 | 6.7 | 1.1 | 1.7 | 4.6 |
SOURCE: Baseball Savant
He is getting ahead 32% more after the first pitch. His rate of pitching from a 0-2 or 1-2 count is up to 19.7% for all his pitches, from 17.6% in 2019-20. Here is where you can see how his increased zone rate is contributing to a lack of walks: In the case of 2-0, 2-1, 3-0, 3-1, and 3-2, his rate of total pitches in those counts is down across the board. Those counts are prime opportunities for hitters to either inflict damage or work a walk and Alzolay has avoided each and every one of them more in 2021. Such a development is remarkable, but when you consider the dramatic decline in his walk rate, this phenomenon starts to make sense.
Alzolay has great stuff and has shown a propensity to miss bats throughout his professional career. By challenging hitters more in the zone, he is forcing their hand and preventing them from working deeper counts. He is still missing bats with this newfound aggressiveness, and adding more sinkers to his repertoire seems to have allowed him to limit damage on balls in play by keeping the ball on the ground. Like I said from the jump, the Cubs did not make major investments in their pitching staff; they traded away Darvish. To be competitive, they needed internal improvements from somewhere and Alzolay has been up to the task, with his improved control fueled by more competitive pitches in the strike zone.
Carmen is a part-time contributor to FanGraphs. An engineer by education and trade, he spends too much of his free time thinking about baseball.
<!–
$.ajax({ url: "https://blogs.fangraphs.com/adbert-alzolay-is-in-control/?comments_popup=363753", cache: false, success: function(data) { comment_html = data.replace(//g, ""); $("#comments").html(comment_html); $("#commentsload").hide(); } })
–>