Do you remember the springtime? We were so young and carefree, so full of hope. We hadn't even breathed in our first lungfuls of Canadian wildfire smoke. Pitchers were full of hope, too. They'd spent the whole offseason in a lab, or playing winter ball, or maybe just in a nice condo, trying to figure how to get better.
Amazingly, a lot of them settled on the exact same recipe for success: start throwing a cutter. You couldn't open up a soon-to-be-shuttered sports section without reading an article about some pitcher whose plan for world domination hinged on whipping up a delicious new cut fastball. Now that we're in the dog days of summer, it's time to check and see how those cutters are coming along. Are they browning nicely and just starting to set? Or have they filled the house with smoke, bubbling over the sides of the pan and burning down to a carbonized blob that needs to be scraped off the bottom of the oven with steel wool?
I pulled data on every pitcher who has thrown at least 400 pitches in both 2022 and '23, focusing on the ones who are throwing a cutter at least 10% of the time this year after throwing it either infrequently or not at all last season. These cutoffs did mean that we missed some interesting players like Brayan Bello and Danny Coulombe, but we're left with a list of 25 pitchers.
So did their new toys turn them into peak Pedro? The short answer is no. Taken as a whole, they've performed roughly as well as they did last season. As you'd expect from any sample, roughly half our pitchers got better, and half got worse. Of the pitchers who improved from last year to this year, I don't think I can definitively say that any of them reached new heights specifically because of the cutter.
There are many reasons for this. For one, pitchers are already inveterate tinkers. If a certain player were built to throw the perfect cutter, they likely would've discovered it before they became an established big leaguer. Every once in a while, someone will unlock a whole new gear when they add a pitch, but it's not exactly an everyday occurrence. For another, unless you're Mariano Rivera or Kenley Jansen, the cutter is usually a complementary pitch. Sometimes, the goal isn't even to have a good cutter; it's just for the cutter to make other pitches look good.
As you read on, you'll be reminded over and over how interconnected everything is: pitch mix, release point, velocity, movement, approach angle, deception, sequencing, framing. Pitching is a symphony. Even though adding a new instrument didn't turn anybody from a high school jazz band to the London Symphony Orchestra, there are plenty of interesting takeaways to be had. I've split Team Cutter up into a five groups so we can acknowledge some trends, and I've highlighted some of the more interesting players in each group.
Group 1: Enter/Return
This is the most boring group, so we're going to get it out of the way quickly. Six of our players used to throw a cutter, dropped it entirely or threw it a lot less, then brought it back for the attack this season. Bringing back an old pitch just isn't interesting as adding a completely new one. In the table below (and all the tables like it), you'll see the percentage of the time that each pitcher threw a cutter in 2022 and '23, then you'll see the year-over-year change in various metrics. Negative numbers are good, as they mean the pitcher is performing better this season than they did last.
Cutters That Made a Comeback
Look, we live in a cruel and uncaring world. I know it, you know it, the Canadian wildfire smoke knows it. So when Mitch Keller got off to a hot start throwing his cutter around 22% of the time, just as he had from 2019 to '21, there was only one possible result: Alex Eisert wrote about how the pitch was the key to his hot start, and Keller immediately fell off a cliff. Before the article: 13 starts, 3.60 ERA, 3.16 FIP. After the article: 11 starts, 5.37 ERA, 4.90 FIP. Don't feel bad, Alex. It happens to all of us.
At this point, Keller is not that far from where he was last season in terms of performance, but he's getting there in a different way. His walk, strikeout, and contact quality numbers have all improved, but hitters are elevating the ball more often, leading to an increased barrel rate and more homers. Lance Brozdowski noted recently that Keller's release point dropped a couple inches when the results started to go south.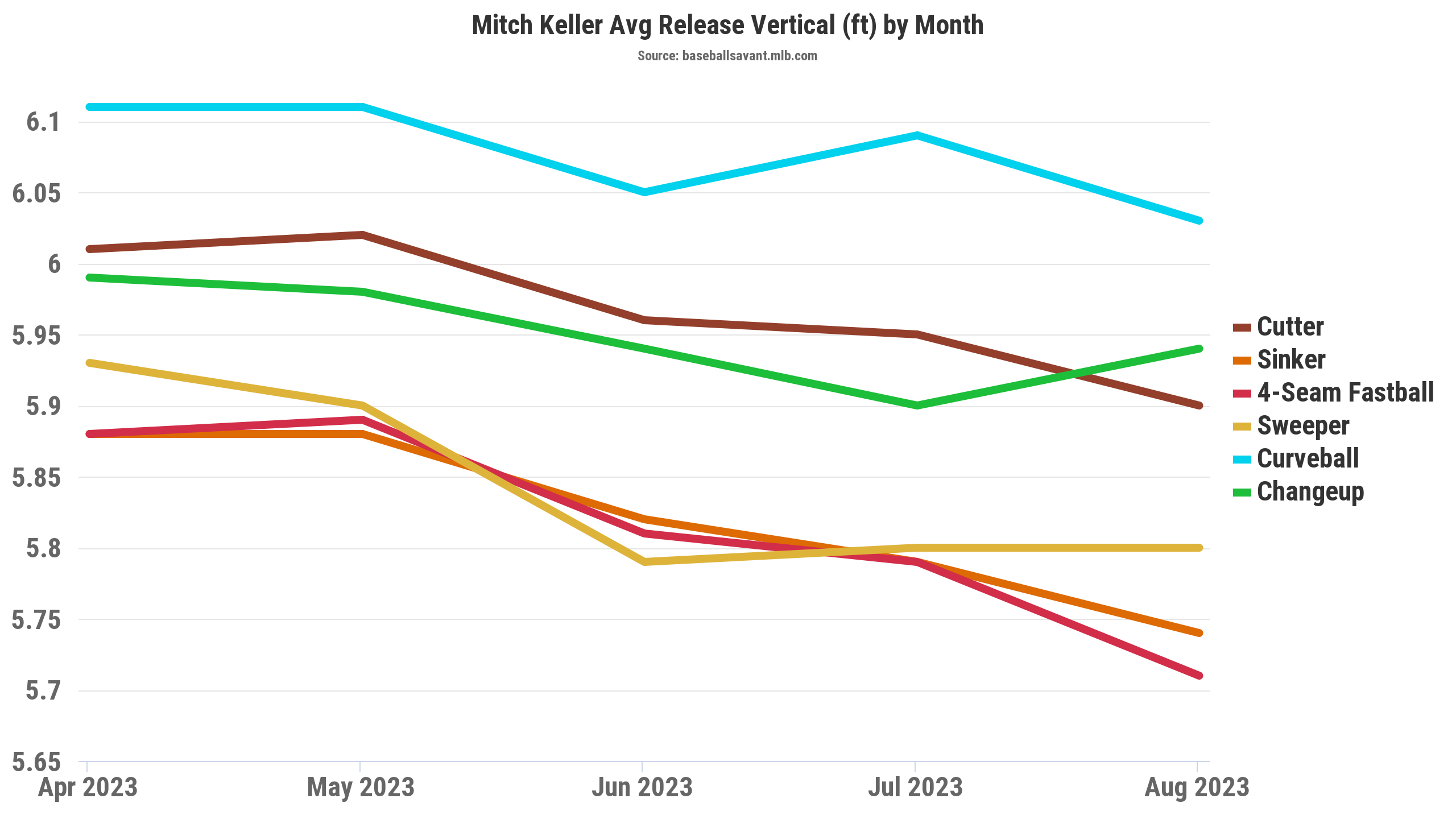 Could Keller's resurrected cutter, now in concert with the sweeper and slider he added in 2022, be what brought him to a new level at the beginning of the season, only for him to be dragged down by some sort of minor injury, discomfort, or mechanical flaw? It's possible, but for now it's just something to keep an eye on.
Bryse Wilson tried out a cutter in April and May of last year but ended up ditching it. After joining the Brewers this season, he moved to the bullpen, where he gained a tick of velocity and raised his release point by nearly three inches. He ditched his slider and splitter and brought back the cutter, throwing it roughly a third of the time to both lefties and righties. Wilson is a new man this year, knocking two runs off his ERA, nearly half a run off his FIP, and roughly 50 points off both his wOBA and xwOBA. But his groundball rate is way down, and his xFIP is actually higher than it was last year. It definitely seems like there's some luck involved in his elevated HR/FB rate. Still, it's fair to say that Wilson is a very different pitcher this season, and the cutter is a pretty big part of that change.
Group 2: What Cutter?
Not every new pitch is a winner. Sometimes that cutter looks great in the dressing room, but then you try it during a big league game and it makes your FIP look huge. The next five players started out the season with a cutter, then excised it from their repertoire. No, trimmed it from their repertoire. Sliced it. Snipped it. I'm not sure which word I'm looking for.
Jake Diekman is one of the most fascinating players in this group. The White Sox released him on May 6, after he'd run a 7.94 ERA and a 5.92 FIP over 13 appearances. Four days later, he signed with the Rays, and we all asked ourselves exactly how much he'd improve with his new team. The answer? A whole lot: a 2.16 ERA and a 3.67 FIP with Tampa Bay.
Diekman threw his cutter 15.3% of the time with the Sox this year. He has not thrown a single cutter since he joined the Rays, and he's increased his changeup use. But he hasn't just altered his pitch mix. His velocity has ticked up, and his release point has changed quite a bit:
It's actually a combination of two factors: His arm angle is a little bit lower, and he's standing further to the left of the mound. Clearly, the Rays had a comprehensive plan for how to overhaul Diekman, and they were willing to look past the fact that some of our stats liked his cutter quite a bit. Hopefully the White Sox were taking notes.
We've covered Noah Syndergaard's struggles pretty thoroughly this season. He added a cutter in 2022, throwing it 1.6% of the time. This year, he used it 19.4% of the time in April and May but didn't throw it all in his last appearance before hitting the IL and being traded from the Dodgers to the Guardians. He's used it 4.4% of the time over his two starts in Cleveland. Over at Baseball Prospectus, Craig Goldstein recognized a pattern in the changes the Guardians have made, prioritizing swinging strikes by throwing more four-seamers and breaking balls.
Chase Silseth has only thrown 65 big-league innings in his entire career, so before I lay some stats in front of you, you have to promise not to take them seriously. He had a 5.30 ERA and a 5.84 FIP over his first nine appearances this year, when he threw his cutter 22.2% of the time. Over his last three starts, he's thrown it 1.2% of the time, effectively replacing it with his slider, and posted a 2.04 ERA and a 3.78 FIP. Remember, you promised.
Group 3: Too New To Know
There's no law that says you have to add your cutter at the very beginning of the season. This group didn't start throwing their cutters until June, and none threw a pitch that was classified as a cutter by Statcast during spring training either.
May This Cutter Cut In?
| Pitcher | 2022 | 2023 | wOBA | xwOBA | ERA- | FIP- | xFIP- | HR/9- | Added Cutter |
| --- | --- | --- | --- | --- | --- | --- | --- | --- | --- |
| Matt Brash | – | 4.9 | -.026 | -.060 | -42 | -48 | -30 | -34 | June 4 |
| Cole Irvin | 2 | 12.6 | .032 | .063 | 20 | -7 | 1 | -22 | June 10 |
| Robert Stephenson | – | 29.5 | -.066 | -.031 | -23 | -8 | -22 | -15 | June 18 |
| Michael Grove | – | 8 | .044 | .074 | 38 | -23 | -28 | -28 | June 23 |
Matt Brash is the most interesting name on this list for a few reasons. With a big juicy gap between the movement profiles of his four-seamer and his slider, and with results that weren't quite living up to the obvious nastiness of his stuff, he was seen as a prime candidate to add a cutter last season. He started throwing the pitch in June, but has only gone to it sporadically since then: just 44 total, and only five have been put into play, three of them for singles.
It's still fair to wonder what Brash would look like if he made the pitch a regular part of his repertoire. That said, his four-seamer and slider are both performing much better than they did last year. His cutter only rates a 78+ per Stuff+, and batters have a .418 wOBA against it. Since he added the pitch on June 4, his ERA has ticked down from 4.50 to 1.95, though his FIP stayed roughly the same and his xFIP actually got worse due to an increase in exit velocity and a decrease in groundball rate.
That brings us to the next interesting thing about Brash, which Michael Ajeto noted on Tuesday: the poor guy has been getting BABIP'ed to death. His DRA- of 66 is the third-best in baseball, but his .413 BABIP is the worst. Some of that is due to bad luck, and some seems to be due to a tendency to induce the kind of weak contact that results in dinks and dunks just over the infield. Remember when I said that his cutter had resulted in five balls in play, three of them singles? Here they are, in all their tweener splendor.
Group 4: Speaking of Tweeners
Taxonomy is hard. That's why a tomato is a fruit. Some pitchers fall into easy-to-define categories, and some end up in the junk drawer. This is our miscellaneous category. Feel free to rifle through it and take what you need.
Adam Ottavino threw a cutter 5.2% of the time in 2022 and is up to 18.9% in '23. It's now his main weapon against lefties, making up 34.6% of his pitch mix. He's had better results against lefties because he's inducing more groundballs, but he's also walking them much more often and striking them out less, which displeases the FIP gods. He's also improved against lefties while faring worse against righties.
Julio Urías is an interesting test case, because he really didn't change anything about his pitch mix except for the cutter. He still throws a four-seamer, a slurve, and a changeup, but now he throws a cutter about 9% of the time. The pitch has performed adequately, but the three others have gotten worse, particularly his changeup, which went from not great last season to catastrophically bad this year. If I were Urías, I might be thinking about ditching the cutter. You know who seems to agree? Urías. He's used the pitch just 4.3% of the time in his two August starts. In what is almost certainly a coincidence, those are his only back-to-back scoreless starts of the season.
Clarke Schmidt added a cutter as part of his much ballyhooed move from the bullpen to the starting rotation this season. As you can see from the table above, he's been just about a little bit worse by every metric. The cutter is now his primary weapon against lefties, and it's been perfectly cromulent, but his sweeper is performing much worse, and he's more or less shelved the changeup that he used to throw to lefties. It's hard to blame anything on Schmidt's pitch mix, though, because as many people have noted, his problems have a pretty clear connection to the times through the order penalty:
Clarke Schmidt Might Want to Bow Out Early
| TTO | wOBA | FIP | xFIP | K% | HR/FB% |
| --- | --- | --- | --- | --- | --- |
| First | .293 | 2.95 | 3.68 | 28.5 | 7.5 |
| Second | .343 | 5.33 | 4.78 | 18.1 | 15.9 |
| Third | .393 | 5.40 | 4.95 | 15.9 | 15.8 |
Schmidt struggled to start the season, but he's righted the ship in the last couple months. The end result is that he's right around where the underlying metrics say he should be. He's also yet to record an out in the seventh inning this season.
Group 5: Keep That Cutter
Our last group is our smallest. It consists of pitchers who have added a cutter while making real improvements. Congratulations, group. You're the survivors.
The Cutter Seems To Be Working
| Player | 2022 | 2023 | wOBA | xwOBA | ERA- | FIP- | xFIP- | HR/9- |
| --- | --- | --- | --- | --- | --- | --- | --- | --- |
| Ryan Brasier | – | 17.5 | -.056 | .007 | -45 | -3 | 21 | -68 |
| Sonny Gray | 0.1 | 15 | -.003 | .007 | -5 | -21 | -9 | -48 |
| Josiah Gray | 0.5 | 17.7 | -.021 | .012 | -39 | -37 | 1 | -115 |
Ryan Brasier shouldn't really be in this group. He added his cutter on June 27; not coincidentally, that was his second game with the Dodgers after being released by the Red Sox in May. According to Baseball Savant, he'd never thrown a cutter before. He has thrown exactly 21 innings for each club this season. Ready for some splits?
Ryan Brasier's Escape to LA
| Team | wOBA | xwOBA | ERA | FIP | xFIP | K% | BB% | EV |
| --- | --- | --- | --- | --- | --- | --- | --- | --- |
| Red Sox | .347 | .370 | 7.29 | 4.36 | 5.07 | 18.9 | 9.5 | 92.4 |
| Dodgers | .196 | .254 | 1.29 | 3.27 | 4.29 | 22.4 | 6.6 | 86 |
Brasier may have been due for some regression, but this is an insane turnaround. He is throwing his cutter 21.7% of the time with the Dodgers and is leading with it against lefties, and it's working. We're talking about some small samples here, but the Dodgers seem to have dipped Brasier in magic waters. I'll be curious to see what happens next.
Sonny Gray has had a cutter for most of his career, but he's never really used it. Most seasons, it made up less than 1% of his pitch mix. This year, Stuff+ likes it quite a bit, rating it at 118. He's using it 20.5% of the time against righties, and he's improved his performance against them dramatically; his .261 wOBA against them is tied for a career low, and his 2.49 FIP and 3.48 xFIP are both the best he's put up in years. He also brought back his changeup when he's facing lefties, but unfortunately he's been significantly worse against them this season.
In the end, Gray is putting up another strong season in a contract year, and he just came in at seventh on Dan Szymborski's list of 2024 ZiPS projection gainers. I won't dive too deeply into his cutter because Esteban Rivera did so back in June. As required by law, Gray has run a 4.31 ERA since that article came out, as compared to 2.37 before it, but his FIP and xFIP have still been solid.
As with Sonny, the cutter has become Josiah Gray's leading weapon against lefties. He throws fastballs to lefties a quarter of the time, down from 46.2% of the time in 2022. He's leading with the cutter and leaning more on his slider and curve. As I wrote during spring training, this was part of the plan. Gray's four-seamer was dead last on our pitch leaderboard last year, worth -21 runs, according to Baseball Savant's run metrics, and it had a .481 wOBA against. (No, that's not a typo.) Even if adding a cutter didn't improve the performance of the four-seamer, just replacing it with a mediocre or even somewhat bad cutter would've been a win. The good news is that the cutter has performed well, and the four-seamer, while still bad, is no longer worst-pitch-in-baseball level bad.
This year, much of Gray's improved performance can be chalked up to his HR/FB regressing from 18.6% to a more reasonable 10%. His xFIP and xERA are actually worse than they were last year, as he's striking out fewer batters and walking slightly more. But he has substantially increased his popup rate and groundball rate and improved his hard-hit rate and barrel rate. Relying less on strikeouts and more on the batted ball profile makes him a more volatile pitcher, and one who needs to keep on outperforming his FIP. Honestly, I've been checking in on him all year with bated bread, waiting for his ERA to balloon up to match his FIP. It still hasn't happened, but I'm still not ready to breathe a sigh of relief just yet.