The Twins and Marlins traded veteran right-handed relievers on Wednesday, sending 2020 World Series champ Dylan Floro to Minnesota and 2022 All-Star Jorge López's talents to South Beach. It's another big-leaguer-for-big-leaguer trade for a pair of familiar trade partners. In January, Kim Ng and Derek Falvey exchanged 2023 All-Stars Luis Arraez and Pablo López (along with minor leaguers Byron Chourio and Jose Salas). They can only hope this deal goes half as well for both sides.
Swapping Righties
| Name | G | IP | SV | K/9 | BB/9 | HR/9 | ERA | xERA | FIP | xFIP | WAR |
| --- | --- | --- | --- | --- | --- | --- | --- | --- | --- | --- | --- |
| Dylan Floro | 43 | 39.2 | 7 | 9.30 | 2.50 | 0.45 | 4.54 | 3.24 | 2.78 | 3.07 | 0.9 |
| Jorge Lopez | 37 | 35.1 | 3 | 6.88 | 2.80 | 1.78 | 5.09 | 5.07 | 5.94 | 4.84 | -0.7 |
Neither the Twins nor the Marlins were getting the production they'd hoped for this season from López and Floro, respectively. In Minnesota, the 30-year-old López — acquired from Baltimore at last year's deadline for four pitchers, including All-Star Yennier Cano — hasn't had the same stuff he brought to the Twin Cities last year. In 37 outings, he's posted a 5.09 ERA, 5.94 FIP, and 4.84 xFIP, striking out just 6.88 per nine innings, down from 9.13 last year. He's fallen to the 14th percentile in average exit velocity and the 17th in xERA, both of which were in the 70s last season. Home runs have been an issue; he's giving up more contact in the air, and more of that contact is finding the seats, as he's gone from an 8.3% HR/FB rate to a gaudy and probably unsustainable 21.9%, the ninth-highest mark among pitchers with 30-plus innings.
López looked strong early in the season, waking up on May 21 with a 1.31 ERA, 3.24 FIP, and 3.55 xFIP in 20.2 innings. But the following month brought some tough times; from May 21 to June 15, he allowed 12 earned runs in 6.1 innings, giving up five home runs in those eight outings. In late June, he took a stint on the IL to address his mental health after having trouble managing the frustrations of the tough stretch, returning earlier this month thankful for the team's support. In eight outings since, he's retired the side in order five times, and apart from one rough inning in Seattle last week, he's kept the ball in the ballpark and been mostly effective, issuing just one walk.
After fiddling with his pitch mix at the start of this year, López has undone some of that tinkering and is back to leaning more on his sinker and using the curveball as his main secondary option; his slider has been relegated to a backup breaking ball after overtaking the curve earlier in 2023. He's also being far more selective with his four-seamer, which is frankly his least effective pitch, and one he wisely used just 4.5% of the time in 2022 but was throwing at a nearly 30% rate in June. After losing some velocity in the frustrating June stretch, his fastballs — really, all his pitches — have ticked back up, and he's looking more like the López of last year and early spring.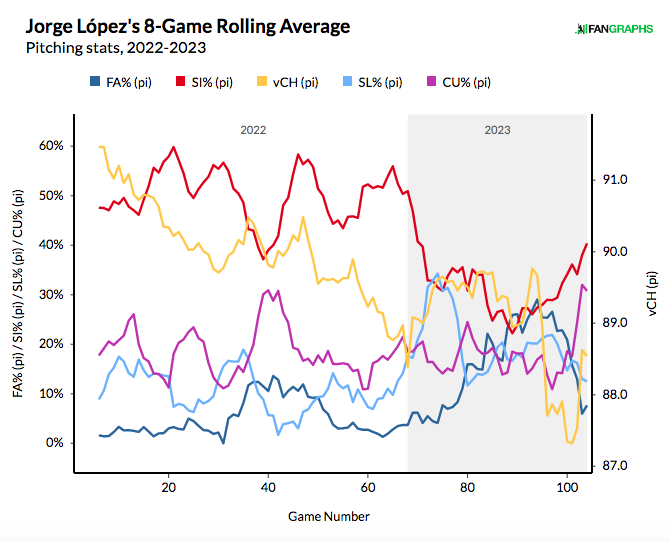 The hard contact and low strikeout rates are concerning enough for Minnesota to take a flier on Floro instead, but it's not too hard to imagine López getting back to being an impact arm in a new setting, where the Marlins will have another year of team control in 2024. That Minnesota was willing to part with an extra year of team control might say as much about the team's faith in López' ability to turn it around as it does its confidence in Floro.
The 32-year-old Floro has been more effective in 2023. He's had some issues with run prevention this season as well, posting a 4.54 ERA in 43 outings, but a 2.78 FIP and 3.07 xFIP speak to some of the luck he's run into. His .397 BABIP is fifth among pitchers with 30 or more innings, more than 100 points higher than last year's .288 mark, and he's holding runners on at the lowest rate in his career at 62.9%. But most everything else looks okay; batters are hitting the ball hard more often, but his barrel rates and sweet spot rates are down, and his ground ball rate is way up. His fastballs aren't where they were when he was 28, but they're actually a tick up from last year, when he was a perfectly effective part of Miami's bullpen.
Thanks to far more batted balls falling in, Floro's .329 wOBA against is 48 points higher than his .281 xwOBA, the third-largest gap among 303 pitchers with at least 100 balls in play:
Highest wOBA-xwOBA, 2023
SOURCE: Statcast
min. 100 BIP
Floro has had particularly bad luck on the ground: on ground balls hit with an exit velocity of 90 mph or lower, hitters have a .260 wOBA compared to a .135 xwOBA; the league-average wOBA on such contact is .146. Minnesota's infield defense won't offer anything Miami's didn't, but time will bring the chance for some regression to the mean.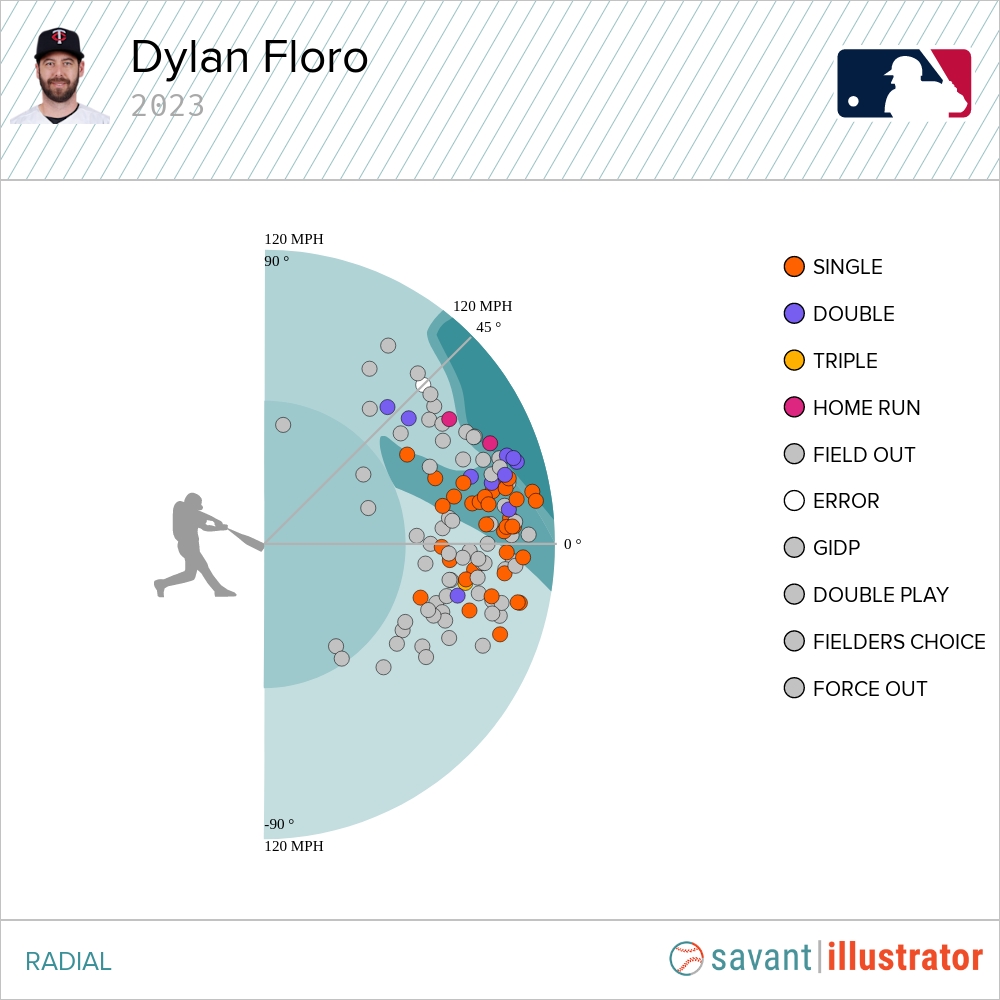 Over the last three seasons, Floro has worked with a sinker/four-seamer combo, using the slider as a breaking option and an infrequent changeup as a fourth pitch. This year, the sinker and slider are breaking more than ever. He's posting a career-high strikeout rate at 24.0%, and his walk rate has stayed strong at 6.4%. What Floro seems to need most is patience, and a new team might be a welcome change of scenery.
The Twins and Marlins are both in the heat of the playoff race, Minnesota is in a more favorable position atop the AL Central than Miami, who is on the outside looking in. But as a couple of clubs with hopes for October, shoring up the bullpen is never a bad idea, and for Ng and Falvey, that meant taking a chance on a change of scenery. Both teams are looking for immediate impact in the bullpen, but in terms of priorities, the Twins may have been willing to give up a year of control for some degree of confidence in production in the immediate short term; the Marlins may have felt that keeping López around for an extra year was worth the risk that he can't turn it around for 2023. As a result, we get a fun swap of players who will take each other's roles with something to prove.