The road has been long for Adbert Alzolay. Signed as an international free agent out of San Felix, Venezuela in 2012, the right-hander worked his way diligently through the Cubs' minor league system as a starter, making homes everywhere from Eugene, Oregon to Myrtle Beach, South Carolina and eventually rising as high as second on the Cubs' prospect list as a 22-year-old in 2018, Wrigley squarely in sight. Since then, injuries have plagued him: first a lat injury ended his 2018 season that May, then more core complications that delayed the start of his 2019 campaign, and most recently, another lat issue that cost him nearly all of last year, limiting him to only six late-season outings out of the bullpen.
This spring, having played just one full season since his 2019 debut, Alzolay's health was his "only goal" for 2023. For the first time, he was preparing to work out of the Cubs' bullpen, an assignment that some former high starting pitching prospects don't take favorably. But he was firmly on board. "I really wanted to be in the bullpen," he told reporters. "I feel really comfortable, just bringing the best I have right away."
His enthusiasm for the role has shown. In 34 relief outings, Alzolay has posted a 2.63 ERA, 2.66 FIP, and 3.17 xFIP with 10.10 K/9 and 1.54 BB/9, racking up 1.0 WAR in just 41.0 innings. His Savant percentile rankings have surged in the bullpen; from 2021 to 2023, he's gone from the 56th percentile to the 91st in HardHit%, 36th to 88th in xBA, 23rd to 95th in xSLG, 32nd to 98th in xERA, and 15th to 93rd in barrel percentage. His .270 wOBA against is 54th among 370 pitchers qualifying for Statcast's leaderboards, but that seems to be underselling him; his .245 xwOBA against is ninth.
MLB's Best Pitchers by xwOBA, 2023
It's clear that his efforts have earned manager David Ross' trust. Because of his ability to stretch out to get six or more outs at times, Alzolay started off eating middle innings as a bridge to the team's late-inning options: Mark Leiter Jr., Michael Fulmer, Julian Merryweather, and Brad Boxberger. But Alzolay has been so effective that Ross is now saving him for his highest-leverage innings; since May 26th, he hasn't entered the game before the eighth, pitching mostly in save situations or otherwise high-leverage spots. He now leads Cubs pitchers with a 1.39 average leverage index, 1.81 since the start of June. In less than one full season of bullpen work, he has become the Cubs' closer and one of the most effective relievers in baseball.
From a usage standpoint, Alzolay's pitch arsenal doesn't look radically different than it did when he was starting in 2021. He still leans on a put-away slider and a trio of fastballs: a 95-mph four-seamer, which he's ticked up in usage since 2021; a sinker, which comes in almost exactly as hard as the four-seamer but runs to his arm-side; and a 91-mph cutter, which he mixes in during select starts, but not all the time. He has effectively shelved his changeup and retired a curveball he never used very much in the first place. He toyed with a sweeper, but it ended up looking more just like a slower version of his slider, and it's basically been out of commission since May.
Alzolay's Pitch Mix, 2021 and 2023
| Pitch | 2021 | 2023 |
| --- | --- | --- |
| Slider | 39.8% | 36.2% |
| Four-Seamer | 18.5% | 28.5% |
| Sinker | 27.0% | 18.3% |
| Cutter | 6.5% | 9.6% |
| Sweeper | 0.0% | 6.6% |
| Changeup | 7.1% | 0.9% |
| Curveball | 1.1% | 0.0% |
SOURCE: Baseball Savant
So the bulk of the work is done by the slider and his two favorite fastballs: the four-seamer and sinker. The slider has been his crown jewel for most of his career; since his debut, the pitch has allowed a .236 xwOBA and induced whiffs on over 40% of swings. It's been worth 15.7 runs over 1,133 uses, or 1.39 runs per 100 deployments. Small sample alert, but just for a treat, take a look at the 63 sliders Alzolay threw in 2022. Hitters had a .076 xSLG and .101 xwOBA off those pitches, missing on a ridiculous 70.4% of their swings.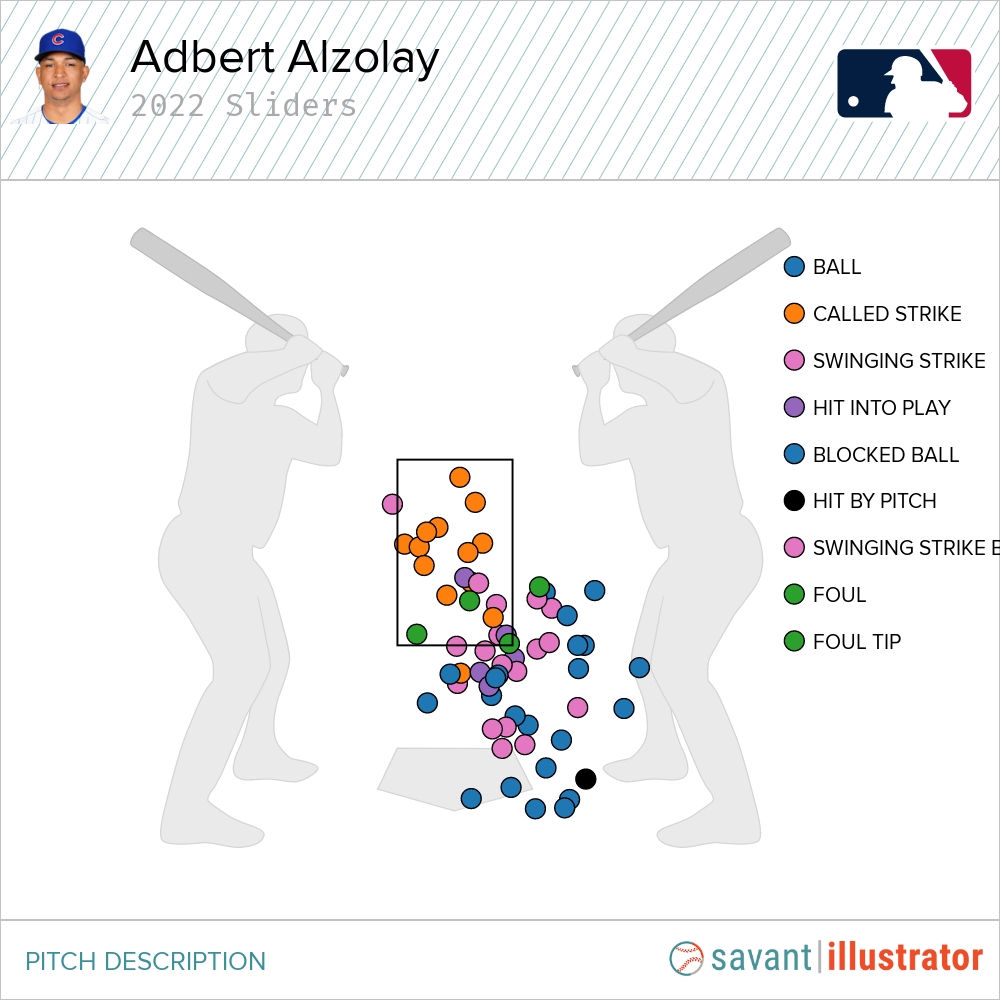 The pitch has come back down to earth a bit in 2023, but it's still every bit as effective as it was in 2021, when it racked up 9 runs of value at 1.1 per 100 uses. This year, he's throwing it a tick faster at 87.6 mph on average, and hitters have a .231 xSLG and .208 xwOBA off 216 of them. Stuff+ has it graded at a strong 120.
The unsung hero of Alzolay's arsenal, though, has been the sinker. Part of the advantage of him pitching in relief has been his ability to get a little extra zip on his fastballs, and the sinker, which he's throwing harder than ever this month at an average of 95.3 mph, is playing really well at these elevated speeds. While it has lost about an inch of its sink with less time in the air, he's managed to keep it running almost the same amount, right around 15 inches to the arm side. He's also used it more selectively against lefties, who hit the pitch way harder in previous years; the sinker does its best work running in and jamming right-handed hitters, leading to a lot of soft ground balls to the pull side and very few balls in the air.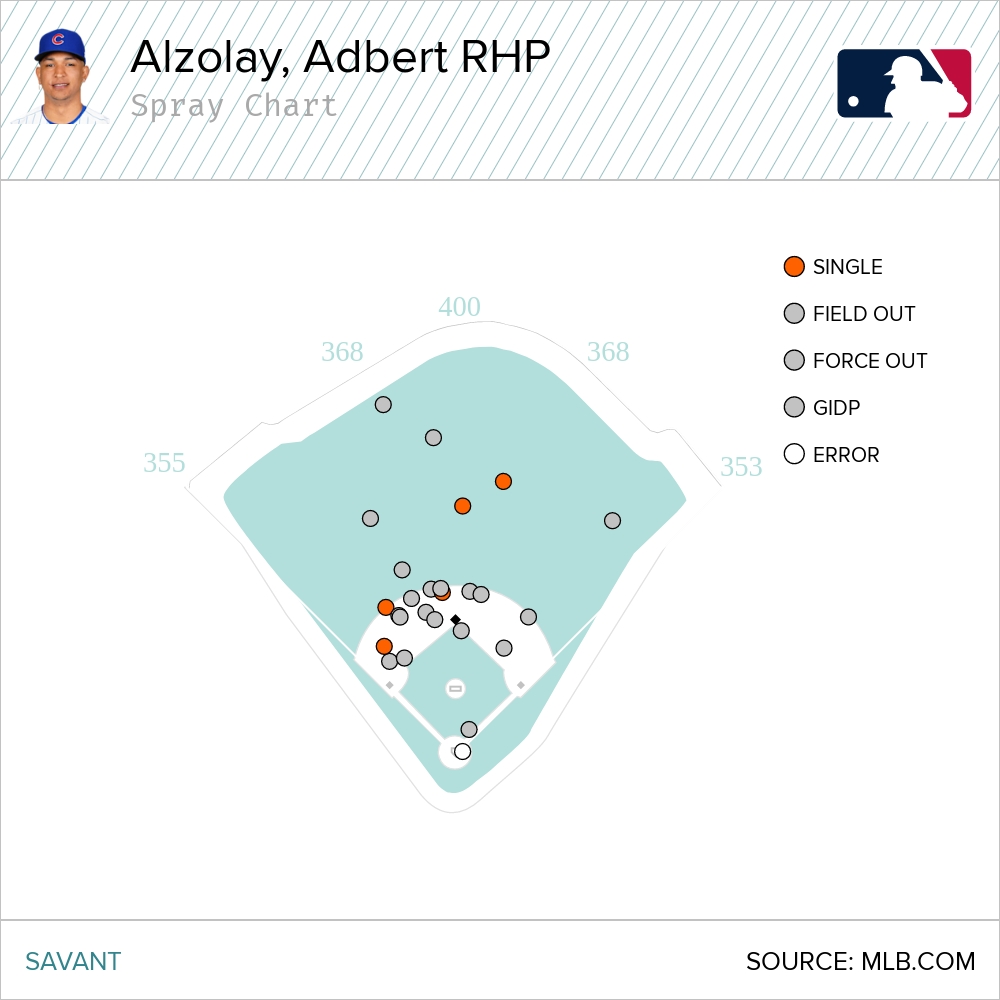 As of Wednesday, Alzolay's sinker has been 2023's second-most productive pitch by RV/100 among all pitches used 100 or more times, accumulating 5.6 runs on 108 uses. It's less of a whiff pitch and more of a soft contact pitch; hitters have an average exit velocity of 81.0 mph off of it, yielding a .166 wOBA and .237 xwOBA. Some friendly bounces, no doubt, but it's a very effective complement to the slider nonetheless.
MLB's Best Pitches by RV/100, 2023
SOURCE: Baseball Savant
Min. 100 pitches
As effective as the pitch has been, Alzolay's 18.2% usage rate feels like it could be leaving room for more. Lefties have done some damage on the four-seamer this year, which raises the question of whether he'd consider using the sinker more in its place. Overall, hitters have had the edge on the four-seamer so far this year to the tune of 2.0 runs, with a .446 xSLG and a .326 xwOBA to blame. It could benefit Alzolay to simplify his arsenal — leaning a little more into the sinker/slider combination that has worked so well for so many others — now that he's working shorter stints and only meeting hitters once an outing.
Alzolay's Sinker vs. Four-Seamer, 2021-23 in Relief
| Pitch | Velocity | Downward Break | Arm-Side Break | wOBA | xwOBA | Pitcher RV | EV |
| --- | --- | --- | --- | --- | --- | --- | --- |
| Sinker | 95.0 | 17.9 | 15.0 | .209 | .261 | 7.2 | 84.0 |
| Four-Seamer | 95.1 | 13.5 | 8.2 | .342 | .335 | -0.8 | 92.2 |
SOURCE: Baseball Savant
Ultimately, the switch to the bullpen has been a huge success for Alzolay, who has shown more improvement over his last 250 batters faced — a .252 xwOBA, down from a .343 xwOBA in his previous 250 hitters and roughly corresponding with his last start — than almost any other pitcher. Only José Alvarado has a bigger improvement over his last 250.
Earlier this month, I wrote about Brayan Bello and what he could mean for an often-criticized Red Sox pitching development infrastructure. The Cubs have felt a similar pressure in recent years, though the team is confident that it's turned a corner. With lefty Justin Steele reaching another level at the top of the rotation and his best friend Alzolay establishing himself as an anchor in the bullpen, Chicago is starting to see its work pay off at the big league level.
The Cubs' odds of making the playoffs have fallen under 10%, and — relievers being a hot commodity this time of year — they'll get questions about Alzolay in the weeks leading up to the deadline. But he still has four more years of control after 2023, and he looks like the type of player that could be a core part of Chicago's next contender. As far as he's come, here's hoping he gets that chance.