In the midst of a season in which he won AL Rookie of the Year honors and helped the Mariners break their 21-year playoff drought, Julio Rodríguez took a star turn at the 2022 Home Run Derby. The 21-year-old phenom thrilled the crowd at Dodger Stadium by crushing 32 homers in the first round, including nine of at least 440 feet, and defeated Corey Seager, 32-24. He followed that by knocking off two-time defending champion Pete Alonso in the semifinals, 31-23, before falling to Juan Soto in the finals, 19-18. With this year's Derby taking place at Seattle's T-Mobile Park, Rodríguez will try to become the fourth player to win the event on his home field, after the Cubs' Ryne Sandberg (1990), the Reds' Todd Frazier (2015), and the Nationals' Bryce Harper (2018).
What's more, Rodríguez, who's seeded seventh this year on the basis of the eight participants' home run totals through July 4, will again match up with the second-seeded Alonso in the first round — a pairing that coincidentally features the only two returning participants from last year. The stakes are high for Alonso here, as he's still seeking to join Seattle icon Ken Griffey Jr. as the only three-time winners in Derby history. To do that, he may have to defeat another familiar opponent: sixth-seeded Vladimir Guerrero Jr., who was the runner-up when Alonso won for the first time in 2019.
I'll get to the participants shortly, but first, the format, which is along the lines of what has been used for the event since 2015, a set of changes that has done wonders for the watchability of this spectacle. The competition will be an eight-man, single elimination bracket that uses timed rounds of three minutes apiece for the first two rounds and two minutes for the final round, by which point the competitors are generally pretty gassed. Each competitor gets an additional 30-second bonus in each round, and can earn an additional 30-second bonus if he hits at least two home runs with projected distances of at least 440 feet according to Statcast.
Each player is allowed to call one 45-second timeout for use during regulation time; it can't be used during bonus time, though each player will get a break between the regulation and bonus segments. The lower-seeded player in each round goes first, and the round will end in the equivalent of a walk-off if the higher seed surpasses his total. If two contestants are tied after the bonus time, they each get a 60-second round with no bonus time or timeouts, and if they're still tied after that, they each get rounds of three swings apiece until a winner is decided. The winner of the Derby will take home $1 million of the $2.5 million total pot.
The Derby arrives amid a season in which home run rates are on the rebound thanks at least in part to a livelier ball — one with a lower coefficient of drag — than last year's. Where teams averaged 1.07 home runs per game last year, the lowest mark since 2015, they're up to 1.16 this year, right around where they were in '16 and '18 but still below the record-setting '19 season (1.39 per game) and the elevated rates of '20 and '21. Similarly, hard-hit fly balls — those with an exit velocity of 95 mph or higher — are traveling an average of 366 feet, one foot farther than last year but one less than 2021, and nine feet below the peak in 2019. However, they don't carry as well at T-Mobile Park, which is just 10 feet above sea level, near the water, and one of the toughest parks to hit in overall. This year, those same hard-hit fly balls are averaging 359 feet at T-Mobile, one foot less than last year and nine feet less than 2019: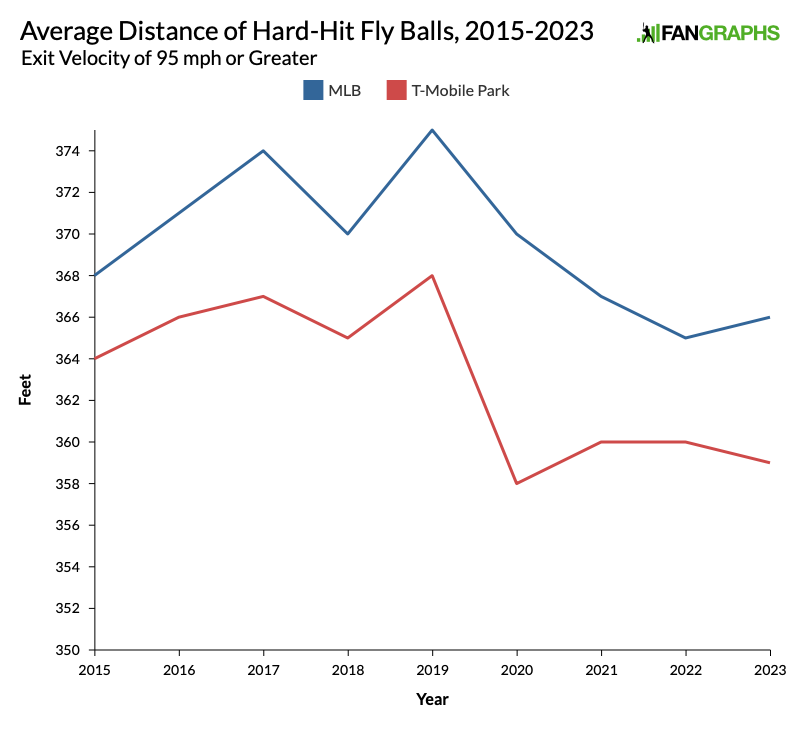 The impact of T-Mobile's home run suppression is mainly upon left-handed batters, owing to the longer distance to right-center (385 feet) than left-center (378 feet). Lefty hitters have a 94 park home run factor by our five-year methodology (six percent below league average), where righties have a 102 factor (two percent above league average). By Statcast's three-year methodology, the split is more extreme, with 90 for lefties and 104 for righties. Thus it shouldn't be all that surprising that all of the contestants in this year's Derby are righties, save for switch-hitter Adley Rutschman, who figures to bat righty. On that note, here's the full bracket: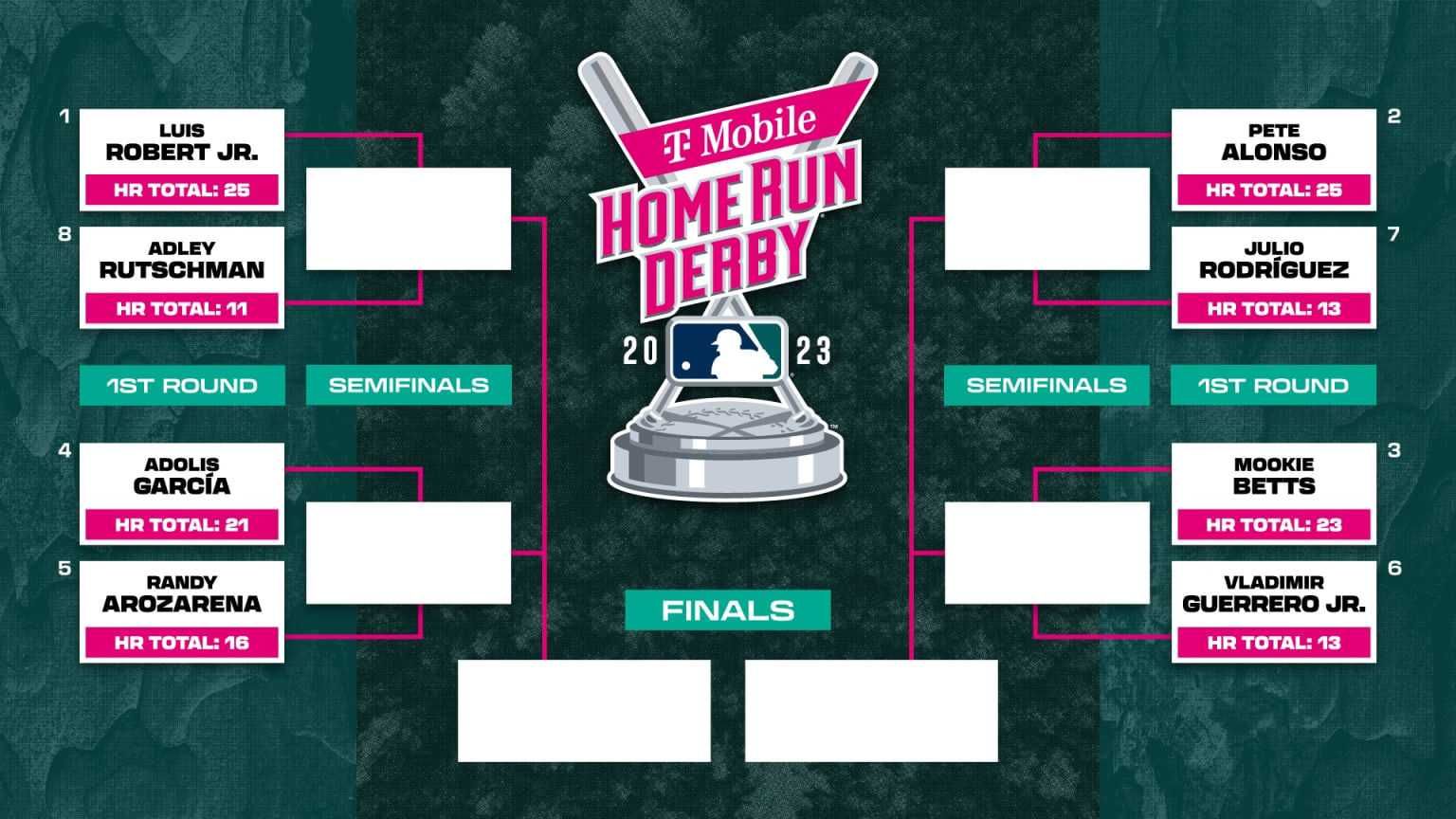 And here's a look at the field with some relevant stats:
2023 Home Run Derby Field
| Seed | Player | PA | HR | HR/PA | HR/Con | HR/FB | EVF | Avg HR | Barrel% | 440 |
| --- | --- | --- | --- | --- | --- | --- | --- | --- | --- | --- |
| 1 | Luis Robert Jr. | 375 | 26 | 6.9% | 11.2% | 25.2% | 95.9 | 406 | 15.5% | 9 |
| 2 | Pete Alonso | 348 | 26 | 7.5% | 11.3% | 24.5% | 94.2 | 404 | 14.8% | 23 |
| 3 | Mookie Betts | 396 | 26 | 6.6% | 9.5% | 19.4% | 96.1 | 397 | 12.8% | 2 |
| 4 | Adolis García | 393 | 23 | 5.9% | 9.0% | 19.0% | 96.2 | 401 | 16.4% | 4 |
| 5 | Randy Arozarena | 376 | 16 | 4.3% | 7.1% | 17.6% | 95.0 | 400 | 14.6% | 1 |
| 6 | Vladimir Guerrero Jr. | 384 | 13 | 3.4% | 4.5% | 13.8% | 96.2 | 409 | 13.6% | 16 |
| 7 | Julio Rodríguez | 397 | 13 | 3.3% | 4.9% | 14.6% | 94.0 | 394 | 9.8% | 3 |
| 8 | Adley Rutschman# | 383 | 12 | 3.1% | 4.5% | 12.5% | 91.9 | 403 | 6.7% | 1 |
All statistics through July 9. EVF (exit velocity on fly balls), Avg HR (average home-run distance) and 440 (career total of home runs projected for at least 440 feet) via Baseball Savant. # = Switch hitter.
The method of seeding is unsophisticated, as the players are ranked based upon how many home runs they had hit when the field was finalized on July 4, with home runs since June 15 used as a tiebreaker. By that methodology, one had to go all the way down to the tie for 63rd to include all eight participants. Home run totals are hardly the only measure of a slugger's capability, particularly in this context, and while it's fair to question the applicability of any of the above metrics I've gathered when it comes to non-game situations, it's worth appreciating the perspective they provide on this group. I've gone beyond the raw totals to show how often each contestant homers per plate appearance, per batted ball [HR/ (AB – SO + SF)], and per fly ball, with their average exit velocities on flies, their average projected home run distance, and their barrel rate, which according to a 2019 study by Devan Fink correlates best with recent Derby success. I've also included each player's Statcast-era total of homers with projected distances of least 440 feet, the threshold that the recent Derbies (save for the 2021 one at Coors Field) have used for the distance bonus.
Honestly, it's not the most dazzling field. Not that they would have participated if healthy, but it's a bummer not to have Aaron Judge or Mike Trout; the latter has never participated in the contest. We don't get Shohei Ohtani, major league home run leader, though it's tough to begrudge the two-way superstar some rest on the heels of what may have been the greatest month in major league history. No Ronald Acuña Jr., who's not only in the midst of an incredible season in terms of power and speed but also hits for incredible distance; his 426-foot average on home runs is the highest among any player with more than three homers. There's no Soto to defend his title, and no Harper, either, though that's understandable given the latter's less-than-full-powered recovery from offseason Tommy John surgery. Guerrero is actually the only other participant besides Rodríguez and Alonso with previous experience in this contest, and one of only three participants with 100 career homers, compared to seven of eight last year.
Still, it's a fun enough format that it should be entertaining nonetheless. Here's a look at the four matchups
(1) Robert vs. (8) Rutschman
The 25-year-old Robert is in the midst of his best season. He's second in the AL in homers behind Ohtani, and has already hit more than his 2021 and '22 seasons combined (25). That has something to do with staying healthy, as he played just 166 games in those two seasons, but he's also barreling the ball more consistently this year. He has the second-highest barrel rate of the group, as well as the second-highest average home run distance, and until Sunday he was also second in fly ball exit velocity before slipping behind in a crowded field. Given all that, he could be a very fun contestant.
The 25-year-old Rutschman is already an All-Star, a franchise cornerstone, and a face of baseball in the making, but statistically, it's hard to make a case as to why he's part of this field. He's last among the group in every category above — sometimes by a lot — except for average home run distance, where he leapfrogged from sixth to fourth on Sunday by hitting the longest home run of his career, a 461-footer into the upper deck at Target Field; in fact, that's the longest of any of this year's Derby participants as well. What he has going for him beyond that demonstration of potential power is the local hook. He's a native of Portland who starred at Oregon State, and he's easily the best choice of candidates who are either native to Oregon or Washington or went to college in those states (apologies to Michael Conforto and Jake Lamb). That should make him one of the fan favorites.
(2) Alonso vs. (7) Rodríguez
Before suffering a bone bruise and sprained left wrist when he was hit by a Charlie Morton pitch on June 7, the 28-year-old Alonso was setting a 57-homer pace. In placing him on the IL, the Mets announced, "A typical return to play for this type of injury is approximately 3–4 weeks," but Alonso spent just the minimum 10 days sidelined. He's homered four times since returning and is currently tied with Betts for second in the NL in homers, but has hit just .147/.267/.347 since the injury while producing an average exit velocity of 87 mph, with an 7.7% barrel rate. All of which is to say that he may not be 100%, which is a shame, because a healthy Alonso is as perfectly built for this competition as any player in the majors. One thing to note is that where Mets bench coach Dave Jauss was a big part of Alonso's success as his pitcher in the last two Derbies, this time around Mike Friedlein, Alonso's travel ball coach from when he was a Tampa teenager, will be throwing to him.
At 22, Rodríguez is the youngest participant for the second year in a row. His season thus far hasn't been up to the level of his stellar rookie campaign, though the drop-off isn't as wide as his 51-point drop in wOBA suggests. His exit velocity is 0.8 mph higher and his Best Speed exit velo — the average of his top 50% of batted balls, a better indictor of performance — has improved as well (from 103.7 mph to 104.1). That said, he's not barreling or pulling the ball as often, he's hitting it on the ground more, and his maximum exit velocity has fallen from 117.2 mph to 115.5. His average home run distance is the lowest in the field, and he has the highest share of homers projected for less than 400 feet (61.5%), though his ballpark may be to blame, as he's averaging eight feet fewer on his home homers (390 feet vs. 398). Still, it's clear from last year that he knows what he's doing in this format, and not hard to imagine the T-Mobile crowd giving him a lift.
(3) Betts vs. (6) Guerrero
The 30-year-old Betts is the oldest and most accomplished player in this field, the career leader in homers (239), the only former MVP, and already a likely Hall of Famer (he's 14th in JAWS among right fielders, ahead of Tony Gwynn, Ichiro Suzuki, Dave Winfield, and the elder Vladimir Guerrero). At 5-foot-9, 180 pounds, he doesn't look like a home run hitter, but after setting a career high with 35 last year, he's on pace for 47 this year, and just three leadoff homers away from tying the single-season record of 13. He's not much of a distance guy; just two of his career homers have reached the magic 440-foot mark, and half his homers this year had projected distances under 400 feet, a share higher than all but Rodríguez.
The 24-year-old Guerrero, on the other hand, is a distance guy. Sixteen of his 117 career homers (13.7%) have been 440-footers or longer, edging Alonso (13.3%) for the highest rate of this group. Meanwhile, Guerrero's 409-foot average for homers is three feet farther than any of the others, and he has the lowest share of sub-400 foot homers of the group this year (30.8%). Like Rodríguez, he isn't having a big season with the bat, but he is hitting the ball much harder than his slash stats suggest; his .547 xSLG is 104 points higher than his SLG. In other words, he brings the thunder. Of the lower seeds, he's got the best shot at winding up in the finals.
(4) García vs. (5) Arozarena
Not only does this matchup pit a pair of Cuban players against each other, but both García and Arozarena were teammates in the Cardinals' minor league chain before being traded away. They remain close friends, and García is godfather to Arozarena's daughter. If the top-seeded Robert advances out of the first round to face the winner here, that semifinals matchup will also be an all-Cuban affair.
The 30-year-old García leads the group in terms of both barrel rate and average exit velocity on fly balls. His four homers of at least 440 feet puts him in the upper half here, though note that while the 28-year-old Arozarena has none, his average distance is just one foot less than that of his pal. Though not a particularly prolific home run hitter — he's topped out at 20 in his two full seasons — Arozarena has been hitting the ball much harder this year, with his barrel rate and other Statcast numbers career highs. And as his postseason resumé and star turn for Team Mexico in the World Baseball Classic have shown, he's a player who absolutely thrives in the spotlight. That could be a big help in this contest.
If you've read this far, you probably want some predictions, and while I'm no expert in prognostication, my track record since joining the FanGraphs staff includes the Harper and Alonso wins in 2018-19 — the latter over Guerrero in the finals, even (not that I was going too far out on a limb either time). I haven't done as well in recent years, however, and while my impulse is to pick Alonso based on his career resumé, instead I'm going with Guerrero over Robert in the finals. More than anything, I'm hopeful that despite the relative lack of star power, this contest will provide thrills on the level of recent Derbies.