Earlier this week, my colleague Ben Clemens wrote about Marcus Semien and his impressive durability. As Ben pointed out, Semien leads the majors in plate appearances over the last five seasons, which has helped him to be one of the most valuable players in the game despite his relative shortage of standout skills.
The most productive catcher during that same time period has been J.T. Realmuto, who leads his fellow backstops by more than 5 WAR. He's also way ahead of the pack with 2,147 plate appearances; Willson Contreras ranks second with 1,879. On the defensive side, the Phillies catcher is similarly outpacing his peers. He has played 4,084 innings behind the dish, 397.2 more than Martín Maldonado in second place. That's the equivalent of 44 full games, or Austin Hedges' 2023 season to date. Much like Semien, Realmuto encapsulates the popular aphorism "availability is the best ability." He isn't the best defender or the best offensive catcher, but he's good at everything he does, and he does it more often than anyone else.
This year, however, Realmuto has some competition on the availability front. He still leads the league in defensive innings and plate appearances as a catcher, but he has more company on the leaderboards than usual. Thus far in 2023, nearly halfway into the season, 13 (13!) catchers are qualified for the batting title:
You'd have to go all the way back to 1891 to find the last season in which 13 catchers finished with the requisite number of plate appearances to qualify. Even then, it only happened because the Cincinnati Kelly's Killers shut their doors partway through the season, and the Milwaukee Brewers (no, not those Milwaukee Brewers) became a major league franchise with only 36 games left to play. Their catcher, John Grim, technically qualified for the batting title with just 121 PA to his name.
The latest date into the 2022 season that 13 different catchers were qualified for the batting title was April 15, just over a week in. From April 23 onward, there were never more than eight qualified catchers, and from June 22 onward, never more than seven. By the end of the year, the number of qualified catchers was down to five. Only two qualified the year before, and there haven't been more than six qualified catchers in a season since 2016.
These two graphs show the number of qualified catchers in each season from 1961 to 2022, on a five-year rolling basis. The first presents the number of catchers per team, while the second shows the number of catchers as a percentage of all qualified hitters: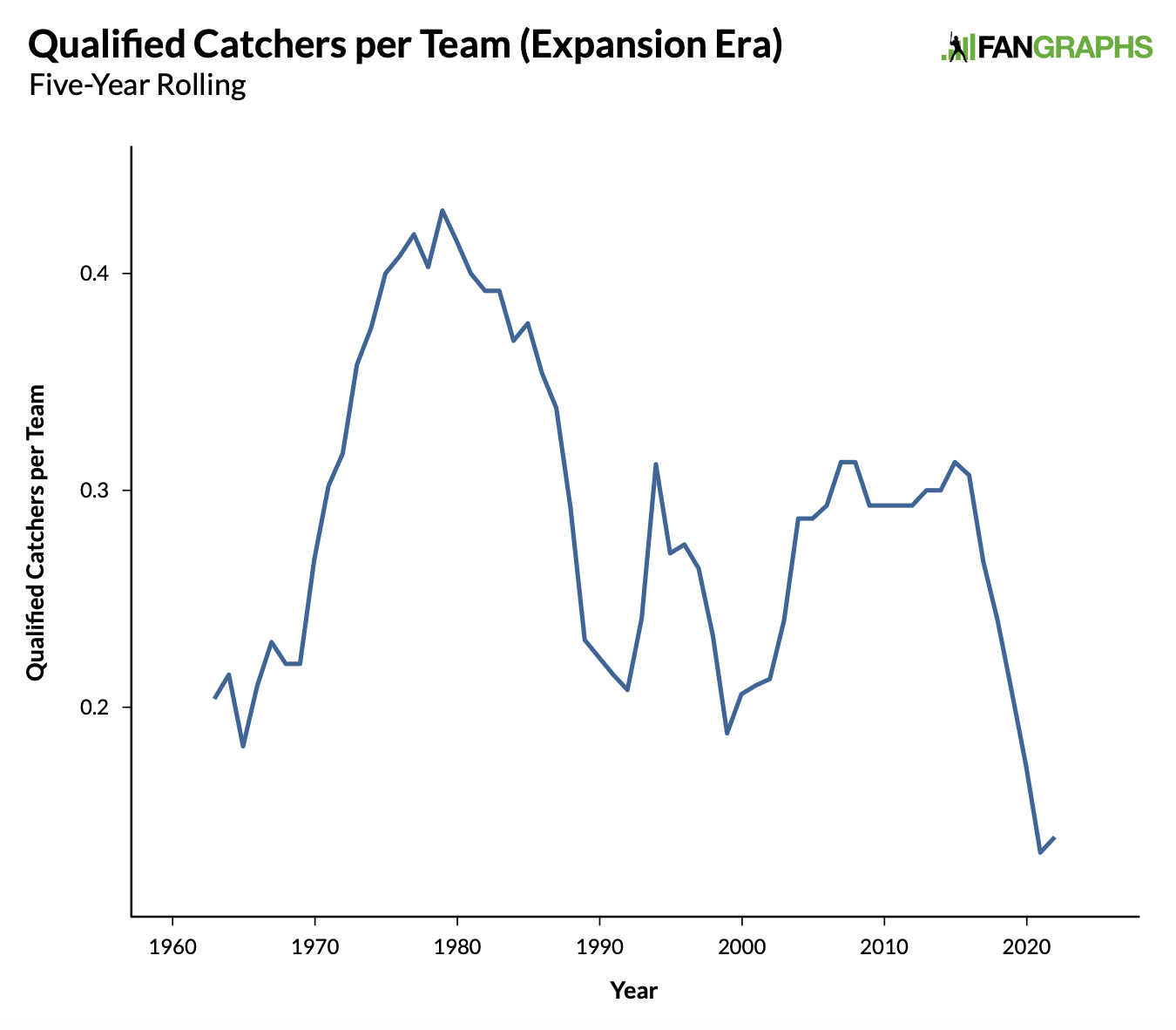 The two graphs are practically identical, and the main takeaway should be quite apparent: Lately, catchers have been qualifying at an historically low rate, both in raw number and compared to their peers at other positions. From 2017-22, we saw an average of 4.17 qualified backstops per year. That's less than one for each division.
At times, this trend has made me wonder if we need a separate threshold of qualification for catchers. This hypothetical threshold wouldn't allow any extra players to contend for the batting title, but it would provide us with a universally agreed-upon playing time minimum to use when comparing catchers – not dissimilar to how relief pitchers have their own innings minimum for qualification.
Consider this: In 2021, Realmuto ranked last among qualified catchers in hits, home runs, RBI, batting average, isolated power, wOBA, xwOBA, and wRC+. He was also an All-Star who finished with 4.5 WAR. The phrase "qualified catchers" is essentially meaningless in that context. The current 3.1 plate appearance standard that works for other position players isn't always so useful behind the plate.
Yet if the first 75-ish games of the 2023 season are any indication, a new threshold might not be necessary after all. Here's that list of qualified catchers again, with a little more detail this time. I've also tacked on a couple more players who are tantalizingly close to qualification:
Qualified (and Qualified Adjacent) Catchers, 2023
| Player | Team | PA | PA at Catcher | %PA at Catcher |
| --- | --- | --- | --- | --- |
| Adley Rutschman | BAL | 319 | 240 | 75% |
| Tyler Stephenson | CIN | 292 | 127 | 43% |
| Salvador Perez | KCR | 284 | 210 | 74% |
| Willson Contreras | STL | 275 | 196 | 71% |
| Jonah Heim | TEX | 263 | 238 | 90% |
| J.T. Realmuto | PHI | 260 | 257 | 99% |
| Elias Diaz | COL | 257 | 236 | 92% |
| Keibert Ruiz | WSN | 250 | 245 | 98% |
| Shea Langeliers | OAK | 250 | 222 | 89% |
| Cal Raleigh | SEA | 240 | 208 | 87% |
| Sean Murphy | ATL | 235 | 214 | 91% |
| Will Smith | LAD | 233 | 208 | 89% |
| William Contreras | MIL | 231 | 200 | 87% |
| Yasmani Grandal | CHW | 220 | 182 | 83% |
| Gabriel Moreno | ARI | 201 | 195 | 97% |
That's a whole lot of catchers with a fighting chance to qualify by season's end. What's more, there aren't many cheapies on the list; all but one of these guys have actually caught at least 70% of their games. Last year, only three of five qualified catchers caught 70% of their games, and only Realmuto was behind the dish for more than 85% of his contests.
We clearly have some exceptional lack-of-injury luck to thank for this phenomenon. Twenty-six big league catchers have spent time on the injured list this season, but the top catchers in the game have kept remarkably healthy. Of the top 10 catchers by projected plate appearances entering the season (per our Depth Charts), only one has spent time on the injured list: Will Smith, who qualifies anyway. Furthermore, of the top 15 by projected plate appearances at catcher, it's still only Smith who's been on the IL.
The universal DH (and the growing tendency to rotate various players through the DH spot) is also a significant factor, although it's hard to say to what degree. On the one hand, nearly all of these catchers have spent time as the DH, helping them to rack up additional at-bats. The four catchers with the most plate appearances this year have all played at least 17 games at DH. Moreover, if we only counted plate appearances at catcher, only five of these guys would still qualify. That's not nothing, but nor is it nearly as impressive.
However, the other nine qualified catchers have spent nine or fewer games at DH, and if DH weren't an option, they might have played some of those games behind the plate instead. Furthermore, it's not as if the AL always had more qualified catchers before the NL adopted the designated hitter. Over the last 30 non-DH seasons, the AL only had seven more qualified catchers, and the NL actually had several more in the five years before the implementation of the universal DH: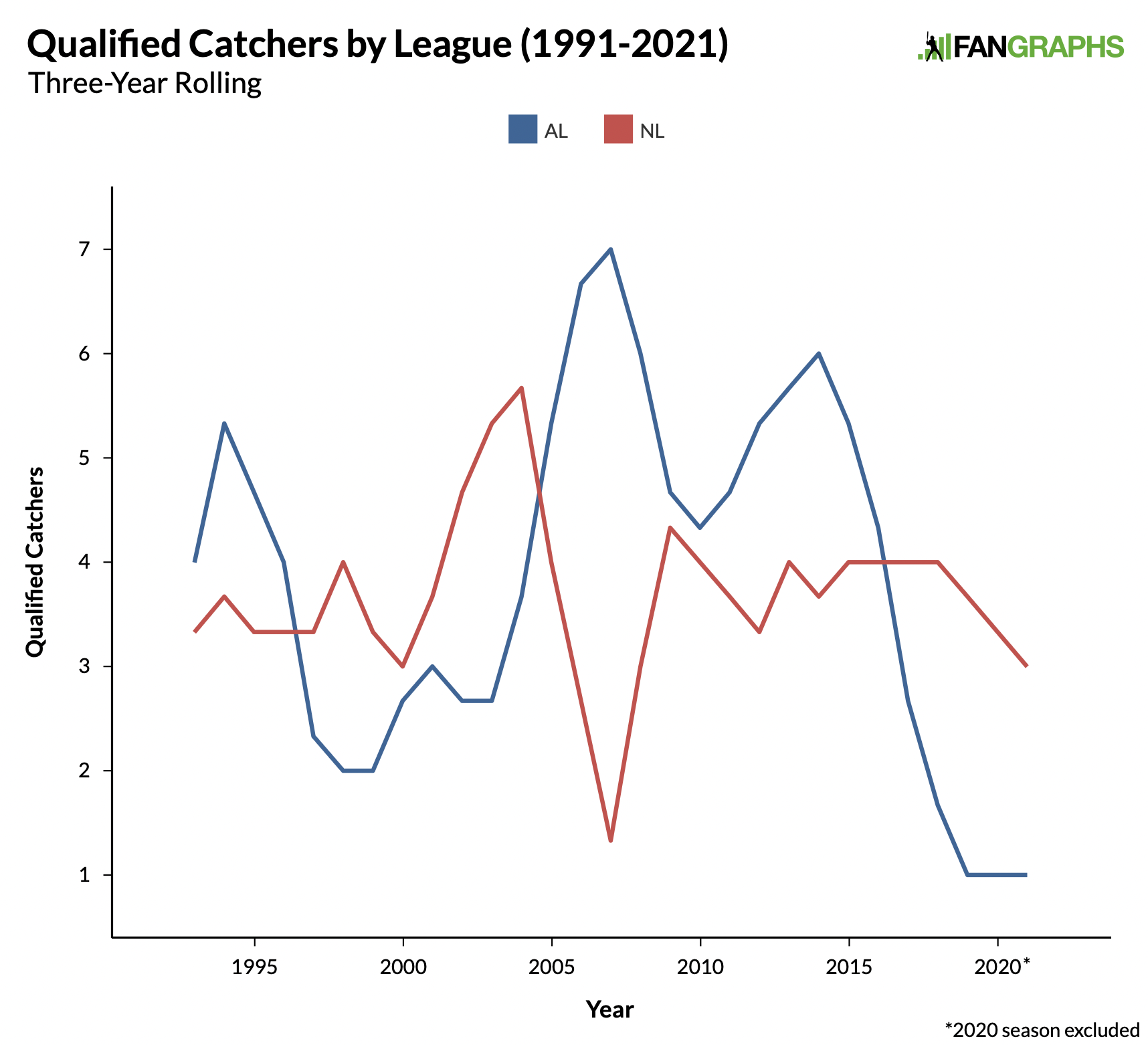 In other words, while the universal DH isn't hurting, I'm inclined to give more credit to the players themselves; we have the privilege of watching an especially durable cohort of catchers this year. It's highly unlikely that all 13 will finish with enough plate appearances to qualify, but individually, each of them has what it takes.
There's no question that Realmuto and Salvador Perez can qualify for the batting title. Perez has done so six times in his career, while Realmuto has qualified seven years straight. Willson Contreras has also qualified twice before, and in his case, the only question is how often he'll play catcher instead of DH. Yasmani Grandal isn't on pace to qualify, but he's done so three times before, and he's got a good chance to do so in 2023 as long as his recent bout of knee soreness doesn't turn into a larger problem.
Sean Murphy and Smith both qualified for the first time last year, and each is in a strong position to do so again. They're the top two catchers by WAR this season, and the Braves and Dodgers are going to want them on the field as much as possible. Indeed, it was Smith who first inspired this article, when he fought his way back to qualified status last week after suffering a concussion in mid-April.
The other nine catchers on the list would all be first-time qualifiers in 2023. For the sake of this analysis, let's further divide them into two groups: the promising young names who comprise the next generation of talented catchers, and Elias Díaz.
I don't mean Díaz any disrespect – quite the opposite, in fact. The 32-year-old debuted in 2015 and surpassed rookie limits two years later, but he's never had more than 381 PA in a season. This year, he has finally taken a full-time job, and he has run with it. He's cooled down substantially after a hot start in April and May, but his 103 wRC+ is still strong for his position. He's been one of the most durable catchers this season, ranking second in games caught, and he has stayed healthy throughout his career. With the way he's playing, the veteran seems like a good bet to qualify in 2023.
The other eight catchers are all 27 or younger with limited big league experience. It's an impressive group of names, and it bodes well for the future of the position:
The Future Behind the Plate
| Name | Age | Career Games | Career PA | Career WAR |
| --- | --- | --- | --- | --- |
| Jonah Heim | 27 | 287 | 1039 | 6.4 |
| Cal Raleigh | 26 | 229 | 803 | 5.7 |
| Tyler Stephenson | 26 | 262 | 897 | 3.3 |
| Shea Langeliers | 25 | 105 | 403 | -0.2 |
| William Contreras | 25 | 210 | 802 | 4.2 |
| Adley Rutschman | 25 | 184 | 789 | 7.2 |
| Keibert Ruiz | 24 | 203 | 787 | 1.9 |
| Gabriel Moreno | 23 | 84 | 274 | 1.1 |
It's never easy to predict how many games a young catcher will play, but most of these guys have already shown off their durability at one point or another. Keibert Ruiz ranks second among catchers in defensive innings, and he was on pace to qualify last year until a freak injury ended his season in early September. Adley Rutschman and Shea Langeliers were both qualified last year from the dates of their respective call-ups onward, and both had more than 502 PA combined between the majors and Triple-A.
Cal Raleigh and Jonah Heim have both qualified over the past calendar year; since June 23, 2022, Heim has 532 PA and Raleigh just squeaks in with 515. They both established themselves as frontline catchers last season, and they're both extremely important to their respective clubs. These guys will get the chance to play. Then there's Tyler Stephenson, who I debated including in this piece at all. Technically, he is a qualified catcher, but he has spent more than half his season playing DH or first base. However, with Joey Votto back in the lineup and Spencer Steer hitting so well, Stephenson might have to catch a little more often if he wants to get in the lineup for the rest of the year.
Finally, William Contreras and Gabriel Moreno are the biggest wild cards in the conversation. Contreras set a career high with 427 PA last year between Triple-A and the majors, while Moreno has never had more than 341 PA in a season. Contreras is the second-best hitter in Milwaukee's lineup, and he should get every chance to qualify as long as he stays healthy. Moreno, on the other hand, has gotten more playing time than expected because of Carson Kelly's long stint on the injured list. Now that Kelly is back on the field, the D-backs might take it easy with Moreno.
Thirteen catchers are currently qualified for the rate stat leaderboards, and two more are close behind. If they all reach that magical threshold by season's end, this would be a landmark season in catching history. Even if only half of them can pull it off, it would buck a years-long trend of catchers playing less and less. Either way, it's a storyline worth following for the rest of the season.