On Wednesday night, an eight-run seventh-inning outburst against the Yankees catalyzed another Orioles win, bringing their record to 32–17, second best in the majors. Among the highlights in the frame: Adam Frazier brought home three with a shot off the foul pole, and Gunnar Henderson plated two with a pinch-hit double. Understandably lost in the scrum was the first hit in the rally, a 109.6 mph scorcher off the bat of Austin Hays that snuck through the infield.
With two hits in four at-bats Wednesday, Hays brought his season slash up to .308/.351/.484 and his wRC+ to 131. The excitement that has come along with the Baby Birds — namely Henderson, Adley Rutschman, and Grayson Rodriguez — has overshadowed what looks to be a breakout season for the left fielder despite his own former prospect status. It's easy to forget that back in 2017, Hays homered 32 times as a 21-year-old between High-A and Double-A, earning a call-up without a single Triple-A appearance. He was the first 2016 draftee to make the majors.
But he struggled in his cup of coffee and then again in the minors the next season, working around an ankle injury that ultimately required surgery. He made it back to the majors in 2019 and became a regular in 2020, though he missed more time with a sprained thumb in the latter year and played through a hernia in 2021. Throughout this period, he developed a reputation as a bruiser, but his production settled in around league average.
Coming into this year in good physical shape and entering his prime at 27 years old, Hays seemed poised for a breakout. At times a free-swinger, he's reached peak selectivity this year, another indicator of his maturity. But he's also made some tweaks to his swing, leaving me to wonder: what's really responsible for his better numbers this season? In a spring training interview with former Baltimore Sun beat reporter Jon Meoli, the right-handed slugger described the changes as part of a larger attempt to tap back into his natural all-fields power. What better time to do so than after the Orioles moved the fences back in left field?
But has Hays ever really harnessed his supposed all-fields ability in his professional career? Prior to this year, his Oppo% on flyballs in the majors was just 34.1%, considerably below the major league average of 39% from 2017 to '22 (the same timespan). For his stints in the minors, we don't have the ability to split flies by spray direction, but we can look at Hays' Oppo% across all batted ball types. During that excellent 2017 campaign in the minors, when he was perhaps last at full strength, his Oppo% barely topped 25% and 23% in High-A and Double-A, respectively. The major-league average Oppo% from 2017 to '22 was 25%, a mark he only exceeded in the minors by a noteworthy margin during poor 2018 and '19 campaigns at Double-A and Triple-A, respectively. Additionally, prior to this year, his Oppo% in the majors was just 23.4%, though he's posted lower pull rates than he did in the minors.
Regardless, in 2023, Hays' overall Oppo% has risen to 28.9%, and you guessed it: most of that is due to his results on fly balls. Granted, he's only hit 40 of them this season, but 21 of them have gone to right field. In his major league career prior, only 34.1% of his flies went in that direction. So he's achieved his goal, but has it been worth it?
I wasn't sure why Hays decided to go in this direction. In addition to never breaching this territory of extreme spray hitter before in his professional career, evidence from his time in the minors suggested that it might not be the best idea. But more importantly, consider the following from his time in the majors:
Austin Hays' Fly Balls
| Spray | % | wOBA | Hard% | n |
| --- | --- | --- | --- | --- |
| Pull | 27.8 | 0.733 | 43.7 | 103 |
| Center | 38.1 | 0.223 | 40.4 | 141 |
| Oppo | 34.1 | 0.178 | 19.8 | 126 |
| Pull | 22.5 | 0.602 | 55.6 | 9 |
| Center | 25.0 | 1.016 | 70.0 | 10 |
| Oppo | 52.5 | 0.240 | 19.0 | 21 |
This year, his wOBA on oppo flies has improved significantly, and while it handily outpaces this season's league average wOBA of .184 (.192 for righties) on those balls, it still doesn't seem worth sacrificing pulled or center ones. On 19 pulled and center flies this year, he's managed 10 hits, including four homers, four doubles, and a triple. Historically, his oppo flies have underperformed relative to his pulled and center ones, and this year has been no different.
Well, except that his performance on center flies has been otherworldly. There's certainly an argument to be made that the revamped swing is behind those numbers, but the sample is really small. Plus, even if the swing is the cause, it appears to allow only for a limited number of those big center flies; the oppo fly balls really seem to be coming at the expense of other fly balls more than anything else.
Surprisingly, Hays' groundball and line drive distributions haven't really changed. Before this year, 17.1% of those batted balls went oppo; this year, 16.2% of them have. That's probably a good thing, because Hays was shifted more often — with three infielders to the left of second base, as determined by Baseball Savant — than the average righty last season, albeit only 18.1% of the time. Either way, maintaining his groundball and line drive distributions will at least allow him to win a few bonus points of batting average using that extra real estate to the left side. On 74 grounders and line drives this year, his .446 BABIP is a significant improvement over his previous .389 mark.
In case you're wondering, that .446 number comes from a 72/28 grounder/liner split, and the .389 comes from a 70/30 split, so that isn't what's driving the change. But shift ban isn't the sole cause either, because his Hard% on those batted balls this year has been at 41.9% compared to a mere 26.9% before. And while Hard% is somewhat subjective, Statcast agrees, putting his overall hard-hit rate (percent of balls with an exit velocity of at least 95 mph) at a career-high 43.9%. His 13.2% barrel rate, also a career-high, is more than double his major-league average previously.
But again, none of this is coming from his oppo flies. Just four of his 21 have been hit hard according to Hard%; at a 19% rate, that's slightly below his career prior (19.8%). On the other hand, he's crushing his fly balls to left and center.
If I had to guess what's responsible for Hays' improvement in 2023, his career-bests in contact quality, I'd put my money on his clean bill of health. His overall wOBA on fly balls has improved, and it's possible the revamped swing is behind his success on balls hit to center. But if it is, it would be inadvertently, because in his interview he especially emphasized wanting to drive the ball to the open swath of grass in right center. Here, his spray chart is particularly telling: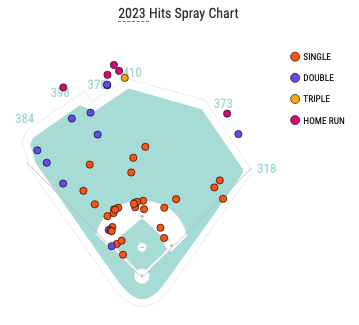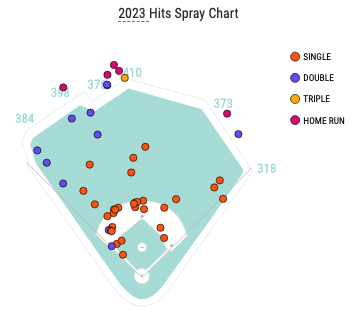 That acreage is almost entirely devoid of hits, making it hard to believe the swing is doing what it's intended to. So it's possible there's another gear waiting for Hays if he can shift some of his flies back to center and left. That would be a risky experiment, though, just in case the new swing really is driving some of these improvements. It's anyone's guess if the Orioles, who were content to sit out most of the offseason but are off to such a strong start, would be willing to take on such a risk.
Statistics are as of end-of-day Tuesday, May 23 unless otherwise specified.