Like a riddling Batman villain, the Red Sox entered the 2023 season draped in question marks. Much of the uncertainty surrounded their rotation, which was set to include injury-prone veterans Chris Sale, Corey Kluber, and James Paxton; perennial "breakout" candidate Nick Pivetta; and converted reliever/inexperienced starter Garrett Whitlock. Moreover, the Red Sox were heading into battle without their three most valuable defensive players from the year before. Christian Vázquez, Xander Bogaerts, and Trevor Story combined for 20 DRS and 28.8 DEF in Boston last season; the rest of the team produced -51 DRS and -40.8 DEF. Reese McGuire, Enrique Hernández, and Christian Arroyo had big shoes to fill.
The offense looked much less troublesome in comparison. Losing Bogaerts would hurt, but the Sox had average or better hitters penciled into almost every spot of the Opening Day lineup:
Red Sox Opening Day Lineup
That's a solid starting nine, led by two All-Star level talents and featuring three above-average hitters, three capable bats, and a catcher. At the same time, that group didn't seem like enough to offset Boston's shoddy run prevention unit or compete with the monstrous lineups in New York, Toronto, and Tampa Bay. The Opening Day ZiPS projections had the Red Sox finishing 77-85, good for last place in the AL East.
Six weeks into the season, the Red Sox are starting to get answers to their questions. First and foremost, run prevention has indeed been a serious problem. Boston ranks 24th in the majors with a 4.84 ERA and 2.0 WAR, and the defense has compiled -8 OAA, -10 DRS, and -4.9 DEF. The Sox have allowed 192 runs, fourth-most in baseball behind only the disastrous Athletics, White Sox, and Royals. Yet nonetheless, this team is outperforming expectations. Boston sits five games above .500 with a +19 run differential and the third-most runs scored in the sport. The defense has been mediocre, and the starting rotation has succumbed to injury, age, and inconsistency, but the offense has picked up the slack:
Red Sox Offense
| Statistic | Red Sox | AL Rank |
| --- | --- | --- |
| HR | 48 | 3rd |
| AVG | .270 | 2nd |
| OBP | .340 | 2nd |
| SLG | .450 | 2nd |
| wRC+ | 114 | 3rd |
The Red Sox have been especially successful of late, having won eight of their last ten games and six of their last eight series. Since getting swept by the Rays in early April, Boston has gone 16-8 with a +21 run differential, and all the credit goes to the offense. The Sox have allowed 119 runs in their last 24 contests, sixth-most in baseball, but they have also scored 140, second-most in the game. In other words, they've been bleeding runs, but they're scoring enough to compensate. Despite allowing nearly five runs per game, the Red Sox have a Pythagorean winning percentage of .574 (a 93-win pace).
All the more impressive, the Red Sox have done this without Adam Duvall, the best hitter in baseball over the first ten games of the season, and with Rafael Devers in a mini-slump (100 wRC+ in his last 24 games). In their stead, several others have stepped up, most notably a major offseason signing, a former top prospect, and two names from the infamous Mookie Betts trade:
Red Sox Top Performers (Last 24 Games)
| Player | wRC+ (Since April 14) | wRC+ (Season To Date) |
| --- | --- | --- |
| Masataka Yoshida | 172 | 146 |
| Jarren Duran | 166 | 166 |
| Connor Wong | 166 | 107 |
| Alex Verdugo | 160 | 145 |
When the Red Sox signed Yoshida to a five-year, $90 million deal, many fans (and MLB executives) thought the team had overspent for the 29-year-old outfielder. With his performance so far, he seems intent on proving those critics wrong. He is slashing .308/.388/.513 with a perfectly sustainable .300 BABIP, and his contact skills have been as good as advertised. Yoshida is one of ten qualified batters with more walks than strikeouts and one of only six with a strikeout rate below 10%. He rarely swings – his 39.3% swing rate ranks 155th out of 172 qualified hitters – but when he takes a hack, he doesn't miss:
Yoshida's Whiff Rate vs. Pitch Groups
| Player | Fastballs | Breaking Balls | Offspeed Pitches |
| --- | --- | --- | --- |
| Masataka Yoshida | 12.3% | 25% | 15.4% |
| League Average | 20.5% | 32% | 32.2% |
SOURCE: Baseball Savant
What's more, Yoshida has also been a legitimate power threat. In 30 contests, he has crushed six home runs and six doubles, and his .205 isolated power is about 30% higher than league average. From a quick look at the underlying numbers, you might think he's due for some regression. It's hard to keep knocking extra-base hits with a 59.4% groundball rate, and Yoshida's 21.4% HR/FB ratio is up there with the best power hitters in the game. But a closer look at the underlying data tells a different story. After all, his expected slugging percentage is a little higher than his actual slugging percentage, and it's not as if any of his extra-base hits have been flukes. When he does hit the ball in the air, he hits it really hard. His hard-hit rate on fly balls and line drives is nearly 10% higher than league average, and his numbers are even more impressive when you remove popups:
Quality of Contact on Balls in the Air
| Player | Avg. EV | 95 mph+ | 100 mph+ | SweetSpot% |
| --- | --- | --- | --- | --- |
| Masataka Yoshida | 96 mph | 62.2% | 46.0% | 75.7% |
| League Average | 93.1 mph | 49.2% | 30.5% | 66.6% |
SOURCE: Baseball Savant
After Yoshida, no Red Sox hitter has been more valuable over the last few weeks than Jarren Duran. The young outfielder was called up in mid-April and has been slugging since the moment he arrived. He doubled in his first four games of the year and has continued to hit just as well in the 17 games since. While his .463 BABIP is ridiculous, it's hard not to be impressed by his 13 extra-base hits in 21 games.
The former top-100 prospect has always had more power potential than he displayed in-game. In Duran's last prospect evaluation before he graduated to the majors, Eric Longenhagen gave his game power a 30 Future Value grade but his raw power a 45 and explained that the Red Sox were working to unlock more power in his swing:
The Red Sox and Duran added yet another wrinkle to his already surprising pro development track by making a very significant swing alteration…He now starts with a narrower base than before, and his hands are set much lower to start, changes that theoretically create better rotation up through the kinetic chain and natural swing loft, respectively…Visually, it now appears Duran can better lift pitches in the bottom of the zone. He didn't exactly hit for power in Puerto Rico over the winter, though, and the org thinks it's because his new swing requires more precise timing, which Duran hasn't yet found.
Duran didn't find that power in 2021 or '22, but he is finally lifting the ball more often this season. His average launch angle is up from 7.6 to 13.3 degrees, and he has hit an additional 15% of his batted balls in the air. He has also been swinging the bat more deliberately this season, offering at fewer overall pitches but making significantly more contact on pitches in the strike zone.
Duran has always been a good hitter when he elevates the ball, so if he can keep this up, he should continue to succeed even when his BABIP regresses. We're still working with a minuscule sample size at this point, but it's good to see Duran doing what he needs to do, and for what it's worth, he has kept his average launch angle in the sweet spot consistently thus far: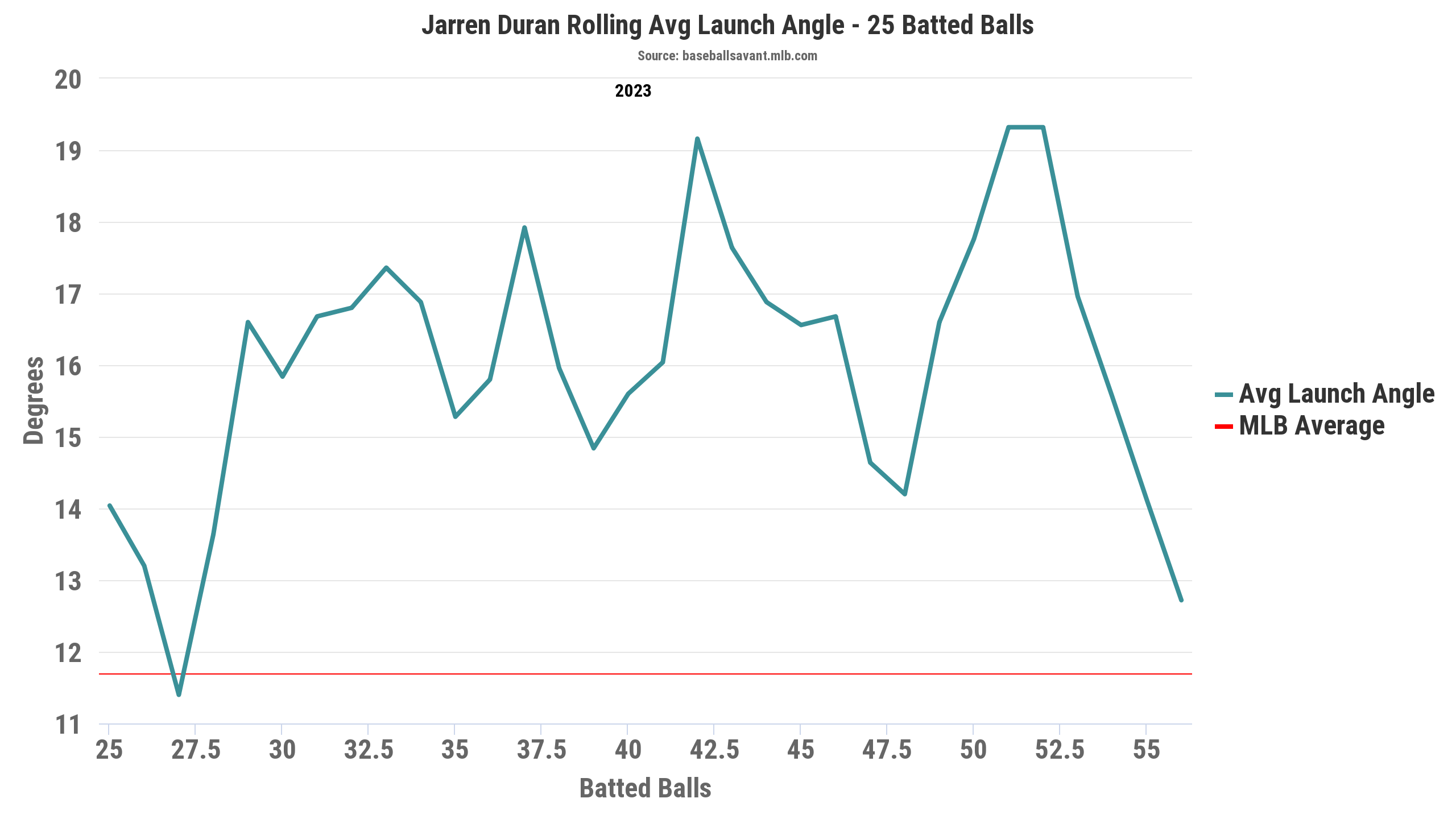 Connor Wong has been another surprise contributor in Boston, and his emergence has coincided perfectly with the team's recent hot streak. On April 14, he reached base safely in three of four plate appearances and scored what would turn out to be the winning run. Since that day, he has hit .327/.389/.592 with three home runs and four doubles in 17 games. He has seen his playing time increase at the expense of a slumping McGuire.
The power numbers are impressive (the batting average less so, given his .433 BABIP), but Wong doesn't make enough contact or elevate the baseball enough to keep this going; there's a reason his expected slugging percentage on the season is 57 points lower than his actual slugging percentage. Indeed, two of his doubles this year were groundballs down the line that just skirted past the third baseman. I'm not saying they were cheap shots, but there's a world where both of those balls are outs and Wong's slugging percentage drops more than fifty points.
More importantly, Wong has yet to show the necessary plate discipline he needs in order to take a step forward. His strikeout rate was always a red flag during his prospect days, and it continues to be a problem. He is striking out 27.2% of the time this year, and since he got "hot" in mid-April, he's been striking out even more. He has swung at more than half the pitches he's seen this season, and his contact skills aren't good enough to allow for such a swing-happy approach. He has one of the highest first-pitch strike rates in the sport right now, and he needs to be more selective if he wants to maximize his power and reach base at a decent clip. Wong is still a valuable contributor behind the plate, but he has work to do if he wants his bat to be as strong as his arm:
Finally, we come to Alex Verdugo, who has been turning heads as a potential breakout candidate all year. His 145 wRC+ ranks 13th in the AL, and his 1.4 WAR is tenth. To achieve those numbers, he's been doing all the right things: swinging less often but making more contact when he does choose to swing. Verdugo has always been good at making contact in the strike zone (91.7% career Z-Contact%), but he's taken it to a whole new level this year, running a 95.2% zone contact rate. Since April 14, he has found the ball on a ridiculous 97.3% of swings in the zone.
What makes this development so promising is that Verdugo is also hitting for power this season, with five home runs and 17 extra-base hits, good for a .197 ISO. He's hitting more fly balls and pulling those fly balls more often, and the results have been excellent. To understand why this combination of power and contact is so impressive, just look at the list of hitters from last season with a zone contact rate above 90% and an ISO above .170. Verdugo is putting himself in truly excellent company:
The Rare Contact and Power Hitter
These four hitters have carried the Red Sox throughout their latest hot streak. While I don't foresee any of them maintaining a 160 wRC+, all four look like legitimately better players than they were expected to be. That's certainly good news for Boston; considering the state of the pitching staff and defense, the offense needs to rake to keep the team's postseason dreams alive.