It's not often that a 33-year old player still owed $34 million over two years is designated for assignment, but after a three-inning, seven run performance against the Cardinals on Wednesday that ballooned his ERA to 10.26, the Diamondbacks decided to cut bait on Madison Bumgarner. Things certainly didn't go the way the D-Backs anticipated after inking him to a five-year, $85 million deal, as he closed out his Arizona tenure with a 5.23 ERA, 5.18 FIP, and 1 WAR in 363 innings.
As a Diamondback, Bumgarner seemed like a shell of his former self, the former Giants ace who was the hero of three separate playoff runs. His numbers went from good to terrible almost overnight, but the writing was on the wall long before he signed with Arizona. After a successful 2016 campaign that ended in his second top-five Cy Young finish, he missed about half of '17 and '18 with injuries, one of which was sustained in a dirt bike crash. While his surface-level results in those two seasons held steady with his career norms, his FIP climbed by nearly a full run as he lost much of the strikeout potency that made him so dominant in years past. His fastball, which once sat around 93 mph, lost two ticks and much of its whiff capabilities. The slider/cutter hybrid that he threw with near-equal frequency to the heater also started getting hit harder; batters had an xSLG nearing .500 versus both offerings in his final season as a Giant.
Despite these warning flags, the Diamondbacks still handed him a big contract before the 2020 season, where his performance began to tank. His strikeout rates continued to fall, and the good luck he experienced later in his Giants tenure faded away. It doesn't help that Bumgarner has been characterized as unwilling to make adjustments even with diminished stuff, instead sticking with his old, clearly ineffective gameplan. In his late-30s, Charlie Morton nearly tripled his curveball usage compared to his early Pittsburgh days and had the best years of his career. Justin Verlander stopped throwing changeups with the Astros and returned to Cy Young form after some middling seasons; his teammate Gerrit Cole started elevating his fastball more, setting strikeout records in the process. Bumgarner, though, stuck with his fastball/cutter diet, despite the fact that in 2022, his four-seamer was the second-worst pitch in baseball, according to Statcast. As hitters adapted to crush his weakened stuff, Bumgarner couldn't or wouldn't adapt back, leading to an unceremonious end to his time on the Diamondbacks.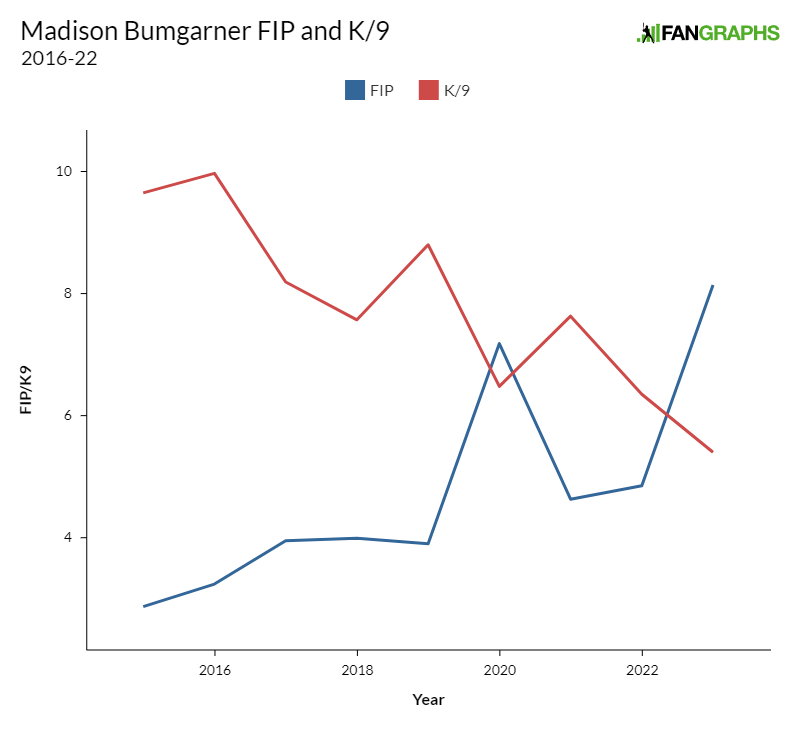 Arizona's decision to move on from Bumgarner coincides with a big influx of young pitching talent. Taking his place in the rotation, at least for now, is Tommy Henry, a fellow lefty who we project as a solid backend starter. Henry had a 3.74 ERA in the most hitter-friendly environment in affiliated baseball at Triple-A Reno and should be a stopgap option until the Diamondbacks feel comfortable promoting Brandon Pfaadt, a strikeout machine who also provided considerable volume during his minor league stints. He was the third-ranked pitcher on our preseason top 100 prospect list, and ZiPS also views him in the upper echelon of pitching talents, likely due to his superb strikeout and walk numbers. With Drey Jameson and Ryne Nelson already in the rotation (both earned 50 FV grades entering the year), the team looks to have a strong staff for the considerable future.
Bumgarner's precipitous decline from his peak powers can tell us a lot about the physical stresses of significant pitching workloads. He became an iconic figure in San Francisco history in his 2014 playoff run, especially through his heroics in the World Series, throwing five scoreless innings in Game 7 just two days after a 117-pitch shutout. That championship-clinching performance was his seventh appearance of the postseason and 40th of the season. To this day, Bumgarner is the only pitcher in AL/NL history to complete at least 50 innings in a single postseason run; no one since has even completed 37 frames in a title quest. He threw at least 200 regular-season frames in six consecutive years spanning his age-21-to-26 seasons along with his heavy playoff usage — a workload that isn't just significant, but also close to the most in recent memory.
Most Used Starting Pitchers of the 21st Century
SOURCE: Baseball-Reference
Includes postseason innings pitched
The road to high-volume greatness in modern baseball is paved by the ruined arms of incredible pitchers whose careers derailed due to injuries and the sudden, sharp decline in performance that can accompany them. Willis made just 33 starts after the age of 26, dealing with knee and forearm issues, as well as anxiety. Bumgarner's teammate Cain was 27 when he had his last productive season, and while Tim Lincecum doesn't appear on this list due to a late debut, he tossed over 900 innings from 2008 to '11 and was never the same afterward.
There are some outliers here. Sabathia, Buehrle, and Greinke all contributed the bulk of their career value after age 26, and Sabathia pitched 11 more seasons after his incredible 2008 season, where he averaged 7.7 innings per game for the Brewers after a midseason trade and even started on short rest down the stretch. Including the postseason, he threw 289.1 innings that season yet still had nearly 2,000 left in him once it was over. But more often than not, the brightest pitching flames tend to burn out far earlier and more quickly compared to the general population of hurlers.
While many pitchers have thrown tons of innings in their youthful days, two names sit far atop the list: Bumgarner and Félix Hernández. While Bumgarner racked up playoff innings, King Félix never got to participate in a postseason game, at least as a player. He made up for it with an absurdly early start to his career, getting called up midway through his age-19 season and completing more regular-season innings than anyone else in the years following. In his 2010 Cy Young campaign, he faced over 1,000 batters, one of just two pitchers to do so in the last decade. For a seven-year stretch from 2008 to '14, Hernández was arguably the best pitcher on the planet, leading the way in innings and placing on the podium in ERA and WAR. But after that, he was never the same pitcher. He was just 29 when he made his final All-Star appearance and pitched his final game at age 33, a season in which he had a 6.40 ERA.
Like Bumgarner, reports surfaced of Hernández' reluctance to change his pitching approach, as he refused to throw fewer fastballs like his coaches suggested; in his final season, batters slugged over .750 against his heaters, which sat below 90 mph. Still, the toll placed on his body by a decade of elite pitching was immense, and it's not clear how much was left in him after he hung up his cleats in 2019. If we just look at regular-season innings, Hernández threw over 200 more than anyone else in the new millennium, averaging nearly seven innings per start for most of his career. It's no wonder his body fell apart so quickly, along with many others.
Clearly, teams have learned their lessons from the likes of Hernández, Bumgarner, and Cain and have significantly scaled down the usage of their talented young pitchers. They don't debut at 19 anymore, and their pitch and innings counts are carefully watched by coaches and trainers. In 2022, just one minor league player eclipsed 160 innings (Pfaadt), and the highest big league innings total by a hurler 23 or younger was Spencer Strider's 131.2. While Hernández threw over 1,600 innings before his 27th birthday, only one player since 2015, Germán Márquez, even got halfway there before their time as a 26-year old ended. With long-term extensions of young pitchers currently in vogue, the long-term health and effectiveness of their players is paramount, especially with a record number of arm, elbow, and shoulder injuries.
In addition to being more cautious about minor league workloads, many teams have also called up pitching prospects as soon as they're deemed major league ready. On Wednesday, A's hurler Mason Miller made his Oakland debut after just 28.2 minor league innings. And with a Stuff+ figure that ranked between Shohei Ohtani and Strider, it's clear he was up to the task. Strider made a similarly quick ascension to the majors, going all the way from Low-A to Atlanta in just 94 innings and one season. (As Eric Longenhagen and Tess Taruskin described the Braves' promotion philosophy in their just-released team top prospect list: "If you're ready, you're ready.") On the other hand, Bumgarner dominated the minors for 355 innings with a 2.30 ERA, continuously establishing himself at each level. Countless promising careers have been derailed by injuries sustained in the minors, and it appears that teams don't want to waste their pitchers' bullets before reaching the highest stage.
Bumgarner's time in MLB might not be over, but his final productive days are far in the rear view mirror. Still, he inserted himself into baseball legend as one of the greatest postseason pitchers of all time and was an All-Star-caliber starter on the Giants for a decade. He's one of few pitchers whose career was almost evenly split by the league-wide reconsideration of the role of a pitcher. Near the beginning of the load-managed, Third Time Through the Order-fearing era, Bumgarner took the hill every fifth day and pitched until he couldn't anymore, helping his team win three championships along the way. He will always be a household name in the city he brought glory to and remembered by fans around the world for his gutsy performances. But now, he's a pitcher of yesterday, and from him, we can learn about the nature of being a pitcher of today.