There are a lot of reasons why the Astros are off to a cold start in 2023 and, as of Thursday morning, are looking up at the Angels and Rangers in the AL West standings. While their Pythagorean record suggests they've actually played better than their record, their April offense has been an extremely unbalanced one. To a large extent, the AL's fifth-place team in runs scored has been driven primarily by Yordan Alvarez and Kyle Tucker.
The Astros currently have three positions with an OPS under .600 for the season: catcher, first base, and designated hitter. Catcher as an offense sink was always expected; nobody had a secret belief that Martín Maldonado had offensive performance as part of his skill set. Designated hitter should improve once it has a smaller dose of David Hensley and Corey Julks at the position. That leaves first base, the home of José Abreu, the longtime White Sox slugger who was Houston's biggest signing this winter. He has struggled in the first eighth of the season, hitting .266, but with so little secondary contribution that his OPS stands at a miserable .605. Given his age, three-year deal, and the necessity to get at least some offensive contribution from first base, how worried should the Astros be about him?
The general belief, at least among Astros fans, is that Abreu has historically been a slow starter, and that any issue will take care of itself, but I think that's too easy a "solution" to his early-season struggles. First off, the supposition that he has historically been a worse hitter in April is factually 100% accurate. Among players in the wild-card era, he has one of the largest splits between April and rest-of-season OPS (OPS is certainly good enough for an examination such as this). Since the start of the 1995 season, there are 300 players who have accumulated at least 750 plate appearances in April; Abreu's career split — 90 points of OPS — is large enough to make the top 20 and, unless I'm miscounting, enough to rank him third among active players:
Coldest April Hitters, 1995-2023
Offense is generally lowest in April, so some kind of shortfall is not unexpected. The 300 players in this class, as a group, had a .794 OPS in April and an .806 OPS the rest of the year. With a quarter of a million April plate appearances between them and a total of nearly two million plate appearances, a 12-point OPS is a significant one, and Abreu's history dwarfs this one.
So, he's a bad player in April, and everything will just work outself out? Not so fast.
While Abreu has struggled at times in April, that doesn't necessarily make it meaningful or predictive. Just how significant are monthly splits across the league as a whole? The historical OPS deviation between April and the rest of the year, apart from the 12-point OPS gain as a whole, appears to be normally distributed; in the Shapiro-Wilks test, we cannot reject the null hypothesis that the distribution is normal at the 95% level of significance, though we can at the 99% level. In other words, the historical results of April versus the rest of the season for long-time major leaguers is not distributed drastically different than from what you would expect if you knew beforehand that it was random. But just because things act like normal distributions doesn't mean that they are random. Further investigation is required, rather than just shouting p-values at people.
I decided to construct a very simple model of predicting next year's April OPS by only knowing a player's previous seasonal OPS and their career April OPS splits. Knowing the actual April result was significant, but mildly so. The most accurate model of predicting next year's April OPS consisted of around 95% last year's OPS and 5% the player's April/rest-of-season OPS splits. To put it in simpler terms: the fact that Abreu has underperformed the rest of the season by 90 points of OPS in April doesn't mean that it's predictive in a manner that would lead us to conclude he'll have a 90-point improvement going forward. The actual number ends up at about 22 points, about 10 more than the group as a whole.
A 22-point improvement in OPS for Abreu wouldn't be enough to make him a contributor this season — nor, for that matter, would be a 90-point improvement. This doesn't mean that Abreu is doomed to wash out of the majors in the first year of his new contract — just that shouting "April" isn't a panacea to his early-season issues this year. So we have to look at more traditional performance metrics.
There are some highly concerning issues in Abreu's early-season profile this year that weren't present in other early starts. When he struggles, he still generally hits the ball extremely hard. This year, his exit velocity has averaged 86.6 mph with an overall hard-hit rate of 36.7% — extremely low numbers for him. He was lousy last April, hitting .217/.308/.348, but he was still crushing pitches he connected with, resulting in a 94.6 mph average EV and a hard-hit rate of 59.6%. He also struggled in April 2021, hitting .213/.296/.394, but with a 92.1 mph EV and a 53.7% hard-hit rate — not quite as good as 2022, but worlds better than where those numbers currently stand. He got off to good starts in 2018 and '19, so they're not particularly helpful, and he crushed the ball in August of 2020 (I did not include any 2020 seasons in the April numbers, as the year was just too weird).
What troubles me isn't just that Abreu isn't crushing pitches, but that they go hand-in-hand with worse plate discipline. Statcast has a 35.5% out-of-zone swing percentage for him in 2023, his highest figure since his early seasons with the White Sox. And it's not just a byproduct of a more aggressive approach; his 61.8% in-zone swing percentage this year would be the lowest of his career if it persisted for the rest of 2023. He isn't really fitting into his frequent (but not yearly) pattern of April struggles; he's hitting the ball much more softly, swinging at more bad pitches and not swinging at more good pitches.
Abreu's return to a free-swinging approach at the plate is something that developed late in 2022, not something that just happened. He had an excellent first half, hitting .304/.387/.470 for an wRC+ of 147. He was one of the most disciplined White Sox hitters, too, with a 25.3% StatCast out-of-zone swing percentage, higher than only Danny Mendick and Yasmani Grandal. In the second half, that mark jumped to 39.3%; second-half Abreu was 50% more likely to swing at an out-of-zone pitch than first-half Abreu. His second-half numbers were still a healthy .305/.366/.414, but that represented a 77-point OPS dropoff from the first half, though he was still hitting the ball very hard.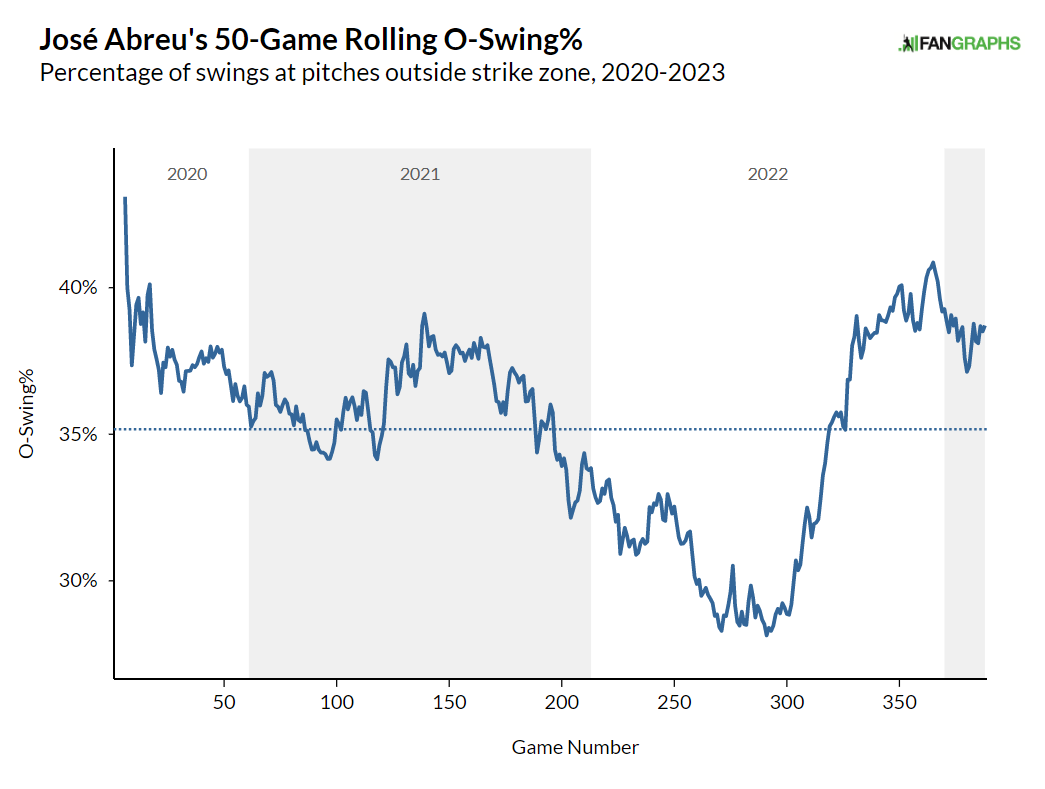 So what explains these numbers as a whole? Generally speaking, they're consistent with an aging hitter with declining bat speed. Through 2020, Abreu did the most damage against fastballs, but even with a wRC+ of 131 in 2021 and '22 combined, he was only an average hitter against fastballs. It seemed for a time he was compensating by being more selective at the plate, as in the first half of last season. But without that selectivity, he's hitting worse pitches and can no longer make up for it by the raw power when he connects. That's my hypothesis, at least.
None of this means that Abreu is doomed. ZiPS still expects a wRC+ of 126 for the rest of the year, and the most pessimistic projection system — THE BAT in this case — still sees a wRC+ of 110. There's no reason for Astros fans, the front office, or Abreu himself to hit the panic button and get the red klaxon blaring. But there are very real reasons to worry about him. A change in approach at the plate may be necessary rather than simply expecting everything to right itself with the calendar page turns. Baseball is a game of constant adjustments, and the José Abreu of 2023 may no longer be able to succeed with the identical approach of the José Abreu of 2014.