We're not supposed to find this charming anymore. I know that. The Era of Position Players Pitching was established all the way back in 2017, when Jordan Walker was a scant 15 years old. The shine has officially worn off watching non-pitchers huck batting practice fastballs toward the general vicinity of home plate during garbage time. But could we maybe enjoy this one, just once more, for a treat? I promise I'll be extra grouchy once we're done.
There are a few things that make this instance of position player pitching particularly fun. The first is that the player who took the hill is absolutely the most exciting choice possible. When the Baseball Savant arm strength leaderboard debuted in October, Nate Eaton ranked at the very top, with a 98.1 mph average throw that made Esteban Rivera weak in the knees. At the beginning of the 2022 season, Eric Longenhagen hung an 80 on Eaton's arm, writing "Eaton has below-average offensive ability, but he can play a variety of positions and he has one of the best throwing arms in professional baseball, a rocket launcher that might merit a look on the mound if/when Eaton and the industry declare him to have plateaued as a position player."
Luckily, we didn't have to wait that long. On Monday, the Kansas City utilityman played the fifth different defensive position of his young career, pitching a scoreless bottom of the eighth in an 11-2 loss to the Rangers. He threw 22 pitches, striking out one and allowing two singles. Eaton threw five pitches upwards of 94 mph, while Kansas City's starter, one Zack Greinke, topped out at 91.3 mph. It's two days later, and Greinke's final curveball is just now about to cross home plate.
Eaton touched 94.9 mph and his fastball averaged 93.2. Among all pitchers who've thrown at least 10 pitches this year, that puts him in the 40th percentile, right between Taijuan Walker and Max Scherzer.
It's not just about the fact that Eaton was throwing gas. He threw three different pitches: a sinker, a four-seamer, and a slider. He also threw three of the standard 70 mph position player pitching meatballs. Statcast classified them as changeups, but they were just get-me-over tosses with a four-seam grip:
Nate Eaton – Pitch Arsenal Stats
| Pitch Type | Pitches | % | MPH | V-Break | H-Break | Whiff% |
| --- | --- | --- | --- | --- | --- | --- |
| 4-Seamer | 10 | 45.5 | 93.1 | 16.7 | 0.9 | 25 |
| Sinker | 5 | 22.7 | 93.3 | 20.6 | 12.9 | 33.3 |
| Slider | 4 | 18.2 | 82.4 | 45.4 | 4.5 | 0 |
| Changeup* | 3 | 13.6 | 69.6 | 40.5 | 3.1 | 0 |
SOURCE: Baseball Savant
* Not a changeup.
Eaton threw 45 innings in college, posting a 6.60 ERA and a 1.91 WHIP. He's not exactly Shohei Ohtani (though I assume that, like everyone else who isn't Shohei Ohtani, he wishes he were). Still, if you surf over to our brand new Pitch Modeling leaderboard, you'll see that his stuff graded out as delightfully solid:
Nate Eaton – Stuff+
| Pitch Type | Stuff+ | Location+ | Pitching+ |
| --- | --- | --- | --- |
| 4-Seamer | 88 | 99 | 94 |
| Sinker | 103 | 106 | 98 |
| Slider | 104 | 85 | 100 |
| Changeup* | 110 | 68 | 69 |
| Overall | 96 | 95 | 93 |
* Again, not a changeup.
PitchingBot was less impressed, but it seemed to have a harder time classifying Eaton's pitches (which is understandable considering how few he threw). All the same, a plus sinker and a plus slider according to Stuff+ is nothing to sneeze at. Location+ didn't love his command, but he still caught the black of the plate a few times. He started leadoff batter Travis Jankowski off with a 94 mph four-seamer on the outside corner and ended up retiring him on a weak chopper to second base. Check out his first pitch to Ezequiel Duran:
That's a 93.3 mph sinker with 17 inches of arm-side run. Eaton followed it with another sinker, this time at 94.3 mph. Duran managed to foul it off, but he looked suitably impressed with Eaton's stuff, mouthing something that looked like, "Wow," and glancing toward the third base coach as if you to say, "I thought you said this guy wasn't a pitcher!":
After two sinkers that ran in under Duran's hands, Salvador Perez set up right on the outside corner. Eaton missed his spot high, but Duran had had enough. He cannot have been expecting to see league-average velocity, let alone a mix of two-seamers and four-seamers on both sides of the plate. It's safe to say that Ezequiel Duran no longer found the situation amusing:
Eaton's slider averaged 82.4 mph, with 4.5 inches of horizontal break and 45.4 inches of vertical break. That makes Tylor Megill's slider a pretty decent comp for our purposes. Fun fact: According to Baseball Savant, that slider has been worth -1.4 runs per 100 pitches over the course of Megill's career, making it his best pitch. Here's a slider Eaton threw to Duran, juxtaposed with a recent slider from Megill to Bryan De La Cruz:
Duran ended up sending a slider that spun more than it broke through the 5.5 hole for a single. That brought to the plate the most fun possible matchup for Eaton: Corey Seager. You see, Seager was dead-set on revenge. During the offseason, Mike Petriello calculated that Seager was the batter with the most to gain from an infield shift ban. Mike also noted that teams could still shift an outfielder over against the Seagers and the Joey Gallos of the world. The Royals have been doing just that, and in the fifth inning, Seager got robbed yet again, grounding out to the short right fielder, some turkey named Nate Eaton:
Cut to the eighth inning, and you have to imagine that Seager was out for blood. Eaton threw a juicy meatball and Seager extracted his vengeance from Eaton through the most poetic means imaginable: a moderately hard-hit groundball that just barely made it through the right side of the infield:
With the Rangers threatening, Eaton retired Brad Miller via a lineout and fell behind 3-1 to Adolis García, who had already hit a grand slam earlier that night. Eaton battled back with a four-seamer for a called strike, and then threw another right by García for the third out:
That was the end of Eaton's night. By far the most enjoyable part of the inning was the fact that Eaton seemed determined not to enjoy it even a little bit. This was the least jovial instance of position player pitching in baseball history. Take a look at the four screenshots below. In order, they are Eaton getting ready to pitch for the first time in the big leagues, Eaton after retiring his first big league batter, Eaton in a pitching jam, and Eaton after striking out his first batter and closing out a scoreless inning. Just watch all those emotions wash over his face:

Eaton's grim determination rubbed off on absolutely everybody. You know how when there's a position player pitching, the TV broadcast is usually full of shots of teammates falling all over themselves with laughter, or maybe the batter and the pitcher sharing a sheepish grin after a particularly wild pitch? There was none of that. And I mean none. The only time cameras caught anyone smiling was after the strikeout to end the inning. Eaton's teammates smiled; Eaton didn't.
Even when he spoke to reporters after the game, Eaton never came remotely close to saying he'd had fun while pitching. "I want to say it felt good," he head-faked, "but it's obviously not a good situation to be in if I have to come in and pitch. Yeah, that's about all I got right there." For a guy with a 0.00 career ERA, he looked downright despondent: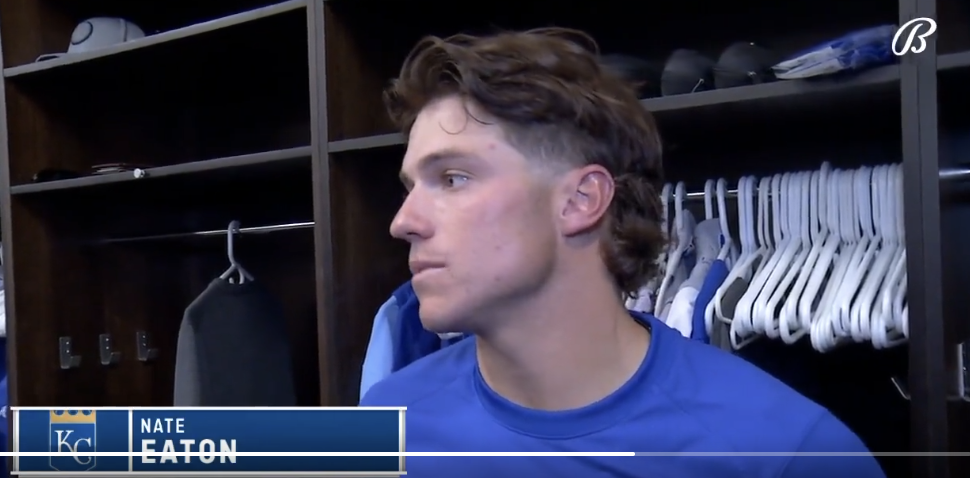 That's not someone who just recorded his first big league strikeout. That's someone who just found out how Old Yeller ends. But that's ok. We're supposed to be done enjoying ourselves anyway. I said that I'd get back to being grouchy when we were finished here. Eaton just beat me to it.