On Saturday, Taylor Clarke was in quite the pickle. The Royals had tasked him with pitching the eighth inning of a tied ballgame against the Giants and it wasn't going very well. Clarke allowed three consecutive singles to J.D. Davis, Joc Pederson, and Mike Yastrzemski, with each hit 104 mph or harder. The bases were loaded with no outs. The Giants were reading Clarke's pitches incredibly well and he needed a solution, fast. Clearly, he found one. Clarke struck out the next three hitters in order, earning seven called or swinging strikes. Kansas City's offense took the lead in the ninth and went on to complete the comeback victory. So what was special about the way Clarke got out of his jam? Of the 13 pitches he threw, not a single one was a fastball.
While there are many relievers who barely throw any fastballs, like Alex Colomé and Matt Wisler, Clarke isn't one of them. He came up as a starter with Arizona throwing heaters about half the time. After being converted to the bullpen and experiencing a two-tick velocity spike, he kept up that fastball usage. Had Clarke randomly chosen pitches in line with his career averages (48.8% fastballs) during this three-batter stretch, the odds of him choosing secondaries 13 times in a row would be just .017%, or 1-in-6,000. But on Saturday, he turned to his best stuff and ended up with the best possible results.
The first hitter up with the bases loaded was infielder Thairo Estrada. Estrada likes to put balls in play, and with three ducks on the pond, balls in play often mean runs. In 2022, he combined to strike out and walk just 22.6% of the time, considerably below the league average of 30.6%. Clarke started off the at-bat with one of his two slider variants. This variant, which sits 87-90 mph with a few inches of horizontal break, has a hybrid cutter/slider shape, though he often throws it glove side just like his other, sweepier slider in the low-to-mid-80s. Clarke missed his spot and the pitch drifted over the plate, but Estrada watched it for a called strike.
Now ahead in the count, Clarke wanted to take advantage of Estrada's proclivity to chase. Estrada avoided out-of-zone swings at just a 27th-percentile clip last season and had issues laying off breaking balls especially. Catcher Salvador Perez readied himself to keep the ball in front of him, and Clarke fired a curveball in the dirt that Estrada waved at and missed. Clarke actually shelved the curve for a couple of years, last throwing it with regularity in 2020. In addition to bringing it back with greater frequency than ever, he also retooled its shape. Clarke's old hook was a 12-6 tumbler with a huge velocity gap from the rest of his arsenal, averaging about 79 mph. Now, it has a much more slurvy shape, with a much heavier emphasis on horizontal movement than vertical drop. He's also added about four ticks to it, giving the pitch the advantage of being less recognizable out of the hand and making it more useful as a chase pitch below the zone, like that pitch to Estrada. Clarke also demonstrated quite the feel for locating the new curveball, too. He got Estrada with another curve right on the outside corner. Because of its mid-80s velocity, Estrada may have been sitting on the slutter or sweeper, and the ball had far more late downer action than he was expecting. One down:
Next up was the left-handed Brandon Crawford, who has defined what it means to be a fastball hitter throughout his lengthy career. His career wRC+ sits at 96; that number jumps to 132 against four-seam fastballs, but he's well below average against sliders and curveballs, and has an abysmal 50 wRC+ mark against offspeed pitches. It's no surprise that Clarke went to his changeup on the first two pitches, but he missed the zone by a bit too much each time and quickly fell behind 2-0. Needing to throw a pitch in the zone but not wanting to throw a heater, Clarke went up and in with the slutter, earning a swinging strike one. Offerings like this show his willingness to use that harder slider like a cutter, getting in on the hands of lefties in the hopes of generating popups and groundballs.
Clarke went for another changeup in almost the same outside location as ball one, but Crawford offered this time and fouled it off. He went for the curveball as a put-away pitch, locating it perfectly in the exact same spot as the one that sat down Estrada. Possibly anticipating it after watching the last at-bat, Crawford was ready, hitting a hard liner but foul. He might have been ready for the curveball, which had 16 inches of horizontal break (approximately one home plate's worth), but he wasn't ready for what came next – a slider thrown with the same speed and location, but with a slightly tighter shape to it. If that pitch had caught even a little bit of the plate, it could have been splash hit material for any left-handed slugger, but Clarke got it right underneath his opponent's bat. He demonstrated masterful command of both breaking balls, and even the fastballs that went for hits earlier in the inning were right at the top or bottom of the strike zone. In the span of just nine pitches, all secondaries, he'd roughly tripled the Royals' chance of winning. But he wasn't done yet:
With two outs and the bases still juiced, rookie Rule 5 pick Blake Sabol was thrust into every young child's dreams less than 25 plate appearances into his big league career. It's perhaps surprising that Clarke didn't try to beat the newcomer with high heat here, given his 6-foot-4 frame and tendency to swing and miss. Sabol's Rule 5 scouting report discusses his issues catching up to velocity up in the zone, and he's run strikeout rates in the minors approaching 30%. But in the (admittedly tiny) sample of breakers he's seen in the majors, his swing and miss issues are even more apparent. Of the 18 times he's offered at a breaking pitch over the past two weeks, he's come up empty on 13 of them. Two of that baker's dozen of whiffs came in this at-bat, and while Clarke threw his first sweeper a bit higher than he wanted, he still earned a swinging strike.
Next, Clarke went for a hard slider that caught a dangerous amount of plate, but lucky for him, Sabol grounded it foul behind him. This slutter had 34 inches of drop on its way to the plate, about a half foot more than those seen by Estrada and Crawford earlier in the inning. The others had considerable carry for a breaking ball, but this pitch to Sabol operated like more of a gyro slider, with little movement outside the effects of gravity. Had that pitch resembled the other cutter-ish offerings Clarke had been throwing, it could have resulted in a game-altering line drive. Instead, Clarke was one strike away from escaping the jam. Up 0-2, Clarke had the liberty to throw a couple of pitches well outside the zone in hopes of getting a chase. Sabol wisely took a curveball a bit below his knees, but then Clarke went back to the hard slider, hitting his spot in the dirt:
Clarke had just ended the Giants' threat; Sabol's at-bat had a leverage index of 5.38. Royals fans could breathe a sigh of relief, while Clarke's display of emotion was explosive (and profane) enough to be heard on the broadcast, like a reverse Myles Straw. His success escaping this jam was a result of good game calling and advance scouting by Perez and the Royals, and even better execution and command on Clarke's part. He doused Crawford and Sabol with a heavy dose of right-on-left breaking balls that could have ended horribly for him had they leaked out over the plate even a little bit, but he didn't miss his spot once. In fact, his 103 Location+ from last season was tied with Zack Greinke for the best on the Royals' staff.
We're just a couple of weeks into the season, but the early returns are clear – the percentage of breaking balls thrown is increasing for the eighth consecutive year, with nearly a third of all pitches being sliders, curveballs, or something in between. Much of this increase has been driven by relievers like Clarke, who have not only cut his fastball usage significantly but also added his new curveball – in his five 2023 innings, he's thrown the heater, curve, slider, and changeup in roughly equal proportion: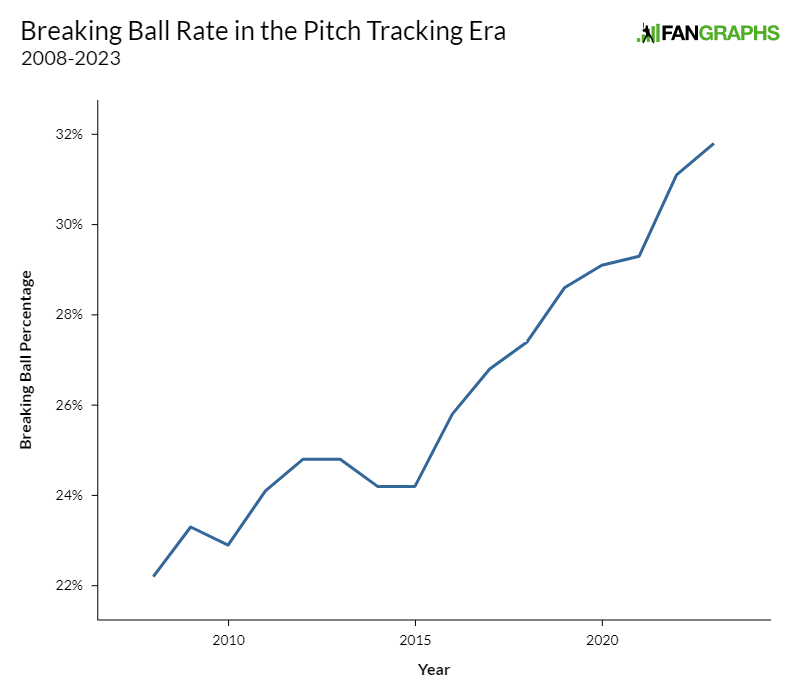 It's often said that secondary pitches have to play off fastballs. "Establishing the fastball" is a piece of broadcaster lexicon that seems to be immortal. Yet Clarke's inning is emblematic of the league-wide shift away from the fastball-centric approach. With the collective understanding that fastballs yield fewer whiffs and worse results on contact, pitchers are spamming away with their lab-designed secondaries with great success. Clarke's 122 Stuff+ on his slider dwarfed that of his fastball (and was the third-best individual pitch of any Royals hurler) and results-oriented metrics like run value tell the same story. Devin Williams doesn't need to start with fastballs to catch batters off guard with his wicked airbender, and hitters like Sabol and Estrada just couldn't touch the nasty breaking balls even when that's all Clarke was throwing. An over-emphasis on fastballs has been a significant contributor to the Royals' stagnant pitching development in this data-driven era of baseball, but their willingness to turn the corner here has already paid dividends for Clarke, who looks to take a step forward as a dominant high-leverage reliever.