Matt Vierling's 2022 with the Phillies was a mixed bag. He started off slowly enough to merit an option to Triple-A Lehigh Valley in May before rejoining the club with a bang in June in the form of a game-winning pinch-hit home run off Josh Hader in Milwaukee. Over the rest of the regular season, he struggled to develop much of a pattern of offensive production while splitting center field duties with first Odúbel Herrera and then Brandon Marsh, and filling in in the corner outfield – and even in limited action at first, second, and third – as needed.
When all was said and done, the righty managed only a .246/.297/.351 batting line, good for a meager .285 wOBA and 81 wRC+; Vierling's 110 wRC+ off lefties was negated by a 63 mark against same-handed pitchers. The defensive metrics don't agree entirely, but he graded as below average – to different degrees – by DRS, UZR, and OAA. He ultimately came in at -0.1 WAR. His versatility, 97th-percentile sprint speed, success against lefties, and ability to defend more capably than Kyle Schwarber or Nick Castellanos, though, did not go unappreciated, and Vierling earned himself a spot on each of the Phillies' postseason rosters, eventually even starting two World Series games.
Beneath the inconsistent production, Vierling's batted ball profile told a much different story. His expected stats were a much more robust .279 xBA, .331 xOBP, .408 xSLG, and .327 xwOBA. That puts him way up in the 93rd percentile for xBA, between Jeff McNeil and Shohei Ohtani; the 68th for xOBP, even with Matt Chapman; the 55th for xSLG, the same percentile rank as Luis Arraez, Wander Franco, and José Ramírez; and 64th for xwOBA, in line with Luis Robert Jr. and Seiya Suzuki. That was thanks to some serious success consistently administering hard contact – his 47.1% hard-hit percentage in 2022 ranked in the 85th percentile, and his 91.2 mph average exit velocity placed him in the 86th, even with Ronald Acuña Jr. and Corey Seager:
Matt Vierling's 2022 Hard-Hit Stats
| Stat | Value | Percentile | Player Equivalent |
| --- | --- | --- | --- |
| HardHit% | 47.1% | 85 | J.T. Realmuto |
| Avg. EV | 91.2 mph | 86 | Corey Seager |
| Max. EV | 112.1 mph | 82 | Andrew Vaughn |
SOURCE: Statcast
It's not just that his overall batted ball profile outperformed his production that suggests his bat might be more than capable to be in the lineup every day – it's also that the gap between his expected and actual production was even more pronounced against righties. Remember that 63 wRC+ split? That was thanks to a frustrating .217/.275/.305 batting line and a .260 wOBA, which ranked 182nd out of 204 righties on righties. But Vierling was making good contact off of these right-handers – good enough for a 45.6% hard-hit rate and an expected line of .265/.320/.392. His .315 xwOBA ranked 73rd in that same group of 204.
The issue was that he wasn't getting much for his hard hitting. Even on those pitches he did hit with an exit velocity of 95-plus mph off of right-handers, he managed just a .521 slugging percentage and .337 wOBA compared to a .726 xSLG and .488 xwOBA. The league as a whole enjoyed a .949 slugging and .604 wOBA on that type of contact off right-handers: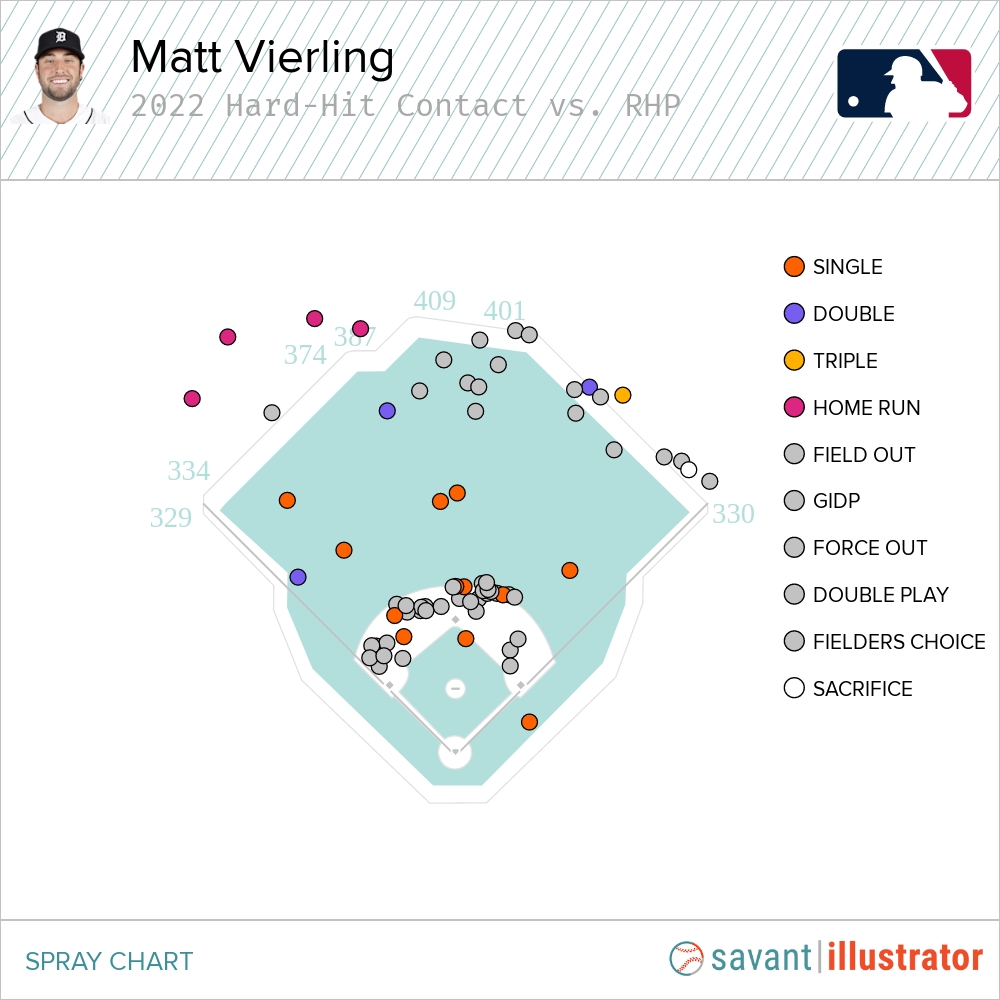 So what happened? Was he drilling hard contact into the ground too much? There was some of that, though he wouldn't take back the Baltimore chop-off against Toronto in September as the Phillies clung to a Wild Card spot. Although launch angle is accounted for in the expected stats as well, Vierling's 5.0% barrel rate was a fair bit lower than you might expect from someone with as high a hard-hit rate. But there was a good serving of bad luck mixed in there, too – even on barrels, his .921 wOBA trailed his 1.187 xwOBA by 266 points against righties. His overall 1.079 wOBA on all barrels was 151 points shy of his 1.230 xwOBA:
Vierling's Hard Luck in 2022
| Category | Batted Balls | wOBA | xwOBA | Difference |
| --- | --- | --- | --- | --- |
| Overall | 261 | .285 | .327 | -.042 |
| vs. RHP | 158 | .260 | .315 | -.055 |
| Hard Hit vs. RHP | 72 | .337 | .488 | -.151 |
| Barrels vs. RHP | 9 | .921 | 1.187 | -.266 |
SOURCE: Statcast
Even considering the relatively low barrel rate, that's a far different batted ball profile against same-handed hitting than a bottom-of-the-roster platoon bat, and after arriving in Detroit in the deal that sent Gregory Soto and Kody Clemens to Philadelphia in January, he's being treated as much more than that. A.J. Hinch has started Vierling in right field in six of the Tigers' first seven games (including three against right-handed starters), penciling him in at the top of the lineup four times and in the three spot once. In those six games, Vierling has nine hard-hit balls on 16 balls in play, including seven out of 10 against righties, six of which have gone for hits.
On Monday at Hinch's old office in Houston, Vierling had what might have been a small coming-out party as more than a platoon player. He tallied four hits, all off right-handers, capping the evening off with a 108.0-mph game-winning two-run homer in the 11th inning off the Astros' Héctor Neris. Reviewing the January trade, my colleague Eric Longenhagen pointed out that Vierling is "especially adept at barreling down-and-in offerings," and so he was on Monday:
Innings earlier, he made a defensive statement by preserving a tie with one of the first five-star catches of the 2023 season, a quick sliding grab on an inside-out, bases-loaded line drive off the bat of Mauricio Dubón that hung up for all of 2.9 seconds:
The knock on Vierling's outfield play last year was that his reaction times were weak – despite that, Vierling's sprint speed is elite, his route-running graded as above-average, and his arm strength had him in the 80th percentile of outfielders. Of course, one catch tells us hardly anything – plenty of not-five-star fielders have stumbled into five-star catches – but we could excuse the Tigers for hoping it's a sign that there's a stronger defender somewhere in there.
Given regular playing time, a player with Vierling's hard-hit capabilities and speed could have been a 20-20 threat even if rule changes hadn't just doubled early-season stolen base rates from last year, and even if his team hadn't just moved in and shortened the outfield walls in his home ballpark. The full impact of all of those changes remains to be seen – and it's still quite unlikely that Comerica Park, which was the toughest home run park in baseball last year, will be as homer-friendly as Citizens Bank in Philly, which was fifth-best for home run hitters. And there are still issues to address in his approach – his 6.2% walk rate since he got to the majors has yet to reach the double-digit rates he was recording in the upper levels of the minors. But Vierling should have better luck coming his way, and if he's able to keep hitting the ball as hard as often as last year, he has a really solid chance of outperforming the below-average projections most of the systems granted him this offseason.