The 2023 season is only a handful of days old, but already another Cy Young winner is on the shelf. After Justin Verlander was placed on the injured list last Friday, Robbie Ray joined him the following afternoon. The Mariners lefty was removed from his season debut against the Guardians in the middle of the fourth inning, having thrown 91 pitches and given up five walks and five runs. It wasn't clear his exit was injury-related at the time, but Ray later revealed he'd been feeling pain since the second inning. He was ultimately diagnosed with a left flexor strain, which will keep him out for four to six weeks.
Even before Ray's injury was diagnosed, the Mariners had cause for concern. For one thing, five walks in three-plus innings is certainly a worrisome sign. To make matters worse, two of those walks came in the first inning, before he began to feel sore. Ray has been notoriously wild in the past — he leads all active pitchers in five-walk games — but he had seemingly gotten his free passes under control the last two years: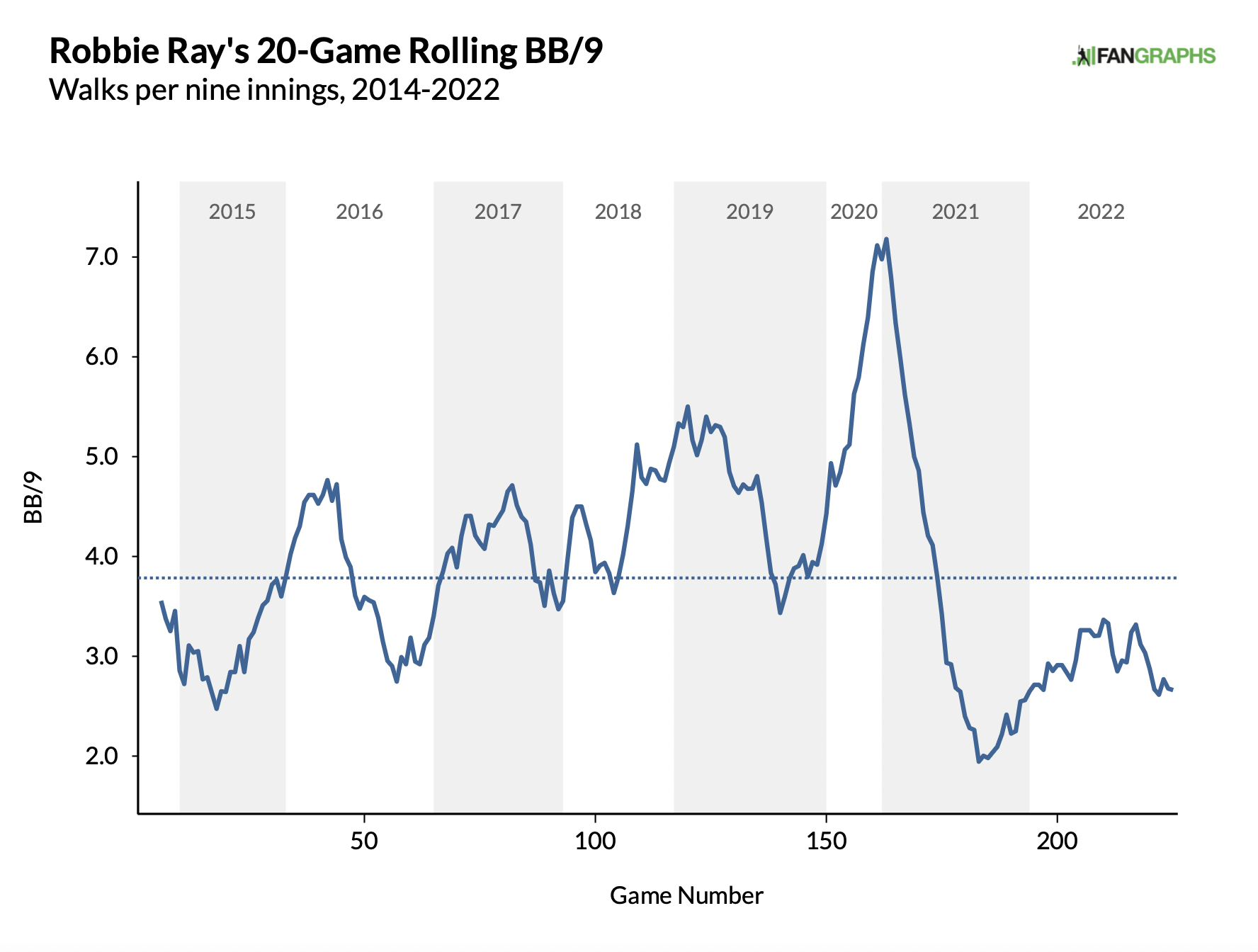 In his second start of the 2021 season, Ray walked six batters in five innings of work. From that point onwards, he has posted a perfectly respectable 2.64 BB/9 (84 BB/9+). He needs to keep his walk rate in check to succeed going forward; hopefully his control will improve when his flexor strain heals.
The other troublesome development was Ray's diminishing velocity. The 31-year-old has seen his fastball fluctuate over the years, but he's at his best when his heater has some extra oomph. Per Baseball Savant, his four-seamer averaged 94.2 mph during his All-Star 2017 season; the next time it was above 94 was his Cy Young campaign in 2021. His three best seasons by WAR (2016, '17, '21) also happen to be his best by average fastball velocity.
Following a full offseason uninterrupted by free-agent negotiations or lockout drama, Ray came to spring training with some extra heat. By his third start of the spring, he was averaging over 95 mph with his four-seamer, impressing both his catcher and his pitching coach. Cal Raleigh told Adam Jude of the Seattle Times that he could see the difference in Ray's fastball, remarking: "It's just a different animal when it's coming out like that." Pitching coach Pete Woodworth was a little more blunt: "I was like, 'Holy [expletive].'"
After such a strong spring, Ray's velocity was a hot topic entering his regular-season debut. At first, he lived up to the hype, hitting 94.6 mph with his first offering and maxing out at 95.6 a few pitches later. But his velocity quickly dropped as the first inning went on; his final fastball of the frame clocked in at 93.6. By the time he began the second inning, something was clearly off: His first three fastballs to Oscar Gonzalez came in at 89.9, 92.1, and 91.8. He eventually built his way back to 94 but mostly stayed in the 92–93 range for the rest of his outing. His slider velocity was falling too; it started in the 86–87 range and dropped to 83.1 by his last batter faced.
It's safe to presume Ray's velocity was affected by his injury, but it's hard to say how much. Even at full health, his stamina has been a topic of concern in the past. Just last season, he displayed a tendency to come in hot and quickly lose steam:
Robbie Ray FB Velocity by Inning (2022)
| Inning | Avg. FB Velo |
| --- | --- |
| 1 | 93.9 |
| 2 | 93.3 |
| 3 | 93.1 |
| 4 | 93.3 |
| 5 | 93.2 |
| 6 | 93.3 |
| 7 | 93.3 |
SOURCE: Baseball Savant
As such, we'll have to wait and see if Ray can really throw 95 with consistency. High velocity is great, but a 95-mph heater is much less effective if it turns into a 93-mph pitch after a single inning of work.
Adding a couple miles per hour would help almost anyone, but it could be especially beneficial for Ray. Most pitchers without blistering fastballs succeed by switching up their pitch speeds. It's a simple strategy: get the batter used to your fastball, then trick him with a much slower offering. Ray takes a different approach. Out of all pitchers to throw at least 100 innings last season, he had the smallest velocity differential between his fastball and his secondary pitches. His four-seamer averaged 93.4 mph, and his sinker was nearly identical at 93.3. His slider came in at 87.2, only 6.2 mph slower than his four-seam. He played with a 79.7-mph curveball, too, but used it just 1.9% of the time. The only other pitcher who came close was Drew Hutchison, a replacement-level arm for the Tigers, whose slider was 6.4 mph slower than his fastball. No one else had a velocity differential of less than 7.6 mph:
Lowest Velocity Differential (2022)
Velocity and pitch classification per Baseball Savant
This isn't a failing on Ray's part; it's clearly a choice. Back in 2016, he told David Laurila that he wanted to throw his slider and changeup more like his fastball, making the case that pitches don't have to be slow. A few years later, he made a similar point about his curve. He no longer relies on the changeup or the curveball, but his philosophy remains unchanged.
Clearly, this approach can work, but it leaves less margin for error. Ray doesn't catch batters off guard with his timing, nor does he simply blow the ball past them. Instead, he tricks his opponents with location, throwing his four-seamer to the glove side, his sinker to the arm side, and his slider down low and out of the zone. With every bit of velocity he loses, opposing batters have more time to recognize his pitches. Thus, the faster he throws, the better he can be:
Ray's Career Performance by FB Velocity
FB Velocity
wOBA
Robbie Ray
≥94
.289
≤93
.368
League Average (since 2014)
≥94
.321
≤93
.372
SOURCE: Baseball Savant
While Ray is out, Chris Flexen will take his place. He has been with the Mariners since the start of the 2021 season and pitched in the rotation until mid-2022, when he lost his starting gig to Luis Castillo. While the vast majority of starters would lose their jobs if Castillo came to replace them, Flexen might have been trending in that direction anyway. He had gotten off to a good start with the M's in 2021 but was slowly becoming less and less effective; his average fastball velocity was down, and his walk rate was steadily climbing: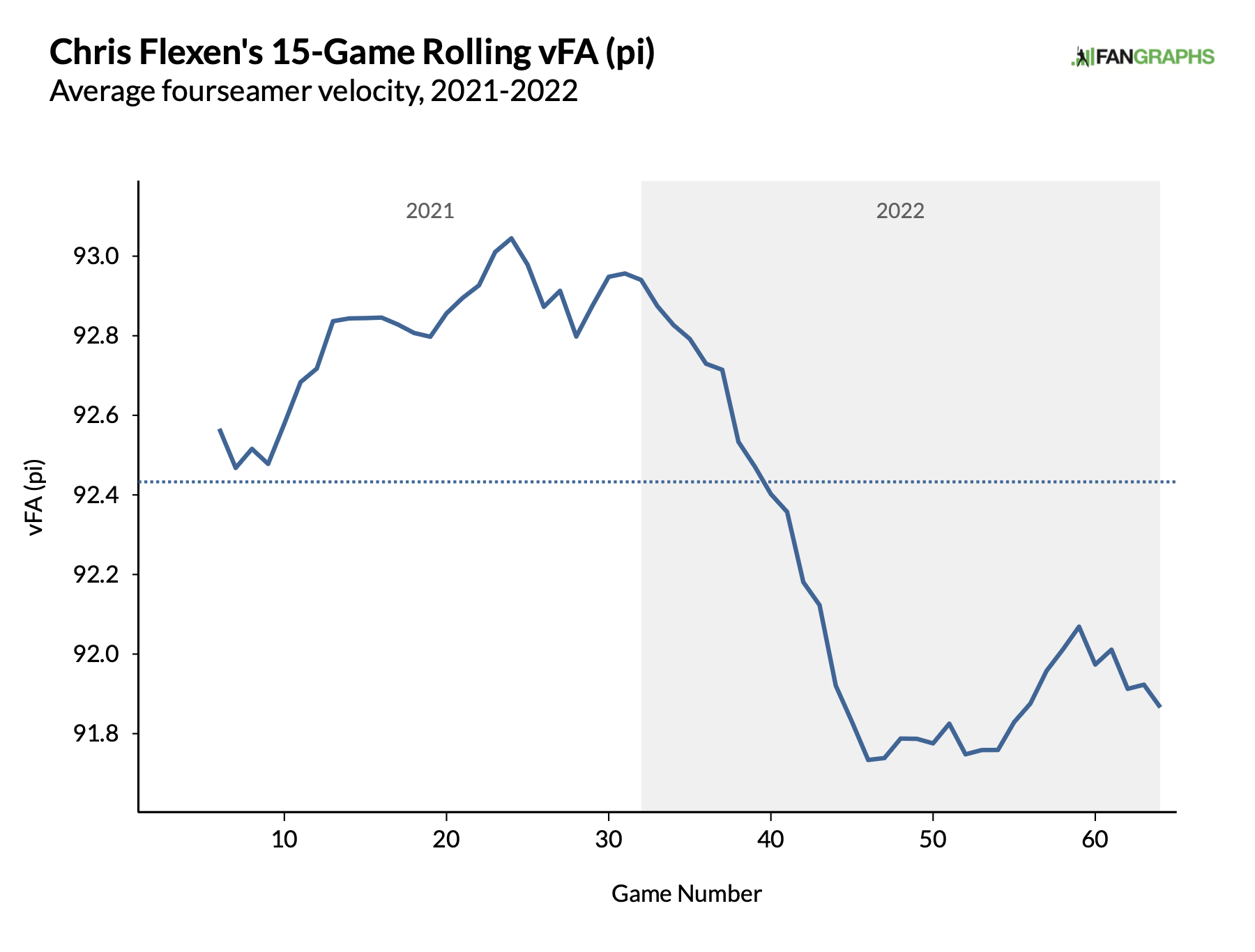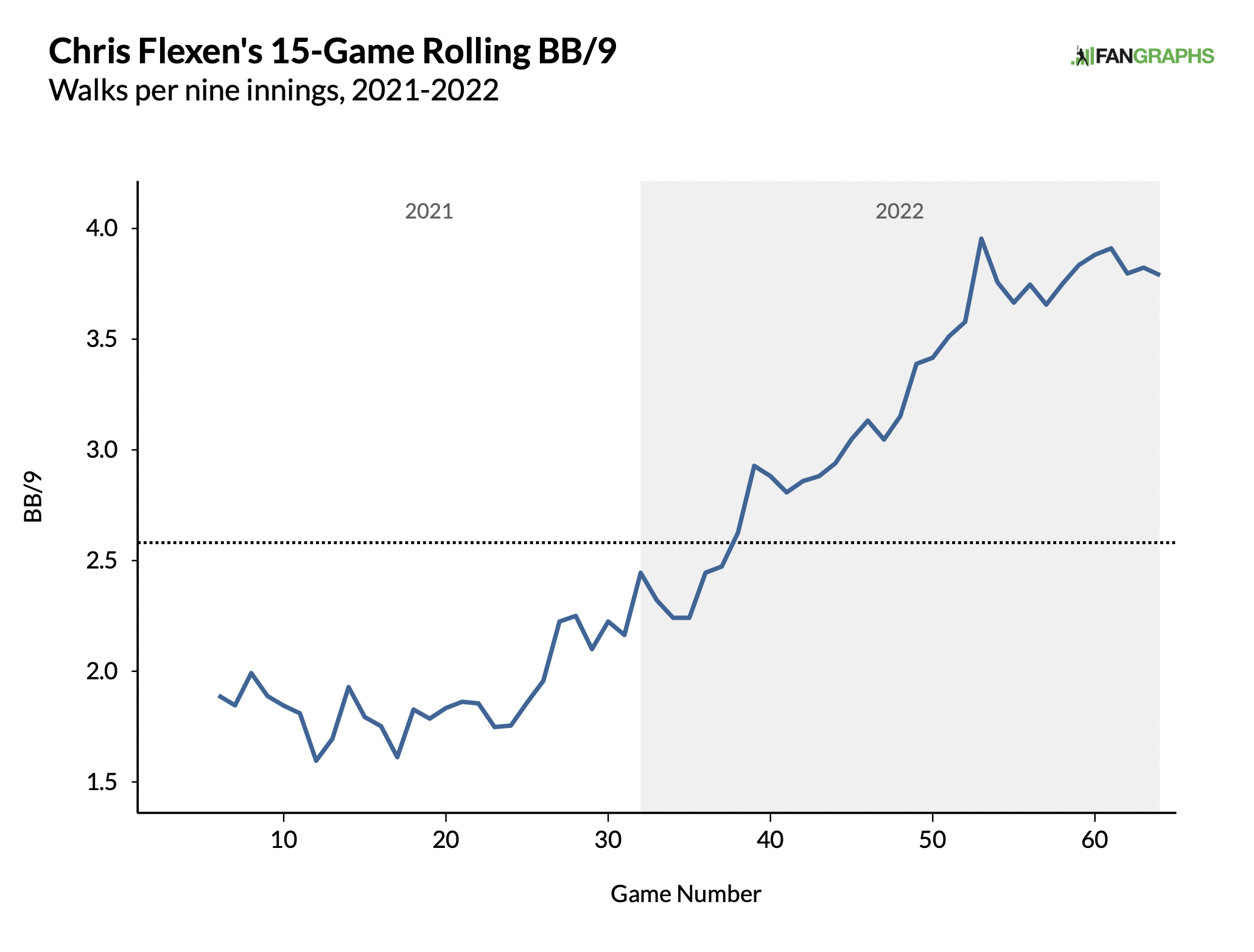 In his first 20 games for Seattle, Flexen walked just 1.87 batters per nine, and his four-seam fastball registered at 92.7 mph. Over his latest twenty starts, he has walked 3.25 per nine, with his average fastball velocity down to 91.7. In 12 appearances out of the bullpen, his velocity has been only a smidge higher, and his walk rate is even worse. (Declining velocity and a troublesome walk rate… where have I heard those concerns before?)
Flexen is fine as far as depth options go; most teams don't have a sixth starter with so much recent experience already on the 26-man roster. But the downgrade from Ray to Flexen is steep. The two have some similar problems, but the former compensates for his weaknesses with strikeout stuff that the latter could only dream of:
Left-hander Gabe Speier has been recalled from Triple-A to fill Flexen's spot on the roster. With 41 MLB games under his belt, he was the most experienced arm the Mariners had remaining on the 40-man and becomes the only southpaw in Seattle's bullpen. He was solid in 17 appearances for Kansas City last season from April to June, but he had some help from the good luck trifecta: low BABIP, high LOB%, and low HR/FB ratio. Additionally, he was used almost exclusively in low-leverage spots and struggled tremendously at Triple-A (a 14.51 ERA in 26.2 IP). Nonetheless, the Mariners saw something in his arm and claimed him off waivers this winter.
Speier seems to have ditched his four-seam fastball (his least effective pitch) in favor of his sinker, and the results have been promising. He also had a strong spring and pitched well in back-to-back appearances this weekend:
Gabe Speier Is Off to a Good Start
| Timeframe | IP | K | BB | HR |
| --- | --- | --- | --- | --- |
| 2023 Spring Training | 8.2 | 13 | 0 | 1 |
| 2023 Regular Season | 1.2 | 2 | 0 | 0 |
After a poor start to the season, the Mariners have fallen behind the Rangers in our playoff odds. Their postseason chances currently stand at 31.8%, representing a sizable dip from their 42.2% odds on Opening Day. Those numbers will rise and fall throughout the year, and it's not worth monitoring the changes too closely. I only mention the odds to underscore how tight the AL Wild Card race will be. Four teams are projected to finish within two wins of the final postseason berth: the Angels, Rangers, Guardians, and Red Sox. The Mariners sit just behind the pack with an 81–81 projected record. Thus, they need every advantage they can get. If Ray returns throwing 95-mph bullets in the strike zone, it will be exactly the boost his team is looking for.