Earlier today, Dan Szymborski examined the state of left field. Now we turn our attention to those who roam center.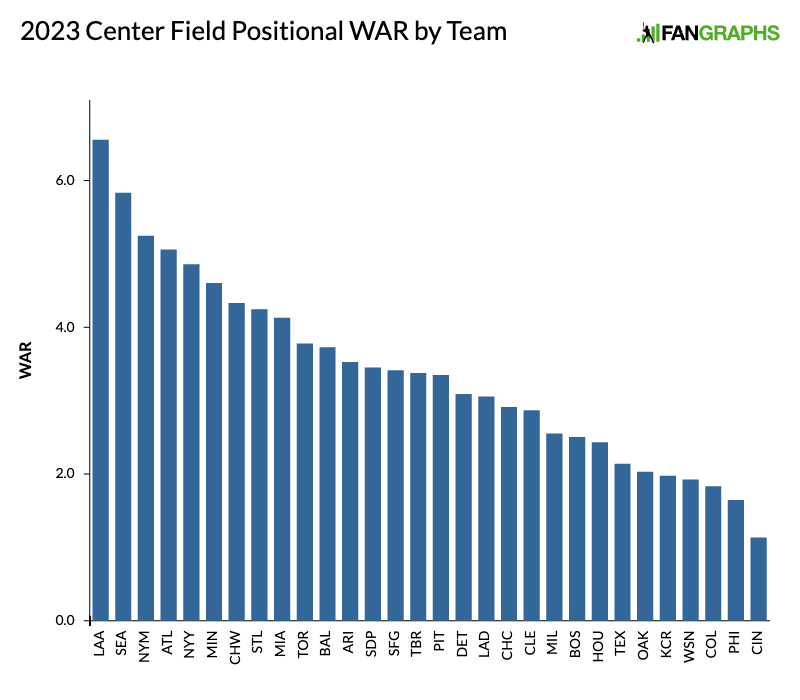 So much of evaluating and utilizing center fielders comes down to what you want. It's easy to forget sometimes that this is an up-the-middle, premium defensive position, like shortstop and catcher. Even if the defensive demands aren't quite as extreme, there's a limited number of ballplayers who can hold their own in center, and a huge premium on those who can play it well. And if you're looking for players who can field the position competently and hit? Well, that's an even smaller pool still.
Such scarcity makes the two clear best center fielders in baseball — Mike Trout and Julio Rodríguez — supremely valuable. As interesting as those two superstars are to discuss, most of the other 28 teams are engaged in an even more fascinating puzzle: How to maximize value at this position in the aggregate. For some, that involves building an up-and-coming potential star, like Michael Harris II or Luis Robert Jr., into the best version of himself that he can be. Other teams, like the Brewers and Tigers, are auditioning even less developed players in the hope that they'll turn into something special.
Everyone else has to make compromises. Offense for defense, power for speed, youth for experience, and so on. That lends itself to a wide variety of team-building approaches and playing styles. For some teams, it's a question of stretching a Bryan Reynolds defensively so he can play up the middle. For others, like the Guardians and Blue Jays, it's the opposite — can an exceptional defensive center fielder provide so much value his bat almost doesn't matter? Still others, like the Cardinals and Diamondbacks, know who their best outfielders are, but perhaps not which order to arrange them in. And then there are the Giants, who should have quality center field production by having Mike Yastrzemski wear a trench coat and sit on Austin Slater's shoulders.
Not every team has a compelling star or a clever plan — a fact that will become readily apparent toward the bottom of this list — but center field is what you make of it.
2023 Positional Power Rankings – CF