Earlier today, Jay Jaffe covered the league's first basemen. Now, Leo Morgenstern examines the state of the keystone.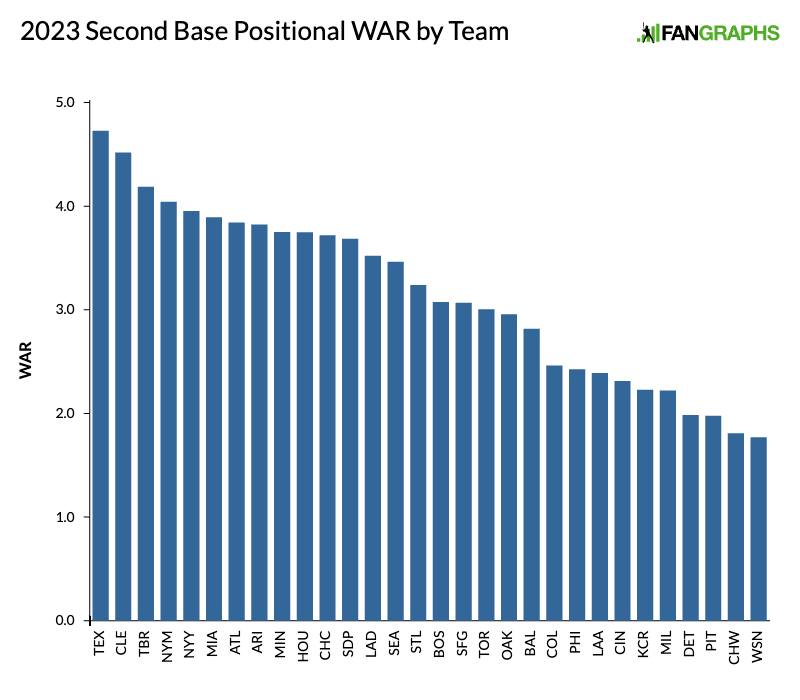 Second base is going to be a fascinating position to watch this season. Under the new rules limiting defensive shifts, teams must have "at least two infielders completely on either side of second base," and those players "may not switch sides" within an inning. Consequently, second basemen will no longer have help from a shifted shortstop or third baseman, making defensive range all the more important at the keystone. On the other side of the ball, second basemen could have their best offensive season in years. While excellent bat-to-ball skills aren't a requirement to play the position, the two often go hand in hand. Second basemen are consistently the best contact hitters (and some of the worst power hitters) in the sport. This means their performance is more dependent on BABIP, so with the distinct possibility that league-wide BABIP will rise this season, second basemen could stand to benefit quite a bit.
And it's not just about the new rules! Second base is projected to have the most even distribution of talent, from the Rangers at the top to the Nationals at the bottom. It's the only defensive position where no team is projected for more than 5 WAR, and yet 28 teams are projected for at least two wins. The bottom-ranked Nationals are still projected for 1.8 WAR – the highest among last-place teams at any position.
The top names here all come with question marks. Marcus Semien can be hot and cold, and at 32, age-related decline could start at any time. Andrés Giménez has to prove he's more than a one-hit wonder after his phenomenal breakout season. Brandon Lowe has to get back to full strength and stay on the field for a full, healthy season. Even Jose Altuve, typically solid as a rock, will miss at least two months. At the same time, the names at the very bottom of these rankings still have promise. Luis García is a former top-100 prospect and is still only 22 years old. Elvis Andrus is a former All-Star coming off a 3.5-WAR season. Jonathan Schoop was arguably the best defensive player in the sport in 2022. Thus, there's bound to be plenty of movement up and down the second base power rankings as the year goes on. Like I said, this is going to be a riveting position to watch.
2023 Positional Power Rankings – 2B