Ian Anderson played a major part in the Braves' success when they came within one win of a trip to the World Series in the pandemic-shortened 2020 season and then won it all the following year. But after struggling for the first four months of the 2022 season, he was optioned to Triple-A Gwinnett and made just one appearance for Atlanta as it won the NL East but was upset by the Phillies in the Division Series. While Anderson had a shot to reclaim a rotation spot this spring, on Tuesday he was optioned once again, both due to his control problems and to other pitchers making stronger cases for the fifth starter role.
I wrote about Anderson's demotion last August, but a recap is in order. The third pick of the 2016 draft burst upon the major league scene in late 2020, pitching to a 3.28 ERA and 3.80 FIP in 30 starts totaling 160.2 innings during the '20 and '21 regular seasons. He added some stellar postseason work in that span, going 4–0 with a 1.26 ERA in eight starts totaling 35.2 innings; he was kept on a short leash, most notably departing Game 3 of the 2021 World Series after throwing five no-hit innings.
Last year was a different story, as Anderson was lit up for a 5.00 ERA and 4.25 FIP in 111.2 innings across 22 starts. His FIP barely budged relative to 2021 (4.12), but his 1.42 runs per nine rise in ERA from that his previous mark of 3.58 ranked fifth in the majors among pitchers with at least 100 innings in both seasons. Meanwhile, his strikeout and walk rates continued a two-year trend of creeping in the wrong directions, with the former down to 19.7% and the latter up to 11.0%.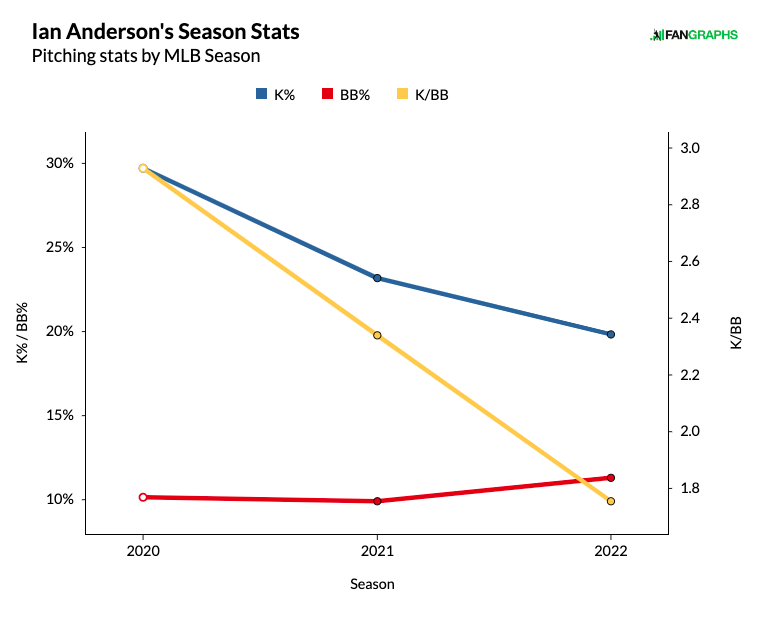 Exacerbating Anderson's problems was a 54-point rise in BABIP, from .259 to .313, the majors' fifth largest among the aforementioned qualifiers. He decreased his barrel rate from 9.5% to 6.2%, but that was offset by slight increases in his average exit velocity and hard-hit rate, not to mention his pull rate; his xERA went from from 4.27 to 4.37.
Oddly, one week after being optioned, Anderson returned to start the nightcap of an August 13 doubleheader; he pitched well (six innings, two runs) but was shuttled back to Gwinnett nonetheless. In four starts there, he walked 10 and turned in a 5.40 ERA in 21.2 innings. The hope was that he could return for the stretch run and replace deadline acquisition Jake Odorizzi, who had scuffled, but after straining his oblique in his September 8 start, Anderson didn't pitch again in 2022.
Via the Atlanta Journal-Constitution, Anderson said in February that he wasn't in the right mindset to make changes at the time: "It's tough when you're still trying to compete. You still have to think you can go out there and do it or else you're going to be even worse off." Via MLB.com, he said, "My delivery was in a bad spot… It just wasn't letting me do what I wanted to with the ball… I don't know if it was pitching late into the season with the World Series and then coming back last year and picking up a ball and just thinking it was going to happen. I really don't know."
Anderson, who turns 25 on May 2, spent the winter working to clean up his mechanics, focusing on maintaining a better posture and remaining calmer on the mound. He worked on adding a slider to his arsenal for use against righties and also spent a couple of days near the end of the offseason at the Wake Forest Pitching Lab undergoing a biomechanical analysis of his delivery and learning some exercises he could use to improve.
While he impressed manager Brian Snitker early in camp, Ian Anderson 2.0 remains a work in progress. In three Grapefruit League outings, he walked eight and struck out eight in 7.1 innings. With other young pitchers impressing Snitker and company, the Braves chose to option Anderson again; they also sent out Bryce Elder, a 23-year-old righty who made nine starts as a rookie last year.
"(Anderson) is still young with a nice career ahead of him," said Snitker on the decision. "You have to look at the person, too, when you make those decisions. What's best for him, let alone the organization and our team. It was best for him to go get right and back to where he was."
As things stand, Atlanta's rotation shapes up to have Max Fried, Charlie Morton, and 2022 rookie sensation Spencer Strider in place to start the season. Kyle Wright, the 2017 first-round pick who finally broke out to become last year's only 20-game winner, is a bit behind schedule after receiving a cortisone shot in his shoulder in January. He threw live batting practice earlier this week but hasn't made his exhibition debut, though the current belief is that with two minor league exhibition starts and two Grapefruit League starts, he could be ready for the team's April 3–5 series against the Cardinals.
Michael Soroka, who hasn't pitched in the majors since August 2020 due to a twice-torn right Achilles tendon and then a late-'22 bout of elbow soreness, was expected to compete with Anderson and Elder for the fifth starter job. But he reported to camp dealing with tightness in his right hamstring and was soon discovered to have suffered a strain, though the hope is that he can return sometime in April. Meanwhile, a pair of 24-year-old lefty prospects, Jared Shuster and Dylan Dodd, have emerged as the top candidates to start the season in the fifth spot. Eric Longenhagen has yet to complete this year's list of the Braves' top prospects, but he told me that the pair are likely the top two in the system — one that last year graduated NL Rookie of the Year Michael Harris II, Strider (the runner-up), and Vaughn Grissom, the three players ahead of Shuster on last year's list.
Shuster, who was chosen in the first round in 2020 out of Wake Forest, split last season between Double-A Mississippi and Gwinnett, posting a 3.29 ERA, 26.2% strikeout rate and 6.9% walk rate in 139.1 innings. As those rates suggest, he throws a ton of strikes, and good command helps his secondary stuff play up. His changeup is his best pitch, a plus, and his fastball, which sat 90–92 mph at last year, now touches 94. Via Eric, at last year's velocity he would be considered a 45+ FV prospect, but with the two-tick increase, he might be up to a 50 FV. "If he throws harder, he's an impact dude, and if he doesn't he's a no. 4/5 guy on the fringe of a contender's rotation," he summarized in the notes he shared with me.
As for Dodd, he's a third-round 2021 pick out of Southeast Missouri State who rocketed from High-A Rome to Mississippi, capping his season with a strong start at Gwinnett; for the year he put up similar numbers to Shuster, with a 3.36 ERA, 25.9% strikeout rate and 5.2% walk rate. He has plus command of his fastball, and both his mid-80s slider and changeup are pluses as well, inducing chases and whiffs at a 40% rate. Where his fastball sat 91–92 mph in college and last season, he averaged 93.7 in his March 2 start against the Mets, the only one for which there's Statcast data.
The velocity increase owes to a mechanical tweak, as the Braves have worked with Dodd to adjust his stride direction. Via Eric: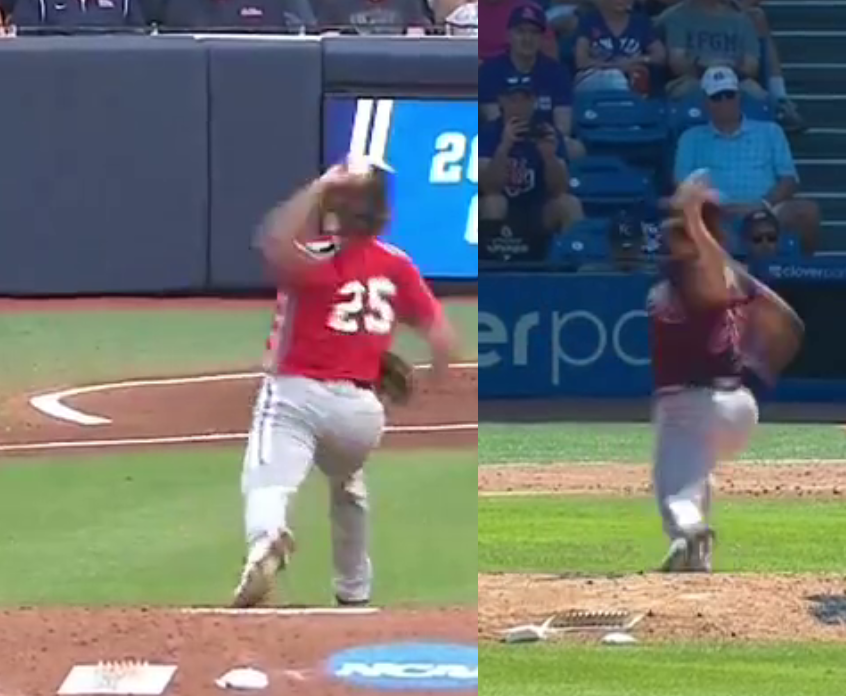 On the left is Dodd in 2021; on the right is this spring. He's getting down the mound better, producing a more athletic delivery, and affecting the angle of his fastball as well as its velocity. "Everything looks the same coming out of his hand. If I'm grading everything it's like 70 command of three average pitches," Eric wrote, adding that Dodd is probably a 45+ FV prospect now but would be up to 50 if he sustains that velocity; sometimes a spring velo increase is just the result of a pitcher airing it out in pursuit of a job.
The Braves used 12 starters last year, led by Morton (31), Fried and Wright (30 each), with Anderson (22), Strider (20), Odorizzi (10) and Elder (9) adding substantial contributions and five others combining for 10 more stats. That was middle-of-the-pack among the 12 playoff teams: the Dodgers, Padres, and Guardians each used 12 starters as well, the Blue Jays 13, the Cardinals 14, and the Rays (of course) 18. Here's how our Depth Charts team currently sees the Braves rotation, with Shuster leading the field among the hopefuls:
Braves Rotation Depth Chart
| Pitcher | IP | K/9 | BB/9 | HR/9 | BABIP | ERA | FIP | WAR |
| --- | --- | --- | --- | --- | --- | --- | --- | --- |
| Max Fried | 186 | 8.2 | 2.1 | 0.9 | .300 | 3.31 | 3.34 | 3.5 |
| Kyle Wright | 181 | 8.5 | 2.9 | 1.0 | .299 | 3.87 | 3.86 | 2.3 |
| Charlie Morton | 164 | 9.9 | 3.0 | 1.0 | .295 | 3.74 | 3.66 | 2.5 |
| Spencer Strider | 151 | 12.2 | 3.2 | 1.0 | .292 | 3.13 | 3.00 | 3.5 |
| Jared Shuster | 87 | 7.5 | 2.9 | 1.3 | .295 | 4.36 | 4.37 | 0.6 |
| Michael Soroka | 64 | 7.1 | 2.5 | 1.1 | .300 | 3.98 | 4.07 | 0.7 |
| Ian Anderson | 43 | 8.5 | 3.8 | 1.1 | .298 | 4.13 | 4.14 | 0.4 |
| Dylan Dodd | 26 | 7.0 | 2.7 | 1.4 | .293 | 4.35 | 4.48 | 0.2 |
| Bryce Elder | 18 | 8.0 | 3.3 | 1.0 | .299 | 4.02 | 4.04 | 0.2 |
| Total | 921 | 9.0 | 2.8 | 1.0 | .297 | 3.70 | 3.68 | 14.0 |
That's a strong unit, one that ranks sixth in the majors in WAR. Atlanta finished seventh last year at 15.1, and if you think that slight dropoff is a sign that we have it in for the team, note that the sum of their projections across all positions leads the majors at 53.2 WAR, 0.1 ahead of the second-ranked Padres and 0.2 ahead of the third-ranked Yankees.
The above estimates don't include the additional relief contributions from Soroka (34 innings), Dodd (26 innings), Anderson (20), and Elder (16). All of which is to say that these guys will all likely get some slice of the pie due to injuries, workload concerns, and performance-related adjustments. If Anderson is able to straighten out at Gwinnett, the odds are that he'll cut the line and have the opportunity to increase his share significantly. If I'm a cynic, I'd note that he has two years and 46 days of service time, so it wouldn't be a surprise if, uh, he takes a couple of months to convince the Braves he's ready to return, thereby giving the team an extra year of control. Not that he hasn't pitched himself into this awkward position, but the Braves are competing for another championship, and until he demonstrates that he gives them the best chance to win, he'll be on the outside looking in.