Last week, I wrote about arm angles, Nestor Cortes, and some appearance-based expectations hitters might have about a pitcher's craftiness. During my data mining, I also noticed that Rich Hill popped up at or near the top of many arm angle rankings. Specifically, among the 473 hurlers who threw at least 500 pitches in 2022, Hill had the broadest range of arm angles and the second-highest arm angle standard deviation. Below are his release points in colorful dot form (via Baseball Savant) and his arm angle frequencies in histogram configuration: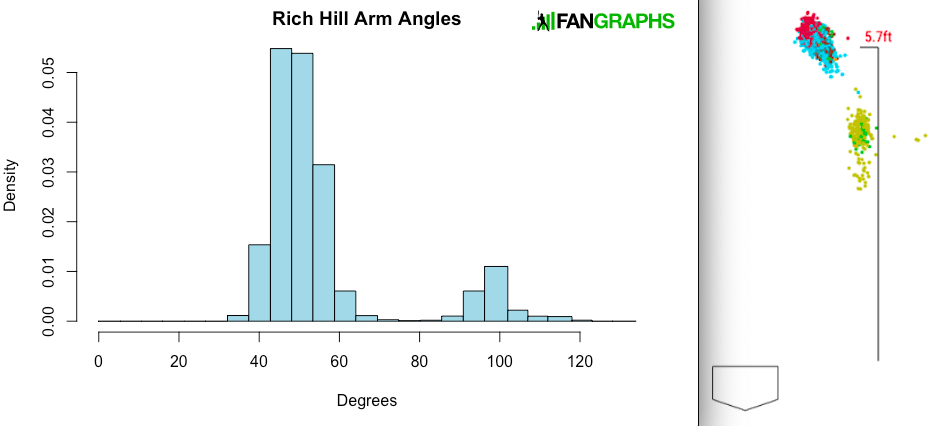 Hill typically comes at hitters from a three-quarters slot, though he does near a completely overhand slot at times. When he drops down, he provides his foes with anything from a sidearm to a fully submarine look. Cortes, for his part, placed second in range (just 0.4 degrees behind Hill) and fourth in standard deviation (2.5 degrees behind). But as you can see below, Cortes' more significant drop-downs were not only less frequent than Hill's but also closer to a more typical Cortes look. Whereas Hill has a very obvious gap between his drop-down and standard release, Cortes runs the gamut of angles between the two: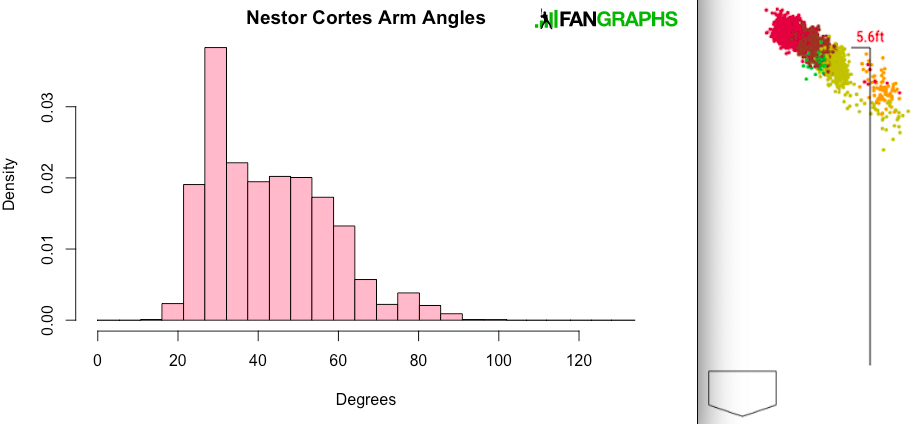 Yet, despite how it might appear, the bimodal measurements I used in my last article had Cortes' arm angle distribution as more closely resembling one with two peaks. So I created my own measurement of bimodality. First, I bucketed arm angle values into 25 groups, each spanning about 5.3 degrees — the same bucketing I used for the histograms above. For any given pitcher, I denoted a peak bucket when the relative frequency of their arm angles was lower on each side of said bucket. Further, the pitcher had to throw at least 1% of their offerings within a bucket for it to be a peak candidate; the total percentage for each bucket in the histograms can be found by multiplying the "density" value by 5.3. This definition of bimodality included both Hill and Cortes' distributions as bimodal.
According to the measurement, I found that pitchers with bimodal arm angle distributions had significantly lower swinging strike rates (10.6% compared to 11.5%). For what it's worth, there were also two multimodal pitchers — Wandy Peralta (who's known to mix in a quick-pitch as well) and Trent Thornton — whose histograms you can find below:

These guys' distributions looked pretty bimodal themselves. So I also tried denoting a peak bucket when the relative frequency of arm angles was lower across two buckets on each side of the peak bucket. But there were only five players who met this definition of bimodal — Hill, Tyler Anderson, Rowan Wick, Ralph Garza Jr. (whom Davy Andrews wrote an excellent piece about last month), and Thornton. Not even Peralta met this stringent definition.
Thus I returned to my first definition, this time including Peralta and Thornton as bimodal, and sought a different method of controlling for any imperfections. Given that according to this definition, peaks in bimodal distributions could be in close proximity, I decided to look at the distance (i.e., number of buckets) between peaks to differentiate among bimodal-ers. To assess the impact of peak distance, I limited my sample to the 45 pitchers with bimodal distributions (this time including Peralta and Thornton). This sample was admittedly small, so take the results with a heap of salt:
Peak Distance Impacts
| Peak Dist | SwStr% | CStr% | Zone% | O-Swing% | Z-Swing% | n |
| --- | --- | --- | --- | --- | --- | --- |
| 2 | 11.2 | 16.7 | 48.4 | 28.8 | 66.3 | 14 |
| 3 | 10.2 | 16.4 | 48.8 | 27.8 | 67.8 | 19 |
| >= 4 | 10.9 | 17.5 | 50.1 | 31.5 | 66.4 | 12 |
| Bimodal Total | 10.7 | 16.8 | 49.0 | 29.1 | 66.9 | 45 |
| Unimodal | 11.5 | 16.3 | 48.5 | 29.2 | 67.6 | 428 |
The most eye-popping number is in the chase-rate column: O-Swing% jumps past 30% once we reach a peak distance of four buckets. This trend also passes the smell test — it makes sense that batters would chase more, misidentifying a pitch's location, when they are subject to wildly different arm slots. There's also an increase in called-strike rate once we reach a peak distance of four buckets, but I'm more skeptical of this increase because it's not as large and it corresponds with a sizable increase in zone rate. This skepticism comes in spite of my findings from last week that more obtuse average arm angles correlated with higher called-strike rates; new for this week, per the instructions of an astute commenter on my last article, I double-checked that these findings were robust enough to withstand a zone-rate control (they were).
My most notable finding from last week, though, was that this called-strike effect appears to be moderated by body-mass index (BMI). I've since found that it's moderated by a host of other similar measurements, which might be a further indication that hitters anticipate more sidearm looks from certain hurlers. Yet, listed weights don't appear to be particularly precise or well-maintained by teams, while metrics like BMI are quite crude and have notable imperfections. Additionally, they wouldn't explain why Rich Hill, whose BMI is right in the middle of the pack, is one of the most successful drop-downers; for one, Hill easily bested Cortes' above-average called-strike rate by a 20.2% to 17.2% margin, ranking 21st in my 473-man sample. Is there something else that stands out about the tall left-hander?
Hill is a southpaw (as is Cortes), but that wasn't it; there was no interaction between average arm angle and handedness. Hill has a rather large peak distance — at 10 buckets apart, his two peaks were further than anyone not named Ralph Garza Jr. But even if we believe the association between peak distance and chase rate, Hill's came in below average at 27.3%, so that's probably not what we're looking for either. Could age be the moderator of interest when it comes to Hill? After all, he was the oldest player in my dataset of 473 pitchers, two years the senior of the next oldest (Adam Wainwright).
To answer this question, I first created a dummy variable for age. I chose 27 as a cutoff because pitchers generally remain within 5% of their peak performance (by ERA-) up until that age. This performance decline correlates highly with a decline in fastball velocity, as pitchers on average also remain within about 1 mph of their peak speed until they turn 27. Given that fastball velocity drops predictably as pitchers age and often corresponds with a move towards fastball alternatives, I controlled for a weighted average of fastball velocity that included four-seamers, sinkers, and cutters. I also controlled for total fastball usage rate, which was a straight sum of the usages of the three types of fastballs, and zone rate. While the controls rendered the interaction term statistically insignificant, here is what it looked like graphically: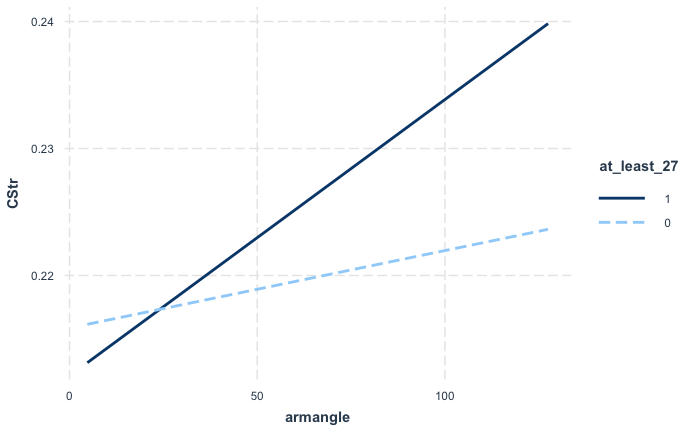 For these plots, the hidden variables are kept constant (so that the only change wrought by them is in terms of the intercept), which might be making the interaction seem more important than it is. Even in this plot though, higher average arm angle did not correlate significantly with called-strike rate for pitchers younger than 27. But for pitchers age 27 or older, those with more obtuse arm angles tended to be far more effective at nabbing extra called strikes, and this held up against all the controls even when I ran a regression with a dataset winnowed down to just the 326 pitchers who were at least 27 last year.
Why might hitters freeze more often against older pitchers with more obtuse arm angles than younger ones? There could be some degree of survivorship bias, as the pitchers who lasted long enough to stave off a velocity and/or performance decline were probably more adept at notching called strikes to begin with. Additionally, for older pitchers, more obtuse arm angles might be indicative of a larger quality of adaptability; if the pitcher is willing to try unconventional arm angles (whether they begin doing so later in their career or as an amateur player), they're probably more likely to employ other tweaks in order to continue defying father time.
Even if hitters think they know what's coming from Rich Hill, as his late-career resurgence enters its eighth year, it's the lefty's willingness to adjust that has kept him around so long. From his extremely high and revolutionary curveball usage to his alternating arm angles, there's a reason he's been the sixth-best starter by ERA+ (min. 500 innings) from age-35 onward since the Divisional Era began in 1969. That doesn't mean the Hill strategy will work for everyone; whether different arm angles feel natural remains extremely important. In that vein, my findings don't necessarily indicate that a change in arm angle will automatically come with an increase in called-strike rate; what I've studied has largely been about how pitchers with already obtuse arm angles generate more called strikes. Still, running up that Hill is definitely worth a shot, especially for struggling older pitchers.