Amid the frantic negotiations of this year's arbitration deadline on Friday, the Twins and right-hander Chris Paddack agreed to avoid arbitration and then on the only multi-year deal of the day, a three-year, $12.5 million contract through the 2025 season. The deal, which came just hours after Paddack and the Twins settled at $2.4 million for 2023, buys out his final year of arbitration and his first year of free agency for $10.1 million and includes up to $2.5 million in bonuses.
It's a reasonable arrangement for both sides. Paddack, who turned 27 just a few days prior, underwent his second Tommy John surgery in May and is aiming for an August 2023 return. Tacking on another year of team control in Minnesota gives him security in his effort to get healthy and still lets him reach free agency a couple of months before his 30th birthday. For the Twins, given Paddack's injury and his struggles in recent seasons, they are buying low on a player with elite control and significant upside. It's also a modest investment to help shore up a rotation that will feature three starters — Sonny Gray, Tyler Mahle, and Kenta Maeda — on contract years in 2023.
Before his surgery, when Paddack was dealt from San Diego to Minnesota on Opening Day 2022, it wasn't entirely clear what type of pitcher the Twins were adding. He had excelled as a 23-year-old rookie in 2019, posting a 3.33 ERA, 3.95 FIP, and 4.05 xFIP over 26 starts, striking out 9.79 and walking just 1.98 per nine innings. Relying on a mid-90s fastball with a changeup and curveball as secondary offerings, he ranked in the 73rd percentile in average exit velocity, 81st in hard-hit percentage, and 88th in both walk rate and chase rate as a rookie. He benefited from the second-lowest BABIP among pitchers with 100 innings or more, but he was successfully limiting hard contact.
Since then, Paddack has struggled to replicate that success. In the COVID-shortened 2020 season, he got crushed, with his average exit velo going from 87.8 to 90.9 mph, barrels nearly doubling from 6.3% to 11.0%, and his hard-hit percentage jumping 15 points. And the outcome wasn't pretty: he gave up 2.14 HR/9 instead of 1.47, and his ERA and FIP both blew up by over a full run as his BABIP regressed to nearly league average.
The culprit was a much more hittable fastball. After debuting with a four-seamer worth 0.99 runs above average per 100, the pitch lost some spin and started to change its shape in 2020, staying more on Paddack's arm side and dropping further. Both righties and lefties feasted on it; opposing hitters went from a .275 wOBA against the pitch in 2019 to a .413 mark. For a guy who uses his fastball almost 60% of the time, that's a problem. His plus changeup remained strong, but the rest of his pitches, including a scarcely used slider/cutter, were significantly below average. The result was the fastball dropping to -1.78 runs above average per 100 uses.
Chris Paddack's Fastball Profile
| Year | Velocity | Horizontal Break | Vertical Break | Usage | wFB/C |
| --- | --- | --- | --- | --- | --- |
| 2019 | 93.9 | 7.6 | 12.6 | 61.1% | 0.99 |
| 2020 | 94.1 | 9.8 | 14.7 | 58.2% | -1.78 |
| 2021 | 94.8 | 9.5 | 13.1 | 61.5% | -0.34 |
| 2022 | 93.0 | 9.9 | 13.3 | 51.8% | 1.53 |
SOURCE: Baseball Savant
*Horizontal break is to arm side; vertical break is downward. wFB/C from FanGraphs.
In 2021, Paddack tinkered with his arsenal. As my colleague Justin Choi noted when he was dealt to the Twins, he made some improvements to the curveball, pushing the velocity almost 2 mph and holding onto its movement, which corresponded with a 15-point increase in whiffs. With the fastball, he was able to limit the vertical break but couldn't get back the ride he had in 2019; per wFB/C, it returned to nearly average, but that's still a far cry from its success in 2019. With these improvements, Paddack was able to drop his hard contact rate nearly five points and his home run rate back down to 1.25 per nine, and while his ERA rose to 5.07, his FIP dropped to 3.78, even lower than his 2019 mark.
Paddack's 22.1 innings in a Twins uniform in 2022 isn't enough to take much from, but more tweaks in his approach stand out. He relied on the fastball far less in his five starts with Minnesota than in the previous three years, opting for it 51.8% of the time. He also introduced a fourth pitch — one he used just 14 times against right-handers and at significantly lower speeds. Here's where it fit into his arsenal in 2020, when it was categorized as a cutter (in black) with an average velocity of 88.0 mph: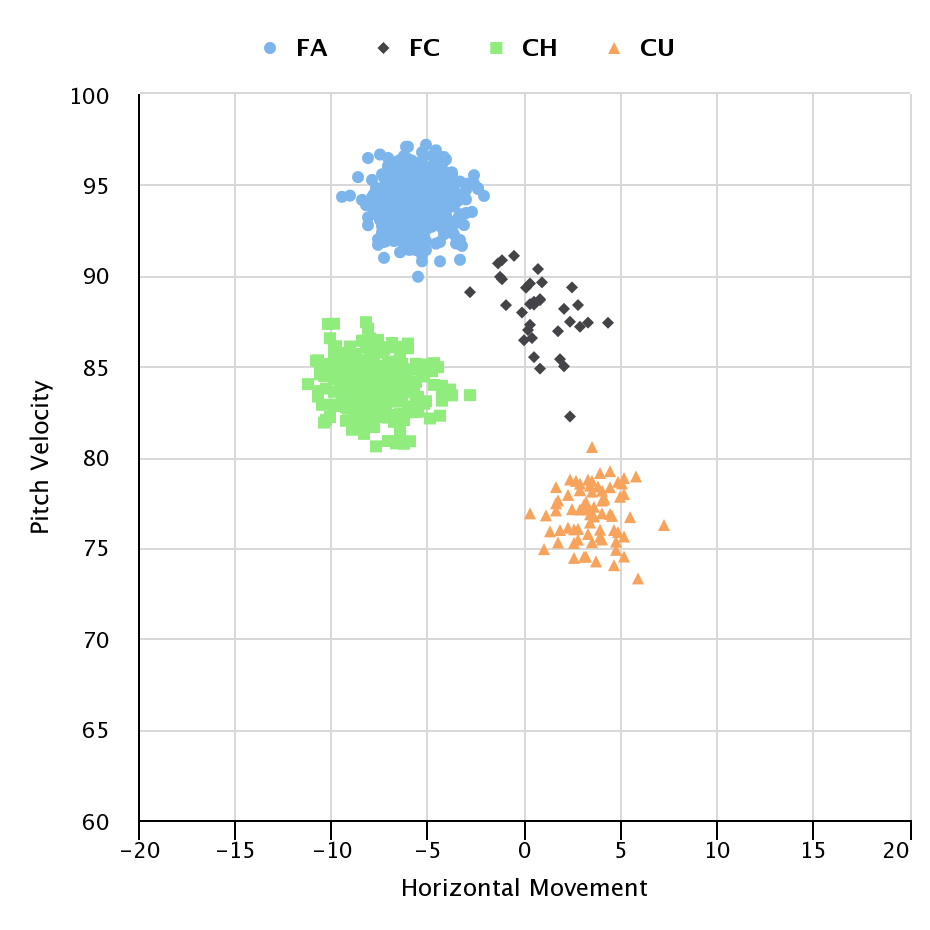 And in green in 2022, when it was classified as a slider and thrown 84.3 mph on average: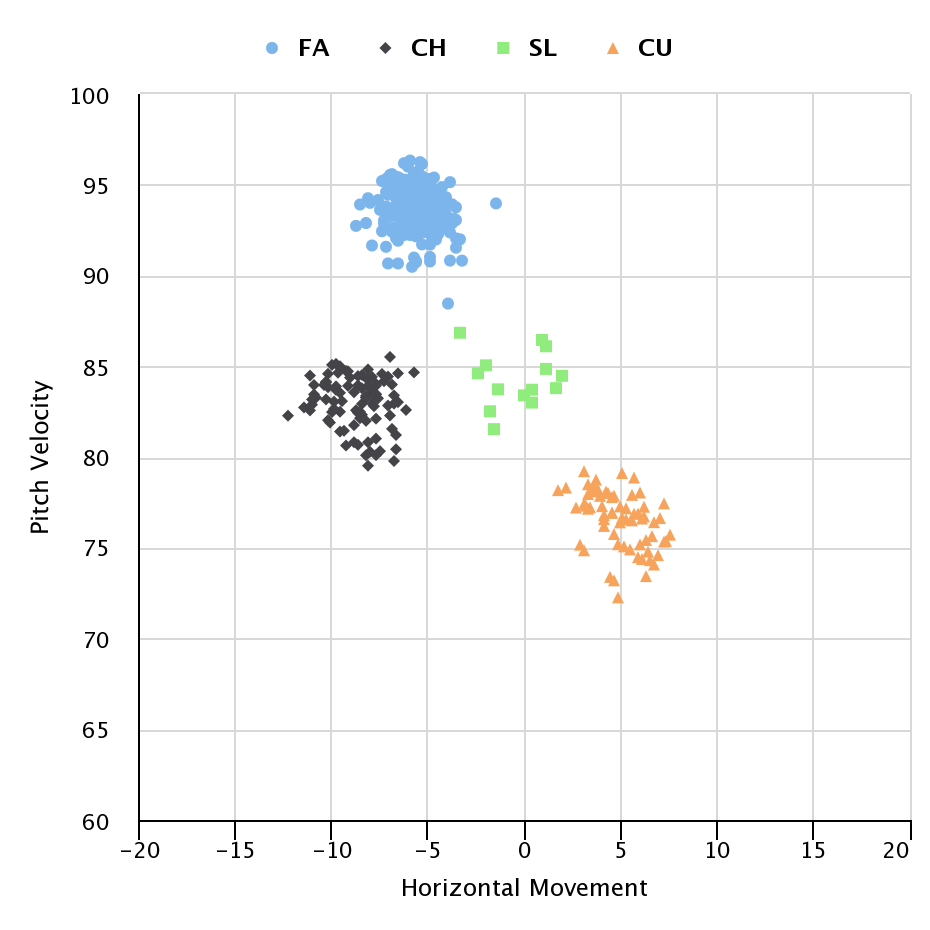 Whether Paddack hangs on to this experiment this time remains to be seen, but in its rather limited usage in 2022, it looked like it could be a useful tool to get righties to chase, like he did here in his penultimate start before his surgery:
Speaking of chasing, it makes sense for Paddack to be looking for more ways to work well outside the zone, as this was one of his true strengths in '19. He ranked 11th among the 130 pitchers with 100 innings or more in O-Swing% at 36.0%, a lot of which came on high fastballs and low changeups. On 201 fastballs that came in higher than the upper limit of the strike zone, he induced swings on 45.3%, which generated a .187 wOBA and 81.6 mph average exit velocity; hitters swung at just 29.1% of those in 2020 and 30.4% in '21. Similarly, using his changeup below the zone in 2019 gave him an opportunity to induce swings and misses and weak contact. That year, hitters offered swings on 40.7% of such changeups, but that figure dropped to 37.5% in 2020 and 33.7% in '21. That may have been thanks to hitters catching on to his game plan, but Paddack's control is his calling card, and he'll get plenty more bad contact if he can get hitters to pull the trigger on bad pitches. Against righties, the slider may be another option for this approach.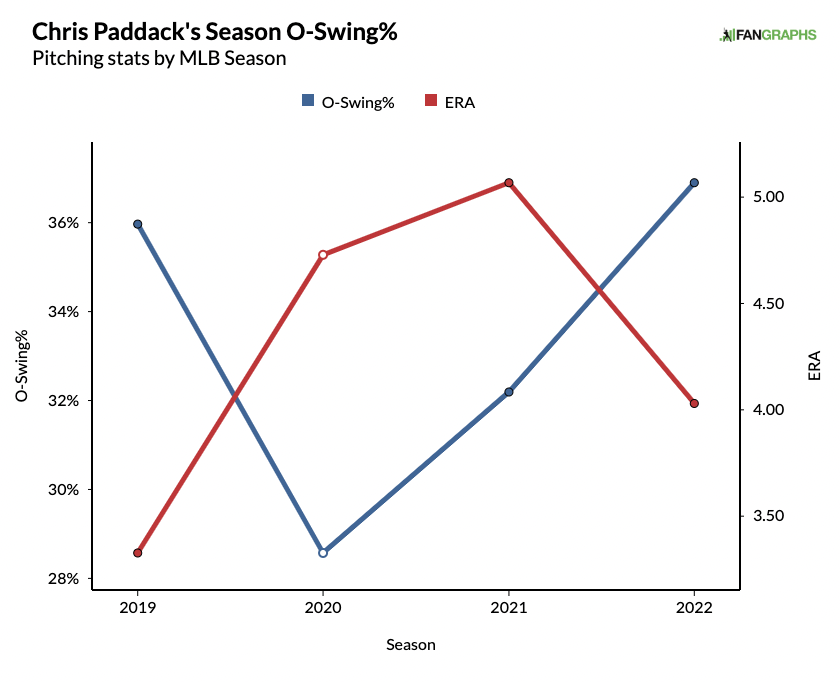 The start to Paddack's Twins tenure was less than satisfying. Minnesota was able to land the righty only after a deal to the Mets was nixed due to medical concerns, and losing 16 months to Tommy John just a month later was a tough pill to swallow for all involved. But last week's agreement was a nice vote of confidence for both the player and the team. Paddack can settle into his recovery without the stress of next year being a contract year, and the Twins have an extra cost-controlled season of a player who, if healthy, should be able to manage holding down a spot in the rotation, and could do a lot more. In all likelihood, we won't know much more for a while longer.