He's not the Japanese starting pitcher that fans were likely hoping for, but the Athletics signed Shintaro Fujinami to a one-year deal worth $3.25 million, just a couple days before the January 14 deadline to sign posted players. With most starting-caliber players already traded away for prospects, Fujinami becomes just the sixth Oakland player not on a league minimum or arbitration contract, joining a collection of names including fellow international signee Drew Rucinski.
Eleven years ago, when an 18-year old Fujinami was selected in the first round of the 2012 NPB draft by the Hanshin Tigers, many evaluators considered him better than Shohei Ohtani, also taken in that round. Fujinami was well-known as a prospect coming out of high school, where he led his team to victory in the summer Koshien tournament by throwing complete-game shutouts on consecutive days, then tossing another shutout to clinch a junior world championship less than two weeks later. He had an excellent rookie season with the Tigers, posting a 2.75 ERA over 24 starts, and continued this excellence from 2014 to '16 with a 3.02 ERA and 16.2 WAR, placing in the top seven pitchers by WAR each year.
Then things started to come off the rails. Where Fujinami had succeeded in spite of his below-average command in his first four years, his strike-throwing issues became debilitating after that. In 2017, he walked a sixth of his batters faced; in '18, his ERA climbed to 5.32 as the walk issues remained. He made just one start in 2019 and has played part of each season since in the minor leagues.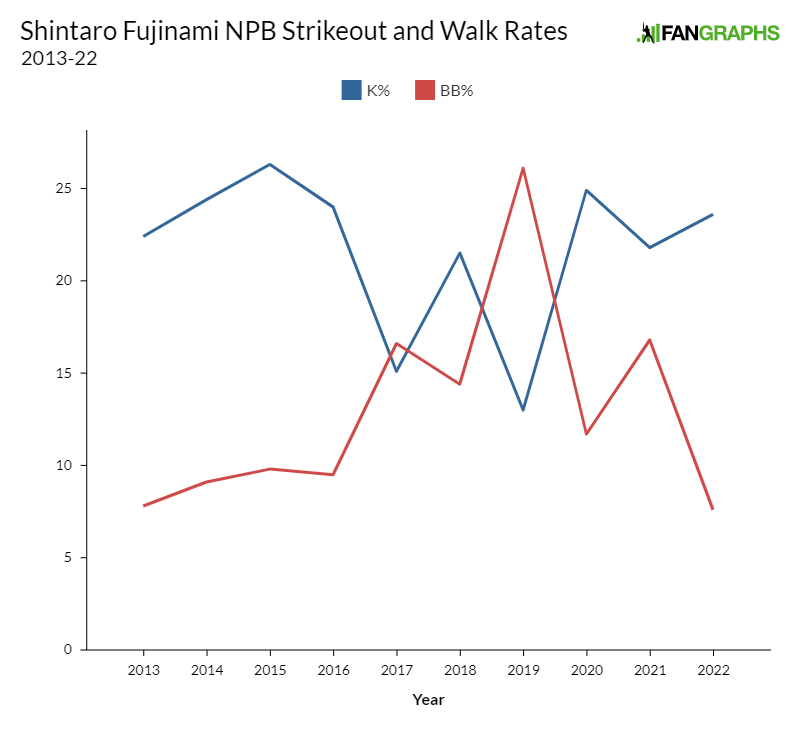 Since 2020, Fujinami has made 27 major league starts and 34 relief appearances, along with 21 farm team appearances (19 of them starts). While he still had a double-digit walk rate in 2020 and '21, his 7.6% clip in '22 was the best of his NPB career, as he basically matched the league-average rate of 7.7%. His performance in the strikeout and walk department notably improved after a stretch in the bullpen and in the minors, with excellent peripheral numbers in the last two months of the season. He finished the year with a 3.38 ERA in 66.2 innings, but due to the lowered NPB offensive environment, that resulted in just a 102 ERA- (92 FIP-). While he wasn't throwing more pitches in the strike zone than before, he significantly cut down on the number of waste pitches thrown, as evidenced by a career-high chase rate.
While Fujinami's control has been up and down, often times leading to disastrous performances, his raw stuff is excellent. He's always been a hard thrower, especially by NPB standards, but he hit a career high last season, averaging 96.3 mph and occasionally reaching back for triple digits. The only NPB starters who threw harder were fellow MLB newcomer Kodai Senga (96.5 mph) and 21-year old phenom Roki Sasaki (98.9 mph), who nearly threw two consecutive perfect games back in April. Fujinami fires from a low vertical release point, allowing the pitch to play up beyond its shape due to its flat vertical approach angle. His fastball has a hybrid shape with far more horizontal break than most four-seam fastballs and more vertical carry than the average sinker. According to sourced data, few MLB fastballs compare to Fujinami's in terms of movement and release point; similar heaters include those of Nathan Eovaldi and Aaron Nola. Plugging this data into Cameron Grove's pitch grader outputs a full plus grade by MLB standards; Eric Longenhagen's evaluation of Fujinami on The Board puts a 55 on it.
Prior to 2022, Fujinami's main secondary was a bullet slider, which he threw up to a third of the time in some seasons. Like his fastball, it reached a career high in velocity last year, averaging over 86 mph, beaten out only by Sasaki. While the pitch had little movement outside the effects of gravity, it was a serious change of pace compared to the extreme tail and carry of his fastball. As a result, it induced the most swings and misses of his arsenal, but also was hit the hardest when batters did make contact.
Fujinami also scaled up the usage of his splitter last season, throwing it more than a quarter of the time; it had previously been a distant third to the fastball and slider. Clocking in at 91.4 mph, it was the hardest-thrown splitter among starting pitchers in both NPB and MLB and served as his best pitch. According to data from Sports Info Solutions, his splitter had a better put-away rate than his other pitches as well as excellent results on contact, including a minuscule 9% hard-hit rate. This emphasis on the splitter also likely explains why he was able to get far more chases than previous seasons; the pitch has near-equal amounts of horizontal run to his fastball but eight fewer inches of induced vertical break.
Fujinami wasn't just effective when batters swung at his pitches out of the zone; he also had great success when challenging batters in it. In-zone whiff rate is a solid way to measure a pitcher's swing-and-miss stuff independent of other factors like the ability to induce chases. Of 77 NPB pitchers with at least 60 innings last year, Fujinami's 16.4% zone whiff rate ranked eighth, tied with Yoshinobu Yamamoto, the back-to-back Triple Crown winner, consensus best pitcher in NPB, and former teammate of Masataka Yoshida. These numbers can't be directly compared to MLB numbers because NPB hitters aren't used to facing the high-octane velocity that Fujinami brought, but American pitchers with comparable zone whiff numbers included Yu Darvish and Corbin Burnes. But Fujinami's stuff is also above average compared to MLB pitchers, especially in the velocity department.
Shintaro Fujinami Pitch Arsenal
| Pitch Type | Usage | Average Velo | Central League Average Velo | MLB Average Velo |
| --- | --- | --- | --- | --- |
| Four-Seam | 51% | 96.3 | 91.1 | 93.9 |
| Splitter | 26.3% | 91.4 | 85 | 87.2 |
| Slider | 20.2% | 86.2 | 81 | 84.6 |
| Curveball | 1.8% | 75.6 | 73 | 79.1 |
SOURCE: Deltagraphs
It's difficult to project how Fujinami will perform in a new league since we're working with a relatively small sample of comparable players. Since advanced NPB data became available on Deltagraphs in 2014, only three Japanese-born starting pitchers have made the leap to MLB: Ohtani, Yusei Kikuchi, and Kohei Arihara. Fujinami has better pure stuff and pitch data than Kikuchi and Arihara, but both of them had a much stronger track record of performance in the seasons leading up to their posting, and none had command questions as significant as Fujinami's. And while Ohtani had an excellent albeit injury-shortened rookie year in MLB, Kikuchi and Arihara were well below average. Here's how each pitcher fared compared to their NPB peers during their final seasons in Japan:
Japanese Pitchers' Final NPB Seasons, Percentile Rankings
| Name | Fastball Velocity | ERA- | K% | BB% | Chase | Z-Whiff |
| --- | --- | --- | --- | --- | --- | --- |
| Shintaro Fujinami | 98 | 35 | 86 | 31 | 88 | 90 |
| Kodai Senga | 99 | 90 | 96 | 17 | 64 | 81 |
| Kohei Arihara | 85 | 55 | 51 | 82 | 91 | 84 |
| Yusei Kikuchi | 88 | 83 | 85 | 63 | 84 | 56 |
| Shohei Ohtani* | 100 | 95 | 98 | 36 | 92 | 90 |
SOURCE: Deltagraphs
*Ohtani's second to last season was used, as he missed most of 2017 with injury
Each pitcher was compared to all pitchers that season with at least 60 innings pitched.
Unsurprisingly, Ohtani's 2016 MVP season was the best of the bunch by most stats (not pictured: his 181 wRC+), but Fujinami doesn't fall far behind in any stat except run prevention. Even Ohtani allowed his fair share of walks, and Fujinami's chase and zone whiff numbers were considerably better than Senga's. By raw stuff, Fujinami compares favorably to Arihara and Kikuchi, but he's clearly a step behind Ohtani. ZiPS thinks Fujinami will end up in the middle of that range of outcomes, and its projections say a lot about his combination of big stuff and good contact management but sometimes nonexistent command.
ZiPS Projection – Shintaro Fujinami
| Year | W | L | ERA | G | GS | IP | H | ER | HR | BB | SO | ERA+ | WAR |
| --- | --- | --- | --- | --- | --- | --- | --- | --- | --- | --- | --- | --- | --- |
| 2023 | 6 | 5 | 3.70 | 16 | 10 | 92.3 | 80 | 38 | 6 | 53 | 92 | 107 | 1.4 |
ZiPS clearly puts a good amount of stock in Fujinami's control problems. In 2022, the list of starting pitchers with a walk rate of at least five per nine and an above-average ERA was… no one. The only player who was given a full season in the rotation with that many walks was Kikuchi, and he had an ERA north of five. Yet ZiPS thinks that Fujinami will be a bit above average despite a walk rate that usually lands you in the bullpen or the minors. Much of that is due to his projected home run rate of just 0.58 per nine, which would rank in the 94th percentile of big league starters. The horizontal run of his fastball and splitter prevent batters from lifting the ball; his groundball rate was above 50% in each of his seasons on the Tigers, and his career home run rate in NPB was 0.55, almost identical to his ZiPS projection.
Another factor working in Fujinami's favor, even in an environment with more power, is his new home ballpark. While the Tigers' home stadium suppresses aerial damage pretty well with a home run factor of 88, the Oakland Coliseum, which sits 21 feet below sea level, has a home run factor of 76, making it the second-most difficult MLB stadium for hitting homers.
Oakland's confidence in Fujinami's control will likely determine whether he'll deployed as a starter or reliever in the upcoming season. The trio of Cole Irvin, Paul Blackburn, and James Kaprielian seem like safe bets to make the rotation barring a trade, but the team has many less experienced pitchers who could start the year in the minors or be used as relievers in Adrián Martínez, Ken Waldichuk, Kyle Muller, JP Sears, and Rucinski. It should be pointed out that none of the eight names mentioned have compiled a season with at least 50 innings and an above-average FIP, so the A's may use 2023 to see which unproven hurlers can separate from the pack, just like their young position player group. Regardless of his role, Fujinami has shown flashes of big stuff when his command permits, and he has a chance to move beyond his struggles in his stateside debut.