Nelson Cruz wants his ring. Since watching a World Series slip right over the webbing of his glove in 2011, he has played 11 more seasons, well past his 40th birthday, in pursuit of that ultimate goal. On Wednesday, the 42-year-old agreed to sign on for his 19th major league season with his eighth team, heading to San Diego to join a fun Padres team looking to find its way even deeper into the playoffs after reaching its first NLCS of the 21st century last year. The deal, worth $1 million over one year, pending a physical, reunites Cruz with former Rangers assistant general manager A.J. Preller as well as former teammates and Dominican countrymen Manny Machado and Juan Soto, who he'll suit up with first as general manager-player for the Dominican World Baseball Classic team in March.
Cruz could easily have called it a career by this point. After establishing himself as a big league bat in Texas, he has enjoyed a prosperous second act as somewhat of a slugging journeyman, representing four different teams in the All-Star Game since his age-32 season. Of his 459 career home runs, 382 have come since his 30th birthday, trailing only Barry Bonds, Babe Ruth, Rafael Palmeiro, and Hank Aaron. Prior to last year, hadn't posted a wOBA under .340 or wRC+ under 123 in nearly a decade.
Most Home Runs in MLB History, Age 30+
| | Player | HR | From | To |
| --- | --- | --- | --- | --- |
| 1 | Barry Bonds | 503 | 1995 | 2007 |
| 2 | Babe Ruth | 430 | 1925 | 1935 |
| 3 | Rafael Palmeiro | 414 | 1995 | 2005 |
| 4 | Hank Aaron | 413 | 1964 | 1976 |
| 5 | Nelson Cruz | 382 | 2011 | 2022 |
SOURCE: Baseball-Reference
And then came 2022, the type of year that would chase most veterans into retirement. In 124 games as the primary DH for the 55-win Nationals, Cruz's prodigious power disappeared; his slugging percentage went from .497 to .337, his ISO dipped from .232 to .103, and his wRC+ fell from 123 to 85. Aside from a 22-game stretch in late May and early June during which he looked like prime (or 38-year-old) Cruz, hitting .418/.483/.633 in 90 plate appearances, he wasn't able to offer much value at the plate. He battled inflammation in his left eye that was obscuring his vision, which he said had been a worsening problem for about a year and a half. He was ultimately shut down in mid-September, but instead of calling it quits, he had his eye surgically repaired and got back to work, most recently alongside 2022 AL batting champ Luis Arraez.
It's hard to know how much Cruz's 2022 woes can be blamed on the eye issue and how much has to do with him being 42 years old. He specifically pointed to issues picking up spin, which would have hurt his ability to identify pitches and certainly could have contributed to a weakened contact profile, from a 2-mph drop in average exit velocity to a four-point dip in barrel rate. He struggled mightily against breaking pitches (.256 wOBA) and offspeed (.224). And his swinging strike percentage climbed to 15.0%, his highest since 2009. But these things could also have been brought on by a normal aging curve and lost bat speed. (Statcast is still getting started tracking that.) It's worth noting that his trouble making hard contact worsened relatively quickly over the second half of 2021 and '22: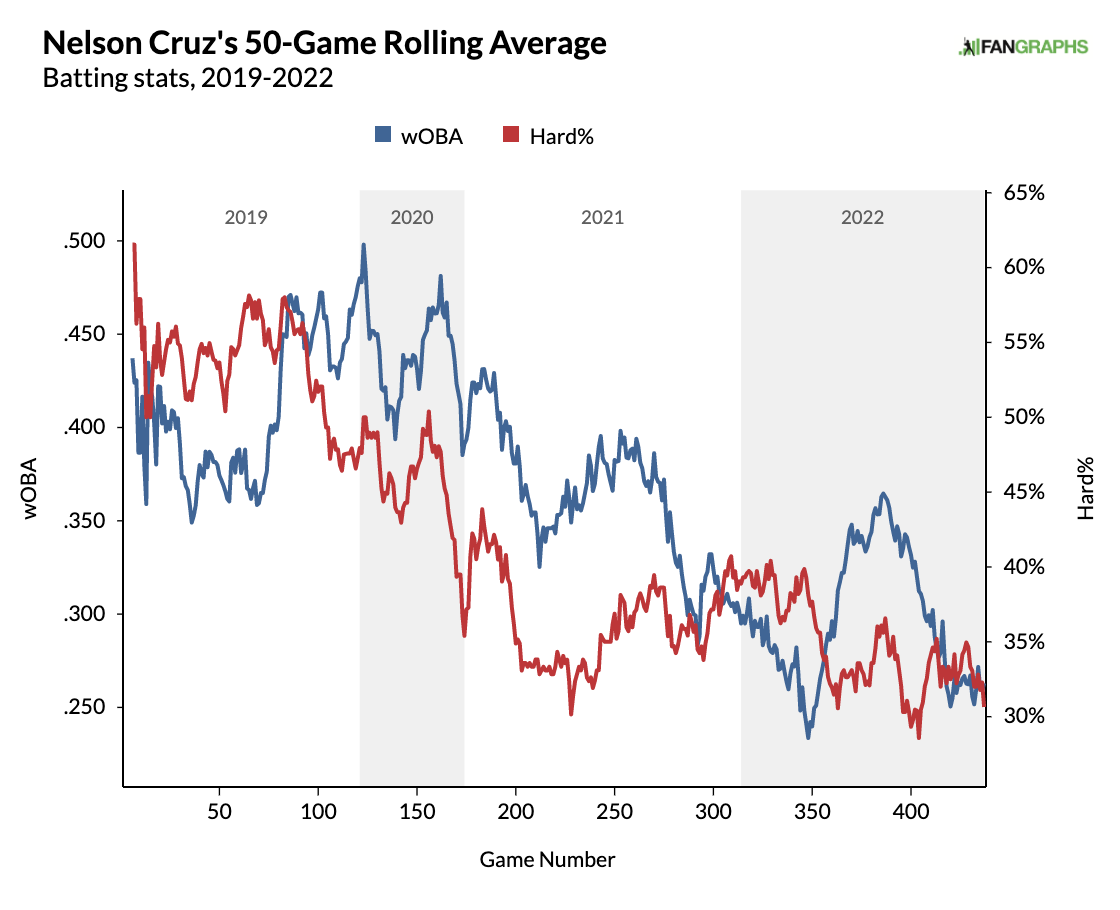 Whether Cruz has much left in the tank to give is the $1 million question. Despite his depleting hard contact, he still ranked above the 80th percentile in average exit velocity (84th) and HardHit% (81st) and 60th in Barrel%. His xwOBA of .320 was 79th among 130 qualifiers, and his .292 wOBA was 117th. He was pretty unlucky when he did hit the ball hard: on 31 barrels, he hit just .516 with a .913 wOBA, compared to league averages of .728 and 1.289. In 2023, he'll also expect more chances against lefties, off of whom he managed to post a .323 wOBA and 106 wRC+ in the down year. Steamer expects he'll be able to rebound to around a .316 wOBA and a 105 wRC+ — not what any playoff team is looking for from a designated hitter, but a good chunk better than what the Nats saw in 2022.
Statistics on Barrels
| Batter | BIP | EV | LA | HR% | AVG | SLG | wOBA |
| --- | --- | --- | --- | --- | --- | --- | --- |
| Nelson Cruz | 31 | 105.7 | 25.6 | 32.3% | .516 | 1.677 | .913 |
| MLB Average | 9,331 | 104.6 | 26.2 | 47.5% | .728 | 2.410 | 1.289 |
SOURCE: Baseball Savant
Professional hitter that he is, Cruz also made an important adjustment to his approach in response to his issues. As most of his pull-side contact was turning into rolled-over ground balls instead of hard hits, he started to use the whole field, driving balls to the opposite field at a rate of 28.6%, his highest since 2012. He hit .388 with a .378 wOBA on contact to the right side, compared to .275 with a .319 wOBA to his pull side. Take a look at the success he had going the other way: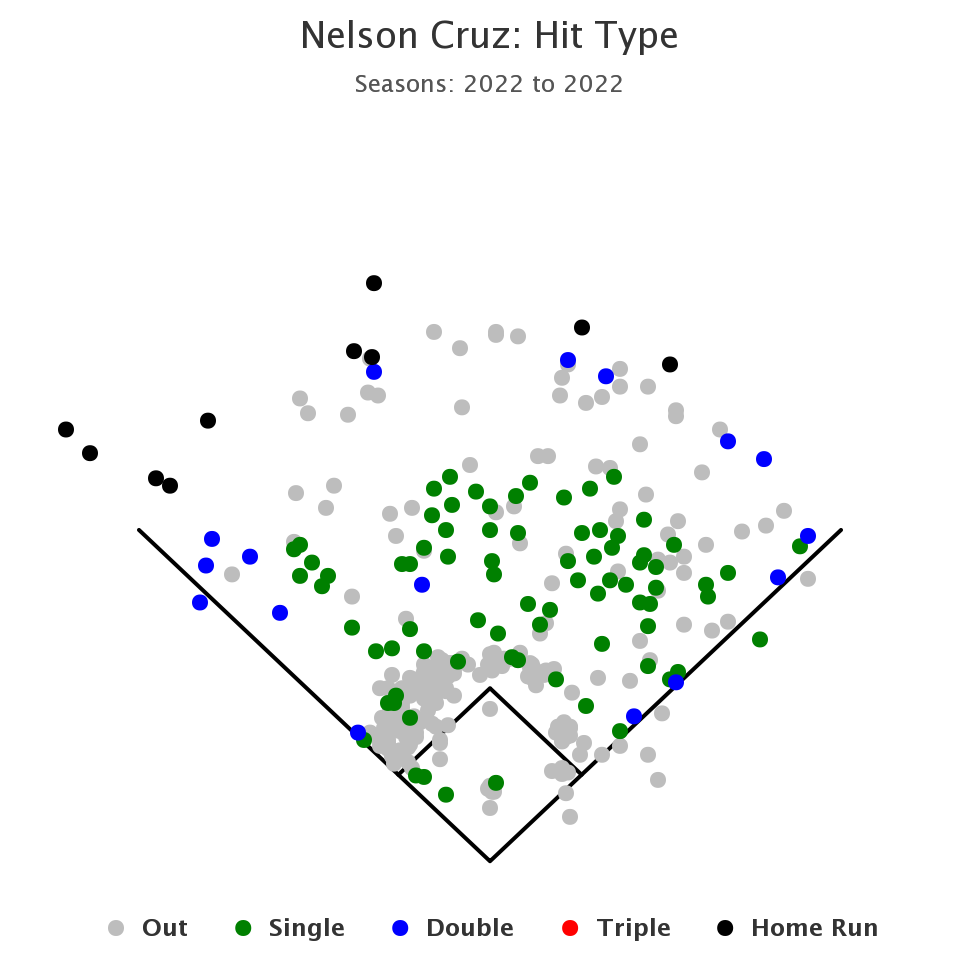 It's hard to imagine that a hitter at Cruz's age will trend up anymore, but San Diego will also be asking much less of him than did Washington, where he hit in the middle of the order almost every day. With the Padres, he joins a deep lineup headlined by Machado, Soto, and free-agent acquisition Xander Bogaerts, soon to be joined by another Dominican superstar in Fernando Tatis Jr. upon his return from a PED suspension in late April. With shortstops already at short and third (not to mention second base in Ha-Seong Kim), Tatis will join Soto and Trent Grisham in the outfield, leaving left-handed addition Matt Carpenter to share some time in the designated hitter spot with Cruz. Put it this way: the lineup was already crowded with enough talent that, prior to Cruz coming on board, the Padres were projected to lead the majors in DH WAR per our depth charts, with Carpenter expected to split most of the plate appearances with Tatis and Soto in opportunities to get the two young superstars off the field for nine innings. (Amusingly enough, by adding Cruz to the mix, Padres DHs have actually fallen to third in projected WAR, as Tatis and Soto will likely remain at their field positions more.)
Though Carpenter is unlikely to repeat the 217 wRC+ he posted in 154 PA in 2022, he and Cruz could make for a threatening combination from the designated hitter spot. They won't be a true platoon; even after Tatis returns, Carpenter will likely spend some time in the corner outfield spots and at first, and others will take some days at DH to get off their feet. But the Padres just might have enough positional versatility to hang on to an aging designated hitter who projects to get around 300 PA, and for $1 million, it's hardly a high-risk move. Considering the impact Cruz can have as a veteran leader and pseudo-assistant hitting coach in a clubhouse whose young stars already look up to him, it seems well worth Preller's pocket change to bring him into this group and give him a shot to leave the game a champion.