It's been a busy offseason for the Angels, who have added to their superstar duo in Mike Trout and Shohei Ohtani by trading for Gio Urshela and Hunter Renfroe, and signing Brandon Drury, Tyler Anderson, Carlos Estévez, and now Brett Phillips. Phillips has bounced around the league since his debut in 2017, maxing out at just 292 plate appearances in a season. In 2022, he spent time with the Rays and Orioles but was DFA'd by both and became a free agent. The 28-year old will earn $1.2 million in Anaheim this season.
Phillips is a baserunning and defensive specialist with some sneaky pop. To put it another way, he has struggled at the plate throughout his career and has never made it as a starting position player. While he was quite solid in 2021, slashing .206/.300/.427 with a 103 wRC+ (and a 138 wRC+ when he held the platoon advantage) and 2.3 WAR, that production was nowhere to be seen in '22. In 900 career plate appearances, he holds a 71 wRC+, and his Steamer projection of 74 wRC+ suggests that's what you should expect going forward.
Phillips' biggest weakness at the plate is his struggle to put bat on ball. Over the past two seasons, he's come up empty on over a third of his swings, ranking in just the third percentile of hitters during that timespan. His uppercut swing has a large hole up in the zone, where his whiff rates in that area approach 50%. While he doesn't chase many pitches out of the zone, his approach at the plate is more passive than disciplined, as he also watches many pitches over the plate. The end result is that pitchers earn far more strikes against him compared to the average hitter; his 32.9% CSW ranks second-worst among all batters. Throughout his career, he has walked at an above-average 9.7% clip, but his enormous 37.8% strikeout rate makes Giancarlo Stanton look like Luis Arraez in comparison. And while many of his compatriots on the whiff rate leaderboard like Joey Gallo and Miguel Sanó have outlier raw power, Phillips has never hit a ball harder than 108 mph.
There still may be some hope for his future power output. Throughout his career, Phillips has both pulled the ball and hit fly balls at a high rate, two key ingredients to hitting home runs with below-average raw power. In 2019, Alex Bregman hit 41 homers with a lower maximum exit velocity and barrel rate than Phillips, though the juiced ball was a major factor aiding him, and league-wide HR/FB rates have dipped by about a third since then. Even the relative deadening of the ball in 2022 compared to '21 may explain why some of Phillips' pulled fly balls landed in gloves rather than the seats in Tropicana Field.
Speaking of the Trop, it's one of the most difficult environments for hitters to succeed. The good news for Phillips is that while St. Petersburg is the fourth-worst park for left-handed batters to hit home runs, Angel Stadium is the second-most hospitable for lefty dingers, producing 34% more homers than average according to Statcast. The team even lowered the right-center field fence in 2018 (perhaps to aid the newly-signed Ohtani), which should benefit Phillips due to his tendency to pull.
Phillips has also changed his swing over the offseason. During the season, he dropped his left shoulder and pulled back his hands before his swing. As a result, his lower body moved before his upper body was ready to, likely sapping some of his bat speed and leading to his issues catching up to high pitches. In videos that Phillips has posted on Twitter, he has much more control over his pre-swing hand movement, and his stride and bat path appear more in sync. Phillips credits these adjustments to hitting coach Trent Woodward, who also worked with Taylor Ward last offseason before he put up an excellent year of his own.
Here's another for your entertainment. I'm even a little embarrassed to post but ???

Hitting coach : @Twoodward_3

2022 SZN Dec 2022 pic.twitter.com/aKWcluyaoq

— Maverick Phillips (@Brett_Phillips8) December 12, 2022
While Phillips likely won't win many games with his bat, his defensive abilities rank among the best in baseball. The base component of any outfielder's skillset is speed, and his 28.9 ft/s sprint speed ranks in the 88th percentile in the league. Not only is he ridiculously fast, but his natural instincts and ability to accelerate to that top speed also give him more range than almost any other fielder. According to Statcast's outfield jump leaderboard, he ran 4.3 feet more than average in the first three seconds of chasing down a fly ball; only Kyle Isbel ranked higher. With these factors combined, Phillips has put up 22 OAA in the past two seasons, landing him in elite company:
Outfield OAA Leaders, 2021-22
Not only did Phillips dominate the OAA leaderboards, but he also did so with a significant handicap, playing far fewer innings in the outfield than almost anyone else on the list; had he played full seasons, he could be miles ahead of the pack. He also demonstrated tremendous consistency in making plays: of any outfielder with more than 20 opportunities to make 2–3 star catches (plays with a catch probability between 50–90%), he is one of just three players to run down each one. And on that list of OAA leaders, only Phillips and Michael A. Taylor have uncorked a triple-digit throw from the outfield; his overall arm strength measures in the 97th percentile. In short, he can do it all with the glove (no matter what position he's playing), and there's a legitimate case to be made that he roams the outfield better than anyone else in baseball.
The Angels already have three starting outfielders in Trout, Renfroe (Trout's twin in an alternate universe), and 2022 breakout Ward, and as Davy Andrews pointed out in his piece breaking down the Renfroe trade, Steamer projects that trio to amass 10.3 WAR. But even when not starting games, Phillips can still help his team. Of his 211 appearances on the Rays, he came off the bench in 73 of them: nine times as a pinch-hitter, 23 times as a pinch-runner, and the rest as a defensive substitute. In a late and close situation, he could replace Renfroe, who OAA views as a negative defender. In a blowout, he could provide a partial day off to Trout, who has averaged about 45 games missed per year since 2017 with injury. And Phillips' elite sprint speed helps him not just with the glove but also on the basepaths; he was 24 for 27 on steal attempts in Tampa Bay.
While the Angels are bringing Phillips on for his skills without the bat in his hands, I think he has a bit of an offensive use case in limited situations. He has sometimes debilitating issues hitting fastballs at the top of the zone, but his above-average 2021 was fueled by excellent performance against pitches low and inside, especially sinkers. That season, he slugged .750 against sinkers with a +12 Statcast run value against them, despite a -10 run value on all other pitch types. Phillips likes to drive low pitches, and Renfroe prefers to crush pitches down the middle and up in the zone, though he's not terrible against low pitches either. And over the past two years, Renfroe has also demonstrated a preference to hit four-seam fastballs, with mixed results against sinkers. We can see these differences through each player's pitch heatmap below: Renfroe (on the left) has far better plate coverage, but Phillips (on the right) can punish mistakes in his happy zone. Phillips also doesn't swing often at bad pitches (or good pitches, either); Renfroe's free-swinging tendencies landed him in the 31st percentile on the chase rate leaderboard. It's possible that Phillips could start over Renfroe against chase-heavy sinkerballers, a common archetype among today's finesse pitchers.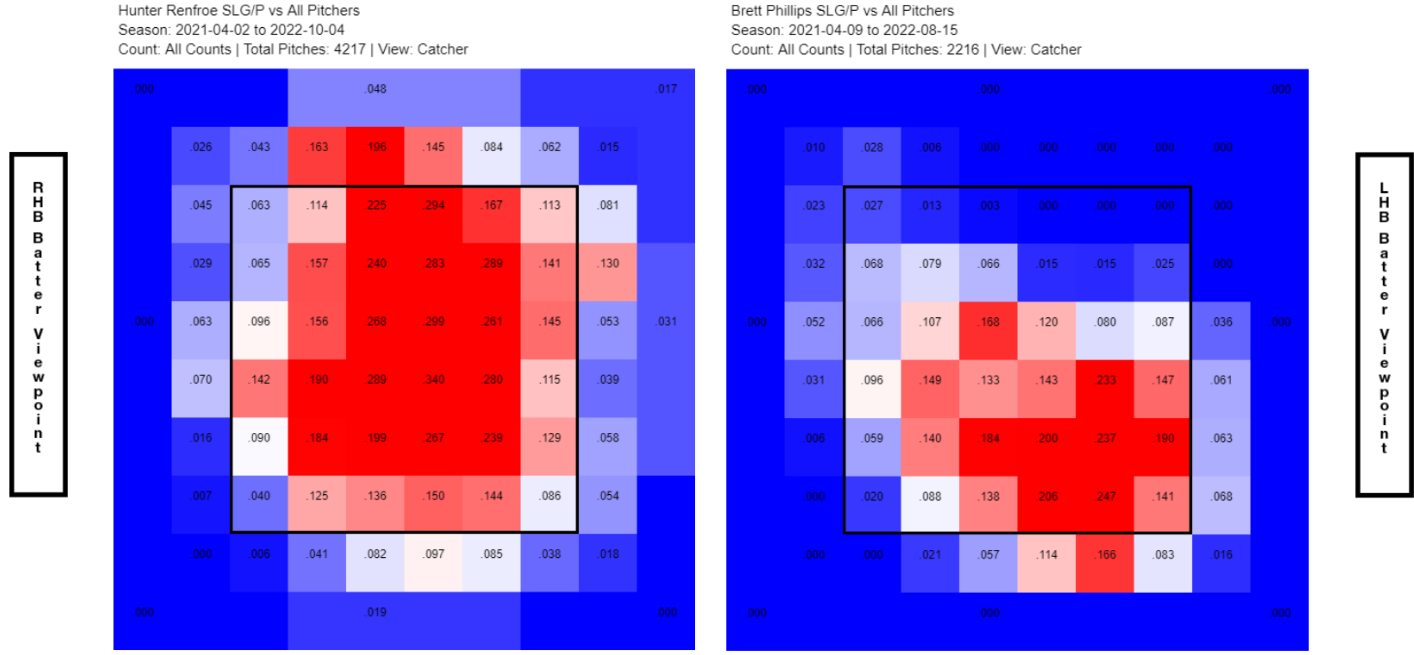 Phillips' signing also means that Los Angeles' younger outfield options — Jo Adell and Mickey Moniak — will begin the season in Triple-A. Both are defensive downgrades from Phillips and have significant plate approach issues, chasing far too many pitches outside the zone without the contact skills to make it work, especially against breaking balls. The team needs both former top prospects to refine their pitch recognition skills in the minors in order to become major league contributors at the plate.
Angels 4th Outfielder Options, 2021-22
| | wRC+ | OAA | BsR |
| --- | --- | --- | --- |
| Brett Phillips | 74 | 22 | 7.4 |
| Mickey Moniak | 26 | 1 | 2.1 |
| Jo Adell | 81 | -4 | 0.5 |
The Angels have done well to add position player depth this offseason, something they've largely neglected in recent memory. With the roster as currently constructed, plate appearances that previously went to Adell (a projected 95 OPS+), Andrew Velazquez (70 OPS+), and Matt Duffy (85 OPS+) will now be taken by Renfroe (118 OPS+), Urshela (113 OPS+), and Drury (97 OPS+), significantly bolstering a lineup that sported an OPS below .570 in each of the bottom four lineup spots in 2022. The pursuit of impact major league players is a long-overdue shift from the Angels' ownership group and front office, but their moves this offseason are necessary if they hope to be contenders.