After having arguably the best season of his professional career in 2021, Carlos Rodón signed a rather modest two-year, $44 million contract with the San Francisco Giants. For a large part of the 2021 season, it looked like he was headed toward a much more headline-grabbing dollar amount. After years of missed time, first due to shoulder problems and then a Tommy John surgery, Rodón shocked the baseball world by returning with a much hotter fastball than he'd previously ever had. Never reaching the heights the White Sox expected when they took him with the third overall pick of the 2014 draft, he was bordering on bust status before suddenly re-emerging as an All-Star. Literally — he made his first All-Star team in 2021.
But a few nasty surprises kept Rodón from getting the payday aces typically get. Given his injury record — he'd only been healthy enough to qualify for an ERA title once — there were inevitable concerns about his durability, an important consideration when you're doling out nine-figure contracts. Those fears were realized in the second half of the season, as Rodón missed time due to shoulder fatigue and soreness. It wasn't that he struggled; most teams would have been overjoyed with his 3.26 second-half FIP. What was highly concerning was the dramatic velocity loss he experienced, an extremely inauspicious sign for a pitcher: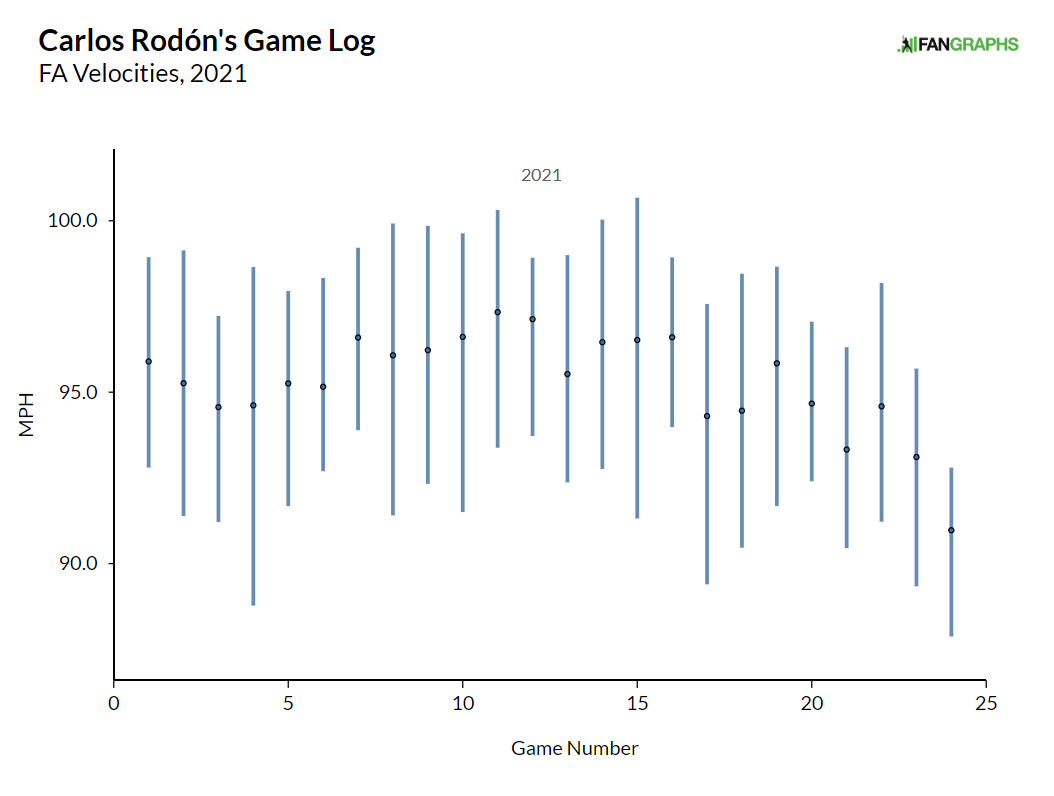 In that last careful start of the 2021 season, Rodón's hardest thrown fastball (92.798 mph) was slightly slower than the softest one from his first start (92.803 mph). Even dismissing that last start as an outlier, his August and September velocities were still down 3-4 mph compared to his mid-June peak. That was particularly concerning for the rebooted Rodón, as he came back a purer power pitcher than he ever was in his original form. New Rodón utilized his fastball as a punch-out tool far more than he previously had, when it was primarily used to set up his wipeout slider. His changeup has never been a terribly effective pitch — it has more or less been jettisoned in 2022 — so he generally approached righties in a very aggressive manner for a southpaw, going right at them with fastballs and sliders on strike two. Looking at lefties who threw 100 pitches against righties in 2021, only two threw a higher percentage of sliders:
Lefty Pitchers vs. Right-Handed Hitters, 2021
The late-season injury/velocity concerns left Rodón with a somewhat underwhelming market in baseball's fractured offseason. Signing a two-year deal with an opt-out basically gave Rodón a second chance at a bigger free agency payday, while the Giants got a potential ace without the massive financial commitment usually required to lock up the services of one.
It has worked as well as could be expected for both parties. The Giants got their ace, and while their chances of postseason baseball this season are minimal, absolutely none of the blame for that falls on Rodón's shoulders. He's been even more aggressive with his fastball this year, and with six weeks to go, he has already struck out 20 more batters with his fastball (110 total) than ever before in his career. His curve has largely replaced his changeup as a surprise pitch to keep batters honest, and it has performed better than the change ever did. Rodón made his second All-Star team and currently leads all pitchers in WAR. Most importantly, the shoulder fatigue that hindered him last summer seems to be less of a problem. Rodón hasn't missed a single start this year, and the one time he was pulled from a game, it was only due to a split nail with a blood blister, which is why he took the full All-Star break off.
Short of a nasty surprise injury in September, it seems almost certain that Rodón will exercise the opt-out in his contract and become a free agent. A few months ago, I compared Joe Musgrove to the other pitchers likely to be available in free agency, excluding those with opt-outs, and Musgrove dominated that market. Musgrove has since signed an extension, so Rodón fits into the free agent class in a similar position. Jacob deGrom stands out as the best pitcher available should he opt out, but given his recent health record, he may find himself in a position where he gets a more lucrative version of Rodón's deal from this past winter. Perhaps I'm misreading the market, but I don't think anyone's going to offer deGrom $200 million given the injury concerns, but I could see something like two years and $85 million, or two years and $90 million with an opt-out that would allow deGrom a chance to get back into free agency quickly. That might mean the biggest pitcher contract this offseason going to Rodón. ZiPS certainly thinks so. Here's the park-neutral ZiPS projection for Rodón:
ZiPS Projection – Carlos Rodón
| Year | W | L | ERA | G | GS | IP | H | ER | HR | BB | SO | ERA+ | WAR |
| --- | --- | --- | --- | --- | --- | --- | --- | --- | --- | --- | --- | --- | --- |
| 2023 | 13 | 7 | 3.03 | 28 | 28 | 157.3 | 125 | 53 | 14 | 48 | 197 | 144 | 4.3 |
| 2024 | 12 | 6 | 3.09 | 26 | 26 | 148.3 | 117 | 51 | 13 | 44 | 181 | 141 | 3.9 |
| 2025 | 12 | 6 | 3.15 | 25 | 25 | 142.7 | 114 | 50 | 13 | 43 | 170 | 138 | 3.7 |
| 2026 | 11 | 6 | 3.16 | 23 | 23 | 131.0 | 105 | 46 | 12 | 39 | 157 | 138 | 3.4 |
| 2027 | 10 | 6 | 3.23 | 22 | 22 | 122.7 | 99 | 44 | 11 | 38 | 147 | 135 | 3.1 |
Getting through a full, healthy season makes ZiPS far more confident about his future health, projecting him at about 50 more innings in 2023 than it had prior to the 2022 season. Rodón's continued dominance also makes a drop-off in performance far less likely. Even if you still can't pencil him in for 180 innings a year, his production and projections certainly justify the aforementioned nine-figure deal. ZiPS suggests four years, $119 million, which feels like a lot, but may very well be attainable in a market that isn't exactly overflowing with quality pitchers.
Rodón surprisingly stayed in San Francisco at the trade deadline, apparently due to difficulties in trade talks stemming from the opt-out clause. I suspect that even having to take that into consideration, the Giants could have done better in a trade than the eventual prospect they'd get from extending Rodón a qualifying offer (the White Sox did not offer Rodón one last fall, so he's still eligible to receive one). My tea-leaf reading suggests to me that the Giants are hopeful they can sign Rodón to an extension that keeps him in the Bay Area — I can't imagine they're optimistic about him not exercising the opt-out — and they may be able to get him at a lower price before he hits the open market. The Giants have a lot of offensive problems to solve this offseason, and they have a better chance of doing so if they enter the winter with Rodón and Logan Webb locked in at the top of their rotation.
Either way, it looks like Carlos Rodón will finally get his payday.