Hello there RCLers, this update will be a little scattered, the RCL Bots were on holiday yesterday (not sure which holiday…National take your cat to the vet's day perhaps?).  But, thanks to the work of VinWins capturing the data, we will have our weekly leaders and TOW, along with a check-in with the 'Perts League.  The Master Standings were run early this morning though, so our top ten is intact, just a day late.  Vin emailed me with a tidbit this week, we RCL stat geeks, we stick together, KailuaBoy #3 (RCL 12) became the first team to reach the 1400 IP limit Friday. KailuaBoy current has 37 pitching points thanks to 1,408 IP and 96 WINS (12 points), 1,398 Ks (12), 2 SVs (2), a 3.62 ERA (6), and a 1.190 WHIP (5).  It will be interesting to see if they drop any of their starters and convert their attention to hitting.  If they chose to, there could be some interesting names on the wire in RCL #12: Dylan Cease, Kevin Gausman, George Kirby, Triston McKenzie, Charlie Morton, Jameson Taillon, Justin Verlander, Kyle Wright, Tyler Anderson, Edward Cabrera, Jordan Montgomery, Adam Wainwright and Clayton Kershaw.  Let's dive into the rest of the week that was, week 19:
Each week we'll peek in at our resident 'perts to see who is laying claim to best "expert" RCLer in the land.  We'll take notes, check the standings and generally stalk them.  The heading is also hyperlink, so feel free to follow along as we go.
The rich got richer this week as I was able to increase my league lead thanks to a 4.5 point gain, bringing my total to 110.  I thought this might be enough to bump me up in the top ten overall, but that 'Perts League LCI is dragging me down.  Cram It had an even better week, gaining six points and moving into third place, now just four points out of second.  Malamoney was the biggest loser this week, dropping 4.5 points and falling one place down to ninth.
Each week we'll also take a look at the top ten overall standings in our other Razzball sponsored league, the RazzSlam.  This is our NFBC Best Ball league with managers from all across the industry, from content providers to fans and readers just like you.
It would appear we have had another culling of teams.  What remains is the top 18 Razzslam teams along with another 15 hopefuls.  From here, I'm not honestly sure what happens, but I can tell you that Coolwhip and Grey seem to be primed to make a run at winning this thing while JKJ might have a snowballs chance in the Sahara of squeaking something out.  Best of luck out there!
TOP 10
For those too lazy to check the MASTER STANDINGS, I present to you, the current top 10
Our top four remains unchanged, as previously mentioned, that 'Perts League LCI of 100 is really dragging me down.  Just goes to show what a season Wake is having to overcome that 95 LCI.  It looks like he'll have to hit 118 League Points if my DFSers score holds.  It's going to be a battle, but I'm unsure if I want someone in RCL #6 to catch Wake in some categories or not.  If he goes perfecto, he wins this thing handily.
Mr Big & Bud Goode has just been chugging up the standings and moved from eleventh to fifth this week.
Original Schmohawks moves up one place to sixth thanks to a great week (more on that later) and Asynda Boil moves up three places.
AllRice falls two spots this week and Young Guns gets back into the top ten, checking in at ninth overall.
Fred Garvin MP takes a big hit this week, slipping from fifth to tenth as they lost 9.5 league points.  Cougs R Us just got a lot more interesting at the top with FFB only one point behind and former RCL Overall Winner, Backdoor Knucklers 8.5 points out.
WEEKLY LEADERS
The best of the best from the week that was.
R – 64 – FANTASY ICON (DFSers Anonymous)
HR –20 – Original Schmohawks (Original Recipe) & Surf Riders (RCL 2022 (#46))
RBIs – 71 – Nolan d'Arnaudo (RCL 2022 (#25))
SB – 15 – Sillysmacked (RCL 2022 (#16))
AVG – .332 – ZRob1220 (RCL 2022 (#37))
K – 107 – DFresh (RCL 2022 (#40))
W – 10 – FANTASY ICON 5.0 (RCL 2022 (#19)) & DFresh (RCL 2022 (#3))
SV –  10 – Greetings from the Humungus (RCL 2022 (#9))
ERA (Min. 40 IP) – 0.44 – NeilfromNYC (RCL 2022 (#41)) (in 41.1 IP)
WHIP (Min. 40 IP) – 0.702 – NeilfromNYC (RCL 2022 (#41))
Big thanks to Nolan d'Arnaudo for breaking the RBI tie by one RBI to take soul possession of the weekly record.  The same cannot be said for Fantasy Icon and DFresh who each tied the wins record with 10, bringing us to an…EIGHT-way tie for that mark.  Someone must win 11 games this season.
TEAM OF THE WEEK
Our weekly shout out to the team that killed it the previous week.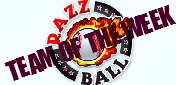 Team: Original Schmohawks
League: Original Recipe
Stats:   AVG: .262, R: 56, HR: 20, RBI: 58, SB: 8
IP: 64.2, ERA: 3.48, WHIP: 1.206, K: 74, W: 5, SV: 5
Summary: I always have a soft spot for our legacy leagues and Original Recipe is about as legacy as it gets.  Original Schmohawks are currently running away with this thing and even though this stellar week only netted them 0.5 points in the standings, I don't think their league lead is going to be threatened.  Willson Contreras, Andrew McCutchen, and Bryan Reynolds each knocked three dingers while Triston McKenzie and Joe Ryan led the way for the pitching staff.  The Schmohawks were in the top ten overall last week and with this week, should improve upon their seventh place ranking once the numbers are run.  Nice work!
Want to be Matt's Twitter pal?  That's kinda creepy, but you can follow him here: @MattTruss