Jordan Montgomery wasn't the biggest name traded at the trading deadline, not by a long shot. Juan Soto got traded this deadline! So did Luis Castillo and Frankie Montas. The latter was even traded to Montgomery's team, setting in motion the trade that sent him to St. Louis. But since the deadline, no player has done more for their new team than New York's former lefty.
Last night, Montgomery put together his fourth straight gem for the Cardinals, throwing a one-hit shutout on 99 pitches, both the first complete game of his career and the second Maddux in the majors this year. The Cardinals needed every bit of it, with their bullpen taxed, their offense quieted by the Cubs, and the rival Brewers winning in Los Angeles. That brought his post-trade record to 4–0 and set up this delightfully obscure statistic:
Jordan Montgomery of the @Cardinals is the second MLB pitcher in the modern era to go 4-0 with no more than 1 run allowed over his first 4 starts with a team.

The other was Fernando Valenzuela with the Dodgers in 1981.

— Stats By STATS (@StatsBySTATS) August 23, 2022
I don't think we're in for Montgomania anytime soon, comparisons to Valenzuela notwithstanding; statistics like that are more interesting for novelty than for making player comparisons. But the Cardinals' deadline acquisitions — Montgomery and José Quintana — have backed an August explosion by twin MVP candidates Paul Goldschmidt and Nolan Arenado and the resurgent Albert Pujols, allowing St. Louis to take the reins in the race for the NL Central.
When the Cardinals traded for Montgomery, they trailed the Brewers by three games for the division lead. Our playoff odds gave them a 19.1% chance of capturing the division — not quite their lowest mark of the year, but not far from it either. Since then, to put it mildly, things have gotten better: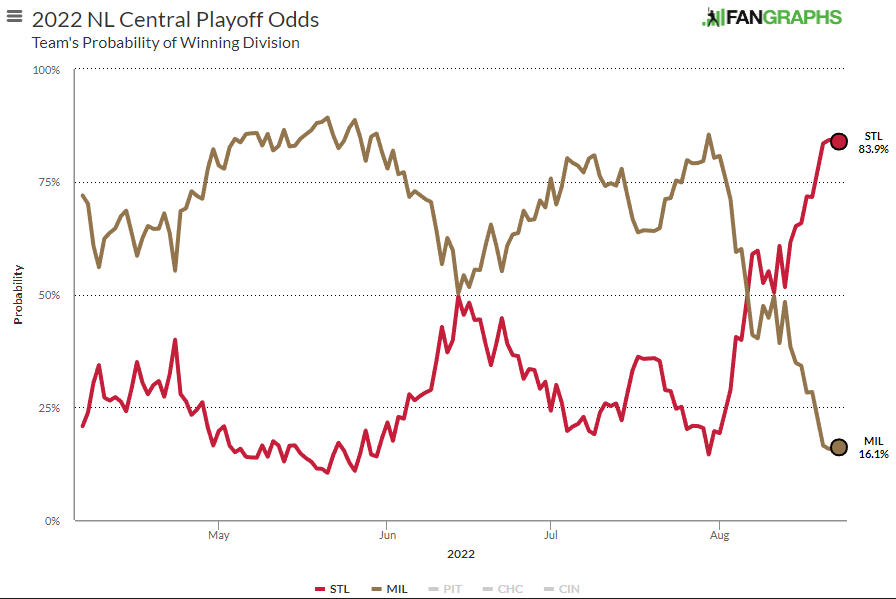 Montgomery and Quintana have each started four games; the Cardinals have gone 8–0 in those games. But there's a reason "team record in games started by a pitcher" isn't on their FanGraphs page: it's not a great statistic. In Quintana's four starts, for example, the Redbirds have scored 27 runs. He's just showing up and collecting royalties, more or less. But Montgomery has faced a significantly tougher task, with the Cardinals scoring only ten runs in his four starts. Turns out, that's all he's needed:
Montgomery's St. Louis Starts
| Date | Opponent | Result |
| --- | --- | --- |
| 8/6 | Yankees | Win, 1-0 |
| 8/12 | Brewers | Win, 3-1 |
| 8/17 | Rockies | Win, 5-1 |
| 8/22 | Cubs | Win, 1-0 |
For lack of a better word, that's ludicrous. While Quintana's statistics have been solid — if you told John Mozeliak he'd get a 3.20 ERA and 3.52 FIP from Quintana, he'd be quite pleased — Montgomery's have been otherworldly. I wasn't exaggerating up above; no player traded at the deadline has accrued more WAR since August 3:
Traded Player WAR Leaderboard
I cut the list off at half a win, but you get the idea. It's hard to add that much value to your team in short order, because baseball is inherently a game of small edges and randomness. The best players in the game might produce one win above replacement per 20 team games — an 8 WAR pace for the season. There are fluctuations around that — baseball is also a game of streaks — but that still shows how impressive Montgomery has been. There's also the small matter of his 0.35 ERA; if you go by RA9 WAR, he's been even better, totaling 1.9 wins in these four starts.
How has he done it? To some extent, he's done it by luck. Opponents are batting .206 on balls in play against him, and while the Cardinals have the best infield defense in baseball by a mile, they've still allowed a .281 BABIP on the year. He's also stranded 94.1% of runners who have reached base; for context, league average hovers around 72% year in and year out.
But just because Montgomery has been fortunate doesn't mean he hasn't also been excellent. Every facet of his game has improved since joining St. Louis. Strikeouts? He's punched out 26.4% of opponents in these four starts. He's walked only 3.3%, an elite mark. He hasn't given up a home run, which is a sure sign of good fortune, but he also hasn't given up much hard contact.
Think of it this way: to hit a home run, you have to hit the ball a)hard and b)in the air. Montgomery has allowed exactly three balls hit over 100 mph and with a launch angle of 15 degrees or higher, two marks you almost always need to clear to hit a home run. One of those was even a smashed pop up that landed in shallow center field. Sure, Montgomery will give up more homers than he has, but the way he's pitching right now, he's not going to surrender many.
The secret has been better location, at least partially. Montgomery is throwing fewer pitches over the heart of the plate in St. Louis and more around the periphery of the zone. He's making it harder on batters, and getting more grounders out of it, which works quite well with the defense behind him. One development worth monitoring: with the Cardinals, Montgomery has used his four-seam fastball more often as a counter to his normal sinker. It's below average movement-wise and doesn't miss many bats, so I'm curious to see whether that trend will continue, but it's worked well so far, generating plenty of weak contact as batters sit on sinkers and adjust poorly to the four-seamer.
I'll level with you: I thought the Montgomery trade showed hubris on the part of the Cardinals' front office when they made it. Trading away from the major league team, even if it was just an injured outfielder, didn't make much sense to me given St. Louis' precarious position in the division race. I would have preferred to trade from minor league depth and keep as much talent on this year's major league roster as possible.
That might still be true in the abstract. If the Yankees would have accepted a minor leaguer in exchange for Montgomery, I'd prefer that trade. But the Yankees wanted Bader, and let's put it this way: you could ask every Cardinals fan in the world if they'd make this trade, and 100% would do it again. Jordan Montgomery has arrived in St. Louis, and for now, it looks like he's bringing the playoffs with him.