[ad_1]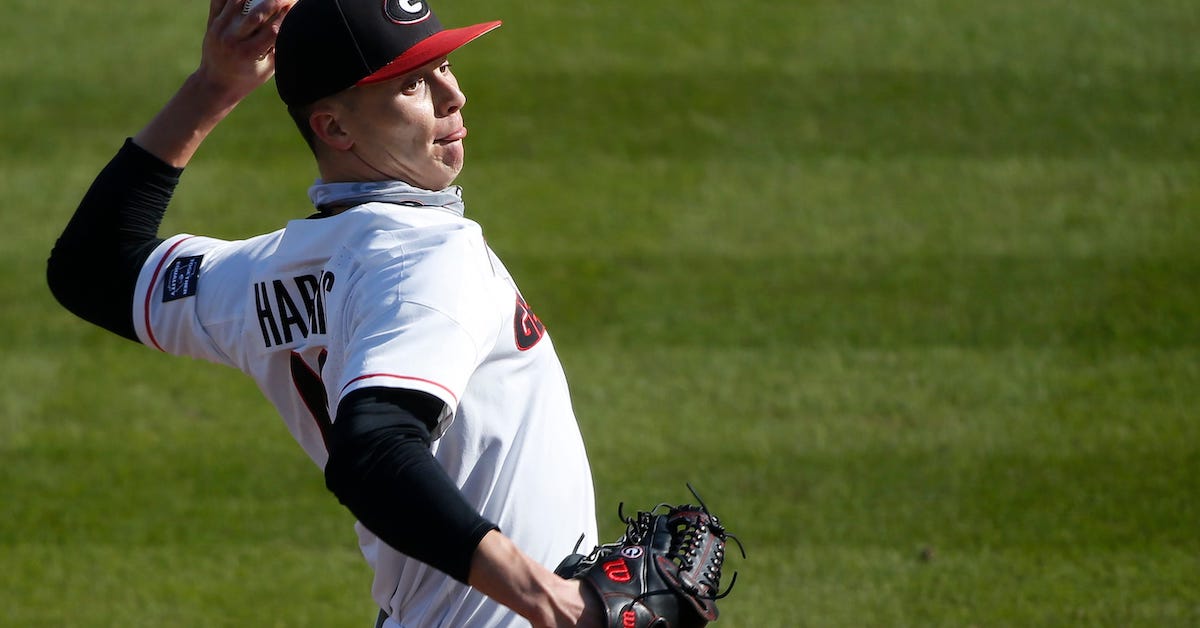 The numbers belie his anonymity. Unranked and flying well below the radar, Ben Harris has fanned 91 batters in 46 innings this year between Low-A Rancho Cucamonga and High-A Great Lakes. Boasting a 17.8 K/9, which ranks highest in the minors among hurlers with at least 40 frames, the 22-year-old southpaw is probably the best pitching prospect you've never heard of.
It would only be a mild exaggeration to say that he came out of nowhere. Drafted in the eighth round last year out of the University of Georgia by the Los Angeles Dodgers, Harris threw just 39.2 innings as a collegian, almost all of them in his junior season. Prior to that, he was a two-way player who rarely saw game action. The idea that Harris could emerge as one of the most-overpowering pitchers in professional baseball was unimaginable to anyone not in possession of a crystal ball.
His ability to overpower hitters doesn't come courtesy of smoke and mirrors, but neither does it come via elite velocity or nasty breaking stuff. The Alpharetta, Georgia native excels thanks largely to a fastball that's unique in its deception.
"I don't throw super-hard," said Harris, whose heater sits 92–94 mph and tops out at 95, and whose repertoire currently comprises roughly 70% fastballs and 30% sliders. "Luckily, there's something with the way I throw. It's a little bit tucked behind — I throw from behind my head — so it's a little more hidden than normal. I've never faced off against myself, but that's what I've been told. I believe [the effectiveness] comes from a combination of a few different metrics, as well."
Great Lakes pitching coach David Anderson agrees on that point.
"He has a unique ability to hide, and ride, the ball," he said. "It's a really efficient throw. I think he probably benefited from being an outfielder in college — there are elements that have transferred from an outfield throw — and it's a quick arm. The way he sequences his body down the mound puts him in a really good position to let the ball jump on hitters.
"It's more spin than approach angle," he added. "Some of it is the speed of the arm, but he does take advantage of the approach a little bit. He's kind of got a whole package with the fastball [and] with outlier characteristics. Part of what makes him unique is that he didn't design the throw to do what it does. It's all natural to him."
The gaudy strikeout numbers are every bit as natural. Again, the under-the-radar left-hander is relatively new to his craft. Last year was his first as a full-time pitcher, and the ability to induce swings-and-misses was there from the outset. Harris fanned 66 batters over those 38.2 innings his junior season, allowing just 16 hits. Command was the lone issue, as he walked 6.5 batters per nine innings — a rate that's gone down but to a still-too-high 5.9 this year. He's trending in the right direction, though, with just five walks — and 27 strikeouts — over 16 innings in a dozen appearances since he was promoted to High-A.
Harris' junior year at Georgia was preceded by a paucity of opportunity when he was a freshman at the University of Virginia, followed by him having to sit out the truncated 2020 COVID campaign due to transfer rules. Then came his Georgia experience, where circumstances worked firmly in his favor.
"We had some injuries on the mound, and we also had all of our outfielders back," Harris said. "I wasn't going to get many opportunities as a hitter, but there was a real opportunity to pitch. Strikeouts and walks were my story that year, but luckily, Georgia was fine with the walks along with all the strikeouts. They gave me the chance I needed."
Big league organizations weren't exactly clamoring to give him a chance. Only a handful of teams showed more than cursory interest in bringing him on board; along with the Dodgers, the Pittsburgh Pirates and Philadelphia Phillies had conversations with him prior to the draft.
A conversation with his coach at Virginia had already altered his career path. It came during his exit interview after his freshman season, and it influenced his decision to transfer.
"He asked me if I still wanted to pitch or if I just wanted to hit," Harris said. "My pitching had been up-and-down, and my hitting had been going pretty well in intra-squads. At Georgia, the coaches gave me a chance to do both. My pitching really started coming around, so they let me just pitch."
Looking back, there is a very real chance that Harris' pitching days would have been over had he remained at Virginia. Instead, he's thriving with the Dodgers as one of the most intriguing under-the-radar pitching prospects in the game.
"That's the crazy part," he said. "It's the cool part of a story that has kind of weaved together into where I am now."
[ad_2]

Source link