[ad_1]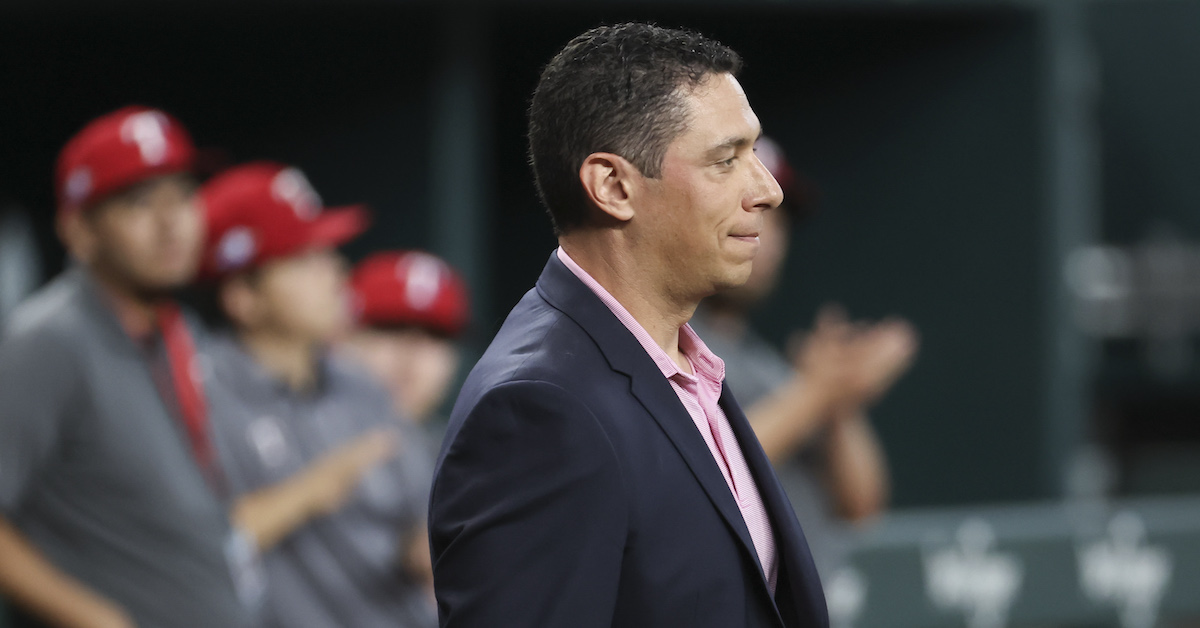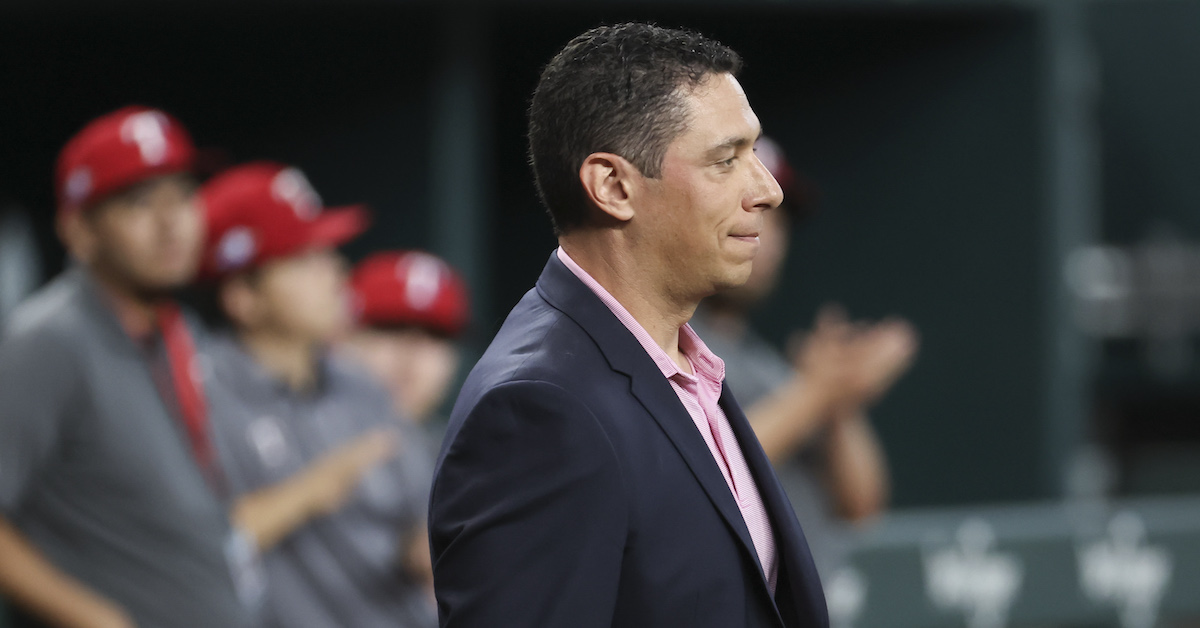 Coming into the year, expectations were high in Arlington. The Rangers, fresh off of a 100-loss season, went big in free agency, bringing in Corey Seager, Marcus Semien, and Jon Gray. They shopped in the second tier of free agents as well, signing Martín Pérez, Garrett Richards, Brad Miller, and Kole Calhoun to short-term deals. Trades brought in more starters: Mitch Garver joined the team this spring, and last year's Joey Gallo trade netted several potential contributors in Ezequiel Duran, Josh H. Smith, and Glenn Otto.
Depending on how you weigh the contributions of those last three, that's something like nine new players. It didn't make the Rangers overnight playoff contenders – we gave them a 75-win projection and an 8% chance of reaching the playoffs before the season started – but it felt like the opening salvo of a new contender. Sign your free agents when you can get them, supplement them with a burgeoning farm system headlined by top prospect Josh Jung, and pretty soon, you've got a stew going.
A lot can change in a few months. This week, the Rangers ownership group, led by majority owner Ray Davis, delivered a clear sign that they aren't happy with the way things are going. On Monday, they relieved manager Chris Woodward of his duties. Woodward had overseen some down years in Texas after taking over before the 2019 season. He'd shepherded this team adequately, at least as far as wins and losses go; we're currently projecting the Rangers for 72.5 wins, basically the same as their preseason expectation, and it's not like we were outliers in that projection; pretty much everyone around pegged them in the 70-75 win range.

The front office was guarded in their defense of the decision. "We do think that we can be better than our record and better than the way that we've played at times and so that kind of leads to making a decision now, rather than waiting til the end of the year," president of baseball operations Jon Daniels told Levi Weaver of The Athletic. That sounds like word salad to me, a way of acknowledging that the team simply felt it needed to make a change.
General manager Chris Young offered more of the same. "The way we utilize meetings, the way we utilize different resources throughout the day, creating a structure that's really tailored towards winning a game every single day when we come in. We felt like, at times, that got a little loose," he told Weaver. That's something far easier to see internally than externally, but it also seems like something the team would have known before this year. After all, Woodward had been managing the team for years, not months.
Firing Woodward was mostly cosmetic, a way of changing the face of the team without changing the way it was built. On Wednesday, the Rangers took a much bigger step. They relieved Daniels of his president of baseball operations duties, ending a 17-year stint as the top decision-maker in Texas (albeit with some time sharing the role with Nolan Ryan) and a 20-year tenure with the club. This is a seismic shift in the baseball landscape; Daniels had survived through up and down times in Texas, building a World Series contender and then overseeing its teardown and rebuild.
I don't think it was an accident that both Daniels and Young spoke to the media about the earlier managerial change. When he joined the team two years ago after a stint at the league office, Young was seen as a rising star, the likely successor to the top job whenever Daniels decided to hang up his spurs. As a player, Young was often tabbed as a future general manager, and he certainly seems to have taken to the role in Texas.
There's no question that the rebuilding effort was a collaboration between Daniels and Young. Quite frankly, it seems to have been successful: the Rangers have our sixth-ranked farm system, headlined by Jung, Jack Leiter, and a crop of exciting prospects acquired in trade, headlined by the Yankees trio. The major league team isn't leading the division, or anywhere near it really, but you can see the bones of what they're trying to do.
Seager and Semien, along with Adolis García, whom the Rangers acquired from St. Louis for cash in 2019, form a solid trio to build a lineup around. Jonah Heim looks like an above-average everyday catcher, which could relegate Garver to backup status. There are holes behind those top four hitters, but the plan of assembling some stars and using a top farm system to fill in the pieces strikes me as a solid one. It's hard to develop Seager-level players, but I wouldn't bet against the Rangers finding four or five players who can contribute league-average production to back the top-end talent. Heck, they're already in the top half of baseball in position player WAR this year, and their top hitting prospect hasn't played a single major league game.
The idea of adding major league talent a year or two before a team is ready to contend isn't unprecedented. The Astros and Cubs both jump-started their contention windows by making moves in free agency, and while it's not exactly the same situation, the Padres added Eric Hosmer and then Manny Machado to shepherd their burgeoning farm system. The Rangers aren't attempting some out-there strategy; they're playing variations on a theme that gets results if the farm system can support it with some stars of its own.
That said, Daniels' firing doesn't appear to be about a failure of that strategy. "The bottom line is we have not had a winning record since 2016 and for much of that time, have not been competitive in the A.L. West Division," Davis, the team's majority owner, said in a press release. That's indisputably true, but it's also something that Davis would have known going into the season. The Rangers haven't lost ground anywhere obvious; they're having more or less the season that everyone expected for them, minus Jung's freak injury (he tore his labrum lifting weights).
I'm veering into speculation here, but it seems to me that Davis simply wanted Young at the helm instead of Daniels. That's his prerogative, and he told Weaver that he had decided to fire Daniels before the team let Woodward go. It doesn't seem like anyone on the team expected it, though. When asked about whether Daniels had advance warning that he'd be dismissed, Davis said simply, "It was a surprise." Daniels released a statement of his own later in the day, but didn't address the firing; instead, he simply thanked everyone in the organization, fans, and media.
Another way of looking at Davis' complaint that the team didn't win enough: the Rangers won the AL West in 2016 with a payroll $30 million higher than league average. By 2019, they were only $10 million above average, and by 2021, they had fallen to nearly $40 million below average. Sure, the team prioritized future talent over current major leaguers, but they also spent less, period.
When the Rangers embarked on their spending spree last winter, it wasn't some irresponsible lurch to the top of the payroll tables for a small-market team. This year's payroll checks in at $3 million below league average, and scarcely more than the team spent assembling their 2012 World Series squad. In the meantime, league-average payroll has increased by $44 million per team. The Rangers are trying to play a different game than they did 10 years ago, pairing Texas-sized ambition with an Oklahoma-sized payroll (no disrespect to Oklahoma, I just needed a nearby state with a panhandle for comparison's sake). Combine that with a concerted effort to swap current performance for future potential, and it's no surprise that they didn't produce a winning team.
There's merit to changing up leadership. Give someone the same job long enough, and they can become set in their ways, missing chances to change and improve. If that's what happened with Daniels, if Young's new ideas were creating breakthroughs while Daniels stuck his fingers in his ears, we might never know that from the outside. A shakeup that looks sudden might make far more sense in context.
This move doesn't feel like that to me, though again I'm admittedly looking in from the outside. It reads to me like Davis had been unhappy with the direction of the team for some time, which falls at least partially at his feet as well. It's not as though Daniels was a rogue agent, slashing payroll and trading off key contributors against ownership's wishes in a front-office-driven rebuild. The bottom-out-and-build-back trajectory the Rangers have taken over the past five years assuredly had ownership buy-in, as well it should have.
In Davis' press conference, he emphasized winning, and in fairness, the team hasn't had a winning record since 2016. But again, that was by design, a design he signed off on. The point all along was to blow it up at the major league level, then lift back into contention starting this year or next, keyed by the farm system and free agent signings. It's strange to see that given as a reason for Daniels' firing given the trajectory the team has followed.
As for Young, he's stepping into what looks at first glance like a rosy situation. The Rangers have been building towards competing starting in 2023, and they've done a good job of it. The major league team might be 12 games under .500 (a grisly 7-24 record in one-run games hasn't helped), but their underlying talent looks better than that; they have a .495 Pythagorean expectation and a .491 BaseRuns record. They've only been outscored by five runs on the year.
The farm system should contribute to next year's club, and in the years after that. Jung looks like a potential difference-maker. Leiter is having a rough introduction to Double-A, but there's plenty of young pitching in the pipeline. Daniels and Young have done an excellent job drafting and trading over the past several years; the cupboard looks well-stocked, both in terms of near-term major leaguers and players who might be traded to supplement future playoff drives.
If the team is following the same blueprint as the successful rebuilds by the Cubs and Astros, they'll augment their team with increased spending in free agency. Davis seems to agree – today he identified the team's biggest needs as "a couple frontline starters and a middle of the order bat." Or maybe he doesn't agree; in his press conference addressing Daniels' dismissal, he said "We're not going to spend like last winter," referring to the Seager/Semien/Gray deals.
Which will it be? I'm not sure. Davis is making a strong statement that he wants to win — literally. "I'm not a good loser. We plan on putting a competitive team on the field next year," he said in the same press conference. For Young, that has to be reassuring to hear: an owner who wants to win and a team set up to level up sounds like a great introduction to running a team.
If I were Young, though, I'd be a little worried. Something just feels off in all of this. If Davis knew he was going to fire both Woodward and Daniels, why not make both moves at once? If he was unhappy with the trajectory of the team, why not make this move before the season – and why agree to the rebuilding plan in the first place? "I'm not a good loser" is a strange statement for someone whose organization just finished a long rebuild. And if the real issue is just that Davis thought Young was ready to run the team, why not make the move after the season?
Maybe this is all armchair quarterbacking, and the team will go out this offseason and sign Justin Verlander, Clayton Kershaw, and Chris Bassitt to assemble a powerhouse rotation. Maybe they'll opt for a great hitter instead and make a run at Aaron Judge. I wouldn't be surprised if they stood pat, though, simply hoping for continued improvement next year. "We're not going to spend like last winter" implies that it's not their preferred team-building mechanism.
I can't shake the feeling that there's more here than meets the eye. To outside observers like me, the Rangers seemed to be doing pretty well this year when it came to balancing the present and the future, a franchise with ownership and the front office working in harmony with the team on the field. It's clear, after seeing their personnel moves and hearing the reasoning behind them, that nothing could be further from the truth. I'm not sure I liked Texas' plan six years ago; tearing down a division winner never feels great, and future success isn't a given. It's just strange to see that rebuild mostly work while also getting its architect fired.


[ad_2]

Source link