[ad_1]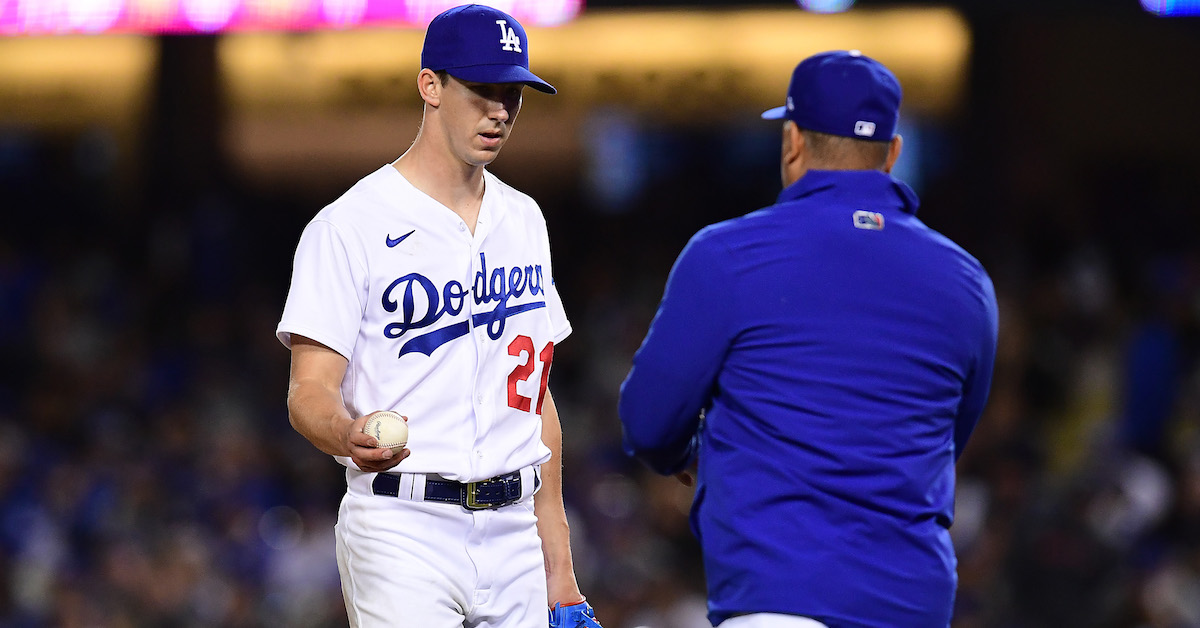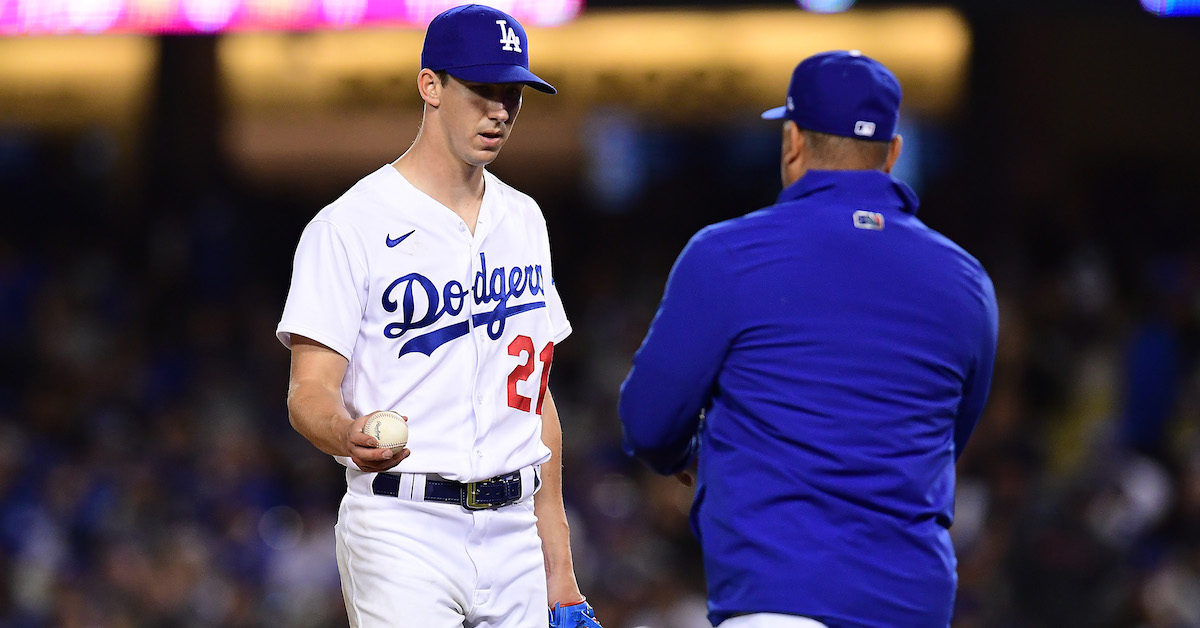 Speculating about the playoffs in August always feels strange. The regular season isn't over. It isn't nearly over, either – the 45 or so games remaining on each team's schedule will change how we think about them. The best two records in baseball belong to the Los Angeles Dodgers and the Houston Astros right now, but some team could go 35-10 and wrest that title away from them.
Still, today I'm going to speculate about the playoffs. Whether the Dodgers and Astros hold onto their top spots or not, they're both playoff locks – our Playoff Odds give them both 100% odds of reaching the postseason. In the past week, they've also each gotten rotten injury news that will affect their playoff rosters. So suspend your inherent skepticism of articles in August that talk about October as we consider the playoff impact of losing Walker Buehler and Michael Brantley.
Walker Buehler
The Dodgers have cruised to the best record in the game without much help from Buehler. When the team shut him down in June, he was on pace for the worst season of his career. A career-low strikeout rate is the easiest way to describe what ailed him, but trouble abounded: his fastball shape deteriorated, which led to problems with pretty much everything else. Buehler didn't blame the injury for his struggles to that point, but it doesn't take Sherlock Holmes to wonder whether the two are related.
Three months turns out to have been an optimistic estimate for Buehler's days off. Earlier this week, the team announced that Buehler will have elbow surgery and miss the remainder of the year, playoffs included. It's not yet known how much additional time he'll miss – a team source noted that the MRI was unclear – but regardless of the result of the surgery, Buehler won't throw another pitch for the Dodgers this season, which means they'll have to figure out a new playoff rotation.
As Jay Jaffe recently noted, that rotation was already in flux. Clayton Kershaw is currently on the IL with back discomfort. Tony Gonsolin has already set a career high in innings pitched. Dustin May hasn't even pitched in the majors this year, though he's scheduled to make his debut on Saturday. There are plenty of unknowns to figure out before even mentioning Buehler.
Should Kershaw make it back in time for the playoffs, the Dodgers will have five starters for four spots:
Dodgers Rotation Options
| Pitcher | 2022 ERA | Proj ERA | 2022 FIP | 2022 IP |
| --- | --- | --- | --- | --- |
| Julio Urías | 2.4 | 3.53 | 3.42 | 127.2 |
| Clayton Kershaw | 2.64 | 3.26 | 2.72 | 85.1 |
| Tony Gonsolin | 2.24 | 4.04 | 3.47 | 116.1 |
| Tyler Anderson | 2.81 | 4.28 | 3.3 | 128.1 |
| Dustin May | n/a | 3.16 | n/a | 0 |
That's a luxurious problem to have, particularly considering the team is down Buehler, the consensus best pitcher on the squad heading into the season. There's even an added (if small) benefit this year in having five starters for four spots; the compressed postseason schedule means that if the NLCS goes seven games, the last five will take place on consecutive days. Not that the Dodgers have ever hesitated to throw starters on short rest, but if they don't want to, they won't have to: all five top starters are playoff-caliber arms. That doesn't even count Andrew Heaney, who has dominated (1.16 ERA, 2.18 FIP, 32.3 K%) in limited playing time.
If Buehler were to return as the diminished version of himself from earlier this year, it's not clear whether he'd crack that rotation on merit. He'd no doubt be there on pedigree – he's Walker Freaking Buehler – but I'm not sure if adding him to an otherwise healthy Dodgers rotation would move the needle that much.
"An otherwise healthy Dodgers rotation" isn't a great assumption, though, given their current situation. If one of the five pitchers above isn't ready to go in October, that'll mostly be okay; the other four will still be one of the best playoff rotations in baseball. If two of them aren't ready to go, things start to get dicey; counting on Heaney to be effective and available has historically been a hit-or-miss proposition. Given Dave Roberts' postseason managerial style, it would probably mean short-rest starts for two or more of the remaining healthy pitchers, which could strain both those pitchers and the bullpen in short order.
One factor worth considering: Los Angeles would have been in a better spot if they hadn't traded Mitch White at the deadline. I don't think the team would happily start him in a playoff game, but they'd certainly have more options if he were still around. There's little evidence that Roberts would be comfortable starting White in the playoffs; he's historically jumped through hoops to give as many innings as possible to the few top options. But "break glass in case of emergency" isn't useful until you have an emergency, either, and yet every building you enter has hoses and axes at the ready. I guess Ryan Pepiot fills that role for now, but "I guess" isn't what you want to hear about your playoff rotation.
Still, as injuries to perennial All-Star starters go, I think the Dodgers got off easy. Planning for workload management for Kershaw and a late start for May meant that they acquired extra starters this past offseason to make the innings math work, and both Tyler Anderson and Heaney have delivered. Gonsolin took a step forward. Julio Urías is somewhere between solid and great, same as always. You can't build a pitching staff to be immune to injury, but the Dodgers' plan has at least limited their exposure. Losing Buehler stings, but it's less painful this year than it would have been in years past, perhaps because they've been burned by similar situations before. I probably wouldn't have traded Mitch White if I were them, though!
Michael Brantley
Brantley hadn't played in a game since June 26. The longer he spent on the shelf, the more it seemed like the rest of his season was in jeopardy. Last Friday, the Astros made it official: Brantley will undergo season-ending shoulder surgery.
This one stings. Before the injury, Brantley as putting up another quintessentially Brantley-ian season, getting on base at a good clip while hardly striking out. He was on pace for his fourth straight year of metronomic consistency: he's posted a low-double-digit strikeout rate, an OBP above .360, and a wRC+ between 123 and 133 in each of his four seasons with Houston. During last year's playoffs, my wife and I had a running joke around announcers calling Brantley a "professional hitter," but broadcasters overusing a trope doesn't make it untrue. The Astros have been one of the best offenses in baseball every year of Brantley's run in Houston, and he has been a key part of each iteration.
In Brantley's absence, Houston has utilized a revolving door in left. In the last week alone, four Astros have started there: Yordan Alvarez, Chas McCormick, Trey Mancini, and Aledmys Díaz. Depending on whether the team is optimizing for offense, defense, or rest, any of the four could make sense. With the exception of Alvarez, though, I'd take a healthy Brantley over any option, and Alvarez and Brantley both fit in the lineup together; before the latter's injury, the two had rotated between left field and DH.
Adding Mancini at the deadline softens the blow of losing Brantley somewhat, because he can function as a one-for-one replacement as long as you're not too picky about what "replacement" means. Mancini is a worse outfield defender – he's more of a first baseman – and a worse hitter. But he's an above-average bat who can stand in left field, and while I don't think he's even as good as Alvarez out there, that just means they can use him at DH and Alvarez in left if defense is really a concern.
Another option: play McCormick in left, opting for maximum defense. McCormick is likely a worse hitter than Mancini, but he's indisputably a better fielder; he's a plus center fielder rather than a first baseman. If Jake Meyers sticks as the starter in center – a big question, as he's hitting .216/.256/.320 so far this year – playing McCormick in left just makes sense. That would allow the team to shift Mancini to the bench – or to first base if they'd prefer to give Yuli Gurriel a breather/demotion.
I'm not sure whether Dusty Baker wants to bench Gurriel. He's been a key member of the recent Houston run of success, and while he's having a putrid year, "bench our long-time All-Star for Jake Meyers" doesn't feel like a Baker move to me. It seems far more likely that they'll play McCormick in center, use their two DHs in a left field platoon, and leave Gurriel in the lineup. Perhaps road games at ballparks with spacious outfields could change that calculation, but particularly given Houston's tiny dimensions in left, it's hard to bet against playing the veterans at home.
What will this cost the Astros? I came up with a naive way of looking at it to give a first approximation. The difference between a hitter with Gurriel's line and one with Brantley's this year works out to a hair under 0.2 runs per game, assuming they both hit in the same spot. That's a poor assumption – or it would be, if Dusty Baker weren't batting Gurriel second regularly. Brantley, meanwhile, batted second in every game he played this year. It's closer to a one-for-one swap than you think.
Take a team with the rough talent level of the Astros (as estimated by this year's BaseRuns statistics) and drop their scoring to account for the downgrade, and they project to lose 17 points of winning percentage; they've played at a .655 clip so far per BaseRuns, but that would fall to .638 if they were scoring 0.2 fewer runs per game. That's exaggerating somewhat, because plenty of the Astros' games this year have featured Gurriel and not Brantley, but the change is instructive even if the absolute numbers aren't perfect.
For example, if the Astros are as good as their BaseRuns record and play a true-talent .550 team in the playoffs, you can game out the math: using a Log5 formula, they'd win a five-game series 69.7% of the time. Lower their true talent by the Brantley/Gurriel gap, and that falls to 66.4%.
If the Astros play a .550 team in the ALDS, a .580 team in the ALCS, and a .600 team in the World Series, we can calculate their change in World Series odds due to a Brantley injury by iterating this math. That works out to a 27.5% chance of winning it all with Brantley hitting versus a 23.2% chance of winning it all with Gurriel in, a difference of 4.3 percentage points. That's a huge swing.
Of course, the Astros aren't a true-talent .655 team. Our rest-of-season projections have them at a .582 winning percentage. Just for fun, let's say they're a .575 team with Gurriel and a .592 team with Brantley, preserving that same 17-point gap. Assuming they play that same .550/.580/.600 gauntlet, their odds fall from 14.7% to win it all with Brantley to 11.9% with Gurriel, a 2.8 percentage point drop. Incidentally, as of Tuesday afternoon, our odds gave them a 15.5% chance of winning the World Series, so this feels like it might be close to the truth, though I think that the true gap between Gurriel and Brantley is likely lower, particularly considering the other options the team has to fill the gap.
Either way, this one hurts. It would hurt more if the team hadn't traded for Mancini at the deadline, but even with an extra bat in tow, playing a below-average hitter instead of Brantley will leave a mark. I used a different (read: worse) method for calculating World Series odds than Dan Szymborski did for his trade deadline post-mortem, but the general order-of-magnitude point stands: losing Brantley and replacing him with a subpar hitter is going to cost the Astros, one way or another. Indeed, it'll cost them nearly as much as the Padres gained by upgrading their team massively.
…
Could these two moves change the fate of the playoffs? Most certainly. Will they? Most likely not – I didn't do the same kind of math with Buehler that I did with Brantley, but even if you think the magnitude is greater, what is it going to be, a 5% change in World Series odds? Five percent means one-in-20; by definition, most of the time, these injuries won't matter.
That's simply the nature of baseball. There are so many players on the field, and the gap between the best and the worst is so narrow in terms of how often they reach base or hit home runs, that a single absence probably won't tip the scales one way or another. The Braves, after all, just won a World Series with Ronald Acuña Jr. missing. These absences hurt – and both the Astros and Dodgers are still excellent teams in spite of them.


[ad_2]

Source link