[ad_1]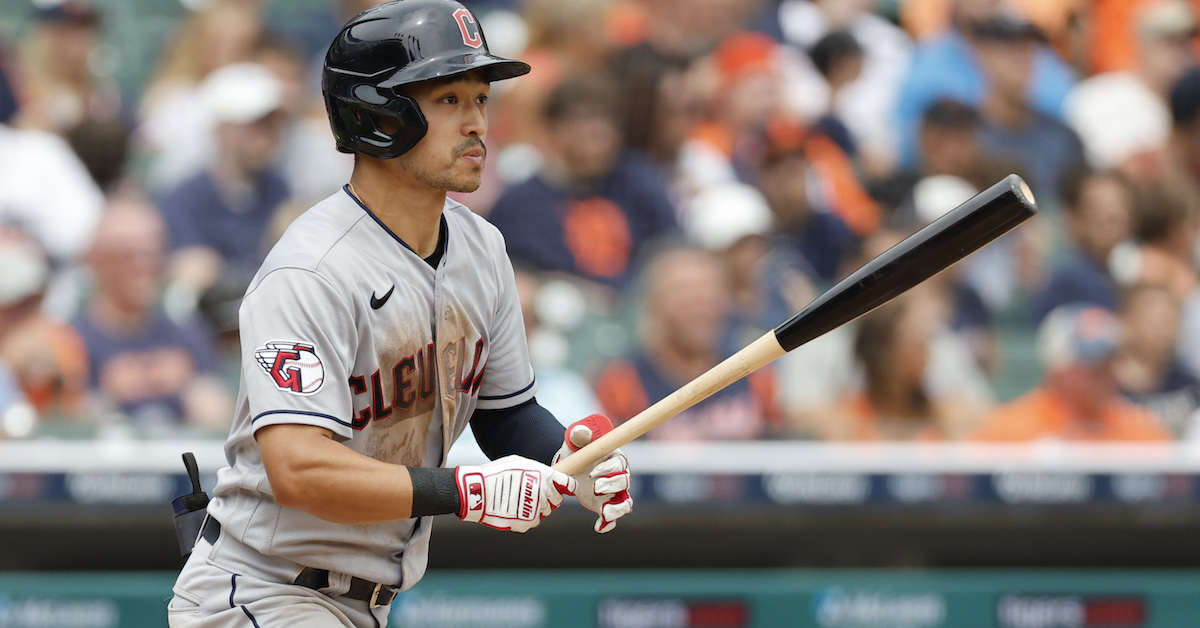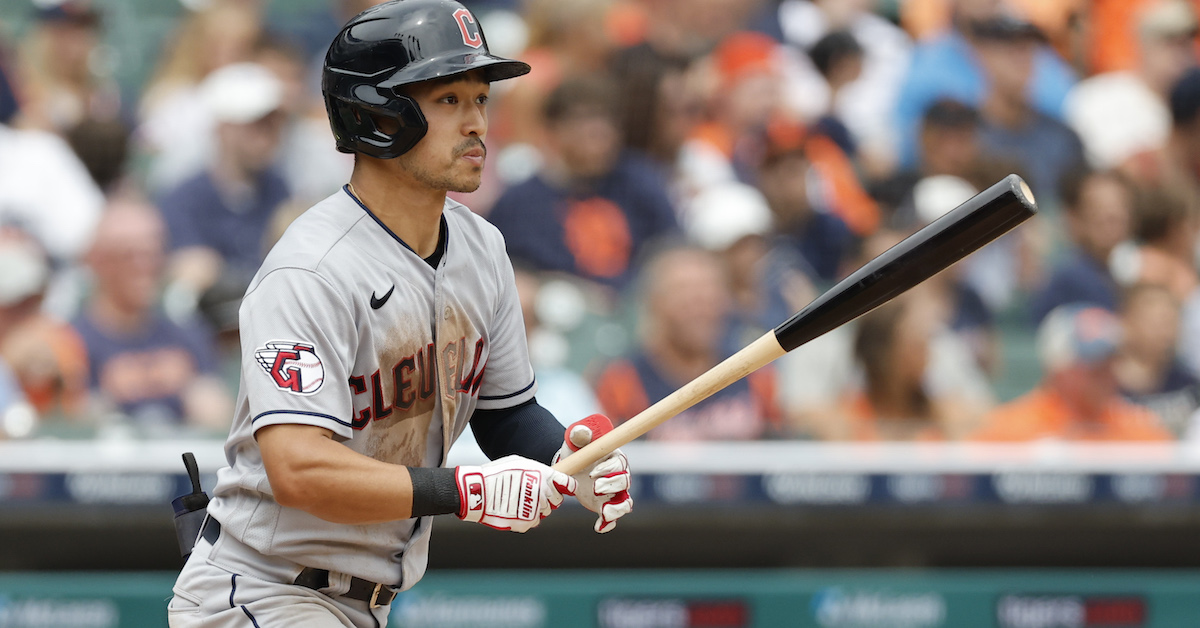 In April, the baseball article subject of choice is often a player who has a scorching hot start to the season. We put him under scrutiny, examine his ins and outs, then ultimately shrug and say, well, maybe. Maybe it's something! Then again, it could also be nothing. Months pass, and said player and their progress is never revisited. Instead, you'll likely come across their remains in the dustiest corner of a box score, discovering a mere shell of a once-promising breakout candidate.
Let's amend that. If there's anyone who deserves a follow-up, it's Guardians outfielder Steven Kwan, who captivated fans back in April with an endless stream of hits and a refusal to swing and miss. But a horrid May (.173/.271/.253) removed him from the community's collective radar, consigning him to a Yermín Mercedes-like fate. Since then, however, Kwan has been outstanding: Following a productive summer, he's brought up his slash line on the season to a respectable .295/.371/.389, for a 121 wRC+. This sport has seen countless one-month wonders; he isn't one of them.
At the height of Kwan's stardom, Ben Clemens authored the initial dossier on him. In it, Ben came away impressed by the bat-to-ball skills and plate discipline but noted two areas in which he could come back down to earth. The first was his zone rate, which seemed abnormally low for someone with hardly any thump in his bat. Indeed, pitchers soon discovered that they were better off challenging the rookie instead of letting his plate discipline get the best of them. As the season progressed, Kwan began to see more and more strikes: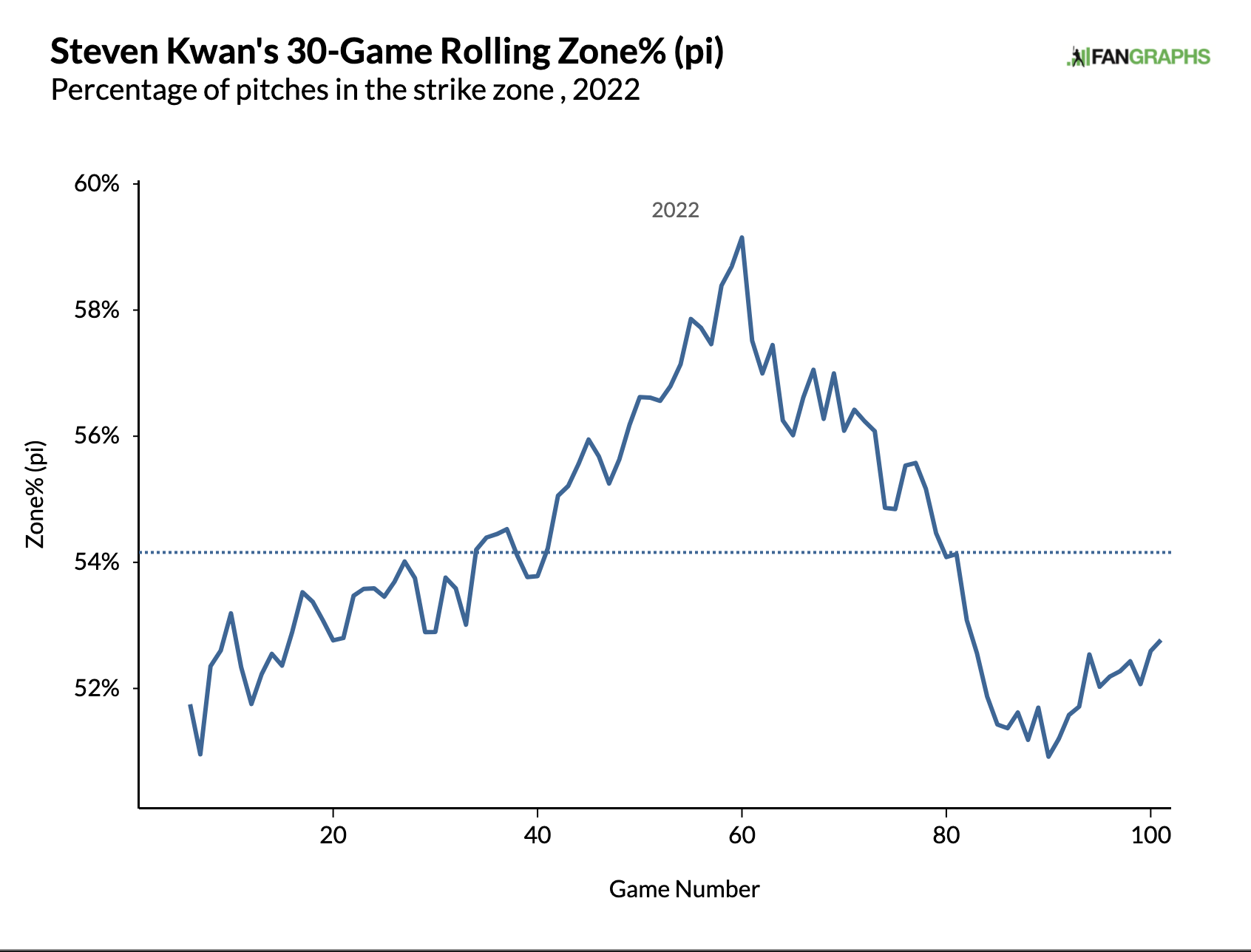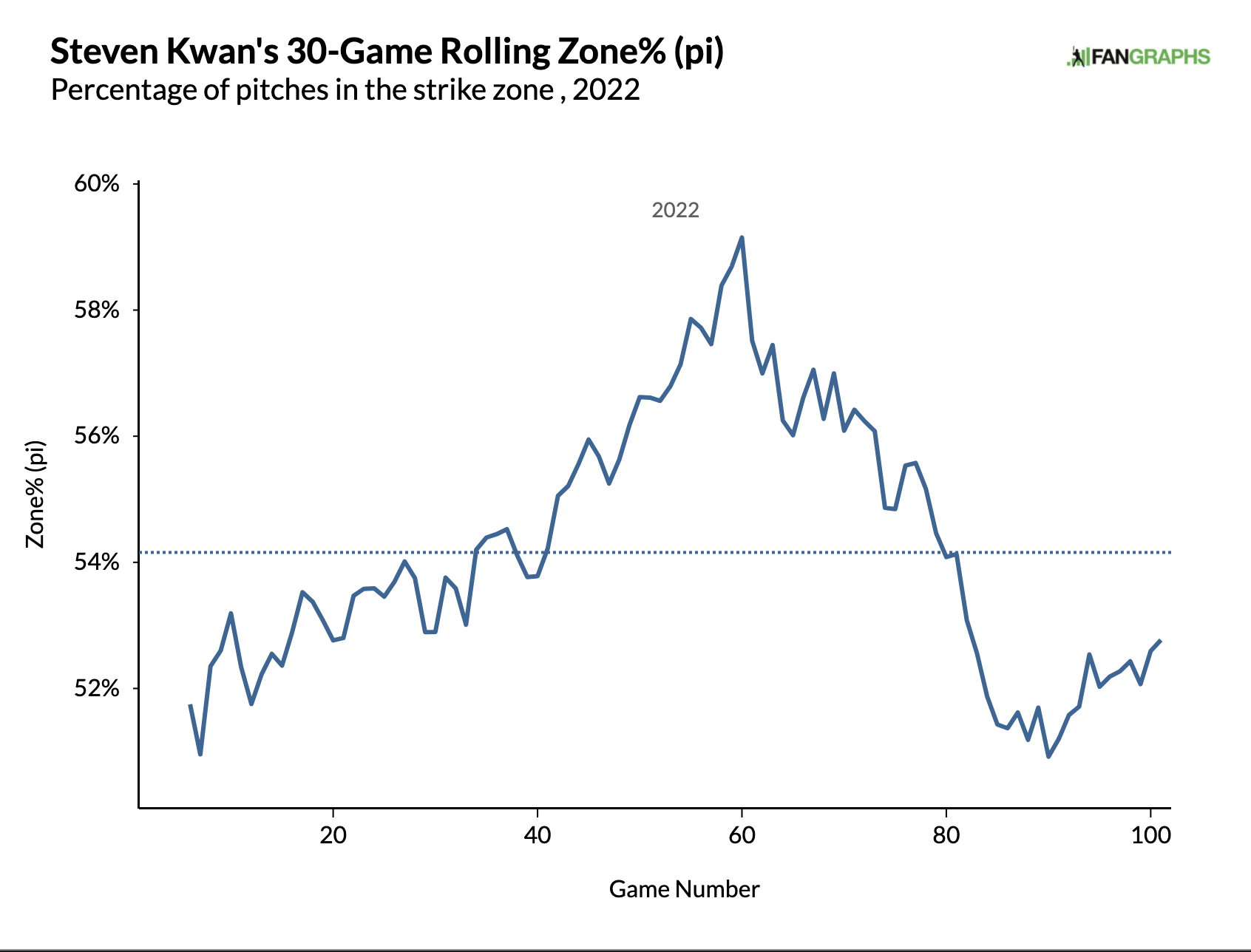 His zone rate peaked in late June to early July; not surprisingly, he walked in just 3.1% of plate appearances in the latter month, well below his season average up to that point. But the graph shows another trend: In recent weeks, Kwan's zone rate has plummeted back down to his early-season level, which we'll touch more on later. The rate at which a player is thrown a strike fluctuates within a season. Based on the initial up and subsequent down, it seems like Kwan will end up at mark higher than that of the typical hitter, but not overly so.
What works in Kwan's favor is that his eye at the plate isn't just good — it's absolutely stellar, possibly one of the best in the league. You might not have been convinced of that early on in the season, but it's apparent now. The man refuses to swing at a pitch outside the zone. That helps him convert favorable counts into walks at a frequency that surpasses the average hitter at every step of the way:
Kwan's Walk Rate Through Hitters' Counts
| Count | Kwan's BB% | League BB% |
| --- | --- | --- |
| Through 3-0 | 62.5% | 59.8% |
| Through 3-1 | 47.7% | 44.2% |
| Through 2-0 | 36.8% | 29.5% |
| Through 2-1 | 23.9% | 19.0% |
| Through 1-0 | 17.1% | 14.9% |
It's possible to form a pessimistic view of Kwan. Pick out a few of his numbers, and he resembles Adam Frazier, who's been largely incapable of running a wRC+ above 100. But Kwan's discipline is on a whole different level: His 18.8% chase rate is far lower than Frazier's 29.7%. It leads me to believe Kwan has a much safer floor he can rely on. Even during periods when his BABIP inexplicably craters and pitchers use that opportunity to fill up the strike zone, he seems prepared to continue drawing walks. My favorite Kwan statistic (Kwantistic?) might be his chase rate in early counts: 0–0, 0–1 or 1–0. At a mere 7.1%, it's the second-lowest of all hitters with 200 or more early-count swings, behind only the majestic Daniel Vogelbach. Not only does Kwan fare exceptionally well in favorable counts, but he also sets himself up time and time again to reach them.
We've talked about Kwan's patience, but what happens when he actually puts a ball into play? Going back to Ben's article, the second area due for a correction was the infield positioning against him. In the minors, he pulled a majority of his grounders as a left-handed hitter, and Ben speculated that teams might begin shifting against him, thereby eating into his batting average. For a high-contact, low-power approach, the type of grounders that sneak past the shortstop are valuable pickups, and Kwan looked like he might potentially miss out on them.
Fortunately, that hasn't been the case. Teams have shifted against Kwan in 7.3% of his plate appearances as of this writing, and when you consider that "shift against any breathing, living lefty" is the de facto strategy of several organizations, it's extremely low. And it's been that way for a reason: just over a third of his groundballs so far have been pulled, which is a giant red flag for potential shifters. But what truly stands out is the hidden adjustment behind it all. From April to May, he pulled 46.1% of his grounders; since June, that rate has plummeted to 31.4%. It's a change visible to even the naked eye, via a side-by-side comparison between his early-season groundballs and mid-season ones: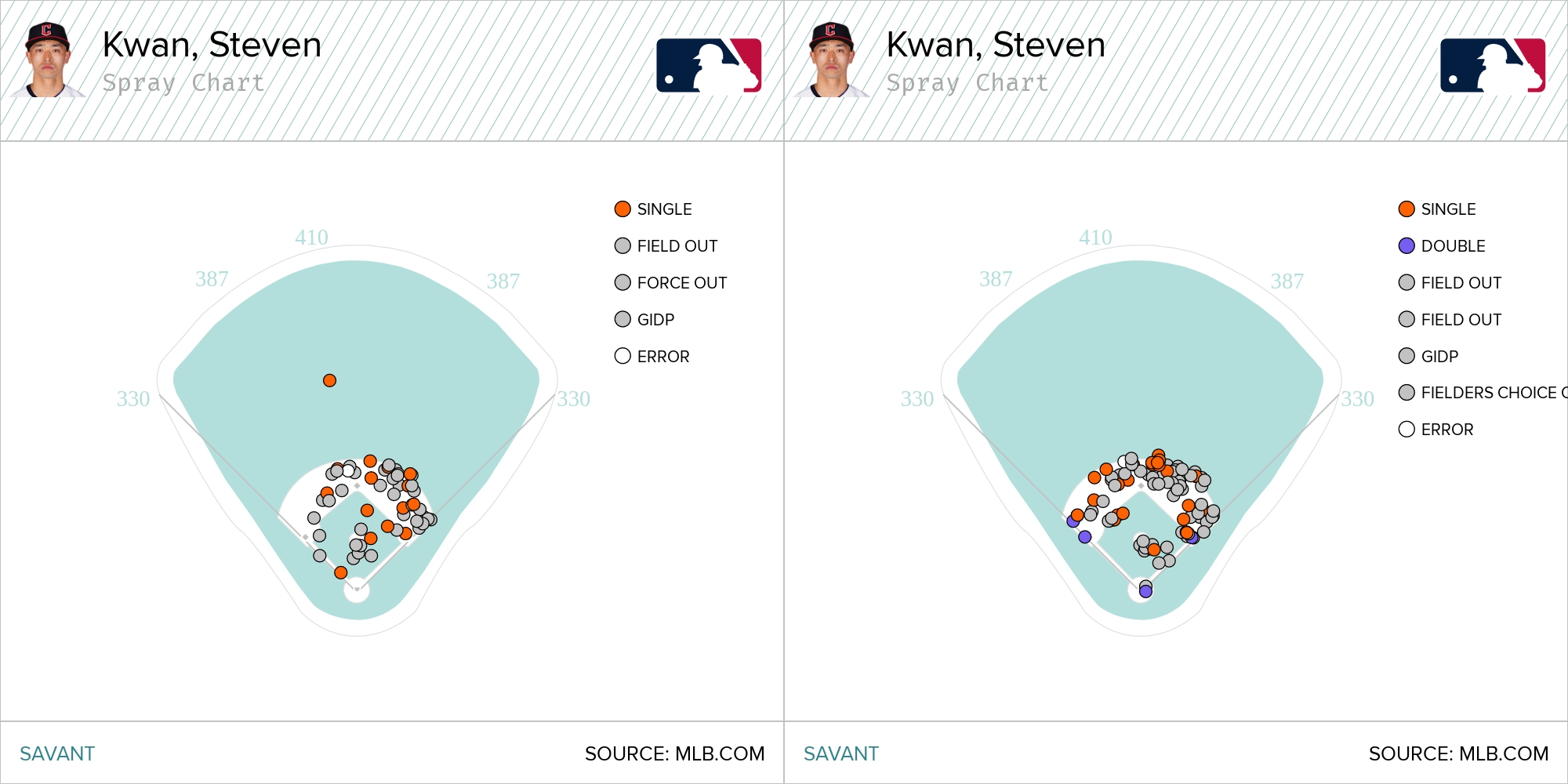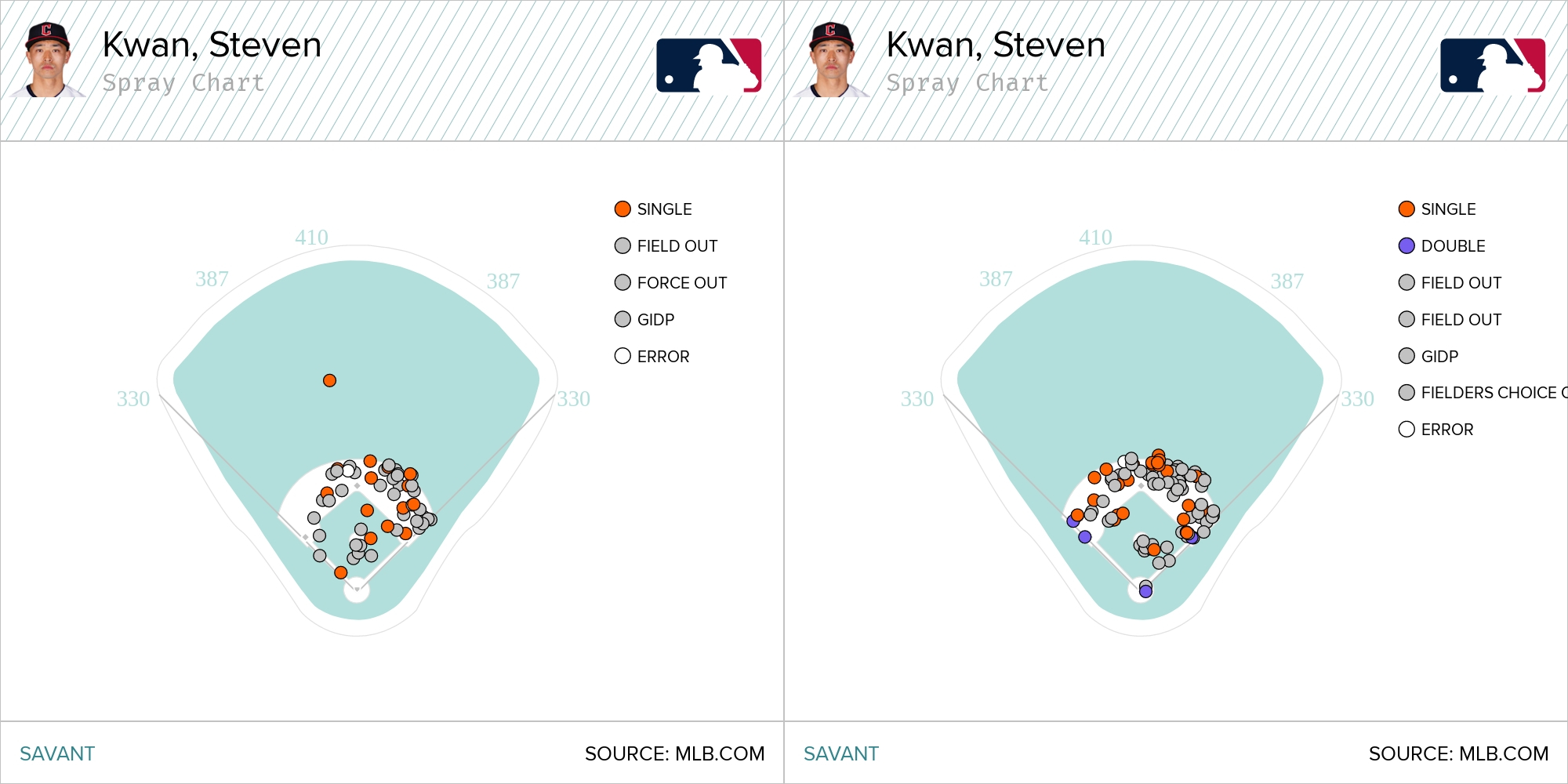 Kwan has essentially made himself un-shiftable. Compared to April and May, there's been a higher density of grounders up the middle and toward the opposite field in recent months. When he slaps a ball on the ground, it's become impossible to predict which direction it will end up. But it's hard to say this is why he rose from the ashes of his miserable May. Grounders sometimes find their way, sometimes they don't, and it's plausible that he would have had the same number of groundball hits as now even without an anti-pull adjustment.
And really, would an all-fields approach ever be the reason why pitchers start to avoid the zone? No, Kwan is probably earning more respect than before because his damage on contact has jumped. He's hitting fewer fly balls than before, and more importantly, he's hitting more line drives: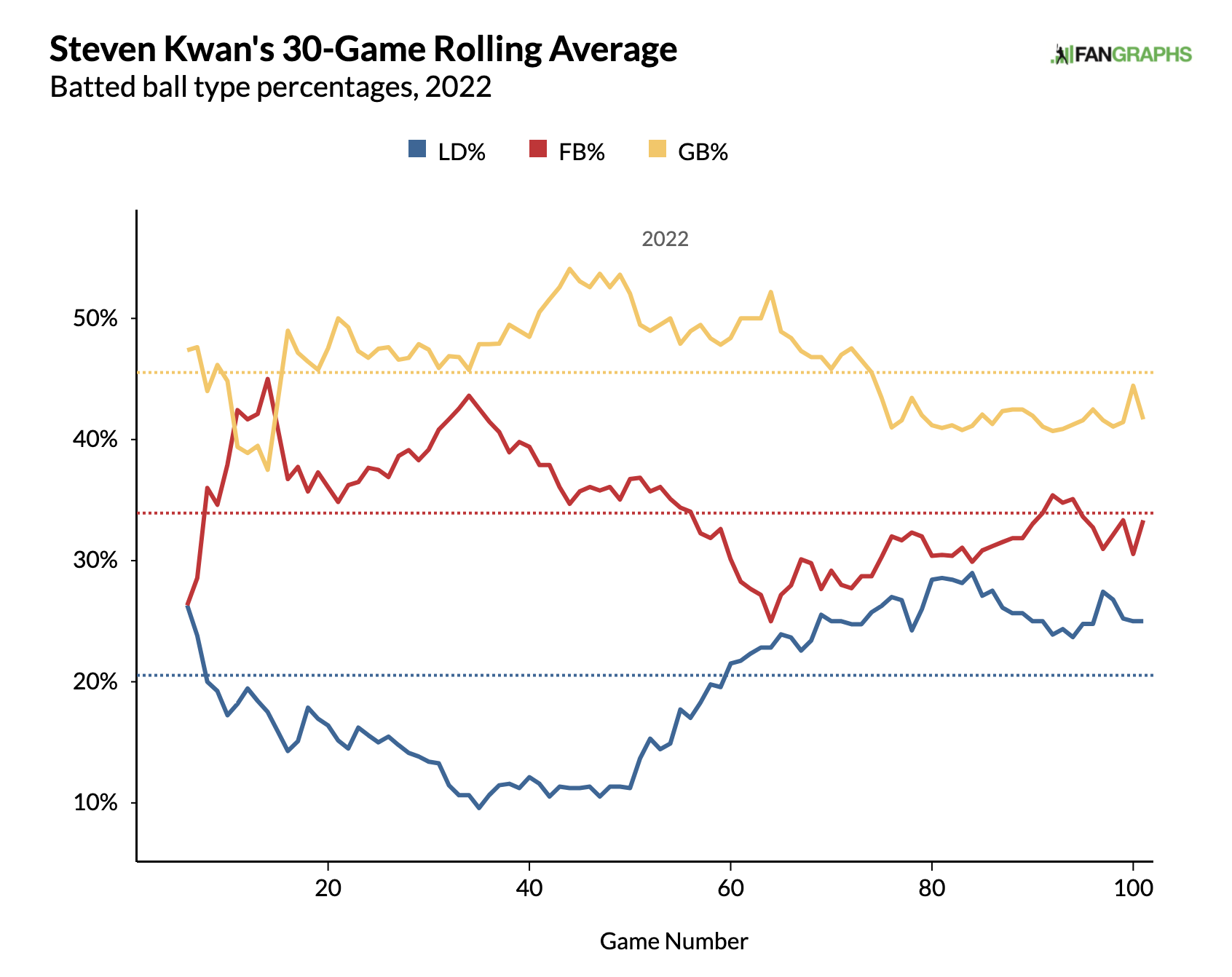 The two trends go hand-in-hand. Over time, Kwan's groundball rate has barely budged. Rather, it looks as if he is trading fly balls for line drives, the latter of which are far more useful. Consider that fly balls under the hard-hit threshold of 95 mph have returned a mere .119 wOBA this season. When Kwan hits a fly ball with his modicum of power, it's almost guaranteed to become an out. There's a chance for a home run, but it's about as reliable as a scratch ticket jackpot. The type of batted ball that maximizes Kwan's consistent yet medium exit velocities is the line drive. If you can keep poking outside pitches into left field with ease, there's no need for Stantonian strength:
As things stand, the only real concern about Kwan's offensive profile is his abysmal exit velocities. I did just say that line drives aren't as reliant on batted ball speed for results, but his hard-hit rate ranks 250th… out of the 251 hitters listed on Baseball Savant's leaderboards. There's low, and then there's bottom-of-the-barrel low. Kwan's complete and utter power outage is a genuine, albeit relatively minor, issue, one that makes me think he'll wield an average rather than an above-average bat moving forward. He appears capable of hitting the ball with more authority — when he connects with a ball and drives it, the sight is awe-inspiring — but maybe it's through exaggerated slap-hitting that he defends himself against major league pitching.
But fear not, because the entire Kwan package is still appealing. Four hundred or so plate appearances later, he's proved that his knack for contact is impervious to the nastiest of pitches, and that his plate discipline is not just good, but elite. With how he's recently figured out how to access the launch angle sweet spot, perhaps it's only a matter of time before he tacks on some extra in-game power. There's also the matter of his defensive value, which two of the three big-name defensive metrics (DRS and OAA) are on board with. But defensive metrics take a boatload of time to become reliable, and this is primarily about his achievements at the plate. At least we can relieve ourselves of the uncertainty of April, when we wondered if Kwan could be the real deal. The answer? Yes indeed.
Statistics in this article are through games of August 14.
[ad_2]

Source link