As Tuesday's deadline approached, the Cardinals made one last move to upgrade their rotation, acquiring starting pitcher Jordan Montgomery from the Yankees for outfielder Harrison Bader. In a day with complex trades and financial arrangements, this was a refreshingly direct swap — a simple one-and-one trade to address each team's short-term weaknesses, with no money or additional prospects changing hands.
The dream for the Cardinals this deadline was to head into the dog days of summer with Juan Soto in the middle of the lineup, but given the packages Washington was seeking for its franchise player, it was too much of an all-in gamble for a team that makes its improvements in careful, measured fashion. The front office had little time to bemoan falling short in the Soto sweepstakes with the deadline approaching and the very real possibility that neither Steven Matz nor Jack Flaherty would return to contribute this season, and though St. Louis closed a deal with the Pirates for José Quintana and his fancy new changeup on Monday, more was needed.
Montgomery suddenly found himself expendable in New York thanks in part to the Frankie Montas trade, and his profile makes him a good fit for the Cardinals. A lefty sinkerballer, it wouldn't be surprising to see them strongly encourage him to keep the ball on the ground even more; they have had the best defensive left side of the infield in baseball this year, playing to his strength as a pitcher.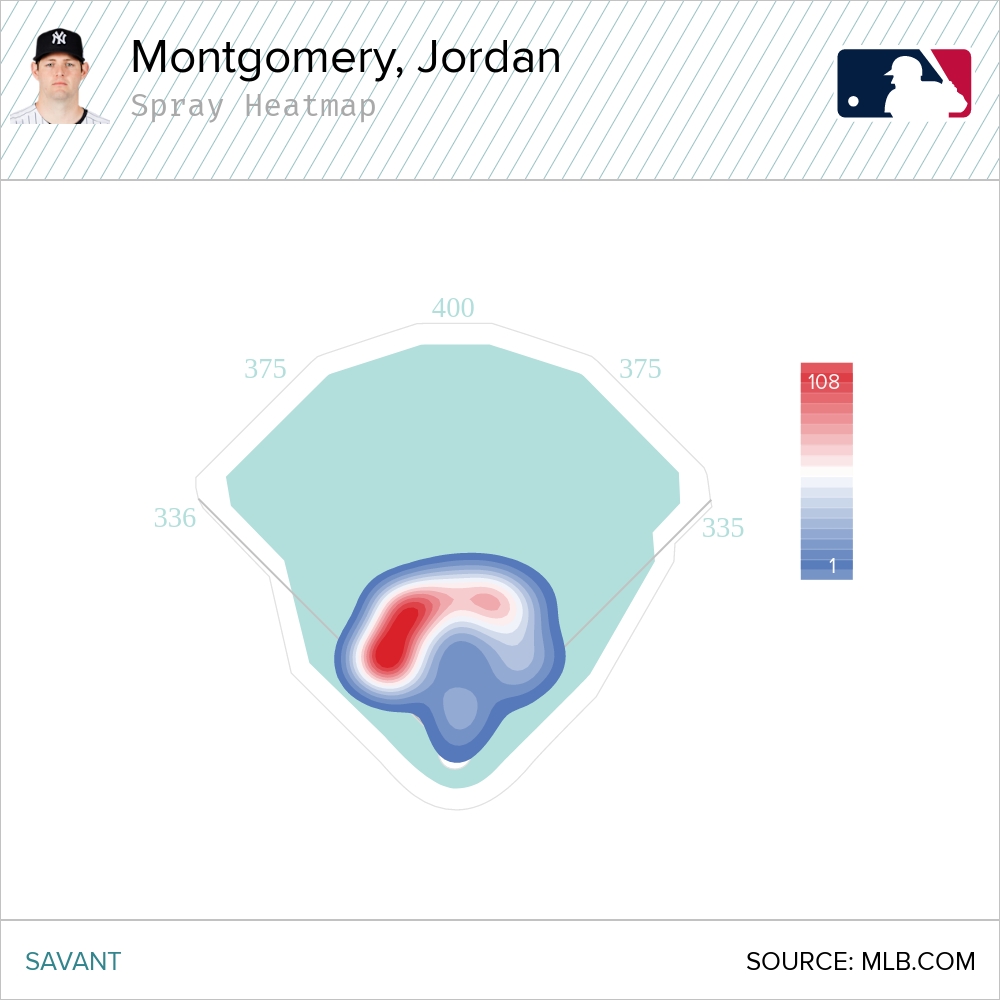 While Quintana is a free agent at the end of the season, the Cardinals get to retain Montgomery for the 2023 season as well. And with Wainwright the team's only other unsigned pitcher — though he hasn't officially announced his retirement and would probably be welcomed back automatically — St. Louis looks to have flexibility in the rotation, even if it falls a bit short of excitement.
ZiPS Projection – Jordan Montgomery
| Year | W | L | ERA | G | GS | IP | H | ER | HR | BB | SO | ERA+ | WAR |
| --- | --- | --- | --- | --- | --- | --- | --- | --- | --- | --- | --- | --- | --- |
| 2023 | 6 | 4 | 3.69 | 28 | 28 | 148.7 | 143 | 61 | 18 | 35 | 135 | 112 | 2.7 |
The risk to the pitching may be mitigated by the addition of Montgomery, but in trading with another contender that wanted a player who can win games now, the Cardinals are exposing their outfield situation to new dangers. Bader is a defensive star in center field, and while there's comfort with Dylan Carlson sliding over, the team likely is now going to rely on a makeshift timeshare between Lars Nootbaar, Juan Yepez, and Brendan Donovan in right field. That leaves the team with a thin outfield if Tyler O'Neill's leg continues to be an issue, or his power doesn't come back, or any other of a number of unpleasant surprises that test the depth. St. Louis is making the calculation that the risk of not having pitchers who can get to the fifth or sixth inning regularly is the more perilous one.
The Yankees are down a starter with Luis Severino being placed, to his clear chagrin, on the 60-day IL, making him ineligible to return until nearly playoff time. But for them, the 2022 season is now about the playoffs, with only a collapse of legendary proportions changing their nearly definite status of AL East champs who hold a first-round bye. They have four starting pitchers already set for the postseason in Montas, Gerrit Cole, Nestor Cortes, and Jameson Taillon, with a healthy Severino making five, leaving Montgomery as the odd man out. He's a better pitcher than Domingo Germán, but that difference means very little to the Yankees in practical terms.
What does matter to the Yankees is keeping the outfield healthy and intact for that postseason. Aaron Hicks is still a legitimate center fielder, and Aaron Judge is a far better glove out there than he has any right to be, but both have injury histories, and the Yankees would prefer them fresh for October and not playing the more impactful defensive position. Bader's abilities in center go beyond merely being adequate, and with a year remaining on his contract at a reasonable price, he'll enter 2023 as the team's probable starting center fielder. "Dan," you might say, "with Giancarlo Stanton, Andrew Benintendi, and Matt Carpenter, that's a lot of players to find playing time for!" That's kind of the idea; there's little reason for the veterans to be playing marathon baseball with the result all but sewn up. Famous last words, I know.
ZiPS Projection – Harrison Bader
| Year | BA | OBP | SLG | AB | R | H | 2B | 3B | HR | RBI | BB | SO | SB | OPS+ | DR | WAR |
| --- | --- | --- | --- | --- | --- | --- | --- | --- | --- | --- | --- | --- | --- | --- | --- | --- |
| 2023 | .248 | .320 | .430 | 419 | 62 | 104 | 19 | 3 | 17 | 57 | 35 | 106 | 15 | 103 | 11 | 2.8 |
One potential problem for the Yankees is that Bader is, as of now, sitting on the injured list thanks to a bout of plantar fasciitis in his right foot that's sidelined him since late June, and is still wearing a walking boot and will be for another week or so. That pushes a likely return into late August if not early September, but again, what matters most for New York is having him ready for the postseason, not the weeks between then and now.
Both teams get what they wanted out of this trade and give up what they think they can risk. That makes for a poor conduit for my snark, but it also means a solid trade.