While still focusing upon teams that meet the loose definition of contenders (a .500 record or Playoff Odds of at least 10%), this year I have incorporated our Depth Charts' rest-of-season WAR projections into the equation for an additional perspective. Sometimes that may suggest that the team will clear the bar by a significant margin, but even so, I've included them here because the team's performance at that spot is worth a look.
At the other positions in this series, I have used about 0.6 WAR or less thus far — which prorates to 1.0 WAR over a full season — as my cutoff, making exceptions here and there, but for the designated hitters, I've lowered that to 0.3, both to keep the list length manageable and to account for the general spread of value; in the first full season of the universal DH, exactly half the teams in the majors have actually gotten 0.1 WAR or less from their DHs thus far, and only 10 have gotten more than 0.6. DHs as a group have hit .239/.317/.404 for a 104 wRC+; that last figure matches what they did as a group both last year and in 2019, and it's boosted by the best performance by NL DHs (103 wRC+) since 2009, when their 117 wRC+ accounted for a grand total of 525 PA, about 32 per NL team.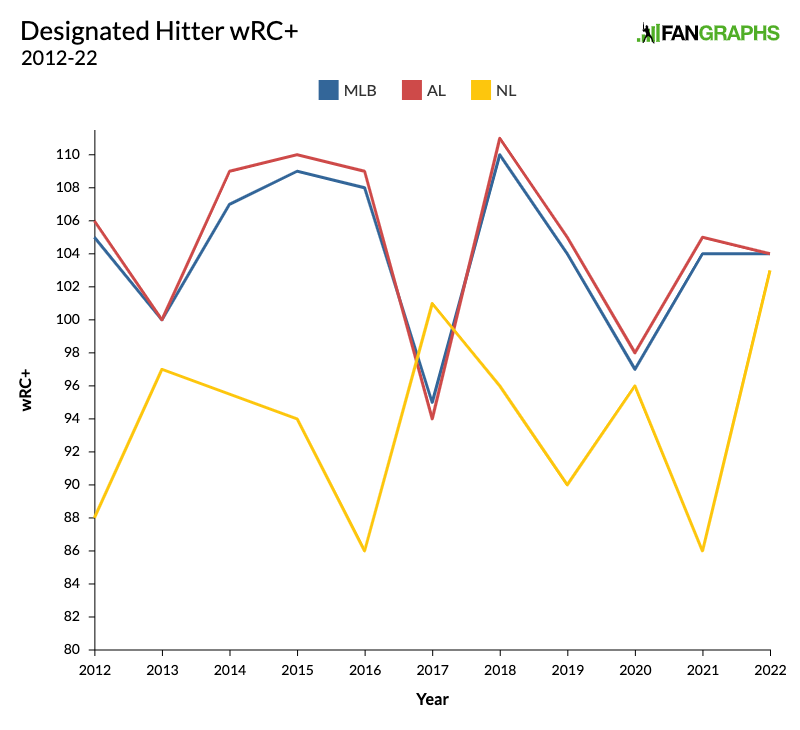 That performance boost isn't necessarily a product of teams having a set plan for the position rather than rotating regular players through based upon availability and the need for rest. Adjusted for league size and this incomplete season, and with 2020 thrown out entirely, here's a comparison of the number of DHs reaching thresholds of 300, 400, and 500 PA at the position in the past 10 full seasons: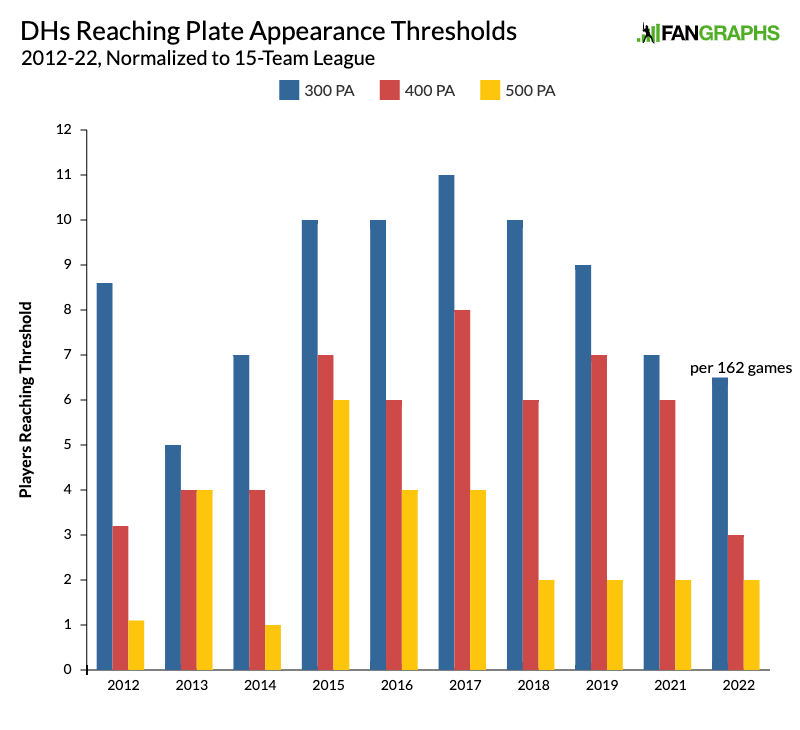 For all of that, it's not entirely clear how this perspective will inform this deadline's dealings. Will teams that have used a rotating cast of DHs seek to shore up the spot for the stretch run? It's a reasonable assumption given that there's less need to rest regular position players during the postseason, though we didn't see such behavior at the 2020 deadline, when the DHs traded (the Cubs acquiring José Martínez, the Blue Jays getting Daniel Vogelbach) either went into the mix or didn't last long.
Note that all statistics within are through July 30 but all won-loss records and Playoff Odds are through July 31.
2022 Replacement-Level Killers: Designated Hitter
| Team | AVG | OBP | SLG | wRC+ | Bat | BsR | WAR | ROS WAR | Tot WAR |
| --- | --- | --- | --- | --- | --- | --- | --- | --- | --- |
| Mariners | .154 | .249 | .277 | 55 | -21.1 | -3.3 | -2.5 | 0.6 | -1.9 |
| Guardians | .233 | .284 | .352 | 78 | -10.5 | 0.2 | -0.9 | 0.6 | -0.3 |
| Braves | .223 | .298 | .358 | 83 | -8.3 | -0.7 | -0.6 | 0.3 | -0.3 |
| Mets | .223 | .308 | .369 | 96 | -2.0 | -2.6 | -0.2 | 0.8 | 0.6 |
| Giants | .227 | .308 | .383 | 98 | -1.1 | -0.8 | -0.1 | 0.7 | 0.6 |
| Padres | .232 | .318 | .387 | 101 | 0.8 | -2.5 | 0.1 | 0.7 | 0.8 |
Statistics through July 30. ROS = Rest-of-season WAR, via our Depth Charts.
Mariners
Good grief! The Mariners have used 15 different players at DH, five of them for 10 or fewer PA. Of the other 10, only Kyle Lewis has a batting average above .182 or a wRC+ above 87; he's hit .231/.310/.462 (125 wRC+) in 29 PA in the role, which makes him stand out like Edgar Martinez taking batting practice alongside a bunch of blindfolded pitchers. Collectively, they've cost the Mariners (55-48) more than two wins, which under the new postseason format boils down to the difference between being the American League's fifth seed or the fourth — which is to say, playing a best-of-three series entirely on the road versus the Blue Jays (57-45), or hosting them. For what it's worth, the Mariners were expected to place "a couple players" on the restricted list when they visited Toronto in mid-May because they had not gotten vaccinated. Reliever Drew Steckenrider was the only player put on the restricted list, though Robbie Ray — who was able to pitch for the Blue Jays last year because Canada had an exemption for athletes in place, which is no longer the case — also stayed home because Seattle reshuffled their rotation to start him prior to their Toronto series; starters who have pitched within four days of their team entering Canada aren't eligible to go on the restricted list. Might want to get those shots, Robbie.
Anyway, with regards to the sorry state of Seattle DHs, Abraham Toro (.167/.218/.319, 49 wRC+ in 78 PA) and Eugenio Suárez (.182/.286/.291, 74 wRC+ in 63 PA) are the biggest offenders but they're hardly alone. The hoped-for surplus of healthy outfielders that could yield a higher-caliber DH will have to wait a bit longer now that Julio Rodríguez has landed on the IL due to a right wrist contusion (nooooooo!). Lately it's been Lewis and Carlos Santana sharing the role. The latter, if he could match his overall clip of .202/.330/.350 (99 wRC+), would be a huge boost, but since being acquired from the Royals, he's 3-for-34 with two homers and three walks as a DH, which ain't helping.
Free suggestion to general manager Jerry Dipoto: Go get Nelson Cruz from the Nationals. No, his numbers aren't very good (.231/.316/.347, 88 wRC+), but he's hitting the ball harder than that slash line suggests (46.6% hard-hit rate, .412 xSLG) and the change of scenery couldn't hurt. If Dipoto wanted to be less sentimental and more aggressive, Cruz's teammate Josh Bell is probably the top DH candidate available, and he could help out at first base as well while allowing Ty France to spot at second base, where he is admittedly quite shaky but where the Mariners also made the Killers list.
Guardians
Franmil Reyes hit for a 122 wRC+ (.261/.331/.498) with 39 homers in 707 PA for Cleveland in 2020-21 while serving mainly as a DH. He's done the bulk of the damage here, so to speak, hitting a limp .214/.250/.335 (63 wRC+) in 228 PA in that capacity and not much better (70 wRC+ in 274 PA) overall. Reyes is striking out 38% of the time, higher than any player with at least 200 PA save for Joey Gallo and Brett Phillips. Where he demolished sliders last year (.584 SLG, .374 wOBA), he's managed just a .214 SLG and .198 wOBA against them this year.
José Ramírez (74 PA) and Josh Naylor (62 PA) account for most of the non-Reyes plate appearances at DH, but both have more important duties on the infield. The Guardians do have a glimmer of hope for some in-house help. When 24-year-old rookie right fielder Oscar Gonzalez landed on the IL due to an intercostal strain on July 2, he was replaced by another 24-year-old rookie, Nolan Jones, the team's fourth-ranked prospect. Within their small samples of major league performance, both have been productive, with the lefty-swinging Jones hitting .286/.375/.482 (142 wRC+) in 64 PA and the righty-swinging Gonzalez hitting .285/.315/.431 (110 wRC+) in 130 PA. The latter is now on a rehab assignment and should join Cleveland soon. Having both in the lineup could pay dividends, though in truth, a bigger bat such as Bell or the Red Sox's J.D. Martinez would be welcome. Boston (51-52) is said to be seeking major league talent for Martinez and catcher Christian Vázquez, who would also fill a need for Cleveland (they made the list there). Both would be rentals, however, and the Guardians (52-49) are a game and a half out of the third AL Wild Card spot and might not be willing to sacrifice that much for what could be a fleeting trip to October.
Braves
Marcell Ozuna didn't play after May 25 last year due to a pair of fractured fingers and then an arrest that led to a prolonged investigation and a 20-game suspension for violating the league's domestic violence policy. He hasn't produced much since returning, either as a DH (54 games) or left fielder (48 games), batting .219/.274/.397 (84 wRC+) overall and contributing to the Braves' presence here. Ronald Acuña Jr., who has 63 PA as a DH — mainly in his first month after returning from his ACL injury — has been productive in that role, but he's better off as the team's right fielder. Backup catcher William Contreras certainly has the bat to contribute as a DH, and manager Brian Snitker has shown a willingness to use him there, doing so for 14 games, but it hasn't been enough to offset Ozuna's struggles.
The Braves are thought to be one potential destination for Gallo, who simply hasn't hit since being traded to the Yankees last deadline (he's at .159/.282/.339, 81 wRC+ this year) but who might recover his form with a change of scenery. Gallo's a good enough outfielder that he doesn't need to be confined to DH, but he could provide an extra bat that could help the Braves shuffle Acuña and Eddie Rosario through the role. Such a move might depend upon the Yankees picking some of the roughly $3.5 million remaining on Gallo's $10.75 million contract for the season, though last year the Braves didn't hesitate to take on salary when they overhauled their roster in July. Of course, if they can afford it, Martinez would be a better option, but he's making $9 million more than Gallo and may be prohibitively expensive in terms of what the Red Sox want. The Orioles' Trey Mancini, if he's moved, would fit here, too.
Mets
The Mets have actually gotten respectable work out of J.D. Davis (156 PA, 114 wRC+) and Pete Alonso (90 PA, 124 wRC+) in this capacity, but whether at DH or first base in place of Alonso, Dominic Smith hasn't held up his end of the bargain, hitting for a 67 wRC+ in 152 PA overall and earning a trip to the minors that did not arrest his slide; at this writing, he's in a 1-for-21 slump and owns a 70 wRC+ in 51 PA since returning.
The Mets have already gotten a jump on their deadline shopping by trading for Vogelbach, who like Smith is a lefty swinger and who has hit for a 123 wRC+ overall. A righty-swinging platoon partner is still an option. The Mets reportedly inquired about righties Cruz, Mancini and the Rockies' C.J. Cron at the time they pursued Vogelbach, as well as the switch-hitting Bell, and they could revisit those conversations, though the Rockies are reportedly uninterested in moving Cron.
Giants
The Giants haven't fully committed to any DH for very long, instead cycling players through the role when they weren't needed to cover for an injury or ineffectiveness elsewhere. The one who has seen the most playing time, Tommy La Stella, has just 102 PA in the role and has hit .244/.280/.382 (88 wRC+) overall; he recently returned from a three-week absence due to a COVID-19 infection. Darin Ruf has 82 PA as the DH and has hit just .219/.329/.377 (106 wRC+) overall but has been kept busy by the injuries of Brandon Belt and Joc Pederson. Likewise for Wilmer Flores, who has 69 PA as a DH and has filled in very effectively at first, second, and third base.
While Yermín Mercedes, who joined the team in late June, has hit .283/.397/.434 overall in 63 PA (28 as DH) and might be worth a longer look, the Giants are going to need more firepower if they're to get back into the playoff race. Bell is the obvious choice, while the Marlins' Garrett Cooper, who just made his first All-Star team and who has a year of club control remaining, could be in the first base picture for next year if they don't re-sign Belt, who's 34 and has played in just 160 games in 2021-22. Cron, who's signed for $7.5 million next year, is another alternative if the Rockies decide to move him after all and aren't opposed to dealing within the division.
Padres
The Padres traded for Luke Voit hoping that he would thrive as their DH while giving Eric Hosmer the occasional breather at first base, but while he hasn't been bad (.226/.315/.421 overall), he hasn't blown anybody away. Improbably, the 31-year-old righty has hit just .174/.314/.233 (68 wRC+) against lefties, that despite entering the year with pretty even platoon splits (130 wRC+ versus lefties, 134 versus righties) for his career. That his 13 home runs is second on the team and his 110 wRC+ fourth says as much about the numerous holes in the Padres' lineup — particularly first base, center field and right field, all of which we've explored in this series — as it does him.
The Padres are considered to be the leading candidates to land Juan Soto, and they're also in pursuit of the Cubs' Willson Contreras, whose bat may be more valuable to San Diego than his catcher's mitt. They're reportedly another team in the mix for Gallo, which obviously wouldn't be nearly so impactful an addition and might be a moot point if either of those blockbusters goes down. Gallo, if he were acquired, would more likely to play the outfield while potentially bumping a player such as Wil Myers (whose defensive numbers haven't been great in recent years) into the DH pool or as a first base alternative; he's played the latter position during his rehab assignment. Given general manager A.J. Preller's aggressive approach, the Padres' roster might look quite different after the deadline than before; whether Voit is still a fit remains to be seen.