With their outfield (and whole roster, really) hit hard by injuries, the Rays acquired 34-year-old left fielder David Peralta from the Diamondbacks for 19-year-old catching prospect Christian Cerda on Sunday. The Freight Train is hitting .248/.315/.457, good for a 109 wRC+, which is in line with his career norm (111 wRC+), even though the shape of his production has totally changed.
Before we get into how that came to be, though, let's take a moment to appreciate Peralta's remarkable path here. Originally a left-handed pitcher in the Cardinals organization, he was released amid shoulder issues and played outfield in Independent ball for a couple of years before signing with the Diamondbacks in 2013. It's borderline offensive to cram that stretch of Peralta's career into one sentence. Indy ball isn't exactly glamorous, and Peralta was broke and worked at McDonalds while waiting for the Diamondbacks, who he knew wanted to sign him, to free up the minor league roster space to do so. After he finally signed, it took only about a year for him to reach the big leagues, and Peralta has had one hell of a now nine-year MLB career, during which he's been one of the better left field defenders in baseball (and has one Gold Glove), won a Silver Slugger during his peak year in 2018 (.293/.352/.516 with 30 bombs), led the league in triples twice, and endured wrist and shoulder surgeries while becoming a cult hero in Arizona. From a baseball role standpoint, the Rays are getting a platoon stick (.268/.325/.496 versus righties this year) and plus defender in a corner spot, but Peralta also brings the parts of himself that helped him grind through injury and Indy ball.
Let's talk about the shift in Peralta's output. He entered the year with a re-worked swing, one that looks like a mechanical clone of Michael Brantley's. The results of the swing change have been decidedly un-Brantley-ish, as Peralta's strikeout rate has taken a leap, though so has his SLG%.
If you're looking for a bounceback candidate, might I suggest David Peralta?

My story on the veteran's scorching spring, why he looks slimmer and why his swing looks like Michael Brantley's: https://t.co/JGuf62ZSSH pic.twitter.com/oIpbYvDNAU

— Zach Buchanan (@ZHBuchanan) April 4, 2022
While his strikeout rate has ballooned to a career-high 23.6%, Peralta already has 12 homers after hitting just 25 total over the last three seasons; his next will give him his best single-season mark since his monster outlier 2018 campaign. The new swing has changed the in-zone locations in which he makes contact and does damage. Take a look at how the nature of Peralta's in-zone contact ability and slugging locations have shifted from last year to this one: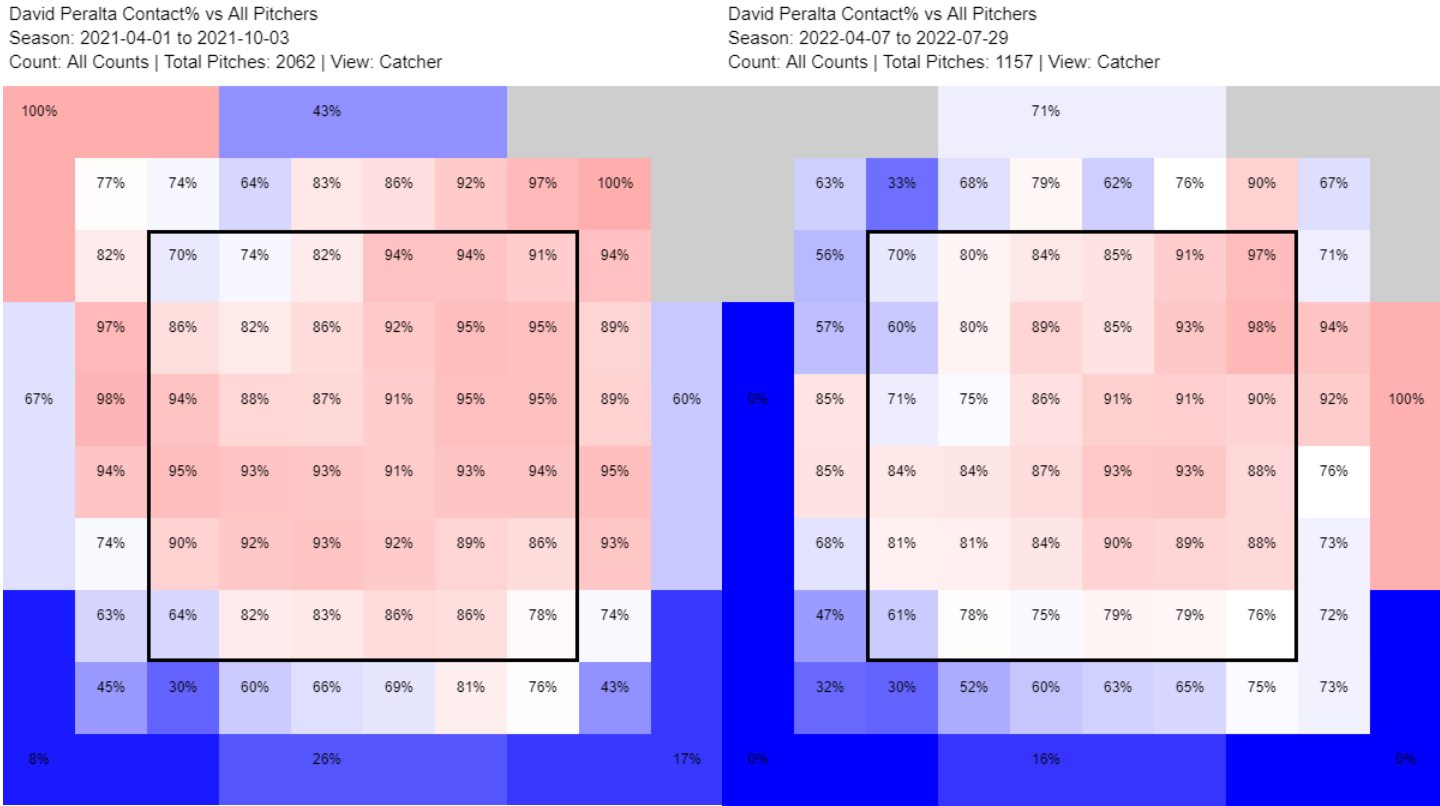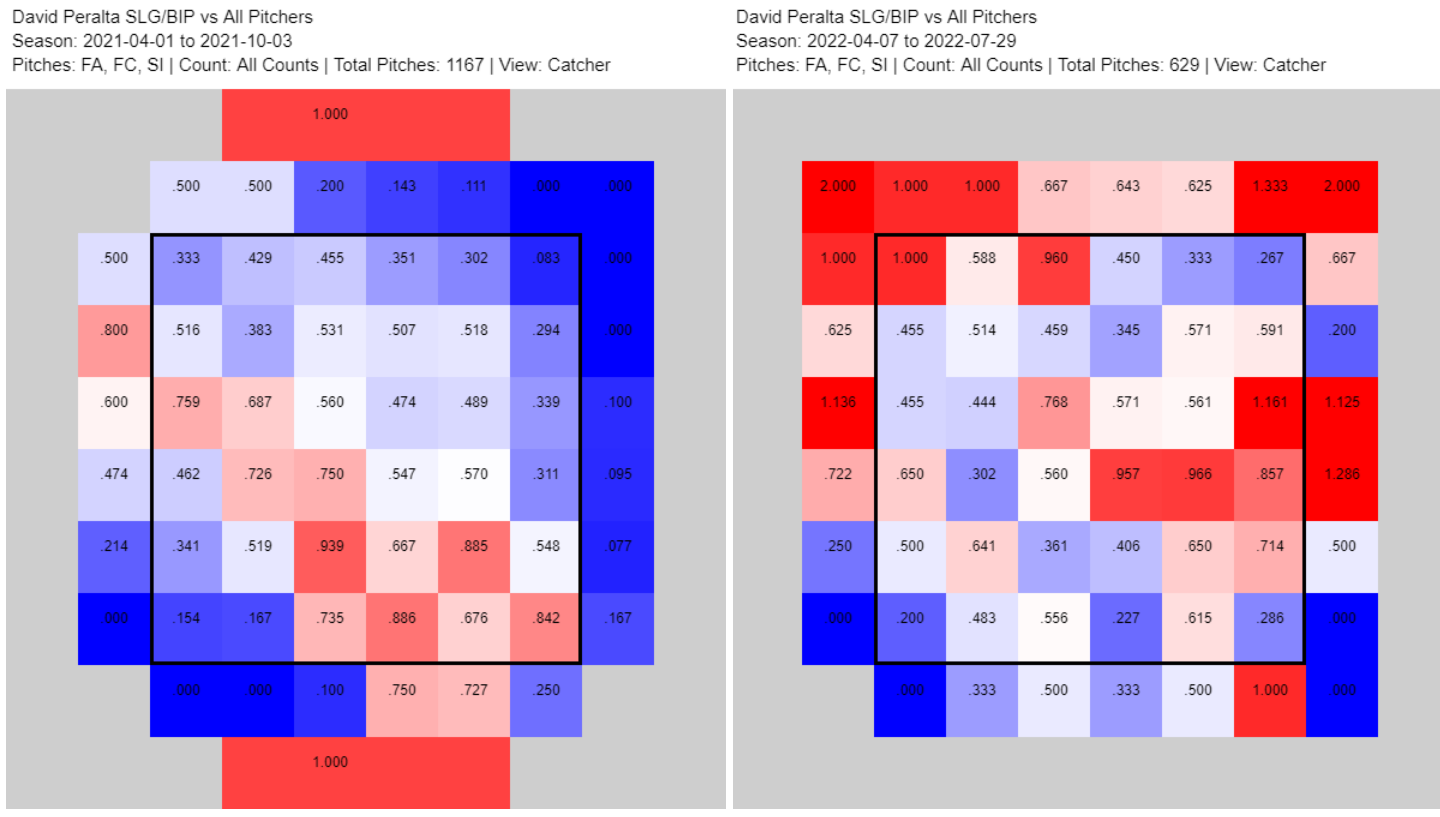 The changes have made him more vulnerable to swings-and-misses on the inner third but, for whatever reason, have also enabled him to pull the ball with more power. One last side-by-side chart, this time showing Peralta's spray chart, with his base hits colored in to show how the nature of his contact has changed: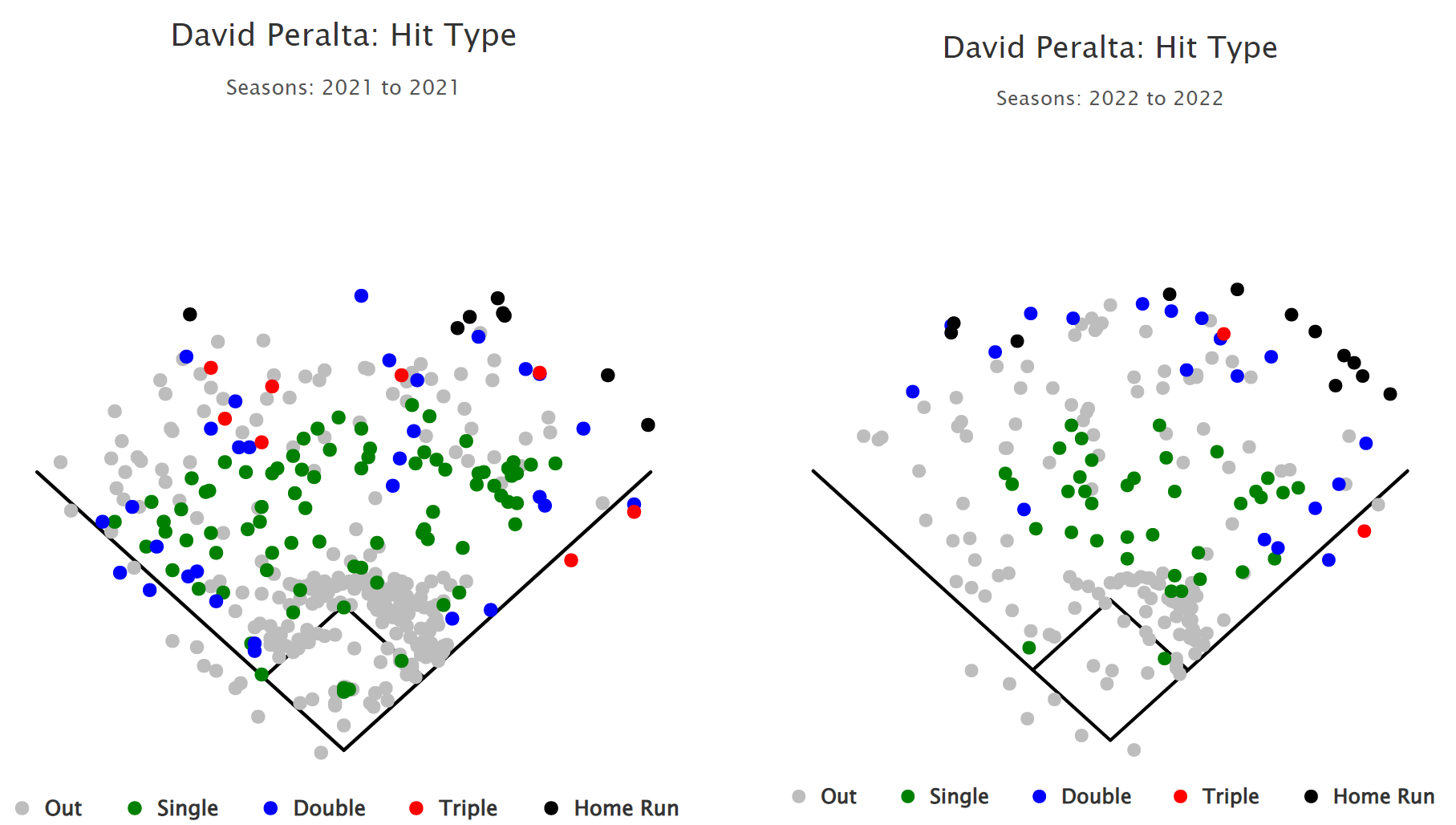 Peralta stabilizes an outfield situation so ruined by injury that the Rays have had to reach down into the minors to bring up Roman Quinn, who is on his fourth org this calendar year, and Luke Raley, a 27-year-old minor league stalwart whose stiffness and build bely his tools, but who realistically is an emergency depth corner OF/DH option. If/when Manuel Margot (knee, recently began running again) and Harold Ramírez (fractured thumb) return, Peralta will fit like a glove with them and Randy Arozarena (who he can also replace on defense late in games) to form the kind of platoon-y Rays outfield we've come to expect.
Arizona acquires a Complex-level catching prospect for the second deadline in a row by plucking Cerda from the Port Charlotte backfields. Cerda was hitting a robust, BABIP-aided .315/.464/.519 in the Gulf Coast League and walking a whopping 21% of the time, his second consecutive season with more walks than strikeouts. He is very physical for a 19-year-old hitter, with a long torso in the Jacob Stallings mold, though a bit more soft-bodied. Cerda has excellent feel for the zone and hitter's timing. His modest leg kick gives his swing some athleticism and explosion without being too complicated, and his hands start low and load in a position that allow him to be short back to the baseball and do strength-driven damage.
I saw a couple games from Cerda during an Extended Spring run through Florida in April, and I left with doubts about his ability to catch, though he clearly was dealing with some lower-body stiffness and discomfort the day I saw him. He also showed great leadership qualities during times when his battery mate was struggling, at times offering technical advice, at others fiery encouragement. It was enough of a look to consider Cerda a notable, bat-first developmental catcher, but not enough to have a precise idea of how to project elements of his defense (I never saw him make an in-game throw to second, for instance). I cut up video from that day here:
Cerda belongs in the 35+ FV tier on the D'Backs list. As soon as I'm finished writing this piece, I'm going to put on some deodorant and head to a mid-day Complex tilt at Chase Field, where Cerda (who is already in Phoenix) might make his D'Backs debut. Hopefully another look will shed enough light for me to rank him more precisely and have enough feel for his tools to grade them all and throw him on The Board without hedging or fudging in the 45–55 range.