We've just got a quick hitter this week for our Razzball Commenter League update.  I considered just not doing a post this week, but small weeks need love too, so here we are.  With only three days in the previous week's schedule thanks to the All Star Break, everything is abbreviated.  There weren't a lot of changes, but there are still some goodies to go over.  Plenty of trades were made and some decent mini weeks were had as we'll see in the weekly leaders.  It's pretty impressive what teams can pull off in just three days.  Let's jump into all the juicy data from our mini week that was, week 15:
Each week we'll peek in at our resident 'perts to see who is laying claim to best "expert" RCLer in the land.  We'll take notes, check the standings and generally stalk them.  The heading is also hyperlink, so feel free to follow along as we go.
For example, I managed to hit twice as many homers this week as I did all of week 14.  That's more a reflection on how bad my week 14 was, but still.  Cram It and Laura each took advantage of the short week gaining six and five points, respectively.  The short week was less kind to Son and Malamoney who both lost four points.  Malamoney also dropped two places in the standings as a result.
Each week we'll also take a look at the top ten overall standings in our other Razzball sponsored league, the RazzSlam.  This is our NFBC Best Ball league with managers from all across the industry, from content providers to fans and readers just like you.
With the playoffs, I'm expanding my screen cap a bit to the top 20.  Remember, the top 30 move on to the next round.  We've got a ton of Razzball rep here with Zach, DT, Nate, Coolwhip and JKJ all holding down top 20 spots.  No surprise that Clark Olson is back on top of the standings this week.  Grey is currently in 23rd and securing a spot in the next round while I'm in 45th and need my team to do some serious work to make a spot in the final tier.
TOP 10
For those too lazy to check the MASTER STANDINGS, I present to you, the current top 10
Not a lot changed in three days in the Master Standings, but Stl Squat Cobblers did make a big jump in ECFBL and moved into seventh place.
TRADES
All the trades that have gone down in the past week.  Public ridicule is not only allowed, but encouraged.
Eight deals got done over the break, including one by me, swapping Rhys Hoskins for Clayton Kershaw in Cougs.  I need some pitching help, especially in strikeouts and wins, so I'm hoping for a boost with Kershaw.  I added Joc Pederson and Jose Miranda to pick up some slack on offense after the trade.  There's not a lot to comment on here, I like swapping Cron for Cole, that feels similar to my Hoskins/Kershaw deal and if you need pitching at this point, you may as well trade for an ace.  A number four starter isn't doing much that a streamer won't earn you at this point.
WEEKLY LEADERS
The best of the best from the week that was.
R – 45 – The Ringers (RCL 2022 (#34))
HR –15 – Go Cardinals (RCL 2022 (#44))
RBIs – 48 – Vin Frequently (FCL)
SB – 6 – 8 Teams Tied
AVG – .373 – foulballs (RCL 2022 (#46))
K – 62 – DFresh (RCL 2022 (#2))
W – 6 – 4 Teams Tied
SV –  6 – Greetings from the Humungus (RCL 2022 (#9))
ERA (Min. 40 IP) – 1.06 – DFresh (Cougs R Us) (in 42.1 IP)
WHIP (Min. 40 IP) – 0.861 – Rum Soaked (RCL 2022 (#24)) (in 40.2 IP)
Some very impressive accomplishments in just three days.  Heck, I'd take most of these numbers in a full week.
TEAM OF THE WEEK
Our weekly shout out to the team that killed it the previous week.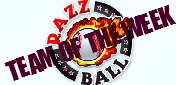 Team: Wake Up
League: RCL 2022 (#6)
Stats:   AVG: .310, R: 26, HR: 13, RBI: 36, SB: 2
IP: 43, ERA: 1.88, WHIP: 0.953, K: 51, W: 4, SV: 4
Summary:  Long time Razzball commenter, Wake Up revealed themselves this week as the team formerly known as Donkeycorns, who has been breathing down my neck all season long.  Another great week in the short week gained Wake 3.5 league points and brought him even closer should my DFSers team slip at all.  I look forward to our battle, Wake!
Want to be Matt's Twitter pal?  That's kinda creepy, but you can follow him here: @MattTruss