Earlier today, Jake Mailhot broke down how two unheralded members of the Mariners' relief corps have contributed to the team's recent surge. Indeed, a lot has gone right for Seattle, but one area that has not been talked about as often is the catcher situation. In our preseason positional power rankings, the team ranked 16th at the position — not bad, but not great, either. So far, in real life, the Mariners are 14th. That's not much of a difference, so you'd be inclined to think things have gone according to plan.
What Mariners fans would tell you is that Tom Murphy has been hurt, and Luis Torrens has been hurt and ineffective. Enter Cal Raleigh, who's taken up the catching mantle all by himself, hitting .211/.288/.474 en route to a 117 wRC+ as of this writing. But it's not a breakout many anticipated, nor did it come easy. In his first taste of the show last season, Raleigh hit for a mere 47 wRC+ in 148 plate appearances, then struggled to begin this season, ultimately getting sent down to Triple-A to recuperate. After rejoining the big league squad on May 7, however, Raleigh hasn't looked back, providing big knocks for an aspiring squad ever since.
How did Raleigh pull it off? Like so many others before him, he simply started hitting the ball harder — shocking, I know. He has always possessed an uppercut swing, but mediocre exit velocities in his debut year meant his fly balls turned into outs, not extra-base hits. Now, he is supplementing those high launch angles with power. If we look at Barrels per plate appearances, which accounts for the fact that a per-batted ball basis tends to gloss over strikeout issues, Raleigh is one of the league's most improved hitters. He's highlighted below in yellow: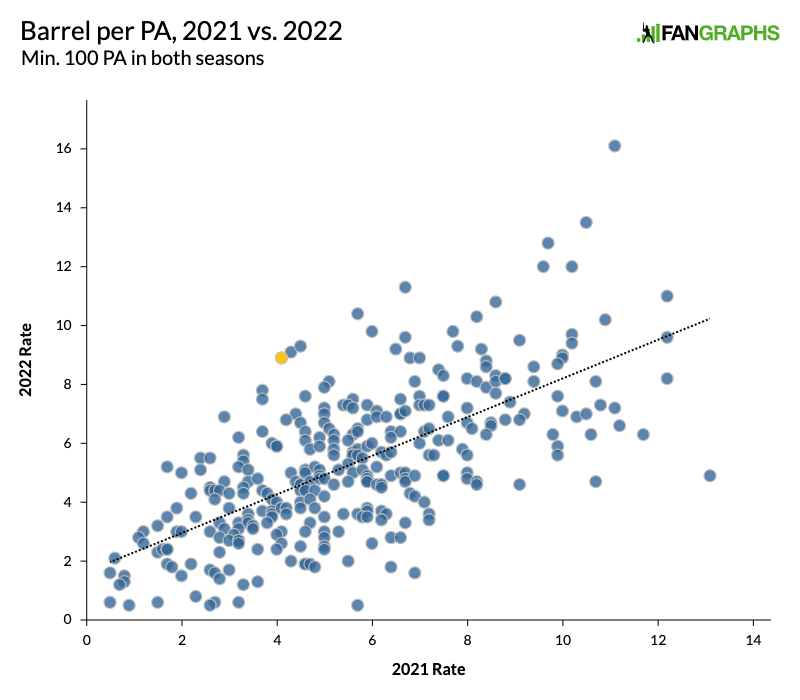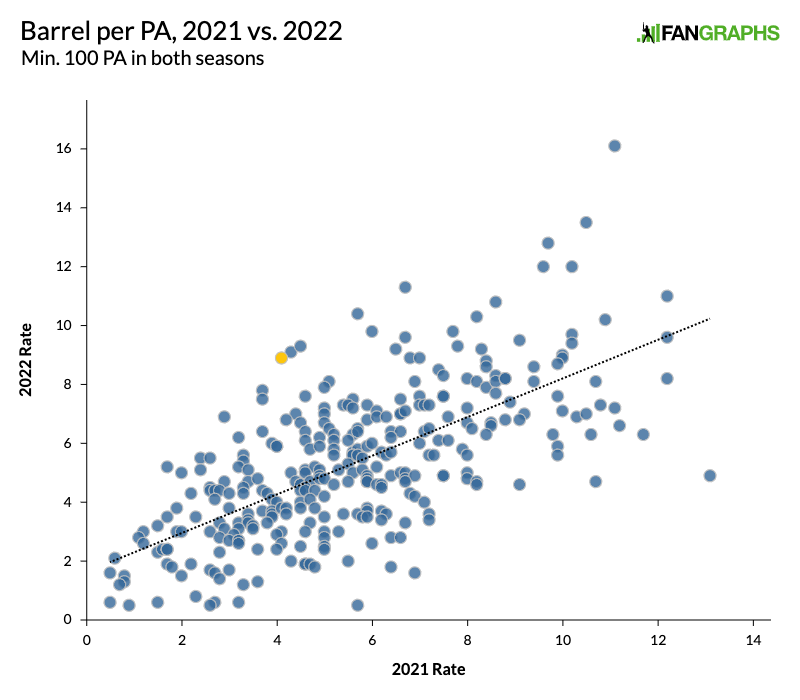 Among the 319 hitters in this plot, Raleigh ranks second in barrel per plate appearance gain, behind only Aaron Judge and tied with Rob Refsnyder and Christian Walker, represented by the points snuggled up to his right. Because barrel rates are reliable pretty quickly and stay consistent year-to-year, we can trust that major rises (and falls) aren't just flukes. And evidently, Raleigh has made a couple tangible adjustments. During his seven-game stint in Tacoma, teammate Mitch Haniger told the young catcher he should hunt for the fastball, as that was the pitch he could handle. Given that only the best of the best can handle several ranges of velocity and movement, it seems like solid advice; not everyone can be Freddie Freeman.
But it's not as if Raleigh has been going after more fastballs; his swing rate against them since May is about the same as it was early on in the season. What hunting means in this context, I think, is anticipating the fastball, thereby giving yourself better opportunities to square it up. Raleigh isn't more aggressive, but rather more prepared. Check out his metrics versus fastballs from all of last season and April this year, compared to those from May onward:
Raleigh vs. the Hard Stuff
| Period | wOBAcon | xwOBAcon | Hard-Hit% | Whiff/Swing% |
| --- | --- | --- | --- | --- |
| Up to Apr '22 | .341 | .350 | 42.6% | 28.2% |
| Since May '22 | .765 | .803 | 53.2% | 27.8% |
SOURCE: Baseball Savant
Yep, Raleigh has been putting up hilarious numbers against fastballs since his call-up. Not that he'll keep this up — let's be honest, nobody can — but if this isn't a man committed to destroying a single a pitch variety, I don't know what is. Also impressive is that his production hasn't come at the cost of additional whiffs, which is the type of trade-off that we're used to seeing even in an era of de-juiced baseballs. Owing to a penchant for fly balls, Raleigh has made the most of that uptick in hard-hit rate. Going from the low-40s to the mid-50s usually doesn't result in this drastic of an upgrade, but an average hitter wastes quite a bit of his power with grounders.
Another adjustment? Raleigh has reportedly worked on shortening his swing. Swing length is defined by the distance the barrel has to travel in order to strike the ball. There's a sweet spot somewhere; a swing that's either too long or short is detrimental. Before, if Raleigh's swing was too long, which helps generate power but hinders contact ability, that could explain his struggles with timing pitches pre-adjustment.
Bat path data is some time away from public consumption, but there's an example I found that seems to illustrate the changes to which Raleigh committed himself. First, a GIF of a swing from April this year:
That's a home run swing if I've ever seen one, with a leg kick and all; Raleigh wanted that pitch deposited into the outfield seats. It might have worked against a middle-middle pitch, but he's late here, and a swing that's both long-winded and overly rotational doesn't help in that regard.
Compare that swing with this one from July:
The camera angle makes it tricky to tell, and I'm no hitting coach, but to me, the second swing appears to have a shorter range of motion. Against a similar down-and-away fastball, Raleigh stays balanced and flicks it into the outfield rather than attempting to obliterate it. Here, he's also standing closer to home plate, and perhaps that aids in untangling his swing. Lastly, you'll notice that the leg kick has disappeared. I initially thought this might have been a one-off instance, but upon viewing other clips, Raleigh seems to have bid it adieu. You can also see its absence here, this time from the right side of the plate. With two strikes, he even visibly chokes up on the bat:
What Raleigh is doing makes perfect sense. He's a hitter with enough raw power that potentially sacrificing some of it for additional contact works in his favor. And when his swing aligns with the incoming ball, he's actually putting himself in a position to hit the ball harder and further. It's not just the fastballs, either: Raleigh, overall, is timing everything better. His whiff rates against both offspeed and breaking pitches are down, and the results on contact are up. He's still a fastball hitter first and foremost, and while that might come back to bite him later on, he is at least no longer totally lost against slower, bendier pitches. Before our very eyes, he is evolving into more of a multi-dimensional (and thus scarier) slugger, filling a Mike Zunino-sized hole for the Mariners.
As always, there's room for improvement. Raleigh isn't good enough — not yet, that is — to wave away concerns about a strikeout rate north of 30%. When the power inexplicably goes dim due to the vagaries of baseball, his trips to the plate are going to look ugly. And though Raleigh is the rare switch-hitter, he still has clear platoon splits, faring much better against left-handed pitching as a righty than against right-handed pitching as a lefty. More to the point, his numbers as a righty this season are benefiting from an unsustainably high BABIP. It's part of Raleigh's output that stands to fade away as the year progresses, and presents itself as another area to address. Can he become a true switch-hitter? And can he curb some of his swing-and-miss? We'll see.
It's safe to pencil in Raleigh as a perfectly cromulent bat moving forward, though that still represents a massive step forward. As one of the Mariners' former top prospects, he didn't exactly come out of nowhere, but at the same time, this has been a pleasant surprise. And it unfolded rather quickly, similar to the Mariners themselves. After reaching a nadir in June, they've dragged themselves out of the mud, winning 14 games in a row along the way. You can point to Logan Gilbert and George Kirby, the entire bullpen, and the all-powerful Julio as reasons for their salvation. But it's Raleigh's emergence that might be the most unheralded of them all.