There has been a lot of discussion of shortstops in 2021 and rightfully so. Fernando Tatis Jr. is must see TV and currently third among qualified position players in WAR. During the offseason Francisco Lindor was traded to the Mets, who quickly signed him to a 10-year, $341 million extension. That deal set the stage for rampant conjecture as to the ceiling for possible contracts for the remaining top shortstops under 30 who look like they will test the free agent market for the first time this winter: Javier Báez, Carlos Correa, Corey Seager and Trevor Story. As if that wasn't enough drama, two of those players (Báez and Story) are currently playing on teams that will be sellers over the next week and a half, adding an element of trade speculation to a conversation that was already quite compelling. But as these louder storylines dominate the conversation this season, Trea Turner is quietly building on his improvements from the pandemic-shortened 2020 campaign. The 28-year-old looks like he may be putting together a career year. Turner won't be a free agent until 2023 and the fourth-place Nationals don't look like contenders this season, but it's still worth taking a closer look at how Turner is putting it all together in 2021.
Turner celebrated his birthday three weeks ago by hitting for the third cycle of his career. As I was working on this piece, he started another game with a triple and a home run before being pulled in the later innings when it was clear the Nationals did not need him to finish their 18-1 rout of the Marlins. He had to settle for a 2-for-4 night with four RBI.
But this isn't about a handful of games. Turner made some adjustments during 2020 that he has sustained this season. One of those changes is evident in the video of his cycle, with the home run to right center and the triple down the right field line. As recently as 2019, most of Turner's power was concentrated to the pull side. In 2020, he adjusted his approach and according to Federal Baseball even managed to surprise his hitting coach Kevin Long and manager Dave Martinez with new found power to the opposite field
"He did some things that really surprised me," [Kevin] Long said early this spring. "One was the amount of power that he possessed the other way.

"That kind of shocked me. I wasn't expecting him that have that kind of opposite field power. But we saw that kind of play last year."
Turner spoke specifically about "backing the ball up" and "hitting the ball where it's pitched" in the comments Federal Baseball reported. The difference in approach is visible when you compare Turner's 2018 at-bats with this season's. Below are two videos of Turner hitting a line drive to right field. First up, a double from 2018:
Now compare that to Turner's approach on this single against the Marlins on Tuesday:
There are subtle but meaningful differences here. Turner is set up a bit lower in 2021. His hands are also lower relative to the rest of his stance. He's got a lot less motion prior to his swing. All of this contributes to a flatter swing plane in 2021 than he had earlier in his career. That may seem counterintuitive for people who love launch angle, but it's part of what is allowing Turner to meet pitches where they are thrown. The 2018 stroke had a slightly better individual result, as it wound up down the line for a double, but don't let the results in two at-bats fool your eye here. We need to take a bigger look at the whole picture, which you can see in these Statcast spray charts from 2019, '20 and '21: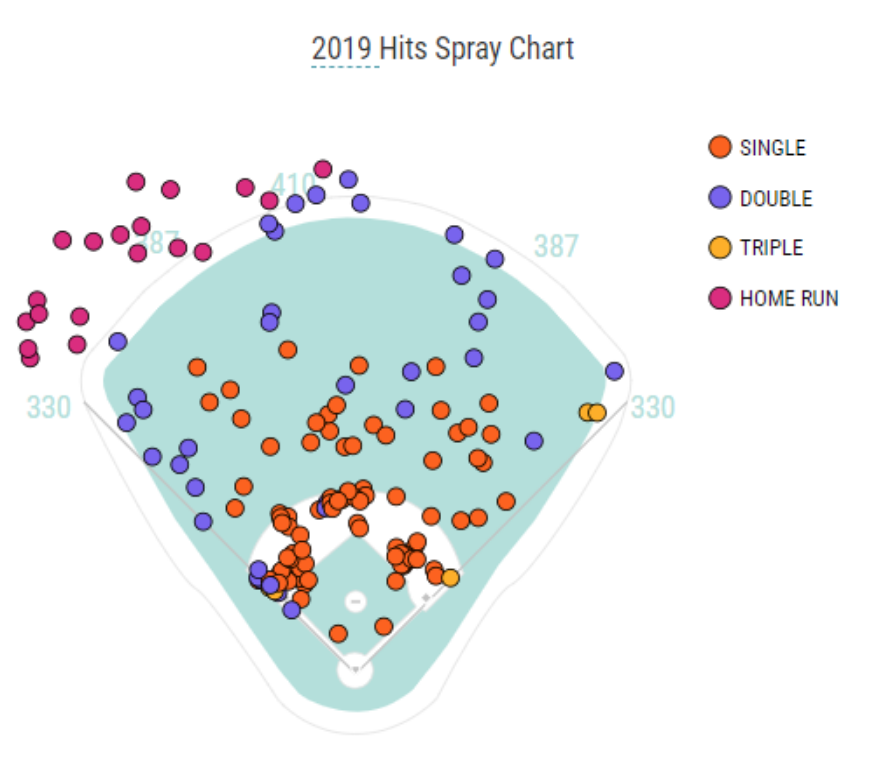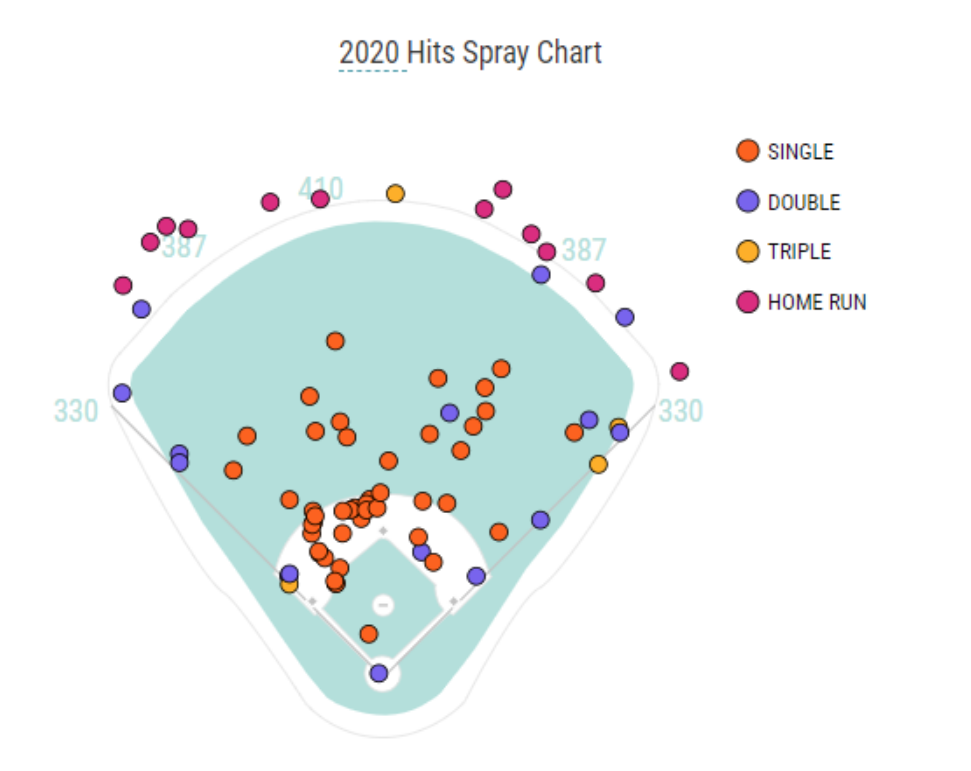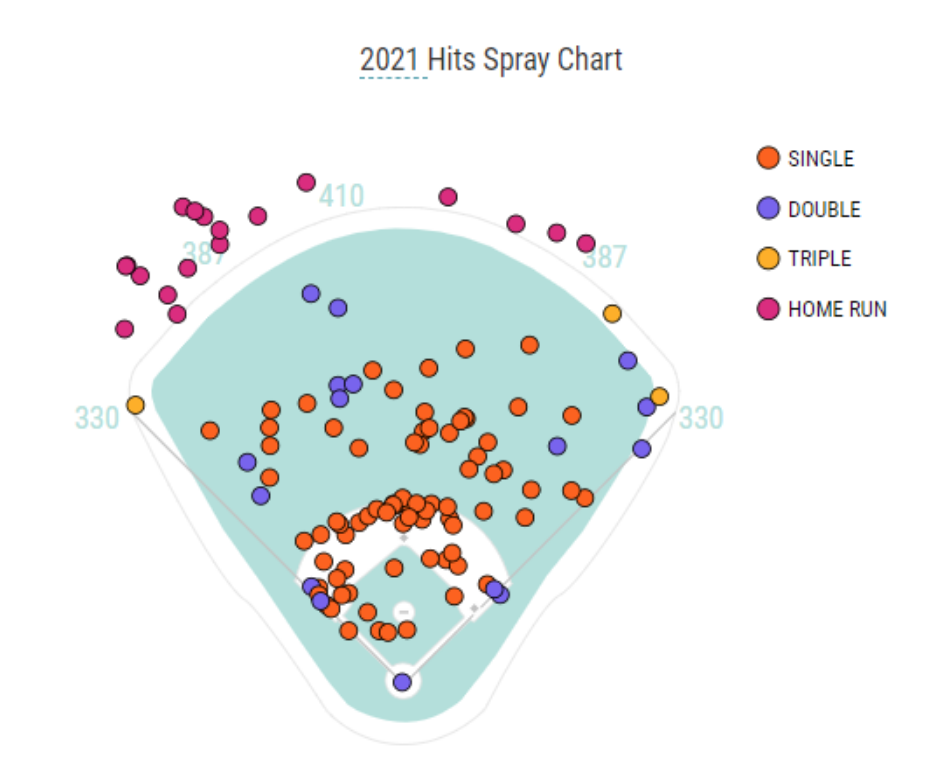 That power to all fields has Turner two home runs away from the first 20/20 season in his career with 10 days left in July. Stolen bases may be increasingly rare in baseball, but they are not rare for Turner, who has 191 in his seven major-league seasons. Turner has always been fast. Since he entered the league, he's been in the 99th or 100th percentile in sprint speed every year. No, the elusive part of the 20/20 season has always been power for Turner. But what's special about the season Turner is putting together is that projection systems believe this power surge is real and have him flirting with a 30/30 season if he stays healthy in 2021. You can see some of his select stats with the possible rest of season projections below:
Turner Season to Date and ROS Projections
| Projection/Season | PA | HR | SB | Avg | OBP | SLG | wRC+ | wOBA | WAR |
| --- | --- | --- | --- | --- | --- | --- | --- | --- | --- |
| 2021 to date | 392 | 18 | 20 | .319 | .370 | .531 | 140 | .385 | 4.2 |
| ZiPS (ROS) | 282 | 12 | 16 | .304 | .359 | .518 | 133 | .375 | 2.5 |
| Steamer (ROS) | 295 | 10 | 13 | .286 | .350 | .474 | 120 | .355 | 2.1 |
| FGDC (ROS) | 274 | 10 | 14 | .295 | .354 | .496 | 127 | .365 | 2.2 |
And Turner's power appears to not only be real but also improving, as you can see in his 15-game rolling ISO below. I was particularly interested that after a brief dip in May and June, Turner's power actually reached a new career high in July for a month with at least 50 plate appearances: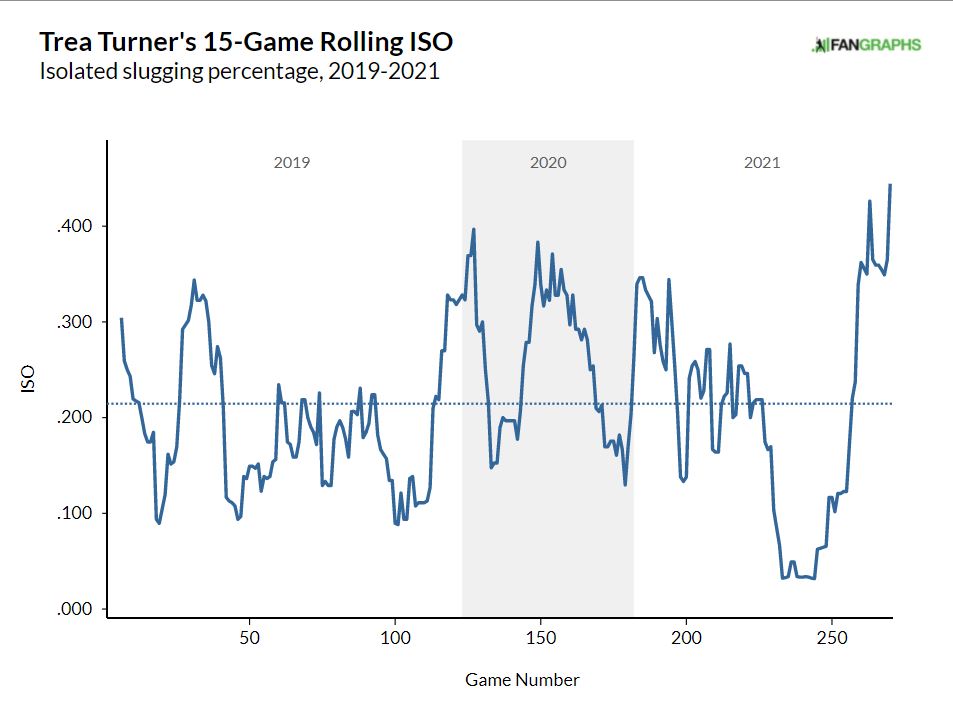 According to Statcast, Turner's hard hit rate has improved notably since he came into the league in 2015, but he really kicked it up to another level in 2021. He's currently in the 82nd percentile of major league hitters by hard hit rate, which is a significant improvement on his previous high water mark of 71st percentile from 2017, and substantially better than the 58th percentile he put up last season. This does not appear to be related to a more selective approach because Turner's much-improved 13.9% strikeout rate from 2020 hasn't held in 2021, though he's posted a still-respectable 18.6% that is more in line with career norms. It does appear to be related to an ability to drive the ball with more power to all fields. He still strikes out less than 20 percent of the time while hitting the ball harder and for more line drives. Turner and the Nationals will absolutely take those results: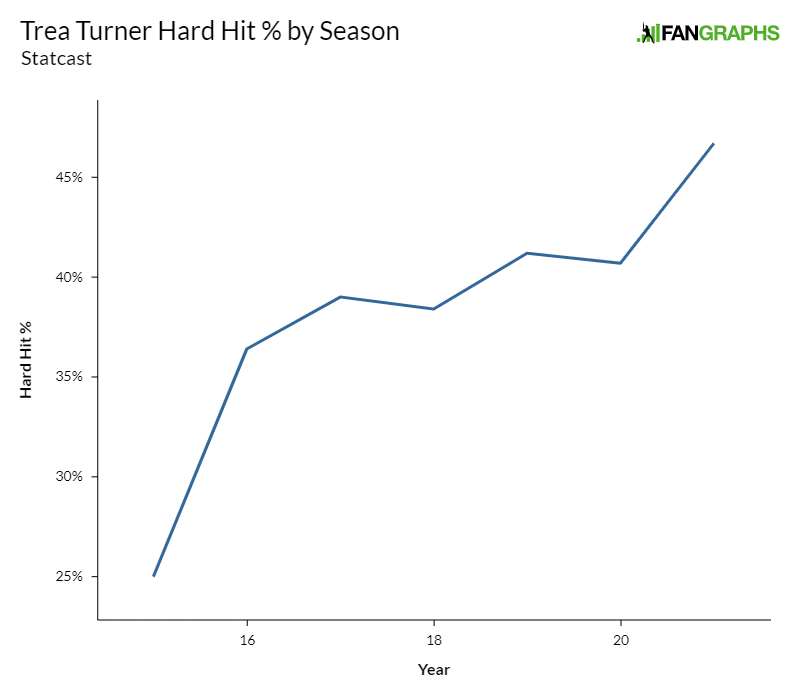 Turner has always been an elite speedster who also had above average power (his career ISO is .188). But while we've all been focused on expiring contracts and trade season, the Nationals shortstop figured out a way to improve his power and kick it up to the next level. The result is Turner putting it all together for the best season of an already brilliant young career. The small tweaks he made in his approach and swing have helped him unlock plus power to all fields. Those tweaks have turned Turner into a legitimate 30/30 threat in 2021, and I imagine it could make any extension the Nationals hope to ink with their shortstop more expensive than it might have been a year ago.