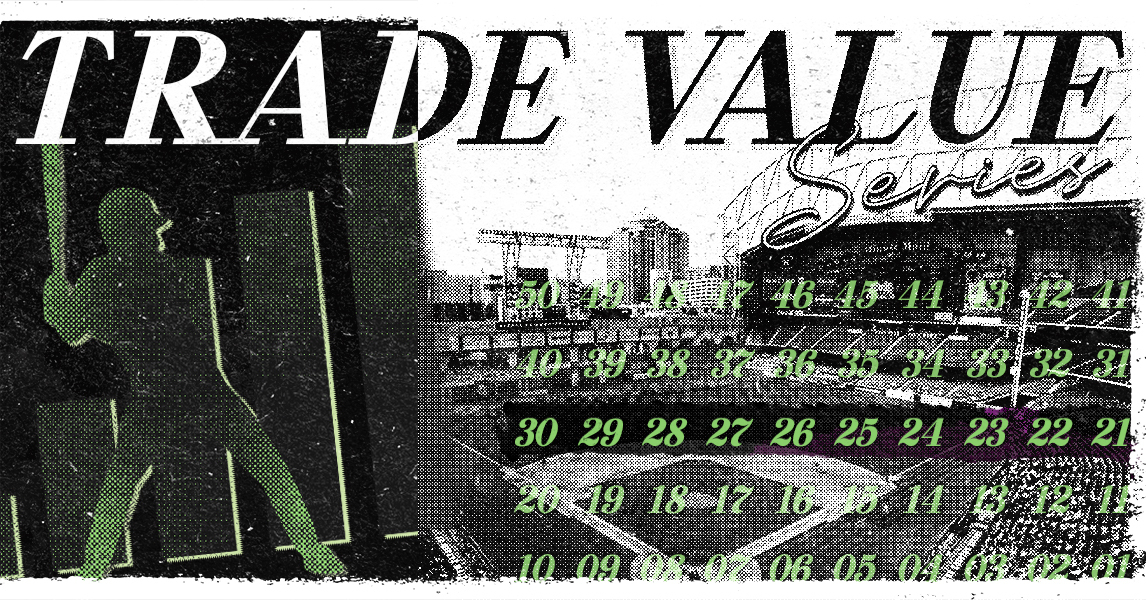 As is the annual tradition at FanGraphs, we're using the week after the All-Star Game to take stock of the top 50 players in baseball by trade value in anticipation of next week's trade deadline. For a more detailed introduction to this year's exercise, as well as a look at those players who fell just short of the top 50, be sure to read the Introduction and Honorable Mentions piece, which can be found in the widget above.
For those who have been reading the Trade Value Series the last few seasons, the format should look familiar. For every player, you'll see a table with the player's projected five-year WAR from 2022-2026, courtesy of Dan Szymborski's ZiPS projections. The table will also include the player's guaranteed money, if any, the year through which their team has contractual control of them, last year's rank (if applicable), and then projections, contract status, and age for each individual season through 2026, if the player is under contract or team control for those seasons. Last year's rank includes a link to the relevant 2020 post. One note on the rankings: particularly at the bottom of the list, there's not a lot of room between players. The ordinal rankings clearly matter, and we put players where they are for a reason, but there's not much room between, say, 35 and 60. The magnitude of the differences in this part of the list is quite small. Several talent evaluators we talked to might prefer a player in the Honorable Mentions section to one on the back end of the list, or vice versa. We think the broad strokes are correct — but with so many players carrying roughly equivalent value, disagreements abounded. Thanks are due to Sean Dolinar for his help in creating the tables in these posts. At the bottom of the page, there is a grid showing all the players who have been ranked up to this point.
And now, to the next group of players.
This high for a guy who's struck out 30% of the time in his limited major league playing time? Well, yeah. Robert is one of the few players we didn't move at all as we iterated our list. Everyone seemed pretty much fine with him around here, though he might have been in a very different spot if he hadn't gotten hurt and had kept playing like he was early this season before tearing his hip flexor while running the bases. He's one of the best outfield defenders in baseball, full stop, and at just 24 you can expect that to keep going. He's also been an above-average hitter, even with a borderline-disastrous approach at the plate, because he just hits it that hard when he connects.
I thought a lot about Robert's value in relation to Trent Grisham's while compiling this list. I initially had Grisham higher, but I understand why Robert could fetch more in trade. Grisham's been better so far, and I like his approach much more, but their production hasn't been that different, and the way Robert does it — all smashed home runs and blinding athleticism — makes his current production feel like more of a floor than a ceiling. He's also under team control until 2027, thanks to two club options on his affordable deal. I'm not sure there's much of a bias against under-the-radar performers anymore; if these two players were around 10 years ago, Grisham might have finished out of the top 50 while nerds wailed and rent their garments. But the 30-35 area feels about right for both of them, and I'm comfortable having Robert higher, even if reasonable people could disagree on the exact ordering. – BC
I can't speak for Kevin, but Urías is the player I listened the most to others on. I didn't really have him near here when we started this exercise. Even though he debuted at 19, he's already had an extensive major league career, with two years of arbitration left before hitting the open market. This is the first year he's thrown more than 100 innings, though he seemingly would have if last year had been a full season. And because of the way the Dodgers have used him, I still think of him as a swingman rather than a front-line starter.
But, uh, that's not the reality on the ground. Urías has two plus secondaries, a fastball he locates well, and an uncanny ability to generate bad swings — batters swing more often than average at his pitches outside of the zone and less often than average at the ones in it. He's always had good command, and it looks to have improved further since he became a full-time starter. There's probably not much room between him and Aaron Nola performance-wise, and Urías will be far cheaper for the next two years. That's not to say everyone agrees; one NL evaluator had this to say: "The stuff was fine. I don't know if there's any more upside there." Not exactly a glowing recommendation! But for the most part, people in baseball buy him as a front-of-the-rotation starter at a good rate. – BC
Giolito has garnered a handful of down-ballot Cy Young votes over the past two years and while he's slipped a bit in 2021, his raw numbers suggest that a second-half surge is hardly out the question (and might earn him a few more come November). Still just 26 and now seen as durable after injuries plagued the early part of his career, Giolito falls short of the true ace designation when polling those in the industry, but he's just a tick below it and being consistently good is one of the more underrated aspects when evaluating pitchers. "The fact that Giolito [was so bad] in 2018 and was able to completely reinvent himself at the major league level speaks to how dependable a piece he could be for anyone's rotation," one AL executive told me. Editor's Note: This quote originally contained an offensive reference. We sincerely regret its inclusion and any discomfort that inclusion caused our readers.
Giolito is far from perfect but he knows how to hide his weaknesses. Every secondary pitch in his arsenal plays better than his fastball, but he knows that and goes to his heater less than 50% of the time, an approach that is becoming more normal across the game. His fastball has solid velocity and movement, but Giolito fills the zone more than he commands the pitch, delivering far too many center-cut versions of it, which has led to more fly balls and leaves him a bit prone to home runs. Still, this is some necessary nitpicking of a very good rotation piece with two manageable years of arbitration remaining. – KG
Was it a crutch to have the two Harvard Westlake guys next to each other? No — in fact, we swapped Giolito and Flaherty back and forth quite a bit, because there's not much daylight between them as ace-upside pitchers about to take a second bite of the arbitration apple. Ask me on a different day, and I might flip the order. Like Giolito, Flaherty has the raw stuff to put together insane runs, like when he turned into Bob Gibson in the second half of the 2019 season. Even when he's not fully on, he misses enough bats to compete, though several people we checked the list with dinged him for running up high pitch counts that keep him from going as deep into games as you'd expect for someone of his overall performance level.
There's not much concern about Flaherty's health, either; he's missed a good chunk of the year with an oblique injury, but he'd been durable before that and is throwing bullpens already in anticipation of an imminent return. Think of this as a provisional ranking, though: it assumes he looks roughly the same upon coming back. Given that he's not being traded before the deadline anyway — let's face it, likely no one on this list is — I'm comfortable adopting a wait-and-see approach given how much teams will give in trade for healthy and controllable near-ace pitchers. – BC
José Ramírez signed an exceptionally team-friendly contract in March of 2017 and immediately went from being a good player to an MVP candidate, turning his extension into one of the biggest bargains in baseball. Following the 2021 season, he's owed a criminally low $24 million (assuming his club options get picked up) for two more seasons of what should be star-level production. He's not the .300 hitter he once was, mostly due to his pull tendencies as his raw power went from above-average to plus-plus, but few players in the game can match his combination of contact ability and exit velocity.
There are concerns over how Ramírez's production will age as he gets slower, but he still runs well now and is a more than serviceable defender at the hot corner. Our industry contacts agree that he'll remain a five-plus win player in each of the remaining seasons of his deal. As one executive quipped, "There's a question to how long the body holds up, but if you're acquiring Ramírez, you're likely only interested through age-30 anyway." – KG
By this point, one thing should be clear from today's list: teams value controllable front-line pitching a lot. My take on it is that they mostly can't get these players without signing 29-year-olds to long-term deals, making it an issue of scarcity: bats can be had, but good pitching just doesn't change hands very often. That doesn't apply at the very top end, because superstars are scarce at every position, but there are a lot of teams that think they can develop hitters, while good pitching remains elusive.
Anyway, Framber Valdez! He's awesome, and that's less up for debate than you might think. Before 2020, he hadn't performed in the majors, largely due to scary walk rates. He mastered that in 2020, and after a fluke broken finger, he's shown enough command since returning that I'm no longer worried about free passes as a potential Achilles' heel. He gets grounders! He misses bats! There aren't a lot of guys whose production resembles his, and they're mostly good pitchers. It's reasonable to wonder if he'll ever put together a season as good as some of the names below him on the list, but he's a good bet to out-produce them over four years (he'll be eligible for arbitration as a Super 2 player after this year), and there's upside for more given his curveball, which is one of the best in baseball — think peak Adam Wainwright if everything breaks right. – BC
As noted in the Honorable Mentions, it's tough to put a prospect on this list unless they are absolutely special. Adley Rutschman is absolutely special. One scout who saw him recently graded him out as a slightly above-average hitter with plus power and impact-level defense. In possession of a big-league approach at the plate, it's easy to argue that Rutschman is ready for the majors right now, though Baltimore will likely control his service time in a way that benefits the organization at Rutschman's expense. That's the unfortunate dichotomy in most team's current approach to service time, one that will likely be a key point of contention in the upcoming CBA talks.
Rutschman's makeup and game management are just as impressive as his talent on the field. "[His] leadership from behind the plate is unlike anything I've ever seen," said one scout who has gotten multiple looks at 2019's first overall pick this year. "He was meeting veteran arms at the foul line in spring training after the inning to pat them on the ass and talk it through," the scout added. "I think he's going to mean as much as [Jason] Varitek or [Buster] Posey to an organization." The Orioles are in desperate need of an impact player to point their organization in the right direction and Rutschman looks like just that. – KG
Kyle Tucker is 24 years old, doesn't hit arbitration until 2023, and is in the midst of a season where he has demonstrated considerable improvement — it just hasn't shown up in his stat line. He was a victim of astoundingly bad luck early in the year, with his underlying metrics suggesting an OPS in the neighborhood of .900; his .322/.358/.530 line since June 1 is a much more accurate depiction of his 2021.
Tucker hasn't made any mechanical adjustments to his somewhat funky, old-school style swing — it would fit right in on the grainy, black-and-white film clips of the game from the 1940s and '50s — but he's made a clear change in his approach. His ability to avoid swinging at balls out of the zone is the same as ever, but he's become far more aggressive within the zone, which when combined with one of the better hard hit rates in baseball and continually-improving power, has led to the breakout we're starting to see. He has four more years of control in Houston and it's easy to anticipate him making multiple All-Star appearances. – KG
In 2019, Ketel Marte was one of the best players in baseball, putting up a 7.0 WAR season and finishing fourth in National League MVP voting. It felt like a somewhat out-of-nowhere year for a player who entered the season with a career OPS just north of .700. And while a sub-par 2020, during which his approach at the plate collapsed, left some wondering who the real Marte is, his 2021 showing (at least when healthy) has teams believing he is a star-level player signed to a bargain contract through 2024.
Marte's skillset has changed considerably since his early days in the big leagues. He's bigger and stronger, with max exit velocities that suggest plus-plus raw power despite his lower home run total so far this year. He's also greatly reduced his chase rate; swinging at better pitches has been a key to his breakthrough. Unfortunately, with the strength has come a reduction in his athleticism. The majority of the industry contacts we spoke to indicated that they would return him to the dirt upon acquisition. "I think he's miscast in center field," said one senior evaluator. "I think the position puts a strain on his body and he's just an infielder by trait." – KG
Did you know that teams don't like to pay market value for their production? It's much more desirable in their eyes to barter players rather than spend money. A shocking revelation, I'm sure, but it's worth mentioning as a capstone on this group of 10, which has been peppered with team-friendly contracts for good, but not necessarily great, players. Cronenworth fits this mold quite well — he's an above average hitter who won't hit arbitration until 2023, and that's all teams need to hear to take out the trade checkbook.
But don't let that cynical (and sadly accurate) view of the baseball world get you down on what Cronenworth brings to the table. He's a solid defensive second baseman with plus speed, though more of the "great baserunning" variety than someone who will swipe 20 bags. He has some of the best bat control in the majors; his contact rates are off the charts, and he also barrels up plenty of contact despite middling raw power. He combines that with a good grasp of the strike zone, and a solid understanding of how he'll be pitched. Pitchers know how to attack Nick Madrigal types; they pin their ears back and attack the zone. Do that against Cronenworth and you might be watching him stroll around the bases — probably on something he pulled to max out his power. He'll probably never hit 30 bombs in a season, but I'd take the over on 20, and that type of pop out of a good defender who walks and doesn't strike out is a whale of a player, even without considering his contract. – BC