The Learning and Developing a Pitch series returned last month after being on hiatus due to the pandemic. Each week, we'll hear from three pitchers on a notable weapon in their arsenal. Today's installment features a southpaw, Damon Jones, and a pair of right-handers, Zach McCambley and Josh Staumont, on their curveballs and sliders.
———
Damon Jones, Philadelphia Phillies prospect
"My slider is kind of seam-shifted. I get a lot of horizontal — something like 23 inches, which is pretty crazy — and I kind of picked it up off a Pitching Ninja video. It was Trevor Bauer's grip, but I changed it up a little bit. It was more my thumb. I left the fingers how he had them, but he touches his thumb and I kind of hook it on the bottom part of the horseshoe. I think that helps the ball come out of my hand a little bit later. Watching the video, he wanted to get it out early and let it spin. I want it to be more of a late, back-foot pitch. The more I can make it look like a fastball the better, and it's been pretty similar for me in terms of release point, release height, and all that.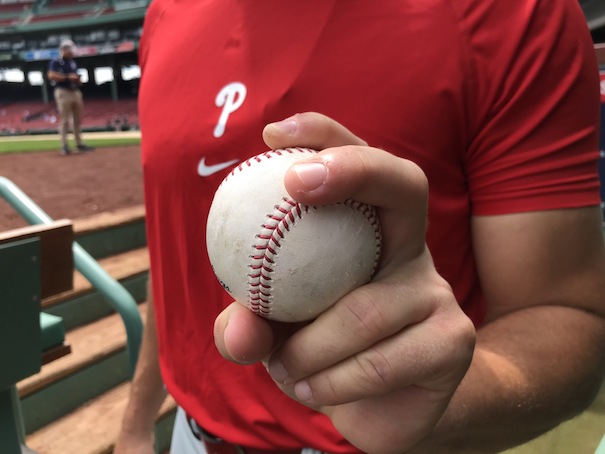 "This was in 2019 — I made the jump from High-A to Triple-A that year — and it was shortly after spring training. After my first or second start in High-A, I was toying with stuff, saw the grip, and started throwing it. The guy on the Rapsodo was like, 'Can you repeat that pitch? Can you do it again?'
"Then, when I got to Double-A, Tommy Hunter was rehabbing with us. He told me, 'It's like an Andrew Miller type of slider, it's just wipeout.' I was like, 'Well, he's got a lot of showtime and has seen a lot of guys with good sliders, and he's comparing me to the guy Andrew Miller was when he was in his prime.' I was like, 'I'll take that.'
"I'd actually had a slider in college, but all of my pitches were pretty mediocre until I got to pro ball. There are a lot of successful pitchers out there, and you kind of take things from them. I like being able to ask guys about their grips, then toy and tinker with them, seeing if I can make something my own. For instance, there's a curveball I learned from Zach Warren, who is in Double-A. He has a spiked curve and I'd never [seen] a spiked curve before. That one worked for me in 2018, in [Low-A] Lakewood, and then I found the slider. That gave me three good pitches, and I feel like my career has skyrocketed because of that."
———
Zach McCambley, Miami Marlins prospect
"When I was in Little League, my father wouldn't let me throw any kind of breaking pitch. It was basically just straight fastballs when I was younger. Then, once I got moved up to a bigger field when I was about 13 or 14, my dad said I could start throwing some. That's when I first discovered how to throw a curveball. I played around with grips playing catch one day, and the one I found is the one I've stuck with. I've had the same grip since I was about 14.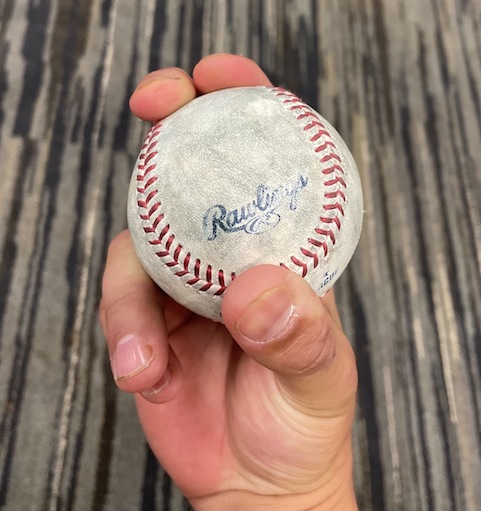 "It's a pretty standard curveball grip, I have my middle finger on the right side of the seam, my thumb across the two seams on the bottom, and I lay my pointer finger right next to my middle finger. From there I'm basically pulling down on the ball and getting my hand out in front. I also hold the ball pretty deep in my hand; that's with all of my pitches, including my fastball.
"I've always had a natural ability to spin a baseball. The first time I started throwing a curveball, I was kind of able to spin it better than most people. But it wasn't until I got to college that I really learned about spin. In high school, I was just kind of throwing it. Even though it was a good pitch for me, I didn't know anything about spin rates, or anything like that. My college coaches introduced me to that stuff.
"When throwing a curveball, or any type of breaking pitch, a big thing is your wrist placement — where your wrist is at the point where you're going to release the ball. That's whether you want to throw it like a 12-6 type of curveball, or you want to throw more of an 11-5, or more of a slider. You can change the shape of the break, and that's what I do. When I want to have more of a 12-6 breaker, I'll keep my wrist a certain way. And I might be going for that strikeout kill. I may sweep it a little more laterally, as opposed to up-and-down vertically.
"The spin has alway has been pretty high on it, around 2,800-2,900 [rpm] on the TrackMan. [The velocity] ranges between 79-85 [mph]. When I'm trying for a throw-it-over strike — either get early contact or a take for a strike — it's more like 79-82, and then if I want to really go for that kill pitch, it's more like 80-85. So it's all about the shape and the intent that you throw with."
———
Josh Staumont, Kansas City Royals
"I've thrown [a curveball] my whole life. It's not one of those pitches that just clicked for me. Over time — through failure and all that stuff — I just kept it moving forward. Now it's just kind of understanding how it plays off my fastball, and vice versa, and using it in multiple different ways. It can be an out-pitch or it can be a get-me-over to get me back in counts. But it's kind of always been there. I haven't done much different since I started throwing one.
"I'm a big believer in… I'd rather do the same thing 10,000 times and get it to the point where I don't think about it, as opposed to changing something — maybe doing a knuckle [curve] or something like that. My grip is pretty standard. For me, the biggest thing is to just make sure I do the same thing on my fastball and my curve. I've basically tried to repeat that from high school to college, and then from college to pro ball.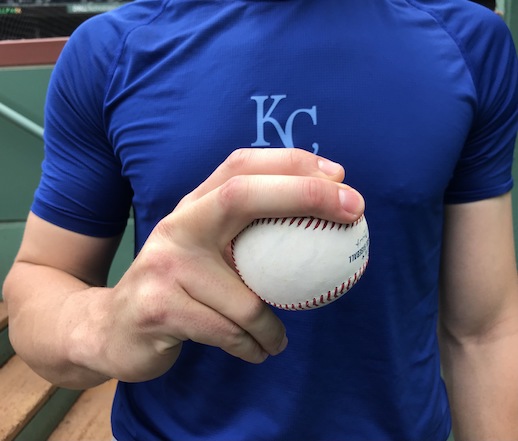 "Again, I don't think I've changed hardly anything… apart from maybe mechanically. That can change the way the ball actually spins. You want to make sure it's following the same path as everything else, just top-to-bottom. A curveball isn't supposed to be sweeping for the most part, so it's about making sure that directionally I'm going toward the plate. It's the same thing on a fastball. You don't want to be horizontal, you want to be vertical with it, going straight toward your target and not spinning off. Same thing with a curveball. You're just staying on top of it.
"The curveball is a comfortable pitch for me. The more thought I take out of it, the better it usually is. Not that you can't [learn or improve a pitch], but it's like a mentality. You learn to trust the spin. You created it, right? It's like some guys with a changeup. Some guys don't pronate very well, and teaching pronation is hard. A curve ball is more supination, but it's same concept. You can't easily teach that to somebody who doesn't naturally have it. For me, the curveball has always come pretty naturally."
David Laurila grew up in Michigan's Upper Peninsula and now writes about baseball from his home in Cambridge, Mass. He authored the Prospectus Q&A series at Baseball Prospectus from December 2006-May 2011 before being claimed off waivers by FanGraphs. He can be followed on Twitter @DavidLaurilaQA.